Receive notifications for new articles
TCL 10 Tab Max: test / review
Category: Non classé

I had never heard of the TCL brand before testing a first smartphone from this brand (the TCL 10 Pro) two months ago. This phone surprised me on many points and I wondered how I could have missed such a phone when I am attentive to what is happening in the world of smartphones. After this first positive with TCL, I wanted to try my luck again with this brand but obviously, I now have a positive reference which sets the bar of my expectations higher than for a completely unknown phone. [b][b] This time I'm going to test the TCL 10 Tab Max tablet, it's an entry-level tablet sold between 200 and 300€, it comes to pose as a competitor of the Teclast T40 Plus...that's good, I also tested this tablet, so the comparison will be easier! [b][b]
Offer
TCL 10 Tab Max 10.4 will be released in world premiere on February 21, 2022 on Aliexpress with a price reduction of up to -40 %. [b] To enjoy: TCL 10 Tab Max 238€ [b][b][b]Manufacturer web site: https://www.tcl.com[b] Site where I have bought the TCL 10 Tab Max: https://s.zbanx.com/r/SIJ57FCrvmZ1[b]
Structure of my test
I test tablets according to a pre-set structure (see below) to provide you with as much information as possible. Unfortunately, this takes a lot of time. Some tests like the network performance tests take several days and for the photo tests I sometimes have to wait for good weather to take pictures in good conditions. I am therefore obliged to publish the tests step by step, so I invite you to come back if the test is not complete at the time of your visit.
Price TCL 10 Tab Max
The list below shows the prices for the TCL 10 Tab Max from more than 50 sites around the world. If you are not satisfied with any price, you can subscribe to a price alert to be the first to be notified when the price drops.[b]
No price available for this product (not yet or not anymore)
[b]

The above links are affiliate links from companies such as Amazon, Gearbest, Aliexpress,... If you appreciate my work, I would be grateful if you could purchase these products through these links. It costs you absolutely nothing but I get a small commission that allows me to buy the material I test. Thank you very much!
Timeline
February 15, 2022: receipt of the TCL 10 Tab Max, the test can start. [b] February 21, 2022: start of marketing on Aliexpress [b][b]
Why this tablet?
I sometimes test tablets when smartphone news is calmer and this type of product is not very far from my usual scope. I mainly test entry-level tablets because as with phones, I don't want to have to sell a kidney to be able to buy a tablet. So I mainly tested Chinese tablets under €250. The TCL 10 Tab Max fits perfectly into this price range and competes with another tablet that I tested (the Teclast T40 Plus). [b][b] What is this TCL tablet interesting? TCL first produces screens, that's good, the screen is very important for a tablet. This tablet is equipped with a Snapdragon 665 that I had the opportunity to test on several phones, it is not a latest generation processor but it should provide good performance for media consumption (videos, music). The 8000 mAh battery should also be a strength of this product. Beyond the technical aspect, I was also curious to test their educational environment for children, I hadn't seen it on another tablet until now. [b][b] Important Note: There is an older version of this tablet which uses the code name 9296G, the version for this test is 9296Q.[b]
Unpacking
The TCL 10 Tab Max tablet is packaged in a white box with a photo of the product, it's a very common style that reminds me in particular of Xiaomi's packaging. The box contains the tablet, a manual, a needle to open the SIM drawer, a charger and a usb type C cable. The box is quite thick compared to the tablet, it contains large empty spaces. [b][b]
5

[b]
First configuration
The configuration of the tablet goes through the same screens as most Android smartphones, it was only at the end of the usual course that TCL added a few screens to configure the screen with their NXT Vision solution, then offer two styles home screen, two styles of lock screen and then accept the TCL terms and conditions.
25

[b]
Finish
I was positively surprised by the first TCL product I tested, the level of finish was excellent and could be mistaken for top of the range. This tablet will follow the same path, we must not forget that it is an entry-level tablet but the finishes are comparable to mid-range. The 10.4-inch screen is actually smaller because it's surrounded by big black borders, which is a bit of a shame because you lose some of its immersion potential. It was a bit the same thing on the Teclast that I tested.
The back is covered with a metallic effect surface, and the coating is textured, it is not completely smooth. This type of coating offers a good grip, the tablet does not slip from your hands and you will not spend your time cleaning your fingerprints because they are less visible than on uniform and smooth surfaces.
The photo module is located in the upper corner as is the case on most tablets, this sensor sticks out a little from the back of the tablet but it's the same on other tablets of this type.
The ignition button is located on the upper edge of the tablet, it's the same for the volume buttons. These buttons are quite small and we feel that the tablet is above all designed for use in landscape mode because in portrait mode, these buttons are not easy to access.
The USB C port is also at the top of the tablet with two sound grilles but only one is used, the other is probably designed for aesthetic reasons.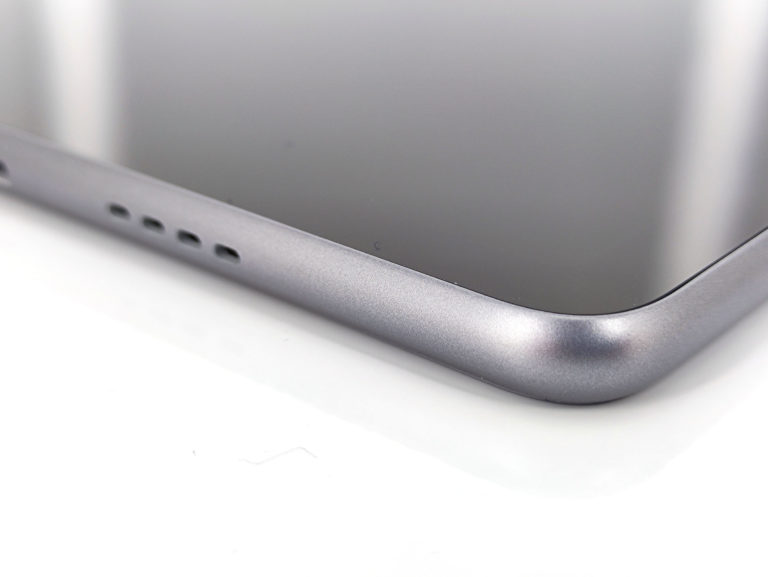 On the other side (bottom), we find the same two openings for the sound with here also only one of the two grids which emits sound.
What looks like a sim drawer here is a drawer for a memory card, so this tablet cannot be used in 4G, this is a weakness here compared to the Teclast. [b][b] The TCL 10 Tab Max has a good level of finish, I would even say that the level of finish is better than that of the Teclast T40 Plus.[b]
Specifications
[b]The information below comes from the Device Info HW application. The application provides detailed technical information about the tested phone. The TCL 10 Tab Max runs on a Qualcomm architecture, so it shares many common elements with smartphones using the same architecture. The wifi chipset is for example quite widespread in the Poco range, I had also obtained very good results in terms of sensitivity and speed. This 9296Q version of the tablet runs Android 11 (the previous version ran Android 10). The screen has a resolution of 2000x1200 with a frequency of 60hz. [b][b] The version I tested with 6Gb of RAM and 256 Gb of storage is more generous than average storage. The memory is of the LPDDR4X type as on many smartphones. It's not the fastest type of memory but in this price range that's quite normal. The battery capacity is also generous with 8000 mAh. You will find the rest of the technical characteristics in the following screenshots.
14

[b]
CPU / GPU Performance
[b][b]The tablet is equipped with a Snapdragon 665 CPU that can also be found in other phones like the Xiaomi Mi A3 or the Redmi Note 8, so it's not a brand new CPU or a very powerful CPU but it should being able to offer enough performance to watch videos and surf the internet, this CPU should also allow for good battery life. [b][b] For the graphics part, the tablet uses an Adreno 610 GPU and here too it is not a last generation GPU but it should be sufficient for normal use of the tablet. Most simple games will work but for heavy 3D games you will need to reduce the level of detail in the games.[b]
Benchmark Antutu/3DMark
I got a score of 217617 points with Antutu v9, it's a fairly average score but quite normal for this price range and it's also a better score than the Teclast T40 Plus or the Chuwi Hipad.
[b] [b][b]Gaming[b]To test the performance in game, I download the mobile PUBG game and evaluate the in-game experience, graphics level and depth of vision. This game is quite demanding and should help you evaluating the performance of a phone. The TCL 10 Tab Max is not a tablet designed for gamers but you can easily play most games but for some games like PUBG Mobile the level of graphics will be quite low . It won't prevent you from playing this game but the textures will be quite basic and the movements will not always be fluid.[b]
Wifi performance
To test a phone's ability to receive the network properly, I take measurements near my router and then remotely (and always at the same place). This gives me an average in dBm where a value of -90 dBm indicates poorer performance than a value at -30 dBm.[b] [b]Wifi signal[b]I measured an excellent signal of -14 dBm near the router, I got a similar level with smartphones using the same wifi chip. From a distance I obtained -58 dBm and here too it is a good signal level.[b][b][b][b]Download/Upload speed[b]To test the speed in Wifi, I connect to my router in 2.4Ghz and 5Ghz (if available) and use the Ookla application to measure the speed.[b][b]
GPS performance
[b]To test the quality of the GPS signal I use the Offline Maps application and I make the same train trip in pedestrian mode. Why? In pedestrian mode, the GPS does not artificially correct the signal to stick to the road, it has no markings, so you can see the actual position. I then use an application to measure the accuracy of the signal. This tablet is equipped with a Qualcomm GPS chip that can pick up GPS/Glonass/Galileo networks but unfortunately I couldn't pick up any of these networks, I never got past the initial fix stage. I hope this is just a pre-production issue.[b][b][b]
Battery range
The TCL 10 Pro has a massive 8000mAh battery which should give you quite a bit of battery life. I tried to isolate the consumption of each component to understand if the tablet had good energy efficiency. [b][b] Processor I pushed the processor hard for several minutes and got an average consumption of 8 Watts. The processor temperature stayed around 37°C all the time, which is a very good score. Graphics processor I repeated the operation for the GPU, pushing it all the way for several minutes and I obtained an average consumption of 4.38 Watts. Other components If I leave the tablet on without doing anything and with the screen on at 100%, I obtain an average consumption of 2.91W, then you have to add a few mW for all the additional operations (connection to the network, background applications, etc.). [b][b] If I push the tablet to the maximum, I get a consumption between 8 and 9 Watts per second, so it's less than the sum of all the individual measurements. I imagine that it is about a bottleneck of the resources which does not make it possible to make turn all the components with the maximum. [b][b] Autonomy Based on the measured consumption, this tablet should be able to last ten hours in continuous use and two to three days in normal use. Charging speed
It took me 264 minutes to charge the battery from 0 to 100%, it may seem quite long but we must not forget that it is This is an 8000mAh battery, so it takes time to fully charge it. The load is however not linear, it takes 37 minutes for the first 20 percent but I see a first slowdown towards 40%, a second towards 80%. The last 20 percent takes over 100 minutes.[b]
Photo camera test
To test the quality of photos, I do a technical test (resolution, sharpness, chromatic aberration,...) in studio (identical conditions) to evaluate the technical part objectively. From the second half of 2020, I built my own laboratory to take completely objective technical measurements. I then take pictures in real conditions to see how the camera performs. I then evaluate these photos according to my criteria but I publish the photos so that you can evaluate the result according to your criteria.[b]
Photo quality
Photo test / studio[b]
Photo quality is clearly not a strength for entry-level tablets and this is also true with the TCL 10 Tab Max. Before looking at the quality of the photo, I was a little surprised by the screen/lens offset, they are very off-center and that requires a different placement of the tablet. It's not a problem in everyday life, but for the studio it limits the possibilities. The main sensor is a 13 million pixel sensor and it produces images of average quality. [b][b] The exposure level of this photo is better than what I get with a majority of smartphones which produce underexposed photos in the studio. The area of sharpness is on the other hand quite mediocre, the lines are quickly blurred even in the area where the photo is the clearest. The photo is also very noisy. The colors seem to be a little too cold. [b]
In this photo, we don't suffer too much from the effect of a zone of low sharpness and the sharpness in the center is even quite good, but it degrades quite quickly. [b][b] I am not surprised by the result of this first photo test, you should not buy a tablet to use it as a camera, this kind of product is not designed for that. First of all, it's not very practical to hold a 10-inch tablet in the air to take photos, but the quality is rarely there.[b][b]Photo test / sunny[b]
When I test a tablet, I never expect to get good photos but I was still a little surprised by this TCL 10 Tab Max. I took pictures in quite difficult conditions with a very cloudy sky, quite bad light and big differences in light between the sky and the horizon line. I find that despite these difficult conditions, the TCL managed to produce photos of acceptable quality for a tablet. The photos are much better quality than what I got with the Teclast or the Chuwi. The photo is obviously not perfect but the quality is above average. [b][b] is a fairly visible problem but I had the same problem with smartphones I tested at the same time. We see here that the sky is partially overexposed and that the overexposed areas are surrounded by a bluish halo but everything below the horizon line is still visible. The sharpness is very average and the photo is noisy if you zoom in a little.
7

[b][b]
Video quality
Stabilisation[b]The TCL 10 Tab Max tablet does not have optical stabilization for video, this is very rarely the case for tablets elsewhere.[b]Video normale conditions As for the photo, I did not expect an extraordinary result. The conditions weren't very good and we can see that the tablet is having some difficulty keeping the balance between the light and dark areas, the exposure jumps are clearly visible and the focus is a little late. The colorimetry sometimes takes some liberties with bluish tints. The quality is therefore not extraordinary but it is quite comparable to other tablets in the same price range. The maximum resolution is limited to 1080p with 30 frames per second. Here are properties of this video: [b] Video: MPEG4 Video (H264) 1920x1080 29.75fps 20105kbps [V: VideoHandle [eng] (h264 high L4.0, yuv420p, 1920x1080, 20105 kb/s)] [b] Audio: AAC 48000Hz stereo 96kbps [A: SoundHandle [eng] (aac lc, 48000 Hz, stereo, 96 kbps)] [b][b]
Audio quality
The TCL 10 Tab Max is equipped with two speakers located at the top and bottom of the tablet. There are four apertures but two are used, placement is optimized for landscape use as active apertures should not be covered by hand placement. The sound produced by this tablet is of better quality than what I have heard from Chuwi or Teclast, the sound is much more balanced. The highs are not as dominant as on these other tablets even if they could have been a little thinner. The volume level is good enough not to have to use an external amplifier. The sound level is not comparable to a tablet like the Mi Pad 5 but it is not the same price range. [b][b] I could not test the sound on my measuring device because this tablet does not have an audio output jack, but on the other hand I tested the sound subjectively with headphones and I would say that it is of good quality, a quality quite comparable to other tablets in the same price range. The volume is not very high but I did not notice any significant distortion, it may lack a little finesse in the treble. [b][b][b]
Screen quality
To test the screen, I use a colorimetric probe that measures the color accuracy of a screen, as well as other parameters to see if a screen is able to correctly reproduce an image. I also test the brightness level to determine if the screen will be able to display an image in full sunlight.[b]Colorimetry[b]
I wrote a little earlier that TCL was first and foremost a screen producer and with this kind of company you can expect the phone screen to be good and c is indeed the case. This tablet is equipped with an IPS screen like most entry-level and mid-range tablets, but the colorimetry is simply excellent. I measured a dE of 1.54, it's almost as good as the Mi Pad 5 which costs much more. The color coverage is also a bit wider than the REC709. [b][b] I measured a contrast ratio of 1215:1, this is an average value for this type of screen. Blacks are not truly black, it's the same problem with all IPS screens. I got a gamma of 2.0, so I'm not very far from the ideal value here. [b][b] To get this score I used the following settings in NXT Vision: [b] Image optimization: yes [b] Video game optimization: yes [b] Color temperature: natural [b] Reading mode: no [b] Eye comfort mode: no [b] display: yes [b][b][b]Top 10 - ranking of the best screens by colorimetry
1. Poco X4 Gt dE = 0.6
2. Xiaomi Mi 10 Lite 5g dE = 0.73
3. Xiaomi Mi 10t Pro dE = 0.83
4. Redmi Note 11 dE = 0.91
5. Google Pixel 6a dE = 1.01
6. Google Pixel 5 dE = 1.11
7. Realme Gt dE = 1.17
8. Xiaomi Mi 11 Lite dE = 1.19
9. Xiaomi Redmi Note 8 dE = 1.2
10. Xiaomi Redmi Note 10 dE = 1.23

Number of smartphones in the ranking:71
Position of this smartphone in the ranking:0/71

Note: the colorimetric difference is measured in dE. After three, the human eye will perceive a colorimetric difference, so the dE should be the lowest. The tests were all carried out with a colorimetric probe.
[b]Brightness / Contrast[b]I measured a brightness of 325 cd/m² with the brightness at maximum and the sun mode activated. I tried to raise the brightness by flooding the front sensor with strong light but that didn't change anything, it either means the tablet isn't able to climb higher or the light sensor fails. find elsewhere. With 325 cd/m², it's not enough for use in direct sunlight, but for use in your home, it's more than enough. To give you an idea of what exposure to the sun could give, watch the video where I test the sound. The studio lighting is very strong and you can hardly see what is displayed on the screen.[b]
Operating system
[b] The TCL 10 Tab Max runs on Android 11 but with some adaptations made by TCL. The Android tweaks don't go as far as Samsung or Xiaomi might, it's mostly customization options. As a whole, the operating system generally follows Android 11 in a fairly pure version, but you can make some changes to the home screen or the theme of the tablet. Screen management is also handled by TCL. [b][b] TCL has also integrated a kind of operating system for children in the form of a locked application. TCL Kids is an application that takes over Android to prevent your children from using your tablet outside the scope of the application. If you launch the application and then restart the tablet, this application will always be in the foreground, you cannot quit the application without using a pin code. The Android navigation buttons don't return to the tablet's home screen, which is good if you want to control what your kids are exposed to. I think it's a really cool initiative. [b][b] TCL kids is primarily aimed at children under 12 and provides access to many educational applications available in several languages. There are educational games, applications to learn to calculate, applications to learn other languages, ... If you have children who do not like calculation, the playful aspect of the tablet should be able to help them. .[b]
Encoutered bugs
I did not encounter any bugs but rather something of the order of logic. When in landscape mode, the volume buttons continue to function as if you were in portrait mode. This means that if you press the right button, the volume will go left (volume down) and if you press the left button the volume will go right.[b]
Test / Review conclusion
[b]This TCL tablet is the second TCL product I've tested and I must admit that I was quite impatient to test this product because I really liked the TCL 10 Pro that I tested two months ago. Before approaching the conclusion, I would just like to reframe the context by recalling that this is an entry-level tablet. If one of the tests does not give a good result, this does not mean that this tablet is not a good tablet, it may simply mean that you should not expect a good result for a product in this price range. [b][b] So, did I like this tablet? Yes and first and foremost for its screen. The image quality is good and the colors are accurate, which is important for a screen of this size. I also appreciated the small personalization touches brought to Android 11 which brings a welcome difference in a world where all Android products look the same. [b][b] On the performance side, we are here in the entry level, so don't expect big performance from this tablet but it does not affect normal use, the tablet is sufficiently responsive in most non-gaming uses. The choice of a less greedy CPU and a large capacity battery allows to obtain a good autonomy. [b][b] The quality of the photos isn't extraordinary, but the TCL does better than its competitors from Teclast and Chuwi. Do not see a tablet (even high-end) as a substitute for a camera, these products are simply not designed for that. [b][b] The sound from the tablet's external speakers is also above average, sounding better than competing tablets I've tested. The sound is not very powerful, here it is comparable to other tablets and if I listen to music with the headphones, I did not notice any significant distortion. [b][b] Among the things I liked less there is obviously the photo quality but I can hardly blame TCL, it's a bit the same thing on all the tablets of entry level. I also find it a shame to have kept such large edges because the screen is excellent, I would have liked to be able to enjoy it on a larger surface.[b]Strengths[b]- screen quality [b] - wifi signal/speed [b] - customization options [b] - application for children [b] - good battery life [b] - good finish and coating non-slip back [b][b][b]Weaknesses[b]- photo/video quality [b] - performance for big games [b] - meaning of the volume buttons in landscape mode [b] - average facial recognition [b][b][b]





Laurent Willen
Instead of watching nonsense on TV or YouTube, I spend my time in the evenings testing products and sharing my passion for technology, travel and photography.

I run this site in my own name and completely independently, no one pays me to do so.

I have more than 20 years of experience in the digital world, I have managed and developed many high traffic websites in companies in Belgium such as Mobistar, Microsoft, Immoweb, BrusselsAirlines, Proximus, Orange,...