Receive notifications for new articles
Beelink Mini S N5095 review / test
Category: Computers

[b]I got my first computer when I was 12 years old, it was a Tandy 1000EX (check it out in Google for curiosity) and all the ones that followed were homemade computers. I was, among my friends, one of the first to have a personal computer at home and it earned me the title of the family computer guy. These computers were then gradually replaced by laptops followed by tablets and now smartphones. I have always remained faithful to the pure and hard PC, going through all versions of MS-DOS until Windows 11 with a few infidelities with Linux and two XBOX. So I've always had PCs in one form or another and today I'm going to welcome a new member in the family with this mini PC from Beelink...I bought it for 127€ on Aliexpress, at that price, I couldn't help myself. [b][b]
Where to buy?
[b]I bought my Beelink Mini S on Aliexpress (official store): Beelink / Aliexpress[b]If you are allergic to Aliexpress, you can find it on Amazon: Beelink / Amazon[b][b]
Why a mini PC
[b]If you have read the first paragraph carefully, you may wonder why a PC user like me is interested in a mini PC. This type of product can meet several types of needs. First of all, there is the space saving, the absence of any need for mounting, the complete connectivity, the low power consumption and in many cases, the performance is more than enough for a standard use. The Beelink I bought is equipped with an Intel Celeron N5095A processor and although this kind of product offers entry-level performance, it will be more than enough for the vast majority of people. [b][b]I plan to use the Beelink Mini S to replace another mini PC, a Chuwi Larkbox, which is a bit out of date in terms of performance and if even my 10 year old son notices it, it was time to change it. The Beelink Mini S isn't a performance machine either, but in theory it should be able to be used for everyday tasks and allow my son to play a few games like Minecraft.[b][b]I have other machines like this running without a keyboard or screen for development projects, so this Beelink will be used as a "normal" PC.[b][b]
Unpacking
[b]
[b]The box of the Beelink is not "anonymous" like most Chinese mini PCs sold on Aliexpress, there is a minimum of brand identity that inspires confidence when unpacking. I've bought such products that came naked in bubble wrap. The box contains the CPU, a power supply, a USB cable, an HDMI cable, a manual and a stand to attach the computer behind a screen.[b][b]
6

[b][b]
Overview
[b]
[b]The Beelink Mini S CPU is very compact, measuring just 11.5cm by 10cm by 4cm and weighing just 271 grams, that's only a little more than a smartphone! The case has a simple design but it is richly equipped with 2 USB 3.0 ports and a headphone output in front. On the back there are 2 more USB 3.0 ports, 2 HDMI ports and an Ethernet port. So you can easily connect a mouse, a keyboard and other accessories at the same time and connect 2 4k displays at the same time. I do not know if the 4k is available in 60hz, the manufacturer does not specify it. [b][b]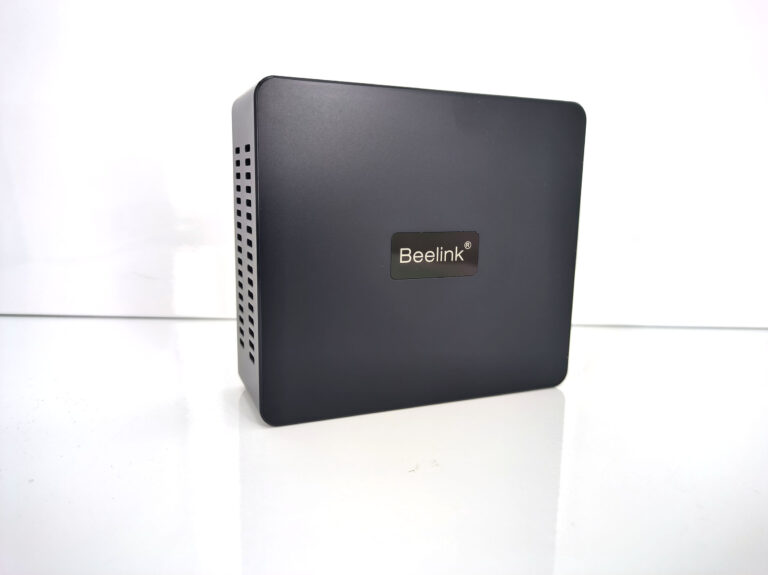 6

[b][b]
Inside
[b]
[b]You can easily unscrew the bottom tray of the Beelink to see what's inside. Again the design is quite simple, there are 3 levels. There is a level that houses the processor and its fan, a level with the memory and the SSD in M2 format and finally a floor to accommodate an SSD in SATA format. And all this fits perfectly in a small space. The biggest challenge will be to manage the temperature rise of the processor.[b][b]The memory and the M2 hard disk can be replaced by products of greater capacity, there are plenty of them on Aliexpress but I do not think it is possible to buy the empty pc to get it at a lower price.[b][b]
7

[b][b]
Specifications
[b]
[b]The Beelink Mini S is equipped with an Intel Celeron N5095A processor running at 2Ghz. This processor was released at the end of 2021, so it is not an old processor as is often the case in mini PCs sold in China. Even if the Celeron range represents the entry level at Intel, this Celeron N5095A still offers an interesting level of performance for office automation. [b]Processors of this type are accompanied by a graphics processor and for this PC it is an Intel UHD GPU running at 450Mhz and capable of outputting 4k in 60hz. [b][b]Since this is a fairly recent processor, it therefore benefits from all the recent optimizations of Intel processors and it also supports Windows 11.[b][b]For memory, there is a 4Gb version and another 8Gb in DDR4. This is clearly not a performance-oriented type of memory but it will be more than enough for everyday tasks. [b][b]For the internal hard drive, you can choose a 128Gb, 256Gb or 512Gb hard drive in M2 format. I'll come back to the performance of this hard drive later in this article.[b][b]The Beelink is equipped with a 1000Mbps ethernet port but also works with 2.4Ghz and 5Ghz wifi.[b][b]For a little over 100€ I find this mini PC offers a very good price/performance ratio and will suit a very wide audience.[b][b]
Benchmark/Performance
[b]
[b]To test the performance of the Beelink, I used the Passmark software which tests the performance of the machine on many points. I've added a screenshot of each benchmark so you can get an idea of its performance level compared to other machines tested with Passmark.[b][b]This mini PC is clearly not a performance-oriented PC, Beelink has never claimed otherwise. On the other hand, the benchmark allows us to place it on a scale. The CPU, GPU and memory are rather at the bottom of the ranking while the SSD is rather in the middle of the ranking and that's a good thing because it's the one that will offer you comfort for all the daily tasks. [b][b]Here is a disk performance report made with CrystalDisk:[b]
[b]
[b][b]
9

[b][b]
Operating system
[b]The version I bought runs Windows 11 Pro. The first boot will direct you to the Windows 11 configuration screens, I didn't notice anything that would imply that this is not a legitimate version. I did the updates after installation and the activation key associated with Windows 11 Pro was accepted and works without any problem.[b][b]For security, I nevertheless scanned the hard drive with Windows Defender and Eset, no threats were detected. This may seem obvious to you, but you should know that I have already found viruses on machines bought on Aliexpress. This is not the case with this Beelink. LB][b]If you are allergic to Windows 11, you can in principle run Linux/Ubuntu on this machine either by installing it directly on the SSD or by booting it from an external hard drive connected via USB. The BIOS allows you to manage a hierarchy for booting.[b][b]If you like retro gaming, you'll probably be happy to know that this PC offers enough performance to run most emulators and you can even boot the machine with Recalbox or Batocera. I'll be testing Batocera later on, by the way [b][b].
BIOS
[b]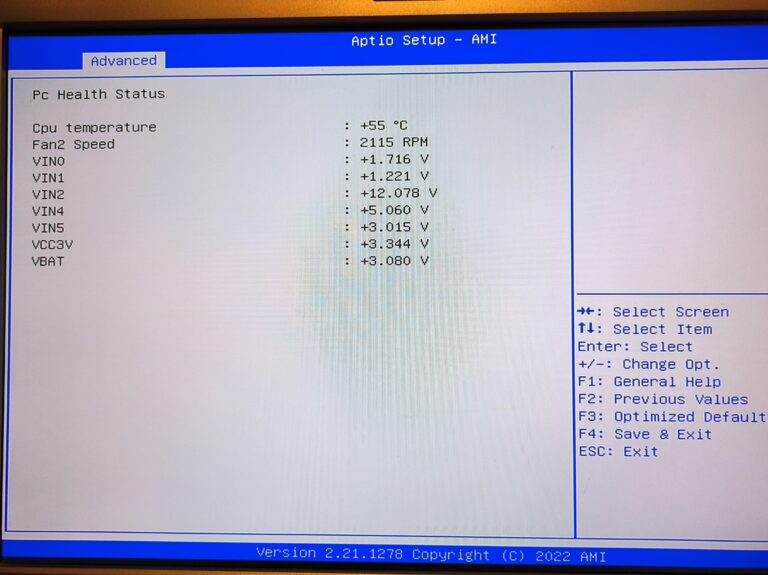 [b]The BIOS is accessible like any other pc and I was positively surprised to see that the BIOS was quite complete. I had other mini PCs where the choice was more limited, I could not choose the boot order for example, but this is not the case with this mini PC, it is really complete. Obviously, this kind of thing will only interest a minority of buyers because in principle, everyone should never play with the BIOS. [b][b]
10

[b][b]
Consumption
[b][b]
Operating noise
[b]The Beelink N5095 is very quiet, it makes a slight audible fan noise at startup and at times but I have never seen it turn into a hair dryer when my son is playing Minecraft."[b][b]
Everyday
[b][b][b]Office use[b][b]This mini PC is a perfect companion for everyday office work where performance is not very important. The memory and hard drive are fast enough to not give the impression of working with a wheelbarrow. You just have to keep in mind that this is not a competition machine and therefore it will not be as fast in complex calculations. Since the vast majority of computer users are not producers but rather consumers, performance is often not necessary. Rather than having a large PC for simple use, this mini PC is an excellent initiative. [b][b][b]Mediacenter[b][b]I'm not sure if this PC is meant to be a mediacenter, but it is quite capable of doing so. You can for example install Kodi or use a specific operating system, you will be able to watch movies and series in 4k without any problem. [b][b][b]Gaming[b][b]This mini pc is not a gamer pc but it is powerful enough to play a lot of games in 1080p. My son mainly plays Minecraft, Minecraft Dungeons, Portal 2 and that kind of game. I have never heard him complain about the performance...that's a pretty good sign![b][b][b]Development[b][b]For all my development projects I had turned to Raspberry Pi4s, I had actually bought 4 of them at once and used them for various projects. After a few years of use, 2 of them stopped working (it was a performance in itself, 24/24 use for 3/4 years). I was thinking of buying two new ones but the price of the Raspberry has skyrocketed, so the mini pc becomes a very good candidate here as it is only a little more expensive than the Raspberry but it is definitely more powerful. You can install a Linux operating system as well as Windows (or both), it works very well. [b][b][b]Retrogaming[b][b]I tested Batocera on this mini pc, I installed it on an SSD connected to the USB3 port. From the bios it is possible to activate another sequence for booting and by pressing F7 I can make the pc boot on Batocera instead of Windows. Batocera works very well on this mini PC and using the USB port did not affect the comfort of use. I tested Amiga, Atari ST, MS-DOS, Neo Geo, MAME and some other games. No problems. [b][b]
Opinion/test: conclusion
[b]I didn't have an urgent need to buy a mini PC but when I saw this Beelink at 127€ on Aliexpress, I said to myself that it was the right time and 6 months later, I don't regret this purchase. My son has become the main user of this mini PC and the performance gain allows him to play Minecraft in good conditions. I then used it to do retrogaming with Batocera, it is really an ideal solution for retrogaming. I will probably use it for automated tasks to replace the 2 Raspberry that stopped working.[b][b]This Beelink Mini S is a very versatile mini computer that should appeal to a very wide audience. It takes up very little space, consumes very little power, is quiet and is powerful enough to meet everyday needs. If you want to give your child a PC without breaking the bank, this is a machine that will allow them to enter the world of desktop computers without having to make too many sacrifices. Hard core gamers, on the other hand, will have to look for another solution because in this budget bracket there is no miracle solution.[b][b][b]





Laurent Willen
Instead of watching nonsense on TV or YouTube, I spend my time in the evenings testing products and sharing my passion for technology, travel and photography.

I run this site in my own name and completely independently, no one pays me to do so.

I have more than 20 years of experience in the digital world, I have managed and developed many high traffic websites in companies in Belgium such as Mobistar, Microsoft, Immoweb, BrusselsAirlines, Proximus, Orange,...