Receive notifications for new articles
Oclean X Pro Elite electric toothbrush: test / review
Category: Connected objects

[b][b]I bought an Oral=B electric toothbrush a few years ago and was positively surprised by the quality of brushing compared to a manual toothbrush. I didn't spend too much time searching, the Oral=B electric toothbrush was among the cheapest and the reviews were overall very positive. I still use this Oral-B toothbrush today and I'm happy with it but I decided to compare it with a competing model from the Oclean brand with the Oclean X Pro Elite electric toothbrush. [b][b]The comparison is maybe not very fair because the Oral-B toothbrush is a rather simple toothbrush which cost me about 20 euros where the Oclean toothbrush costs 3 times more. I will therefore ignore the features absent in Oral-B to evaluate if the Oclean toothbrush brings a real benefit.[b][b]Official website: Oclean.com[b][b]Coupon codes: (valid for a new toothbrush or accessories)[b]WOHD320 5$ / 99$[b][b]To take advantage: Promo Oclean X Pro Elite[b][b]
Contest
[b]I have received an additional sample of this toothbrush that I'm offering through a contest, if you want to participate:[b]Win a Oclean Elite X Pro[b][b]
Who is Oclean?
[b]Oral-B is a very well known brand in Europe, this is clearly not yet the case with Oclean but this should change as Oclean is increasingly present on sales sites in Europe. Oclean is a Chinese manufacturer specialized in the conception of mouth care products. Oclean sells electric toothbrushes, irrigators (I don't know if the translation is correct) or products to eliminate bacteria.[b][b]Oclean is rather positioned on the premium segment, they don't sell basic products like those you can find on Aliexpress. Oclean products focus on innovation and connectivity with your smartphone that allows you to track brushing progress. [b][b]
Oclean X Pro Elite
[b][b]I've added a little video presentation from Oclean because I think it's well done. The Oclean X Pro Elite represents the top of the line at Oclean, it's the most accomplished electric toothbrush with the most features. From brushing, it has a color touch screen that allows you to control the type of brushing, the brushing time and other features to control the toothbrush. It is also equipped with gadgets like birthday reminder, which will not help you brush better but the idea is interesting.[b][b]You can control the intensity level of brushing, there are 32 levels and you can save your preferences so you don't have to make the choice manually every time. The brush is theoretically able to detect areas of your mouth that you have forgotten, I'm curious to see if this kind of feature is really able to do that. My Oral-B toothbrush is clearly not capable of doing any of this.[b][b]
In the box
[b]
[b]The box of the Oclean X Pro Elite is imposing, I did not expect to receive such a big box but this is not surprising because the Oclean X Pro Elite is really big. The box contains the brush with its detachable brush, a manual, a holder to charge the brush with its USB cable and a wall bracket. There is no charger, so you have to connect the USB cable to a wall charger.[b]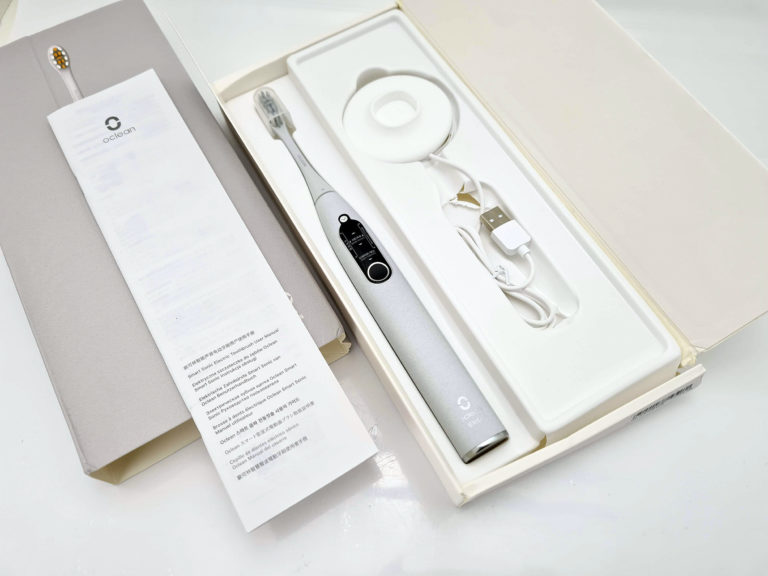 3

[b][b]
Overview
[b]
[b]The Oclean X Pro Elite electric toothbrush is very large, measuring 25 cm, so there is plenty of room for one hand to hold it and interact with the touch screen. Like all toothbrushes of this type, the head with the brush is detachable and can be replaced when worn out. You can buy new heads for 13€ on the Oclean website (13€ for 2). [b][b][b]The brush is quite large as well, it consists of 10 brushes arranged for optimal cleaning. These brushes vibrate individually and can also change orientation. [b]
[b][b]The touchscreen is ideally positioned, the main button is accessible by your thumb and then you can simply slide the screens up and down or left and right. [b]
[b][b]The brush has a battery life of about a month and can be recharged by the cradle that comes with the toothbrush. However, you will still need a charger as the charging cradle does not have one, a phone charger will suffice.[b]
[b][b]
9

[b][b]I made a little video to show the toothbrush in action. The toothbrush has a touch screen that allows you to set the type of brushing, the intensity of brushing and the duration of brushing. It can also be synced with your smartphone to track your daily brushing.[b][b][b][b]I took advantage of this little studio stint to compare the Oclean X Pro Elite's noise with my Oral-B electric toothbrush[b][b]I don't think there's any debate, the Oral-B toothbrush is much louder! However, the comparison is not very honest because my Oral-B toothbrush cost me 20€ while the Oclean X Pro Elite is sold for more than 50€.[b][b]
Application
[b]I don't usually test this kind of product and I don't plan to specialize in toothbrushes either but this Oclean X Pro Elite has a reason to be on my blog, it's a connected electric toothbrush. Oclean has developed an app that allows you to sync the toothbrush to your smartphone, this may sound a bit surreal but it meets a growing demand for connected objects. The toothbrush can be synchronized via Bluetooth with your smartphone and you can collect usage statistics as well as personalized advice. The Oclean application reminds me of the applications for sportsmen that allow to measure the performances at each session, it's a bit the same with Oclean.[b][b]I often test Chinese products and apart from the big brands like Xiaomi or Amazfit, the applications are not always very well designed. I was quite surprised by the ease of use of the Oclean app, adding a toothbrush is done in seconds after answering a few questions about yourself. It will now take me several days/weeks to see what this app will do for me besides brushing.[b][b]
7

[b][b]After a few days of use, I can now say more about how the Oclean app works and how it interacts with the toothbrush. You have to synchronize your brush every day to be able to see the results on the application, this system works a bit like sports applications where you synchronize your exercise data with your phone. The application captures the brushing time as well as many other parameters such as intensity, pressure on the brush, orientation of the brush, time spent on each area of the mouth, ... etc. [b][b]
6

[b][b][b]To test if this data was relevant, I left the brush running for 2 minutes without moving it out of my mouth. I scored poorly in the app which found that the brushing was not good and that I had only covered one area of my mouth. The toothbrush seems to have a mechanism that detects the orientation of the brush and since I had held it in the same position, the brush felt that I had brushed the same area in my mouth. [b][b]I tested several brushing modes and followed the recommendations of the brush that gives a score at the end of each brushing and I managed to increase this score, so there is a logic that works in the tracking with the application. It is possible to identify the time spent on each area of the mouth, I think the idea is really excellent but there is still some work to do. The brush does not detect well the difference between brushing inside and outside the teeth but overall the time spent on the different areas seems correct.[b][b]What I also liked about the app is being able to set up the brush on the phone and then push the configuration to the brush. The touch screen on the brush works fine but the app is probably more convenient to use. So you choose the configuration you want, sync it with the toothbrush and then you can use it with the new configuration.[b][b]
Daily use
[b]I've never done a toothbrush test before because I couldn't see what I was going to write about. I've been using an Oral=B for years and I'm pretty happy with it, I felt a clear difference between a manual toothbrush and an electric one. So I was thinking that testing a more expensive product was pointless and that tracking by an app was pointless. Does the Oclean X Pro Elite bring something more than the Oral-B? Yes, and strangely enough, it brings a benefit where I didn't expect to have one.[b][b]The Oclean X Pro Elite vibrates much faster than the Oral-B and that's a good thing. The Oral-B electric toothbrush is noisy and I find it quite brutal in its behavior because it is almost impossible for me to go over my gums without hurting myself. The Oclean X Pro Elite is much less noisy but it is much less brutal. The vibrations are so fast that I feel them in the whole jaw, but I can easily pass over the gums without hurting them. This is a big advantage for those who have sensitive gums but I think the advantage goes far beyond that because I felt a much greater freshness in my mouth than with my Oral-B. It may be a bit subjective but with the same toothpaste and the same brushing time, I feel that my teeth are smoother with the Oclean X Pro Elite.[b][b]The explanation of this difference probably comes from the technology used because the Oral-B uses a mechanical rotation, the Oclean X Pro Elite uses a technology called "sonic" with an ultra fast vibration system that can reach 42 000 vibrations per minute! So it's no wonder if you feel vibrations everywhere in your mouth.[b][b]
Autonomy
[b]I don't have the ability to test the battery life of a toothbrush as easily as the battery life of a phone, so my calculation is an estimate. With a daily brushing time of 3 minutes, I'm looking at a 3-4% battery loss. As I tested the toothbrush by changing the settings and duration, the first battery life test is not reliable but in theory, the battery life should reach 3 to 4 weeks with daily brushing. It takes about 3 hours to recharge it.[b][b]
My opinion / Test conclusion
[b]When I started this blog, I never thought I would be testing everyday product. I have however tested two vacuum cleaners and a few everyday items including this electric toothbrush from Oclean. At the beginning I was not very convinced because I did not see the interest but in the end, I am happy to have made this test and I replaced my Oral-B with the Oclean X Pro Elite.[b][b]What I liked more:[b]- speed of vibration[b]- more efficient cleaning sensation[b]- no more bleeding gums[b]- well designed application[b]- much quieter than the Oral-B[b][b]What I did not like:[b]- the screen should have been on the other side because once facing the mirror, you can't see it anymore[b]- touch screen not always reactive[b]





Laurent Willen
Instead of watching nonsense on TV or YouTube, I spend my time in the evenings testing products and sharing my passion for technology, travel and photography.

I run this site in my own name and completely independently, no one pays me to do so.

I have more than 20 years of experience in the digital world, I have managed and developed many high traffic websites in companies in Belgium such as Mobistar, Microsoft, Immoweb, BrusselsAirlines, Proximus, Orange,...