Receive notifications for new articles
Xiaomi Mi G9 vacuum cleaner: test / review
Category: house

[b]Xiaomi has established itself as a reference in the world of smartphones, but the Chinese giant has not stopped there. Xiaomi is a global brand that sells phones, watches, projectors, cameras, electric scooters and even vacuum cleaners! Xiaomi is not a brand focused on innovation, it's mainly the quality / price ratio that matters. I have not yet been able to test many vacuum cleaners but with the two Dreame that I tested this year, I am already more advanced than those who have never had this kind of device at home. Dreame is part of the Xiaomi ecosystem too, so there will be many similarities but with one fundamental difference, this Xiaomi G9 costs around 200€ where a Dreame costs 300 to 400€ and this is without forgetting Dyson who sells vacuum cleaners of this type for more than 600€.[b][b]Will Xiaomi manage to do better than Dyson for 3 times less money? I'm not sure, but for £200 Xiaomi probably offers great value for money, I'll just have to check if that's really the case.[b][b][b]
Where to buy the Xiaomi Mi G9?
[b]The Xiaomi Mi G9 is available in many shops but the cheapest I found is Aliexpress. The vacuum cleaner is available in Europe (no taxes to pay) and for some countries the return in case of problem is free.[b][b]Link on Aliexpress: Xiaomi Mi G9[b][b]
Unpacking
[b]
[b]What has always surprised me with upright vacuums is the packaging, I'm obviously not talking about the box itself but the organisation of the contents. I have the impression that engineers have been working on the most compact storage of all the accessories. The inside of the box is compartmentalized to accommodate each part in a dedicated slot and all this without any part touching.[b][b]The Xiaomi G9 box contains the vacuum cleaner, 2 powered brushes, an extension tube, 2 non-powered brushes for textiles or small carpets, a charger and a wall bracket to hang the hoover and house the battery. The Xiaomi G9 offers fewer accessories than the Dreame vacuums I tested earlier this year but for this price point I'm not going to complain. There is also a manual but I've never had to read the manual for this kind of product, this vacuum is well enough designed that I don't need to.[b][b]
3

[b][b]
Overview of the Xiami Mi G9
[b]
[b]The Xiaomi Mi G9 looks very similar to the other models I tested, the colour is different but the size of the vacuum cleaners is almost identical. This vacuum unit weighs just over 1.6kg, it's very light but I doubt it will be able to hold up for long as some of the pictures show because with its tube and brush, the whole thing will be almost 3kg. The vacuum cleaner is mainly intended for floor use and in this case, it relies on its extension tube and the weight is absolutely not an issue.[b][b]This vacuum cleaner works with a cyclone system, you can see the dirt swirling around in the tank. This suction system is accompanied by numerous filters that aim to capture the smallest particles, Xiaomi even claims to be able to capture 99.97% of particles, I have to take their word for it because I have no way of verifying this kind of thing. The filters are detachable and washable.[b][b]
[b]The suction power can be adjusted from the button on the back of the vacuum cleaner. Dreame models offer an LCD screen with some additional features but this won't change your life. The noise produced by the hoover depends very much on the vacuum mode chosen. I will make measurements for sound later in this article.[b][b]
[b]The extension tube is powered, which means that it transmits power to the brush to turn a rotating brush and facilitate suction. The vacuum cleaner comes with two rotating brushes like this one for example:[b]
[b]This power system looks very similar to what I have seen from Dreame but I tried to plug a Dreame brush into the Xiaomi but it doesn't work, the connectors for the power are slightly different. The main brush is articulated, it allows a tilt and rotation angle to get under furniture for example. This tilt has its limits because if you have to go far under a piece of furniture that does not have a high clearance, you may not reach the back of the furniture. Dreame had added an accessory to its Dreame T30 that allowed the angle to be broken at the hoover.[b][b]The vacuum cleaner has a removable battery that you can charge from the wall bracket or directly on the vacuum cleaner. I didn't use the wall mount because if I have to do it every time I test a new vacuum cleaner, I will end up with holes everywhere in my walls.[b]
[b][b]For the rest, there are the classic accessories for cleaning carpets or textiles, these brushes are not powered, their suction power is much lower, but as it is a cordless vacuum cleaner, you do not have to bother with a cord to reach your car.[b][b]
17

[b][b]
Video
[b][b][b]
Technical specifications
[b]To compare the Xiaomi to other models, I've taken the technical specifications of other vacuums I've tested and added others to better position this vacuum against the others.[b][b]Dreame T20[b][b]Battery life: 70 min[b]Charging time: 4 hours[b]Suction power: 150 AW / 25000A[b]Motor rotation: 125,000 rpm[b]Weight: 1.6 kg[b]Tank capacity: 0.6l[b][b]Dreame T30[b][b]Battery life: 90 min[b]Charging time: 4 hours[b]Suction power: 190 AW / 27000A[b]Motor rotation: 150 000 rpm[b]Weight: 1.6 kg[b]Tank capacity: 0.6l[b][b]Xiaomi Mi G9[b]Battery life: 60 min[b]Charging time: 3+ hours[b]Suction power: 120 AW [b]Motor rotation: 100,000 rpm[b]Weight: 1.6 kg[b]Tank capacity: +/- 0.6l[b][b]Dyson V11[b]Battery life: 60 min[b]Charging time: 4.5 hours[b]Suction power: 220 AW [b]Motor rotation: 125,000 rpm[b]Weight: 2.97 kg (with accessories)[b]Tank capacity: +/- 0.76l[b][b]The Dyson V11 is significantly more powerful than the Dreame and Xiaomi, its tank is also slightly larger but it costs a lot more.[b][b]
Suction on hard floors
[b]The Xiaomi Mi 9G is not the most powerful vacuum cleaner I've tested but it does very well for all the everyday dirt like crumbs, hair, feathers, birdseed, dried mud fallen from shoes, ... I don't have a dog or cat at home but pet hair should not be a problem. On the other hand, I did a suction test with (large) breadcrumbs thinking that it would be the same with dog food, this will allow you to see that the suction force is sufficient but that the main brush is not quite suitable for this kind of exercise.[b][b][b][b]The main brush is designed to suck up dirt up to a certain size and I guess this ensures a certain suction force. To be able to suck up larger items like those bread crumbs or dog food, you'll have to lift the brush because a single pass won't be enough. The suction is therefore more than adequate for this type of mess, but the use of the brush must be adapted. This is not a defect, it is just a reality for all vacuum cleaners of this type.[b][b]
Vacuuming on carpet
[b][b]I don't have a large carpet area at home, so I used the largest carpet to do this vacuum test. The suction works well in mode 1 and mode 2 but when switching to mode 3, the suction is too strong. The brush generates more noise and is close to blocking. If the carpet bristles were longer, the brush in mode 3 would most likely block. I have had blockages with a smaller carpet that had slightly longer bristles. Mode 3 is too powerful for carpets and it makes the hoover move less naturally as you sometimes have to force it forward a bit. [b][b]
Operating noise
[b][b]I tested all 3 suction modes and measured the noise emitted by the vacuum cleaner with a sound level meter placed right next to the suction unit. As I assume that you do not vacuum with your ear to the vacuum cleaner, the values perceived at ear level will be lower. The main purpose of the test is to test the noise levels between the different vacuum cleaners tested.[b][b]Mode 1 measurements: 71 - 74 dB[b]Mode 2 measurements: 78 - 79 dB[b]Mode 3 measurements: 89 - 91 dB[b]These values seem high but if I compare them with the other vacuum cleaners I tested, the values in mode 1 are quite good. However, as soon as you switch to mode 2 or 3, the Xiaomi G9 is quite loud.[b][b]
Battery life
[b]The battery life is highly dependent on the level of suction. If you leave the vacuum cleaner in the lowest suction level, you will get about an hour of battery life. If, on the other hand, you need a stronger suction force, the battery life will drop to 5-6 minutes in the highest suction mode. [b][b]
Consumption
[b]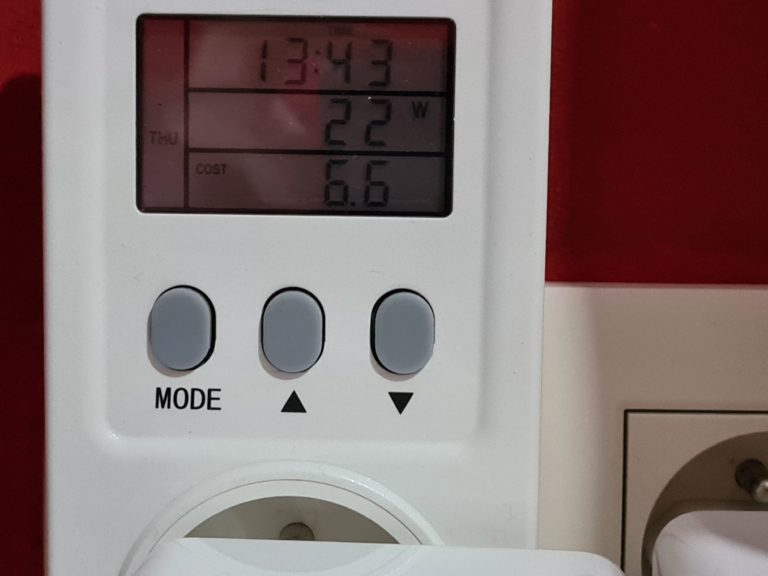 [b]I measured an average consumption of 22W at the socket, this brings the consumption to 1.3Kwh and it takes between 3 and 4 hours to fully charge the hoover. This should allow you to calculate the electricity cost of the vacuum cleaner by applying your rates per kwh.[b][b]
Review/Conclusion
[b]The Xiaomi G9 is not intended to challenge Dyson's superiority in suction power, nor is the Xiaomi G9 the vacuum cleaner with the longest battery life, but unless you have special requirements, this Xiaomi G9 offers a better value for money than any other vacuum cleaner of its type that I have tested. With a price tag of around £200, it is only slightly less powerful than other £300 or £400 hoovers. [b][b]The Xiaomi G9 is designed to suck up everyday dirt such as dirt from shoes, crumbs, seeds, hair, ... It is also capable of sucking up larger pieces of dirt if the main brush is placed over the dirt to be sucked up. It is manoeuvrable enough to go just about anywhere and be effective in corners, it just lacks a flexible elbow that would allow it to reach under furniture when the height available is not very important. In mode 1 and mode 2, the Xiaomi G9 is slightly less noisy than the Dreame I tested, but in mode 3 it is the opposite. The format of this hoover is almost completely identical to the Dreame hoovers, there is frankly nothing to complain about. I find it a little less beautiful than the Dreame models I tested but who needs a beautiful hoover?[b][b]Strengths:[b]- price/performance ratio[b]- quiet operation in mode 1 and 2[b]- powerful enough for most everyday dirt[b]- easy to use[b]- lightweight[b][b]Weaknesses:[b]- Battery life a little less than the competition[b]- Lacks a flexible elbow to get under furniture[b]- very noisy in mode 3[b][b][b]





Laurent Willen
Instead of watching nonsense on TV or YouTube, I spend my time in the evenings testing products and sharing my passion for technology, travel and photography.

I run this site in my own name and completely independently, no one pays me to do so.

I have more than 20 years of experience in the digital world, I have managed and developed many high traffic websites in companies in Belgium such as Mobistar, Microsoft, Immoweb, BrusselsAirlines, Proximus, Orange,...