Subscribe
Subscribe to my YouTube channel to receive updates.
Huawei Y6 2019 test, review and price
Category: Tests / Reviews

Huawei has made itself known in recent months through its many setbacks with the American justice system, the company is nevertheless doing very well and its phones have never sold so well. From their range of cameras, you probably know the mid-range or high-end that is at the top of the range for photo quality, but what about the entry-level? Not everyone can afford a €500 phone, what can we expect from a €100 phone?[b][b][b][b]linkManufacturer web site: https://consumer.huawei.com[b][b]
Structure of my tests
I test the phones according to a pre-established structure (see below) to provide you with as much information as possible. Unfortunately, this takes a long time. Some tests like network performance tests take several days and for photo tests I sometimes have to wait until the weather is suitable to take pictures in good conditions. I am therefore obliged to publish the tests step by step, so I invite you to come back if the test is not complete at the time of your visit.[b]
How are my tests different from others on the web?

- I usually buy the devices with my own money, so price is just as important as you are!
- I keep the devices for at least a few weeks (sometimes more) to see what they are worth in real conditions.
- I answer (when possible) your questions to help you decide before you buy
- no one pays me to do these reviews, so I'm completely neutral and independent...
- My pages are not filled with ads



iiiF150 R2022 : test / review
Realme 6 test, review and price
Xiaomi Redmi Note 7 test, review and price
Umidigi F1 test, review and price
Poco M3 Pro : test / review
Redmi Note 10s : test / review
Poco F2 review - test - specs
Lemfo Lem15: test / review / price
Realme GT 5G : test / review
Samsung Galaxy A52: test / review

Price Huawei Y6 2019
The list below shows the prices for the Huawei Y6 2019 from more than 50 sites around the world. If you are not satisfied with any price, you can subscribe to a price alert to be the first to be notified when the price drops.[b]

[b]

The above links are affiliate links from companies such as Amazon, Gearbest, Aliexpress,... If you appreciate my work, I would be grateful if you could purchase these products through these links. It costs you absolutely nothing but I get a small commission that allows me to buy the material I test. Thank you very much!
Timeline
16/09/19: purchase of the Huawei Y6 2019 from Amazon France[b]17/09/19: audio quality test, screen quality[b]18/09/19: photo quality test[b]19/08/19: test gaming, wifia[b]
Why this phone?
I have not yet tested an entry-level phone because I have so far focused on the mid-range range between 200 and 300€. My test will not aim to show that this phone is not as good as a 200€ device because it doesn't make sense. I would especially like to test this phone for what it is, namely an entry-level phone that is aimed at a different audience. Does this phone offer a good value for money for a price of 100€? This is what we will see in this test.[b]
Unpacking
[b]The Huawei Y6 box contains most of the basic elements that you will find with other brands. There is the phone wrapped in plastic film, a pocket containing the needle for the SIM drawer as well as two booklets, a USB cable, a wall charger and a pair of headphones.[b][b]
[b]

Length : 156.3
Width : 73.5
Thickness : 8
Weight : 150
Jack output : Yes
USB Type : MicroUSB
USB norm : 2.0
Infrared port : No

First configuration
The first configuration of the device reminds me strongly of the Honor 8x I tested in 2018. First of all, there are the classic screens where the device offers you to retrieve your data from your account but you will then be confronted several times with the Huawei layer which will try to make you create an account or add recommended applications. Every major brand does this kind of thing but Huawei insists a little more than his rival Xiaomi. The device will propose you to create a Huawei account, a cloud account, install applications,... By refusing everything, I noticed that the device had still installed a whole series of applications provided by Huawei even though I hadn't asked for anything.[b][b]The first configuration is not difficult but it is probably the slowest I have ever tried. Some steps take several minutes and in the end I think the first configuration took about 15 minutes. Unfortunately, it doesn't stop there because the phone will then download all the applications you installed on your previous phone and it can really take hours. I had started the configuration around 9pm and at 11pm, the device had not finished installing the applications. I use about thirty applications. According to the notification screen, the installation of the applications was completed at 3am. During installation, the device's processor is so busy that it is difficult to use the phone without noticing a slowdown. I have had exactly the same problem with other phones, so don't be in a hurry to use it.[b][b]During the configuration phase, I configured access to my wifi network and noticed that the phone was not compatible with the 5Ghz frequency, this could explain why some steps were particularly slow because the 2.4Ghz frequency is slower than the 5Ghz frequency, I will test this later on this page.[b]
Finish
[b]I didn't see many tests of this device before I bought it but the ones I found were very negative, so I expected to get a phone with very average finishes but that's not the case at all. The phone is made of plastic, that's true but it's the case with most phones in this price range. Plastic reflects light strongly and gives it a more aesthetic appearance.[b][b]Overall I find the finish very good for a device of this price, the plastic sinks a little when you press hard but I have found the same on other phones much more expensive. The choice of material will lead you to leave many fingerprints and the slightest dust will be visible but this is also often the case on other phones. [b]
[b]You will find a speaker of reasonable size and a jack connector for the headphones. There is also a small hole that reminds me of the one in the SIM drawer, but I don't know what its use is.[b][b]
[b]Underneath the device you will find a USB port and two sound grids, but only one is actually used.[b][b] On the left of the phone, you will find the SIM drawer and on the right the volume buttons and the ignition button. The position of the buttons is quite comparable with most of the other devices I have tested. The buttons are made of plastic but the whole is well integrated, I did not encounter any problems in use.[b]
[b]The back of the Huawei Y6 2019 is very simple, it is covered with a uniform light-reflecting plastic, you will find a single-lens camera at the top left and the Huawei brand below. [b] The screen occupies 79% of the total surface, it is not the best phone in terms of screen occupancy but it is not the worst either. At the top, you will find a notch for the front camera, this notch is quite comparable to what you will find at other manufacturers, I have placed the Y6 2019 next to a Xiaomi Mi A3, the cameras are very similar in their format.[b][b]
[b][b]Huawei has printed his mark on the lower edge, this lower edge is a little thicker than what I have seen so far but it has never been a problem for me. Huawei had the good idea to install a plastic film to protect the screen, so you won't have to install one yourself and get angry to chase away the bubbles that have slipped under the plastic film.[b][b]The Huawei Y6 2019 does not play the card of innovation or creativity, but that is not what I expect from an entry-level phone, so you should never lose sight of that. The finishes are all completely correct. The device is quite small and lightweight compared to the other phones I've tested, so you won't feel like you're walking around with a brick in your pocket.[b][b]
Specifications
[b]The information below comes from the Device Info HW application. The application provides detailed technical information about the tested phone.
CPU / GPU Performance
CPU : MediaTek Helio A22
GPU : IMG PowerVR GE-class GPU
Memory (RAM) : 2 Gb
Storage : 32 Gb

Benchmark Antutu/3DMark
I get a score of 64018 points on Antutu, it's the lowest score I got with Antutu but as I write above, it's the first entry-level phone I've tested. It is especially at the GPU level that the score is particularly low, so large games or graphics applications should be excluded.[b]
3

[b] I get a score of 258 points (OpenGL) and 269 points (Vulkan) with 3Dmark. It's very low but it was perfectly predictable for this kind of phone.[b][b]

Antutu score : 64018
Antutu CPU : 29466
Antutu GPU : 8621
Antutu UX : 19157
Antutu Mem : 6774
3D Mark Open GL : 258
3D Mark Vulkan : 269


[b]Top 10 - performance ranking based on Antutu
1. Realme Gt - 811858
2. Oppo Find X2 Pro - 605184
3. Oneplus 8t - 595000
4. Poco F3 - 589677
5. Xiaomi Mi 10t Pro - 581650
6. Oneplus 8 Pro - 579417
7. Xiaomi Mi 10 - 579114
8. Poco F2 Pro - 569559
9. Samsung Galaxy S20 Fe - 565000
10. Samsung Galaxy S20 - 503905

Number of smartphones in the ranking:128
Position of this smartphone in the ranking:119/128

Note: this ranking only contains the phones I tested as well as a few others that I added for reference.
[b]Gaming[b]To test the performance in game, I download the mobile PUBG game and evaluate the in-game experience, graphics level and depth of vision. This game is quite demanding and should help you evaluating the performance of a phone.[b][b]With the results of the Antutu benchmark, I expected nothing extraordinary for the PUBG test and was surprised to see that the game is playable. The graphic level is at its lowest and the fast movements stutter a little bit, but it is possible to play with PUBG. Lighter games will therefore not be a problem. I think screen resolution makes it possible to play this kind of game because the GPU has to be less strenuous than a screen in high resolution. I had already had this kind of surprise with the Xiaomi Mi A3.[b]
Network performance
The Huawei Y6 2019 does not support a large number of frequencies compared to the other devices I have tested but it covers most of the frequencies used in Europe, so you will not see the difference with other phones. For France, the frequency B28 used by Free is missing.[b][b]

3G frequencies : B1, B3, B7, B8, B20
4G frequencies : B1, B8
Bluetooth : Bluetooth 4.2 LE
SAR / head : 0.290
SAR / body : 1.050
Volte : Yes
NFC : No
Number measurements : 1199
Average signal : -95.95
Download speed : 145
Upload speed : 61


Choose your country to check if your phone is compatible:


The frequencies displayed below will allow you to see if this phone is compatible with your operator or if you will be able to use it in the country where you are going on vacation.




Signal 4G[b]The ability to pick up the network correctly is an essential element for a phone but it is only very rarely measured. To measure a phone's ability to pick up the network, I perform a large number of measurements on the same cells to be able to compare phones under similar conditions. The signal is measured in dBm, a value of -90dBm indicates a worse signal than -70dBm. These measurements are therefore taken under real conditions and not in a laboratory, they are not scientific but give a good indication of performance. [b][b]Network signal sensitivity rating
| | | |
| --- | --- | --- |
| Phone tested: | Average signal (dBm) | Number of measurements: |
| Xiaomi Mi 9t Pro | -88 | 1600 |
| Xiaomi Redmi Note 5 | -91.305 | 600 |
| Xiaomi Mi 9 Lite | -93 | 788 |
| Samsung Galaxy A70 | -94.511 | 1975 |
| Nokia 5.3 | -94.98 | 531 |
| Realme 6 | -95.14 | 2301 |
| Xiaomi Redmi Note 8 Pro | -95.922 | 1599 |
| Xiaomi Mi A3 | -95.95 | 1000 |
| Huawei Y6 2019 | -95.95 | 1199 |
| Doogee S58 Pro | -96.22 | 856 |
| Redmi 9a | -96.48 | 1000 |
| Meizu Note 9 | -96.68 | 937 |
| Motorola G8 Power | -96.88 | 1032 |
| Xiaomi Redmi Note 7 | -97.01 | 1430 |
| Redmi 9c | -97.04 | 1000 |
| Umidigi S3 Pro | -97.13 | 1200 |
| Xiaomi Redmi Note 8 | -97.34 | 879 |
| Samsung Galaxy A21s | -97.78 | 1000 |
| Umidigi F1 | -97.82 | 298 |
| Ulefone Armor 7e | -98.7 | 1000 |
| Xiaomi Mi Note 10 Lite | -99 | 1000 |
| Honor 9x | -99.14 | 899 |
| Xiaomi Redmi Note 9s | -99.4 | 1860 |
| Poco F2 Pro | -99.8 | 1247 |
| Xiaomi Redmi Note 9 | -100.79 | 1785 |
| Xiaomi Mi 10 Lite 5g | -100.88 | 1198 |
| Poco X3 | -101.19 | 821 |
| Umidigi F2 | -101.47 | 712 |
[b]
[b][b]The Huawei Y6 is in the upper average to catch the network, it does as well as the Xiaomi Mi A3 which costs twice the price. What we expect from a basic phone is that it allows you to call in good conditions, this is the case of this Huawei Y6 because it picks up the network well. Unfortunately, the sound is a little less good, but it's a problem with the loudspeaker.[b][b][b]Download/Upload speed[b]To test the download speed, I have identified some 4G cells offering good performance where I test all my devices several times to see what download and upload speed they can achieve.[b]Top 10 - speed ranking in download
1. Samsung Galaxy S20 D:351Mbps U: 20Mbps
2. Poco X3 D:232Mbps U: 55Mbps
3. Xiaomi Mi 10 Lite 5g D:223Mbps U: 52Mbps
4. Poco F2 Pro D:207Mbps U: 53Mbps
5. Xiaomi Mi Note 10 Lite D:153Mbps U: 68Mbps
6. Xiaomi Mi A3 D:150Mbps U: 60Mbps
7. Xiaomi Redmi Note 9s D:150Mbps U: 60Mbps
8. Xiaomi Mi 8 Lite D:149Mbps U: 60Mbps
9. Samsung Galaxy A21s D:147Mbps U: 51Mbps
10. Huawei Y6 2019 D:145Mbps U: 61Mbps

Number of smartphones in the ranking:30
Position of this smartphone in the ranking:10/30

Note: the theoretical maximum speed of a telephone is often limited by the configuration of the mobile network and the congestion of the network at the time of the measurement. So maybe you could get a higher speed on another network
[b]The Huawei Y6 is an entry-level phone that does very well in the entry-level segment, it offers a higher download performance than other phones I have tested. With 70 Mbps in download and 50 Mbps in download, Huawei will allow you to use 4G streaming services without any problems.[b][b]
[b][b]
Wifi performance
To test a phone's ability to receive the network properly, I take measurements near my router and then remotely (and always at the same place). This gives me an average in dBm where a value of -90 dBm indicates poorer performance than a value at -30 dBm.[b]

Wifi frequencies : 802.11b, 802.11g, 802.11n
Download speed : 125
Signal / close : -40
Signal / distant : -71


Wifi signal[b]The signal strength picked up by the Y6 2019 is good. The measurement near the router is even among the best. The remote measurement is very similar to what I have measured with other phones.[b][b][b]Top 10 - wifi sensitivity ranking
1. Poco F2 Pro -11dBm
2. Xiaomi Redmi Note 10 Pro -12dBm
3. Realme Gt -12dBm
4. Samsung Galaxy A21s -13dBm
5. Oneplus Nord N100 -15dBm
6. Poco X3 Pro -15dBm
7. Poco F3 -15dBm
8. Redmi Note 9t -15dBm
9. Samsung Galaxy A52 -17dBm
10. Xiaomi Redmi Note 10s -17dBm

Number of smartphones in the ranking:48
Position of this smartphone in the ranking:45/48

[b]Download/Upload speed[b]To test the speed in Wifi, I connect to my router in 2.4Ghz and 5Ghz (if available) and use the Ookla application to measure the speed.The Huawei Y6 2019 only supports the 2.4Ghz frequency, so it is limited in speed compared to a device supporting the 5Ghz but despite this limitation, the Y6 2019 perfectly exploits the frequency because it reaches without any problem the maximum speed for this frequency. [b][b]Top 10 - wifi download speed ranking
1. Poco F3 398Mbps
2. Poco X3 Pro 389Mbps
3. Xiaomi Redmi Note 10 Pro 367Mbps
4. Samsung Galaxy S20 351Mbps
5. Poco F2 Pro 341Mbps
6. Redmi Note 9t 332Mbps
7. Realme Gt 330Mbps
8. Doogee S96 Pro 328Mbps
9. Xiaomi Redmi Note 10s 325Mbps
10. Poco M3 Pro 323Mbps

Number of smartphones in the ranking:47
Position of this smartphone in the ranking:39/47

Note: I have a 400Mbps line and a modem capable of delivering higher speed, but I can never be sure how much bandwidth is available when doing a test.
[b]
GPS performance
[b]To test the quality of the GPS signal I use the Offline Maps application and I make the same train trip in pedestrian mode. Why? In pedestrian mode, the GPS does not artificially correct the signal to stick to the road, it has no markings, so you can see the actual position. I then use an application to measure the accuracy of the signal. [b][b]The GPS positioning of the Huawei is OK, you can notice that the measured position is quite close to the rail track and sometimes deviates from it by about 1 meter. The signal sometimes disappears when the movement is not fast and I pass under a bridge but I have observed the same thing on other telephones. The Huawei therefore offers correct positioning with some errors at low speed.[b][b]However, I must add that the weakness of its processor may cause some problems when you have to react quickly. If you enter a roundabout and use the GPS to guide you, the phone may very well be slightly behind schedule. It is not systematic but it can happen.[b][b]Top 10 - GPS accuracy ranking
1. Oukitel C21 1m
2. Redmi 9a 1m
3. Doogee S96 Pro 1m
4. Xiaomi Redmi Note 10s 1m
5. Xiaomi Redmi Note 9 1m
6. Redmi 9c 2m
7. Umidigi Bison 2m
8. Poco M3 Pro 2m
9. F150 R2022 2m
10. Redmi Note 9t 2m

Number of smartphones in the ranking:23
Position of this smartphone in the ranking:0/23

Note: An accuracy of 3 meters or less can easily be corrected by a good GPS application. Phone performance also plays a role in how fast your display updates, so good accuracy could be compromised by too slow a display.
[b]
Battery range
Capacity : 3020


With a small 3020 mAh battery, you can't expect a long battery life, yet the Huawei Y6 does quite well. This phone is not designed for intensive use, so it can last several days with normal use. I don't have a use considered normal when I do a test and in the end I last a maximum of two days with the battery. If I play one hour of audio streaming, the battery decreases by about 20%.[b]
Photo camera test
To test the quality of photos produced by a phone, I do a technical test (resolution, sharpness, chromatic aberration,...) in studio (identical conditions) to evaluate the technical part objectively. From the second half of 2020, I built my own laboratory to take completely objective technical measurements. I then take pictures in real conditions to see how the camera performs. I then evaluate these photos according to my criteria but I publish the photos so that you can evaluate the result according to your criteria.[b]
Hardware
Selfie / resolution : 8
Resolution : 13
Video resolution : 1080p


Huawei does not communicate anything about the type of sensor used in the Huawei Y6, so it is probably not a Sony or Samsung sensor. I also don't have a point of comparison with another phone.[b]Default app[b]The default application is simplified to the maximum, it offers a photo mode, a video mode, a "beautify" mode, a panorama mode, an HDR mode and a PRO mode. The possibilities offered by the application are limited to the basic settings, only in PRO mode does the application offer advanced settings.[b][b][b]
Photoquality
Photo test / studio[b]
[b][b]The Huawei Y6 is equipped with a unique 3.62mm lens, it is located between the zoom and wide angle. The focus was on the front of the police car, the sharpness area is comparable to other phones, the Huawei opens at f/1.8, the depth of field is low but the sensor captures more light. The sharpness is good, the grid with the Ford logo is perfectly readable. The colours are not quite correct but it is not catastrophic. The blue of the police car is very light and the white is a little too yellowed. I thought I would get worse results with this phone but I must admit that it looks like other phones that are a little more expensive.[b][b]
4

[b][b]Photo test / sunny[b]
[b][b]For this test I took pictures while the sun was offering a beautiful light in the late afternoon, the conditions were ideal to take good pictures. I took some pictures in the fields where there were yellow and purple flowers, I also took some pictures of the sunflowers nearby.[b][b]The pictures taken by the Huawei are rather bland, they seem veiled, some colors like yellow stand out quite well but most of the other colors are too dark. Sharpness is good for subjects close to the lens, but the further away you get, the harder it is to distinguish the details. I didn't expect a great performance on the photo level, so I'm not surprised by the result. If you are not demanding in terms of photography, this result will probably be enough for you. If you want good quality photos, you will have to pay a little more money.[b][b]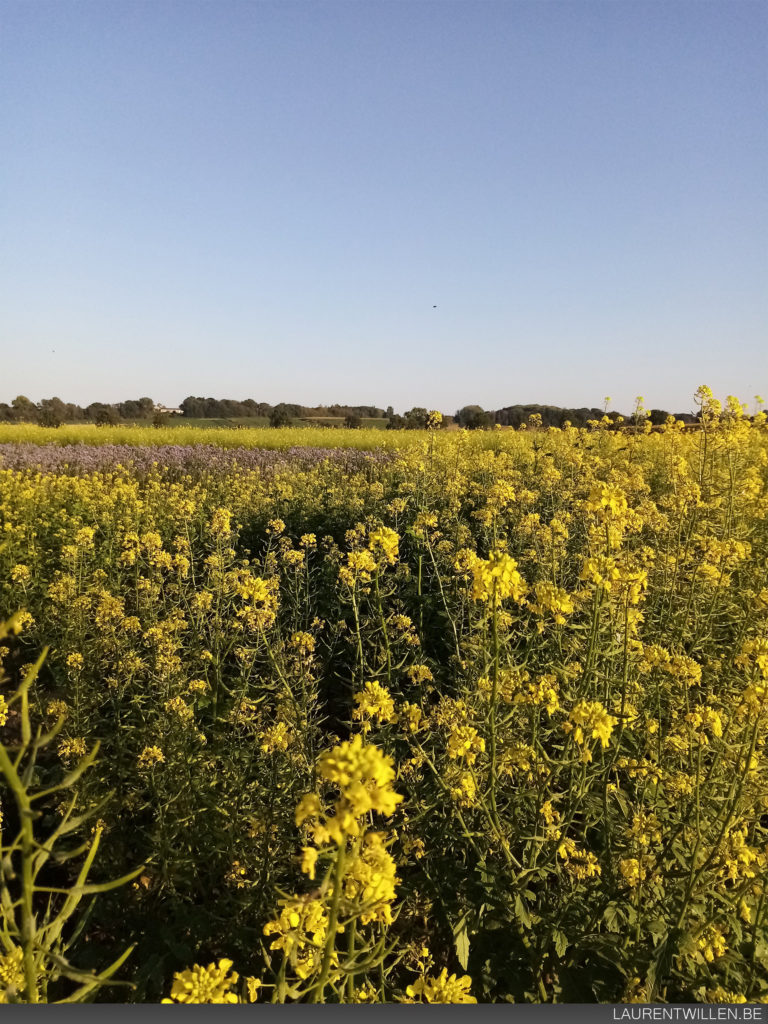 7

[b][b]Photo test / cloudy[b]
[b][b]Photos taken on cloudy days have some perfectly predictable defects for this type of phone. When the focus is on the shadow area, the sky turns completely white and a focus on the sky plunges the rest of the picture into darkness. The colors are not correct either, the color temperature is a little too high and this has the effect of yellowing the photos as for photos in full sun. The sharpness of the photo is however quite good.[b][b]
4

[b]\[b][b]Test photo / night[b]The Huawei Y6 2019 is clearly not a phone designed for photography and even less for night photography, it will quickly rise in ISO and digital noise is very visible from 800 ISO.[b][b][b]
Video quality
Stabilisation[b][b][b]The Huawei Y6 2019 does not seem to have optical stabilization, the video is ok despite the lack of stabilization but it is clear that it will not be a good candidate to make action videos. This is not what you expect from a phone of this type.[b][b]Video normale conditionsAs you can see from the previous video, the Huawei produces videos with the same defects as the photo sensor for colors. If you observe the branches in contact with the sky, you will also see chromatic aberration. The phone does not change the focus and shutter speed fast enough, so you see jumps in brightness. I exported this video to place it on YouTube and I noticed that the Huawei was producing videos in 3GP, I hadn't seen this format for a long time. The codec used is also not at the h264 or h265 level.[b][b]Video low light[b]When the brightness decreases, the defects of the video are even more visible. On this video we see that the camera is not fast enough to focus, it goes from blur to focus visibly. For the brightness it is the same, we can clearly see the changes in the opening of the shutter.[b][b][b][b]
Audio quality
To test the quality of the phone's audio output, I connect the device's audio output to a measuring tool, then play sounds on all frequencies and measure the differences between the original sound and the sound produced by the phone. In this way I measure the phone's ability to correctly reproduce all sounds.[b]

Frequency Respons : +0.25 / -0.2
Noise Level : -95.8
Dynamic Range : 93.9
THD : 4.553
Intermodulation : 2.139
Stereo crosstalk : -91.2


When I take my measurements, I don't know the result before the end, I can only rely on a graph representing the signal coming out of the phone. What struck me about the Huawei Y6 was the amplitude of the curve, which seemed really important to me. Once the test was finished, I was not surprised to see that the Huawei is the phone with a very powerful sound, it far exceeds the Xiaomi Mi 8 Lite and even the Samsung Galaxy S10+ but this is at the price of sound quality. The bass is very powerful but the treble quality is low and the sound is very distorted. You have to lower the volume by one or two notches to get back to an acceptable distortion and at this volume level, the power is still present. [b]Frequency Response[b]This test is intended to test the device's ability to correctly reproduce all frequencies. The white line in the middle of the graph is the ideal situation and the other colors come from tests on different phones. A deviation from the reference line indicates a deviation from the ideal situation. To see good sound at all frequencies, it is therefore necessary to get as close as possible to the reference line.
[b][b]Up to 500 Hz, the Huawei deviates slightly from the reference like the Redmi Note 7, it then joins the Redmi Note 7 curve and the reference curve up to 10khz where it begins to stall in the high frequencies. The difference does not seem significant on the graph but it is perceptible when listening and this measure is in line with my subjective observation, the trebles are not as good as the other phones I have tested.[b][b]Dynamic Range[b]This test is designed to test a phone's ability to play sounds at different volume levels. Here too, the phones must be as close as possible to the reference.
[b][b][b]The Huawei curve merges with the reference and other phones, meaning that the volume does not affect the phone's ability to play most frequencies.[b][b]Noise Level[b]This test aims to identify if the device under test is able to reproduce sounds without too much noise. A high score indicates a low parasite rate, a lower score indicates a higher presence of parasites.
[b][b]The Huawei has a good score here, the interference is imperceptible, it is even very close to the norm over a wide frequency range.[b]Concert recording[b]The purpose of this test is to measure the recording quality of the phone when there is a lot of ambient noise. Since I don't have the opportunity to go to a concert every time I test a phone, I simulate the noise of a concert in a closed environment.
Screen quality
To test the screen, I use a colorimetric probe that measures the color accuracy of a screen, as well as other parameters to see if a screen is able to correctly reproduce an image. I also test the brightness level to determine if the screen will be able to display an image in full sunlight.[b]

Screen size : 6.09
Resolution : 720x1560
Ratio : 19.5:9
Type : IPS LCD
% occupancy : 79
dE white : 8.9
dE red : 4.0
dE green : 0.9
dE blue : 1.7
dE jaune : 3.1
dE cyan : 4.9
dE magenta : 3.9
Brightness : 476


Colorimetry[b]
[b][b]For an entry-level phone, I didn't expect any marvels in terms of colorimetry and screen quality. By placing my Xiaomi Mi A3 next to the Huawei (see photo above in this article), I could already see clearly that the white was not white. The comparison is not very accurate because the Xiaomi has an Amoled screen but even without this comparison, you will see that the white is not white, it is a little yellowish. [b][b]The probe confirms what I saw to the eye, the difference with white is almost 9dE. I expected to get a bad result on the other colours but to my surprise this is not the case. I get an average dE of 3.9, it's not bad! If you look at the measurements in the table above this paragraph you will see that some colours are very accurate such as green and blue. On the image produced with the probe, you can see that the tips of the triangles are quite close to the reference, it is mainly the white in the middle that deviates from the norm in a visible way.[b][b]In this test, what bothers me the most is the deviation of the white from the standard because all the menus are on a white background. I have found a solution to mitigate the problem. From the phone settings it is possible to adjust the color temperature, the phone also offers a warmer or colder temperature. Neither of these two proposals improves the situation. However, you can adjust the temperature manually and if you push the green setting a little up to make the white come out of the center of the screen, you will be able to reduce the white deviation from the white. I managed to get a dE of 5.9 for white, it's much better. Obviously this kind of adjustment will cause other colors to deviate but the result is a subjective choice, I prefer a deterioration on some colors to guarantee a better white.[b][b]At the screen definition level, if you really pay attention, you will see that the pixel density is less than what you would find on devices at 150=200€. Again for an average user, this will not matter, but since my assessment is based on figures, I must say so.[b][b]Top 10 - ranking of the best screens by colorimetry
1. Xiaomi Mi 10 Lite 5g dE = 0.73
2. Xiaomi Mi 10t Pro dE = 0.83
3. Realme Gt dE = 1.17
4. Xiaomi Mi 11 Lite dE = 1.19
5. Xiaomi Redmi Note 8 dE = 1.2
6. Xiaomi Redmi Note 10 dE = 1.23
7. Xiaomi Redmi Note 10 Pro dE = 1.31
8. Samsung Galaxy S20 dE = 1.4
9. Poco M3 dE = 1.4
10. Xiaomi Mi 9 Lite dE = 1.46

Number of smartphones in the ranking:48
Position of this smartphone in the ranking:31/48

Note: the colorimetric difference is measured in dE. After three, the human eye will perceive a colorimetric difference, so the dE should be the lowest. The tests were all carried out with a colorimetric probe.
[b]Brightness / Contrast[b]In automatic mode, the brightness adapts to the ambient light as most phones do, this adaptation seems to me to work correctly. For the probe test, I measure the maximum brightness to see what the phone is capable of producing and I was surprised to see that the Huawei has gone up to 476 cd/m, it is better than a Redmi Note 7 and this should make the screen readable in full sunlight.[b] The contrast on an IPS screen is always lower than what you can see on an Amoled screen and this is also true here. The contrast ratio is not strong enough to create a very clear difference between the colors. The image is therefore less bright and the blacks tend to turn grey. [b]Light Absorption/Reflection[b]The smartphone screen reflect light and sometimes turn them into a real mirror. This mirror effect makes it harder to read. [b][b]The absorption index below indicates the percentage of light absorbed by the screen. The readability of a screen is better when the absorption index is high.[b][b]
| | |
| --- | --- |
| Phone tested: | % light absorption |
| Samsung Galaxy S10+ | 58 |
| Xiaomi Mi 9T Pro | 52 |
| Honor 9x | 65 |
| Redmi Note 9s | 55 |
| Motorola G8 Power | 60 |
| Realme 6 | 54 |
| Umidigi F2 | 48 |
| Poco F2 Pro | 52 |
| Redmi Note 9 | 56 |
| Xiaomi Mi Note 10 Lite | 53 |
| Samsung Galaxy S20 | 47 |
| Samsung Galaxy A21s | 53 |
The phones tested have an average absroption rate of54 %

Biometry
The Huawei Y6 does not have a borrow sensor, it is quite rare nowadays. It has 2D facial recognition and works correctly, but if you occasionally wear glasses, the phone may not recognize you if you have registered your face without glasses.[b][b]Facial recognition and screen opening are not very fast, sometimes giving the impression that recognition has not worked. [b]
Operating system
[b]
Encoutered bugs
Not yet available / tested[b][b]
Accessories Huawei Y6 2019
To better enjoy your experience with your smartphone, I offer links to all kinds of accessories that you might find useful

Protective cover / case huawei y6 2019
Screen protection film huawei y6 2019
Memory card huawei y6 2019
USB Cable / Charger huawei y6 2019
Headphones huawei y6 2019
Bike rack huawei y6 2019

Compare Huawei Y6 2019 with the others
I assigned a score of 1 to 10 for each test that determines the strengths and weaknesses of a product. I am using 0 for criteria that have not (yet) been tested. A score of 1 to 3 indicates poor performance (and yes, it does), a score of 4 to 6 indicates average performance, a score of 7 to 8 indicates good performance, and a score of 9 and 10 indicates exceptional performance. .
The score is calculated based on my measurements and when there are no measurements, it is a subjective opinion based on my experience.

The scores are not static, they change over time because the performance of new products changes and this must be taken into account.


| | | |
| --- | --- | --- |
| | Huawei Y6 2019 | |
| Finish quality | 6.00 | 6.00 |
| Battery performance | 5.00 | 8.00 |
| CPU performance | 2.00 | 6.5 |
| GPU performance | 2.00 | 6.5 |
| Screen quality | 5.00 | 7.00 |
| Photo quality | 5.00 | 5.00 |
| Video quality | 5.00 | 5.00 |
| Wi-Fi performance | 5.00 | 7.00 |
| Mobile download speed | 6.00 | 5.00 |
| Mobile network sensitivity | 8.00 | 6.00 |
| Frequency coverage | 7.00 | 7.00 |
| Audio quality | 5.00 | 6.00 |
| GPS performance | 6.00 | 6.00 |
| Operating system | 7.00 | 8.00 |
| Overall score | 74 | 89 |
Global ranking
1. Realme Gt 112.5 / 140
2. Poco F2 Pro 111.5 / 140
3. Poco F3 111.5 / 140
4. Samsung Galaxy S20 111 / 140
5. Poco X3 Pro 107.5 / 140
6. Samsung Galaxy S10+ 107 / 140
7. Xiaomi Redmi Note 10 Pro 106.5 / 140
8. Xiaomi Mi 9t Pro 106 / 140
9. Samsung Galaxy A52 104 / 140
10. Xiaomi Redmi Note 10 101.5 / 140
11. Poco X3 101 / 140
12. Xiaomi Mi 10 Lite 5g 101 / 140
13. Xiaomi Mi Note 10 Lite 101 / 140
14. Redmi Note 9t 100.5 / 140
15. Xiaomi Redmi Note 8 Pro 100 / 140
16. Xiaomi Mi 9 Lite 98 / 140
17. Doogee S96 Pro 98 / 140
18. Poco M3 Pro 98 / 140
19. Xiaomi Redmi Note 9s 98 / 140
20. Xiaomi Redmi Note 8 97 / 140
21. Xiaomi Mi 11 Lite 96.5 / 130
22. Poco M3 94.5 / 140
23. Xiaomi Redmi Note 10s 94.5 / 130
24. Xiaomi Redmi Note 7 94 / 140
25. Realme 6 93 / 140
26. Umidigi Bison 92 / 140
27. Umidigi A9 Pro 92 / 140
28. Oukitel C21 89.5 / 140
29. Xiaomi Mi A3 89 / 140
30. Xiaomi Redmi Note 9 89 / 140
31. Nokia 5.3 89 / 140
32. Motorola G8 Power 89 / 140
33. Oneplus Nord N100 88.5 / 140
34. Honor 9x 88 / 140
35. Xiaomi Mi 8 Lite 86 / 140
36. Meizu Note 9 86 / 140
37. Xiaomi Redmi Note 5 85 / 140
38. Umidigi S3 Pro 83 / 140
39. Samsung Galaxy A21s 82 / 140
40. Umidigi F2 82 / 140
41. Redmi 9a 81 / 140
42. Redmi 9c 80 / 140
43. Ulefone Armor 7e 80 / 140
44. Doogee S58 Pro 78.5 / 140
45. Honor 8x 78 / 140
46. Umidigi F1 77 / 140
47. Huawei Y6 2019 74 / 140
48. Xiaomi Mi 10t Pro 57 / 70
49. F150 R2022 53.5 / 80
50. Elephone U5 0 / 0

Test / Review conclusion
The Huawei Y6 2019 is an entry-level phone, it is the first phone of its kind I have tested and it is therefore not surprising to find it last in the ranking. Should you avoid this phone? It depends on its price. At the time of testing, some stores were selling it for 150€, it is too expensive because for this price, other phones like the Redmi Note 7 are much better. In the price zone around 100€ this phone can find a place among some users who do not want to spend a fortune on a phone.[b][b]We sometimes forget that the primary purpose of a telephone is to correctly pick up the network and make calls, the Huawei fulfils this mission very well because it picks up the network well. Beyond these basic features, the Huawei offers features typical of a smartphone but does not shine in any area. [b][b]This phone will therefore be suitable for an audience that is not looking for the latest technology but still wants to be able to surf comfortably or take a few pictures. This phone could also be suitable as the first smartphone for a child or an elderly person.[b][b][b]Strengths[b][+] Battery life[b][+] Network capture[b][b][b]Weaknesses[b][-] Performance/Slow[b][-] Photo quality[b][b][b]Alternatives to this product[b][b]
Subscribe
Subscribe to my YouTube channel to receive updates.