Nvidia Shield TV Android Box test and review
Category: Tests / Reviews


There are many Android boxes on the market today, many of them are coming from Chinese manufacturers and you can easily find Android boxes below 50$. That's pretty cheap but it comes with some flaws like unsupported DRM (for Netflix or Amazon), unsupported resolution, unofficial Android releases,... I have tried a couple of them without finding the perfect solution until I bought the Nvidia Shield TV. If there was one box to rule them all, it would be definitely the Nvidia Shield TV.


Price Nvidia Shield TV

The Nvidia Shield TV is usually found around 150-200$ depending on which version you want to buy but if you're patient you may get it with a rebate like I did. I managed to buy one for around 100$ on Amazon. Add your mail to my price alert so get daily alerts when the price goes down.

[pricelist keyword="56"]


Why did I buy this product?

In the last couple of years I have bought 3 or 4 Chinese Android boxes, they all look great on paper but I ended up being disappointed all the time. Those boxes are very cheap and sometimes they deliver nice performance but don't let the specifications fool you, for less than 50$ there will always be a catch.

This year I bought an Alfawise H96 box, it also looked great on paper but I discovered that it was not capable of displaying a resolution above 720p despite what the specifications tell you. I then bought an Amazon Fire TV stick, it was already a great improvement compared to the Chinese boxes but it lacked app support and processing power.

I had kept an eye on the Nvidia Shield TV for a while but what prevented me from buying immediately was the price. The Nvidia Shield TV solution is much more expensive than those chinese android boxes or the Amazon Fire TV stick, the basic version starts around 150$. I used my own price alert feature to find the best price and after a couple of days, I found a flash sale on Amazon where I could buy the Nvidia Shield TV + remote + controller around 100$.


Nvidia Shield TV body

Despite all the power it has to offer, the Nvidia Shield TV is relatively small and quite light too. It almost feel like an empty box. The whole design looks like other Nvidia products, it looks futuristic with sharp angle where black and bright green are being used.

Weight: 8.8 oz / 250 g
Height: 3.858 in / 9.800 cm
Width: 6.26 in / 15.900 cm
Depth: 1.02 in / 2.593 cm

The box has 2 USB 3.0 connectors, 1 HDMI (with up to 4k resolution), 1 Gigabit Ethernet port and a power connector.


First start

When starting the Shield for the first time, you'll need to configure it. The first step consists in pairing your controller (remove and gamepad)



You then need to select your language. The device is a glocal product so you can expect it to support a lot of languages



After the language, you need to associate the device with your Android account (through phone, tablet or manual entry)



The process with an Android phone is pretty easy, it is completed in a few clicks.



After connecting with your phone you'll have to accept terms & conditions, give a name to your Shield TV, join the Nvidia Reward program (not mandatory). Once everything you're done, you'll probably need to upgrade the OS.

Remote control

The remote control is wireless wich means that you don't need to point to the Nvidia Shield TV to make it work. It may sound silly but many cheap Android boxes are delivered with infrared remote control. The remove control is very simple, you can operate it in complete darkness, there are only a few buttons to memorize. Surprisingly the microphone button is the most prominent one, it basically triggers the Google Assistant for voice search but also commands like starting a specific application installed on the Nvidia Shield TV.

The remote control is powered by flat CR2032 batteries, I would definitely have preferred a rechargeable battery but you don't use the remote control as much as a game controller so I suppose that in the end it should be ok.


Game controller

The game controller is not included in every package but if you intend to play with the Shield TV, you definitely need to buy the controller. It looks sophisticated and it is, it could even replace completely the remote control as it offers more possibilities and it can be recharged through USB. The design is futuristic and in line with what Nvidia usually does. The game controller has the usual controls you can find on this type of product like the four colored buttons on the right, two joysticks, buttons everywhere,... You even have a microphone to trigger the Google Assistant and you can also control the volume with a small touch pad in the middle.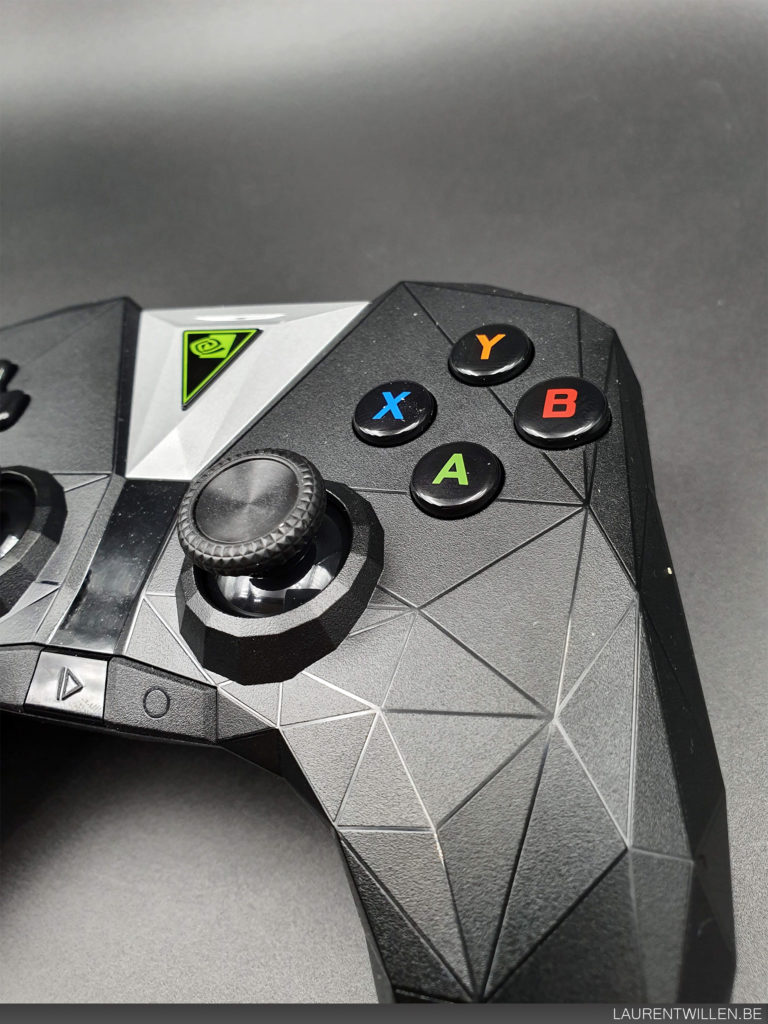 4
Operating system

The Nvidia Shield TV runs on Android TV and unlike many Chinese products, it's an official version that supports all DRMs, screen resolutions and official applications. You can browse the screen vertically to access all the different sections and you can browse horizontally to access the content of a particular sections. The screen starts with shortcuts to the most popular applications where you can find Netflix, Kodi, Nvidia Geforce Now, Amazon Prime Video, BBC iPlayer, ...




When you go down to Nvidia Games, you see a list of suggested games but you can also go to the Nvidia Games application to browse the entire catalogue. The Fire TV stick from Amazon works exactly the same way.

Here is a short video of what you can find on the home screen and how to navigate between categories:



Installing apps

Installing apps is very easy but you can't download all the apps from the Play Story, Nvidia has selected a couple of apps that are working fine on the Shield TV but a vast majority of the apps is simply not available. Of course the big names are there, you can survive with what Nvidia is offering but if you need apps that are not available, you will have to side load apps in your Shield TV.

What does that mean? It means that you will have to load apps from another source than the Play Store from Google and that you will need to install a file management app like ES Explore to do the job. It's not illegal but you need to be careful with what you install as you may install apps that have not been verified by Nvidia.

I have found a video explaining this step by step:



Streaming with KODI

KODI is installed by default, you just need to configure it and you're good to go. KODI is fast on the Shield TV, you don't need to wait for the interface to respond. I have made a small video where I stream a file on my local network. It's 1080p trailer for the new Top Gun movie. There is no lag at all, you can pause or move forward and jump almost instantly where you want to go.




Streaming with Amazon Prime Video

Amazon Prime Video is also installed by default on the Shield TV but you need a Prime account from Amazon to be able to use it. The Amazon Prime Video player is a bit more sophisticated than the one from Kodi, it allows you to get additional content while you are watching a show and you can jump between scenes, episode, seasons and get additional data over the show you are watching. I tried Amazon Prime Video on an Amazon Fire TV stick, it works well but you feel a small lag in every of your action. With the Nvidia Shield TV, you don't have that lag at all, it's very fast, you can play around with the menus while watching, it never fails you.




Gaming with Geforce Now

Geforce Now is the cloud gaming solution from Nvidia, the principle is very simple, you can play games through streaming without installing them. Nvidia has invested a lot to be able to stream top PC games over the internet so that you can play on any Nvidia device. The Nvidia Shield TV is equipped with a powerful GPU that allows you to play high end games without downloading the full game and as you can see in the video below, it's quite fast and the experience is really good.



I played this game on my projector and the framerate was very good, it was as if I was playing the game locally. I don't know which resolution they used but I wouldn't be surprised it was streamed in 1080p.

On a technical point of view, Geforce Now works quite well on the Shield TV but there is more...They have a lot of free games! Tombraider is one of them but it's not the only big game available. You won't get the latest licences for free but there are many games available.

With Geforce Now you can also stream games from your PC or the cloud if they are available. For cloud based games, you just need to download a small portion of the game and the rest will be made available through streaming. For PC based games, you will have to turn on your computer to stream the game to the Nvidia Shield. I have tested a couple of games from my library and most of them were working through the cloud.


Shield TV as shared folder

To make this test, I took some video with the screen recording feature provided by Nvidia. It's a great feature except that it drops file in the internal storage and you can't copy those file to an USB stick, the system doesn't allow you to do that. You can bypass the restriction by extending the internal storage to the USB key but that's not very practical. The best solution is to share your Nvidia internal folder as a shared folder on your network.

The process is explained here: https://nvidia.custhelp.com/app/answers/detail/a_id/4172/~/how-do-i-share-shield-tv-folders-with-a-pc

One this is enable, you can transfer files between your Shield TV and your computer without installing any third party app on your Shield TV.


Conclusion / Final test & review

When I test new devices, I usually keep them for a few weeks or maybe a couple of months to be able to test them in depth. After the test I usually sell the device to buy another one but this won't be the case with the Nvidia Shield TV. I've been looking for a good Android box to connect to my projector and I have found it. The Nvidia Shield TV is simply the best Android box you can find on the market, it literally blows everything else away.

My projector is running on an old and unsupported version of Android, I was looking for an alternative to be able to watch movies locally or stream them, do a little bit of gaming, a bit of browsing and also showing photos to my family. I tried many chinese Android boxes and they all lacked something, I then bought the Amazon Fire Stick, it's a great product but it really doesn't compete in the same league as the Nvidia Shield TV. Of course, if you look at the price, you would expect it to be better.

Update december 2019:
Nvidia has released two new versions of their Shield TV model, one cheaper that looks like a tube and another one that looks exactly the same as the one tested here. The new version offer 25% more performance than the old one and has some additional image treatment. Should you buy the old one or the new one? It depends on your budget but the old one still is one of the best devices on the market so you should definitely consider it.

Strengths:
[+] Great performance
[+] Very well designed OS (Android TV)
[+] Good remote and gamepad with voice control
[+] Supports up to 4k
[+] Supports DRM from Netflix, Amazon Prime Video
[+} Offers free games in streaming + allow you to stream your existing games

Weaknesses
[-] Price
[-] You can't charge the remote through USB
[-] You can't transfer files to a USB Stick