Blitzwolf BW-VP13 : test / review
Category: Projectors

Despite its German-sounding name, Blitzwolf is a Chinese brand that markets all kinds of products including an entry-level projector range like this one. This Blitzwolf BW-VP13 is the second projector of this brand that I tested, I also tested the Blitzwolf BW-VP9 which did not give me complete satisfaction despite some interesting qualities. [b][b] The Blitzwolf BW-VP13 is a 1080p projector available for a hundred dollars, so the price will be a strong enough argument to justify its purchase. This projector model is a model designed to be used with an external video source (wifi or cable) because the projector does not run on Android TV like the VP9. It is therefore a "naked" projector that will always have to be associated with another device to deliver video content to it. [b][b] The price is therefore very attractive but you must also pay attention to other elements to assess the quality of this type of projector. There is obviously the quality of the image but also the noise generated by the projector because in this price zone, the projectors are often very noisy. So I'm going to put this Blitzwolf BW-VP13 through my usual tests to see if it's worth buying.[b][b][b]linkManufacturer web site: https://www.blitzwolf.com/[b] Site where I have bought the Blitzwolf BW VP13: https://www.banggood.com/custlink/mKKYetICSJ[b]
How are my tests different from others on the web?

- I usually buy the devices with my own money, so price is just as important as you are!
- I keep the devices for at least a few weeks (sometimes more) to see what they are worth in real conditions.
- I answer (when possible) your questions to help you decide before you buy
- no one pays me to do these reviews, so I'm completely neutral and independent...
- My pages are not filled with ads



Anker Nebula Cosmos Laser 4k: test / review
Xiaomi Laser Cinema 2 : test / review
Xgimi Horizon: test / review
Wanbo T6 Max : test / review
Nebula Cosmos Max 4k test, review and price
JMGO U2 4k laser : test / review
Xiaomi Mi Smart Projector 2 Pro: test / review
Wanbo X1 : test / review
Blitzwolf BW-VP13 : test / review
XGIMI Mogo Pro test, review and price

Price Blitzwolf BW VP13
The list below shows the prices for the Blitzwolf BW VP13 from more than 50 sites around the world. If you are not satisfied with any price, you can subscribe to a price alert to be the first to be notified when the price drops.[b]

[5g wifi] blitzwolf bw-vp13 1080p wifi projector full hd 2.4g/5g wifi cast screen mirroring 6000 lum...

2022-05-24 09:46

159 EUR

[5G WIFI] BlitzWolf®BW-VP13 1080P WIFI Projector Full HD 2.4G/5G WIFI Cast Scree...

2022-05-25 14:29

222 EUR

[b]

The above links are affiliate links from companies such as Amazon, Gearbest, Aliexpress,... If you appreciate my work, I would be grateful if you could purchase these products through these links. It costs you absolutely nothing but I get a small commission that allows me to buy the material I test. Thank you very much!
Timeline
July 27, 2021: I buy the Blitzwolf VP13 on Banggood in presale [b] August 24, 2021: I receive the projector, so the test can start [b][b]
Why this projector?
I usually test projectors sold between 500 and 1000 € because this is where we find the best quality / price ratio. I sometimes make a few exceptions to get a feel for what's in other price brackets and to gauge the differences in image quality. I had already bought a Blitzwolf for around € 200 earlier this year and was quite disappointed because this projector was way too loud. I still let myself be tempted by the BW-VP13 because it costs significantly less and is one of the most accessible 1080p projectors. [b][b] I do not expect miracles, this kind of projector will not be able to outclass a projector at 500 € but my goal is to expose you in a most neutral way possible the qualities and the faults of this projector so that you can judge whether its faults are acceptable to you. I especially expect this projector to be noisy and to emit heat but we will see all of that in this test.[b]
Unpacking
The packaging of the Blitzwolf is quite classic, it is quite sober and uses the same basics as the other model I tested. The box contains the projector, video cables (video + sound L / R), an HDMI cable, a power cable, a manual, a mounting screw to attach the projector and a remote control without batteries (2x AAA).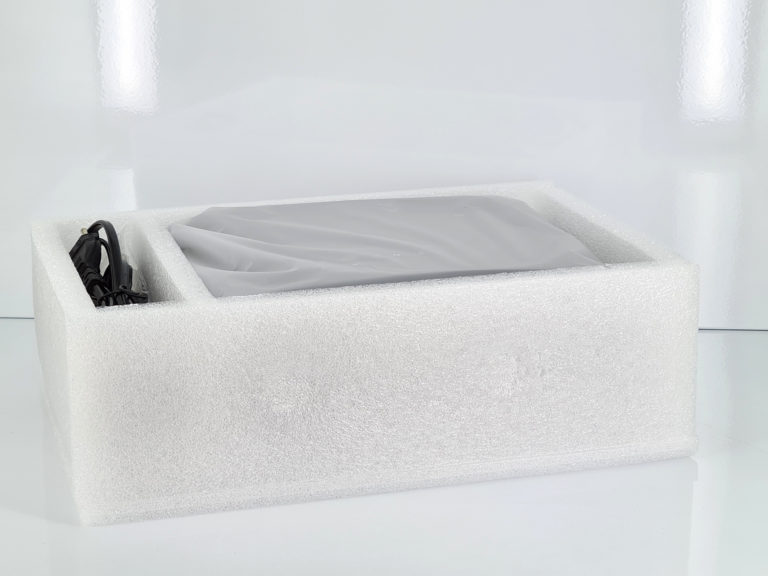 4

[b]
First configuration
The Blitzwolf BW-VP13 does not really have an operating system, it has a menu to choose the source of the image as well as some settings for the image. It is therefore not necessary a priori to configure anything to use it out of the box.[b]
Finish
The Blitzwolf BW-VP13 is an entry-level product, so it's completely clad in plastic and it's designed in a pretty classic format that reminds me of tube projectors from a few years ago. . There is a large optical unit at the front and two adjustment wheels above (one for perspective and one for sharpness). This large optical unit will project the image from an LED source which will be returned to the optical unit by a system of mirrors. This kind of design generates heat that needs to be released from the projector and that is why these projectors are noisier. [b][b]
The ventilation of the box is provided by a grille which will suck the ambient air on one side of the projector to bring out the heat on the other side of the projector. Blitzwolf has also added a small removable panel near the exit so that it can wick away the dust that will inevitably accumulate over time. [b][b]
There is a VGA port on its own at the back of the projector and the rest of the connections on the side. The BW-VP13 is quite complete as it offers 2 HDMI inputs, a USB 2.0 input, an SD card reader, a headphone output and a video input. [b][b]
Despite the use of plastic, the projector is well finished, it does not really stand out from the others but its format offers everything we are entitled to 'expect a projector. The optical unit can be protected by a small cover supplied with the projector.[b]
Projection room
My projection room is rectangular, 4.6m x 2.9m (height 2.2m). The projection wall is a normal wall on which I have applied white paint without any particular treatment. The walls on the side are darker (dark grey and red) to accentuate the contrast with the white wall and avoid too much light reflection. I have the possibility to place a projector at the back of the room at a distance of about 4m from the screen. I also have the option of placing a short-throw projector at the foot of the wall. I don't have a dedicated installation for sound, I just use a sound bar from Xiaomi.
Battery autonomy
The Blitzwolf BW-VP13 is not a portable projector, so it is not equipped with a battery.[b]
Power consumption
The Blitzwolf BW-VP13 consumes around 70W with some fluctuations between 65 and 75W. It is quite little compared to a traditional projector but it is not the least greedy among those that I tested. In particular, I tested the Mi Smart Compact which consumes 50W while producing less noise and more light.[b]
Operating noise
I measured the noise produced by this projector by placing a sound level meter next to it. I suspect you are not going to place the projector next to your ears, but I test all projectors the same way to have an identical basis of comparison. I measured around 60db right next to the projector, it's pretty high but it's lower than the 70dB I measured on the Blitzwolf VP9. Projectors in this price range are all louder than average, there is nothing wrong here. If you are a bit of a handyman, know that it is possible to replace the fan with a quieter fan like those used in PCs to cool the CPU. (be careful, you risk losing the warranty by opening the projector)[b]
Connectivity
The Blitzwolf BW-VP13 is wifi (2.4Ghz and 5Ghz) and Bluetooth 5.0 compatible. The wifi is mainly used to cast with another device such as a smartphone. Bluetooth allows the projector to be connected to an external sound source. [b][b] The projector is also equipped with the following connectors: VGA, video (video + stereo sound), jack, usb, hdmi x2 [b][b][b]
Image quality
I always use the same 4 videos on YouTube to compare the image quality of the projectors. These four videos have quite different content to be able to assess the quality of the projector. Here is what I noticed with this first test: [b] - the colors are too cold, the colorimetry tends towards blue [b] - the image is quite clear in the center, we can see that it is 1080p, the sharpness is less good at the periphery [b] - there is a slight jerk in the movements [b] - the brightness is good [b] - the sound is not not very powerful but at 50-75% it is sufficient to no longer hear the fan. The highs are quite pronounced, the lows are more discreet. - a fly crashed into the back of my screen [b][b] To play these videos, I used an Nvidia Shield connected by HDMI to the projector and connected by an ethernet cable to my router. The image is not perfect but in this price range you have to be able to make sacrifices and I find that for the price this projector is able to offer a quite watchable image so you can get a great image. larger than that of a television for a hundred euros. [b][b] It is possible to improve the quality of the image by changing the settings of the projector, it is possible to adjust the color temperature as well as the sharpness. I made a video to show what is possible: The preconfigured modes don't help much. On the other hand, it is possible to increase the sharpness significantly and increasing the color saturation reduces the bluish effect on the image. I also tested the color temperatures in the following video: [b] The result is not perfect but a warmer coloring has the effect of reducing the bluish effect . [b][b] Fluidity of movements This type of projector does not offer a motion compensation mechanism, it does 'just not exist in this price range. The consequence is visible on the image where we see that the movements of the white blocks cause tearing. It's pretty normal in this price range. I saw it right away in the first video, so the effect is clearly visible but as I am used to testing more expensive projectors, I see this kind of problem more quickly than a user who does not has no other point of comparison.[b]Colorimetry[b]The dominance of blue is visible in the image, the verification of the colorimetry with a probe confirms this observation made with the naked eye. I got a dE greater than 13 for colorimetry with too narrow a color space. The projector does well on green, yellow and cyan but on other colors, the color difference is important. White has a temperature of 7371K, so it is not white, it is bluish. It is possible to attenuate the bluish effect from the parameters of the projector but even lowering the blue to 30, it remains too high. [b][b] This projector is therefore clearly not designed for purists because the colorimetry is not good enough to consider the projector as a replacement for a television.[b]Brightness[b]The technical sheet of the Blitzwolf indicates a brightness of 6000 lumens, it seems enormous but you should never be proud of this kind of indication. If I measure the brightness I get about 1000 lumens at 1 meter from the projector, it is clearly sufficient for a dark room but clearly insufficient for a projection in broad daylight unlike the misleading photos which are often used to illustrate the capacity of this projector. . [b][b] The data sheet states that the projector should have a contrast of 3500: 1, again the reality is very different. I don't know what they measured to get 3500: 1 contrast, I have never tested a projector with such a real contrast level before. In reality I measured a contrast below 100: 1 and this value is in line with other projectors of this type that I have tested. [b][b] In the product description I see "clear image even in daylight" ... this is completely wrong! You won't find any projector in this price range that can project a clear, high-contrast image in daylight.[b]
Image size and projection distance
The Blitzwolf BW-VP13 has a throw ratio of 1.5, this means that for a throw distance of 1m, you get an image with a diagonal of 50cm. So you need a fairly large distance to get a large image. I also found that the minimum focus distance is quite large, it takes more than a meter of distance between the projector and the projection surface to get a sharp image. [b][b] With this throw ratio, here are some examples of image size you can get: [b] - distance 2 meters, diagonal of 1 meter, width of 86cm [b] - distance 3 meters, diagonal 1.5 meters, width 1.29m [b] - distance 4 meters, diagonal 2 meters, width 1.72cm [b] The projector has a zoom which makes it possible to reduce the size of the image but with this projection ratio it is probably not very useful.[b]
Audio quality
This projector is not equipped with a very sophisticated sound system but I was nevertheless surprised by the quality of the sound. The high frequencies are fairly well represented and the low frequencies are not deep enough because the speaker lacks power. At 50% of the volume, I have a sound that fluctuates between 75 and 84 dB and if I increase this sound to 100% I don't see any big differences, the sound goes up a little beyond 88 db. The sound is therefore not very powerful and those who want a more immersive experience will have to connect an external speaker to the projector. On the other hand, it is necessary to increase the sound to at least 70% to cover the noise of the fan.[b]
Video games
I measured a display delay (input) between 50 and 60ms, this should allow a game console to be connected to the projector and enjoy the games on a big screen. Only games where you have to react quickly (ex: FPS) will suffer a little from this display delay, but not playing such games I don't really see a problem with this display delay.[b]
Operating system
The Blitzwolf BW-VP13 is a projector without operating system, it has a menu to select the video source and some parameters to adjust the image and connectivity. This is not a bad thing because in this price range, the manufacturers cannot put a very powerful processor and that would result in a rather average reactivity. I connected an Nvidia Shield to this projector and I was able to benefit from an experience quite equivalent to a projector at 500 €.[b][b]
Encoutered bugs
Not yet available / tested[b][b]
Test / Review conclusion
The Blitzwolf BW-VP13 is an entry-level projector that can be found for less than 150 € on sites like Banggood. In this price range, the image quality is not extraordinary, the projectors are noisy and the sharpness is poorer on the periphery. It's a bit the same with this BW-VP13 with some differences on certain points. [b][b] This projector is able to produce an image with fairly good sharpness in the center of the image but this sharpness evaporates at the sides. The colors are very cold, so all the images are rather bluish. The lateral movements are also quite visible, the images are jerky. This projector is noisy but less than the others I have tested in this price range, you should still avoid placing it near your head so as not to be disturbed by noise. [b][b] The throw ratio is quite low (1.5), so you will need to place the projector far enough from the projection wall to get a large image. In any case, you have to leave it more than 1.50m away because below this distance it is not possible to obtain a clear image. If you have room, you should place it far behind you to get a big picture and reduce the annoyance caused by noise. [b][b] All this can therefore seem very negative but we must put these results in their context, this is an entry-level projector and we should therefore not expect wonderful things. If we keep this point in mind, the Blitzwolf is doing pretty well because the image is quite bright, the sharpness in the center is correct and for a price between 100 and 150 € you get a capable support image source. to exceed the size of a TV. Those who do not have the budget for a projector at 500 € will probably already be very happy with this projector, for others I think that this projector should be considered as an extra projector for your children.[b][b]Strengths[b]Correct brightness for this price [b] Power consumption [b] Sharpness in the center [b] Ease of use [b][b][b]Weaknesses[b]Colors too cold [b] Minimum focusing distance [b] Focusing not always easy, the wheel does not move easily and is not very precise [b] Operating noise [b] Projection ratio [b][b][b]



Laurent Willen
Instead of watching nonsense on TV or YouTube, I spend my time in the evenings testing products and sharing my passion for technology, travel and photography.

I run this site in my own name and completely independently, no one pays me to do so.

I have more than 20 years of experience in the digital world, I have managed and developed many high traffic websites in companies in Belgium such as Mobistar, Microsoft, Immoweb, BrusselsAirlines, Proximus, Orange,...