Subscribe
Subscribe to my YouTube channel to receive updates.
Blitzwolf BW VP9: test / review
Category: Projectors

Despite the German-speaking sound, Blitzwolf is nevertheless a Chinese brand. Blitzwolf markets chargers, headphones, connected watches and many other products, including projectors. [b][b]I had already spotted this brand a few years ago but hadn't paid attention to it as there are many Chinese projector brands out there and most only produce low quality projectors. I saw a few videos of Blitzwolf projectors on YouTube and thought to myself that eventually I would have to buy one because the quality seemed really good for this price point. I took advantage of a presale on Banggood to buy the Blitzwolf BW-VP9. [b][b]Blitzwolf also markets other projectors and their names give no indication of what to expect from the projector. the VP9 seems to be the most successful projector, here is a quick rundown of the other projectors: [b]- Blitzwolf VP12: projector intended for casting from a phone, low resolution, limited features [b]- Blitzwolf VP11: entry level 720p projector intended casting from a phone [b]- Blitzwolf VP9: 1080p projector running Android 9 [b]- Blitzwolf VP8: entry-level 720p projector for casting from a phone [b]- Blitzwolf VP6 / VP3: 1080p input projector low-light range [b][b]The Blitzwolf VP9 offers native 1080p resolution, higher brightness, and runs standalone on Android TV.[b][b]BlitzWolf VP9 - Banggood[b][b][b]linkManufacturer web site: https://www.blitzwolf.com[b] Site where I have bought the Blitzwolf BW VP9: https://www.banggood.com/custlink/DGDY9s2lj9[b]
How are my tests different from others on the web?

- I usually buy the devices with my own money, so price is just as important as you are!
- I keep the devices for at least a few weeks (sometimes more) to see what they are worth in real conditions.
- I answer (when possible) your questions to help you decide before you buy
- no one pays me to do these reviews, so I'm completely neutral and independent...
- My pages are not filled with ads



Blitzwolf BW-VP13 : test / review
XGIMI Mogo Pro test, review and price
Xgimi Horizon: test / review
Xiaomi Wanbo X1 : test / review
Blitzwolf BW VP9: test / review
Nebula Cosmos Max 4k test, review and price
Xiaomi Mi Smart Projector 2 Pro: test / review
Xiaomi Mi Smart Compact Projector : test / review
JMGO O1 / JMGO O1 Pro : review / questions / answers
Xiaomi Mi Laser TV 150 test, review and price

Price Blitzwolf BW VP9
The list below shows the prices for the Blitzwolf BW VP9 from more than 50 sites around the world. If you are not satisfied with any price, you can subscribe to a price alert to be the first to be notified when the price drops.[b]

BlitzWolf®BW-VP9 Android 9.0 LCD Portable Projector Full HD Native 1920x1080 Pixels 6500 Lumens Blu...

2021-07-24 21:19

195 USD

[b]

The above links are affiliate links from companies such as Amazon, Gearbest, Aliexpress,... If you appreciate my work, I would be grateful if you could purchase these products through these links. It costs you absolutely nothing but I get a small commission that allows me to buy the material I test. Thank you very much!
Timeline
02/10/21 I ordered the Blitzwolf VP9 on Banggood for pre-order for 193 €[b][b]09/03/21 after a month of waiting, I finally received the projector and the test can start[b][b]
Why this projector?
I chose to test this new projector mainly for two reasons. The first is the price. A native 1080p projector for less than $ 200 is pretty rare. The second is that the Blitzwolf brand has already produced projectors that have received many positive reviews. So I wanted to make up my mind to see if this brand was ready for the general public in Europe. [b][b] There are many Chinese projectors on the market but many claim to support 1080p when it is not. is not the case. The Blitzwolf does not fall into this category. It runs on Android TV and although it may seem logical, it is far from being the norm for Chinese projectors. The fact of running on Android TV brings not only a benefit for the installation of applications intended for the projectors but this choice will also have a positive impact on the lifespan of the projector. Chinese projectors are often equipped with unofficial versions of Android and end up not being updated, so we end up with a projector that no longer supports all types of files and where applications no longer work. [b][b] Brightness is a weak point for projectors but this Blitzwolf advertises 6500 lumens. This figure should obviously not be trusted because if it is not expressed in ANSI, the actual brightness may be much lower. [b][b][b]
Unpacking
I was a little surprised at the size of the box when I received the Blitzwolf VP9 because the photos on Banggood made me feel like the projector was rather small but it is not , I found it quite massive by the way. [b][b] The box contains the projector, an infrared remote control (you need 2 AAA batteries and they are not included), HDMI cables, audio / video cables and two user manuals. [b][b] The projector is 30 x 22.5 x 13 cm and weighs 2.8 kg. [b][b]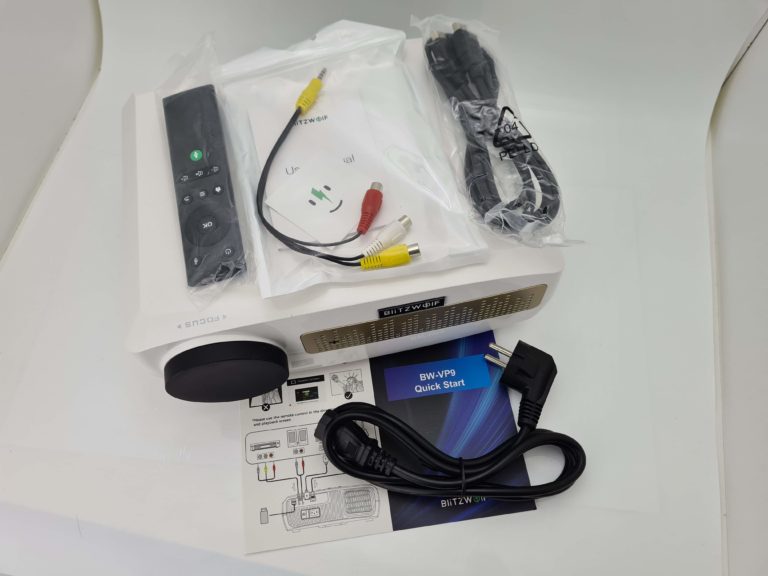 3

[b][b][b]
First configuration
The Blitzwolf VP9 projector runs on Android TV, not all other models at Blitzwolf, so you should check before you buy. The projector starts up without forcing you to go through a configuration step, you arrive directly on an Android TV home screen without customization. This is the first time that I have tested an Android projector that can be used without configuration. [b][b] Since there was no battery in the remote control and I did not have one on hand, I had to make do with the buttons on the projector to start my test. The buttons on the top of the projector are fairly easy to use, the position of the arrows and menu / return keys is pretty good. It is possible to browse the menus with these buttons to for example connect the wifi, associate a Google account with the projector or make an update. Obviously if you have to enter text, the use of the keys will make this task rather laborious (but not insurmountable). [b][b][b]
Finish
Blitzwolf does not produce high end products and it shows. I have no problem with that but I placed the Blitzwolf VP9 next to my Nebula Cosmos Max 4k and the Blitzwolf doesn't compare very well. The Nebula costs 5 times as much so I can hardly fault this aspect of the Blitzwolf. [b][b]
[b][b] The Blitzwolf VP9 is quite massive and is mostly made of plastic. It exists in two colors, I chose white but it also exists in black. The front facade is dominated by the huge projection lens, Blitzwolf has obviously opted for a mirror system, this is the first time I have tested a projector of this type. There is also a brown grille on the front cover, I find it a little weird and I don't know if it aims to break the monotony of the projector but I don't find it very aesthetic. [b][b]
[b][b] On the sides we find the speakers and a ventilation outlet, the whole is very well integrated into the box projector [b][b]
[b][b] At the back I find a fairly complete connection with 2 USB ports, 2 HDMI ports, an audio / video, a headphone output (Jack) and a LAN connector. There is no digital audio output, so you will either have to make do with the built-in speakers, connect speakers to the output jack (in stereo), or connect a bluetooth speaker. [b][b]
[b][b] On the top of the projector, Blitzwolf has integrated 7 buttons that allow you to navigate through the menus without using the remote control. It is therefore possible to change the projector settings without the remote control if, like me, you do not have AAA batteries on hand when unpacking the projector. The use of these keys is very practical but only if you stay in the interface of Android TV because inside an application like YouTube, the possibilities are more limited. [b][b]
17

[b]
Projection room
My projection room is rectangular, 4.6m x 2.9m (height 2.2m). The projection wall is a normal wall on which I have applied white paint without any particular treatment. The walls on the side are darker (dark grey and red) to accentuate the contrast with the white wall and avoid too much light reflection. I have the possibility to place a projector at the back of the room at a distance of about 4m from the screen. I also have the option of placing a short-throw projector at the foot of the wall. I don't have a dedicated installation for sound, I just use a sound bar from Xiaomi.
Battery autonomy
The Blitzwolf VP9 is not equipped with a battery, it only works on mains.[b]
Power consumption
According to Blitzwolf, the VP9 can consume up to 140W. It is little compared to a lamp projector but it is a lot compared to an LED projector. I measured the consumption at the outlet and I obtained values between 120 and 125W. The projector therefore consumes less than what is advertised. [b][b][b]
Operating noise
The Blitzwolf VP9 is a relatively noisy projector as you can see on the video, this noise comes from the ventilation which sucks air in from the back of the projector and rejects it on the side. To avoid being disturbed by operating noise, you should position the projector at least three feet from your position.[b]
Connectivity
The Blitzwolf VP9 can be used in WIFI as well in 2.4Ghz and 5Ghz, this allows to use the projector in an autonomous way. Unfortunately the wifi connection did not work well with my Netgear router, the connection was very unstable and I was unable to watch a video on YouTube continuously, unable to update or log into my account. I specify that my router was placed 50 cm from the projector, so the problem could not come from the distance. Fortunately the projector has an ethernet input and thanks to this input, I was able to update the projector, connect my Google account and play videos on Youtube without any interruption. [b][b] The Blitzwolf VP9 is also Bluetooth compatible and this allows for example to associate a sound bar. I paired my Xiaomi soundbar, the association did not pose any problem and I also did not encounter any synchronization problem. [b][b] The remote control works by infrared on the other hand. and this is not practical at all because you always have to point the remote control at the projector in order to use it. As this type of projector is placed at the back, you will therefore see your arm raise and point the remote control backwards, which is really not very practical. [b][b][b]
Image quality
To test the picture quality I often use the same video available on YouTube (you have to look for Costa Rica 4k), so I have seen this video hundreds of times on different devices, so I can quickly assess the ability of a projector to render a good quality image. The Blitzwolf VP9 surprised me with the sharpness of the images, I clearly didn't expect that in this price range. The projector sends 1080p and does it very well, the sharpness is good without being too pronounced. [b][b] In terms of colors on the other hand, there is a clear lack of saturation, the colors are quite cold and washed out. On a video like the one from Costa Rica, you clearly lose part of the beauty of the image. On the night video that follows the Costa Rica video, I find that the Blitzwolf is doing better because the contrasts are quite marked and the lack of saturation is much less of a problem. [b][b] I went from 1080p to 4k while watching, it works, the Blitzwolf can play a 4k stream (provided you use an ethernet cable, in wifi it's impossible) but I quickly noticed that the projector was starting to lose information and in particular in terms of sound where a significant gap has been created between sound and image. At first I thought it was a problem with the synchronization between the projector and my soundbar but I did the same test in the soundbar again and had the exact same problem. The projector is not powerful enough to be able to handle 4k stream properly. [b][b] I thought I could adjust the saturation in the projector options but there is no possibility to adjust the saturation . [b][b][b]Colorimetry[b]The Blitzwolf offers a nice sharpness of the image but the colors lack saturation, the colorimetric deviation is therefore quite important and is especially true on colors such as green, blue or white. The images are quite cold, it's a matter of taste but when you are used to using other projectors with better colorimetry, it can be disturbing. [b][b] Je Usually tests colorimetry with a probe and using my phone to display the correct colors on the screen but unfortunately I was unable to pair my phone with the projector. The Blitzwolf supports wifi casting but it never showed up on my Google Home app. [b][b][b]Brightness[b]The official Blitzwolf website announces a brightness of more than 6000 lumens, it may seem enormous but you should not be fooled by this kind of indication. The only value that is important is the ANSI Lumens because this value indicates the true brightness of a projector. The Blitzwolf certainly doesn't have a brightness of 6000 ANSI lumens, I would say it probably has a brightness between 1000 and 1500 ANSI lumens. It is therefore significantly less than what is advertised but it is far from being bad! [b][b] With 1000 to 1500 ANSI lumens you get a very bright image in the dark and a watchable image in daylight if the screen is not flooded by another light source such as the sun. The contrast under daylight will obviously not be very good but the image is visible. [b][b] The projector does not allow to adjust the brightness, so you cannot adapt it accordingly. of your situation. [b][b][b]
Image size and projection distance
The Blitzwolf VP9 does not have an optical zoom, which means that the projection distance will determine the size of the image. Fortunately, there is a zoom feature built into the software layer that allows you to reduce the size of the image. This is especially useful if you need to place the projector several feet from the screen, the image may become very large, so zooming allows you to resize the image to your configuration. [b][b]
Audio quality
The Blitzworlf VP9 is equipped with two 5W speakers located on each side of the projector. These speakers do not deliver a very powerful sound because even with the volume at maximum, the sound does not reach the level of the other projectors that I have tested. The sound lacks precision in both the highs and lows and when I push the volume to the maximum, I hear a fairly pronounced saturation. Obviously I shouldn't expect anything better from an entry-level projector. This problem can be solved by connecting a sound bar via bluetooth and in this case the sound is much better than with the speakers built into the projector. [b][b] I often use this video by Billie Eilish to do my sound tests because there is a good mix of bass and treble sounds but there is also a more pragmatic copyright reason. Billie Eilish gives permission for her music to be used in other people's videos. The sound capture obviously suffers a small loss because I record these videos with a smartphone but since I do this kind of test for all projectors, they are all tested under the same conditions. The sound of the Blitzwolf is not very powerful but lacks finesse, so I recommend using a good soundbar to compensate for this problem. [b][b][b]
Video games
Not yet available / tested[b][b]
Operating system
The Blitzwolf VP9 runs on Android TV and that's a good thing because it installs all compatible apps from the Play Store but it will keep track of updates in the future. The Android TV experience is roughly the same on all projectors running this operating system, but sometimes with a few differences. The Blitzwolf offers overall the same experience as what I have already been able to test on other projectors but the parameters are different, that's why I focused on this part for the video. [b][b] The projector allows you to make corrections to the image such as its aspect ratio (16: 9 or 4: 3), type of projection, keystone correction and zoom. However, it is not possible to adjust the brightness or picture quality. [b][b][b][b]
Encoutered bugs
I was quite excited to test an entry-level projector, I was really curious to see the result but I also had some misgivings. I suspected that the projector was going to be worse than the other projectors but I did not know if this difference was going to be important. [b][b] When I turned it on for the first time, I see a notification prompting me to update, this is often the case so I start by updating but unfortunately it does not work, I have tried dozens of times and downloading the update is interrupted after a few percent. So it doesn't start off very well. Second step, I try to connect my Google account to access the Play Store and there it is the same thing, it does not work. It starts off quite badly and I resign myself to simply testing a video on YouTube and again it does not go as I hoped because the video cuts constantly but this problem makes me think that the problem may be due to wifi from the projector. So I connect the projector to my router by an ethernet cable and there, miracle, the update is done in a few seconds, I manage to connect to my account and the videos on YouTube work. Is this a bug? A problem related to the hardware? I don't know, but what is certain is that my projector wifi is not working properly. [b][b][b]
Test / Review conclusion
I still have a few things to test but they will not influence the result of this test, so I will already write the conclusion for those who would not like to wait to make their decision. If you've read the review you might think that I don't recommend buying this Blitzwolf as I am reporting a number of issues that can potentially ruin your experience with the projector. However, one very important factor must be taken into account: the price. [b][b] The Blitzwolf VP9 is available for around € 200. In this price range, there are many projectors that claim to have the ability to display an image in 1080p but this is often wrong, the Blitzwolf on the other hand is really capable of delivering 1080p. It runs on Android TV and again in this price range it's pretty rare. The image sharpness of the Blitzwolf is quite comparable to projectors two to three times the price, which is one of the big strengths of this projector. [b][b] So, yes, the Blitzwolf has some flaws but a priori if you are interested in a projector of this type, I imagine that you are not one of the purists who want the right color and the best sound, at this price it is not possible. I had tested other Chinese projectors in this price area, none of these projectors are able to compete with the Blitzwolf. You have to see the Blitzwolf as a mid-range projector where some elements have been removed to make its price more attractive. [b][b] The element that bothered me the most and that it didn't is not possible to solve, it is its operating noise. The projector is noisy and it emits quite a bit of heat, if your room is small enough it will manage to raise your room temperature and I assure you that is no joke. The sound isn't great either and struggles to completely cover up fan noise, so you need to use a soundbar to get the most out of it. [b][b] The other point that bothered me a bit is the remote control, I don't understand the choice for an infrared remote control in 2021 and in addition for a device that will be behind you, it's completely counterintuitive. Fortunately you can use a bluetooth remote control or use an external box like an Amazon Fire Stick to control the projector. [b][b] Who is this projector for? I would say quite simply that this projector is for those who want a big, bright, crisp image without breaking the bank. You must then check whether the distance from your room will allow you to have an image of sufficient size and it will also be necessary to create a little distance between the projector and the sitting position so as not to hear too much ventilation. [b][b][b]Strengths[b]Image sharpness [b] Brightness [b] Android TV [b] Consumption [b] Price [b][b][b]Weaknesses[b]Very weak wifi [b] Operating noise [b] Projection distance [b] Infrared remote control [b] Casting [b] Lack of color saturation [b][b][b]
Subscribe
Subscribe to my YouTube channel to receive updates.