Receive notifications for new articles
Blitzwolf VT2 : test / review
Category: Projectors

Despite sounding German, Blitzwolf is a Chinese company that produces several types of products including projectors. Blitzwolf is positioned at the entry level by offering simple projectors at an affordable price. You will therefore (not yet) find Blitzwolf projectors capable of competing with Xiaomi or Xgimi, they do not yet produce equivalent models. [b][b] I have tested several Blitzwolf projectors and this time I will focus on the Blitzwolf VT-2. This projector is an ultra lightweight projector and the fact that it can run on battery power gives it a real reason to be where many other portable projectors always have to be connected to a power source. This is arguably the most portable projector I've tested so far. [b][b] With this size and this price, don't expect extraordinary image quality, but this is not the kind of criteria by which you should judge this projector. [b][b]
Special offer
This projector is available at Banggood for just under 180€: Blitzwolf VT2 at Banggood [b][b][b][b][b]Manufacturer web site: https://www.blitzwolf.com/[b] Site where I have bought the Blitzwolf VT 2: https://www.banggood.com/custlink/vK3Rz7vHc0[b]
How are my tests different from others on the web?

- I usually buy the devices with my own money, so price is just as important as you are!
- I keep the devices for at least a few weeks (sometimes more) to see what they are worth in real conditions.
- I answer (when possible) your questions to help you decide before you buy
- no one pays me to do these reviews, so I'm completely neutral and independent...
- My pages are not filled with ads

XGIMI Halo+ test and review
Xgimi Horizon: test / review
XGIMI Horizon Ultra : test / review
Wanbo T6 Max : test / review
Anker Nebula Cosmos Laser 4k: test / review
Wanbo T2R Max: test / review
Fengmi V10 (VX): test / review
Optoma Cinemax D2 Smart: test / review
Wemax Nova laser 4k: test / review
Xiaomi Mi Smart Compact Projector : test / review

Price Blitzwolf VT 2
The list below shows the prices for the Blitzwolf VT 2 from more than 50 sites around the world. If you are not satisfied with any price, you can subscribe to a price alert to be the first to be notified when the price drops.[b]bb

Blitzwolf TWS Wireless Bluetooth 5.0 Stereo Super Bass Earphone Earbud + Charger BW-FYE7...

2023-11-29 02:19

101 EUR

[b]

The above links are affiliate links from companies such as Amazon, Gearbest, Aliexpress,... If you appreciate my work, I would be grateful if you could purchase these products through these links. It costs you absolutely nothing but I get a small commission that allows me to buy the material I test. Thank you very much!
Timeline
June 17, 2022: reception of the projector from China (Banggood), the test can begin. [b][b]
Why this projector?
I always try to test products that I use on a daily basis, it allows me to be more credible in my experience sharing. After smartphones, projectors are what I use the most. The Blitzwolf VT2 has already been around for a few months but I think it's now that it could interest a wider audience because it's a projector that you can take with you on vacation to watch your movies and series on a large format. [b][b] Portable projectors with battery always have their effect even if the image quality is not extraordinary and this one is even more interesting because it is very small. For example, I tested an Xgimi Mogo Pro a little over a year ago, but this projector was large enough for a portable projector. The Blitzwolf almost fits in the palm of your hand. You can walk around with the projector in one hand and project the image wherever you want (indoor/outdoor wall, ceiling, furniture, etc.). I had tested the Mogo Pro on a church wall, I will probably try to do the same with the Blitzwolf...just for a laugh because it has no other interest.[b]
Unpacking
Blitzwolf may focus on the entry level, but I think they managed to print a consistent visual identity on all their products. Blitzwolf boxes are green and white with a minimalist design. The VT2 box contains the projector, a charger, an HDMI cable, an infrared remote control (without batteries, 2xAAA) and a manual. The box contains the bare minimum, you don't need more anyway. [b][b]
4

[b]
Operating system
[b]
The Blitzwolf runs on Android but not a recent version of this operating system, this is an alternative version designed to run on this kind of projector. You have access to YouTube or the Play Store but with some limitations. The operating system is complete enough to take full advantage of the projector, but you can also use your phone to send the image to the projector. This projector isn't designed to run all recent apps and it's a safe bet that it won't keep up with Android updates. We must therefore see this projector as a simple projector.
5

[b]
Finish
The level of finish of a projector is not very important because it is not an object that is exhibited in public but its external appearance will play an important role in the subjective perception of the product . My first impression when I opened the box was quite positive, this projector has a very particular style, it is mainly made of plastic but it is a nice product. If you walk around in public with this projector in hand, you will surely attract curious people. [b][b]
The optical block is tiny compared to other projectors I've tested. This projector uses a DMD 0.20 chip with a native resolution of 480p but capable of playing 1080p or even 4k (but it's slow). The brightness is quite limited, I have yet to measure it but the manufacturer announces 150 ANSI lumens.
To the right of the optical block, you will find a small knob that allows you to adjust the sharpness of the image because the projector does not automatically adjust the sharpness. This wheel is precise enough to get a good sharpness fairly quickly. I will test sharpness later in this test. [b][b]
Rear connectivity is quite limited but that's normal for a projector of this size. There is a USB 2.0 type A port, an input for the charger, an infrared port and an HDMI port. [b][b]
On the side there is an output for headphones which will require you to be close to the projector to use headphones, the projector also works in Bluetooth, so you don't have to not stand by if you have wireless headphones. [b][b]
You can control the projector with a remote control but also the touchpad located on the top of the projector.
The remote control is very simple and very light (100% plastic construction), it comes without batteries and works by infrared. [b][b]
11

[b]
Projection room
My projection room is rectangular, 4.6m by 2.9m (height 2.2m). I have two projection walls, one white wall 2.9m wide with just white paint with a possible 4m setback. I then have a 133 inch ALR screen on another wall with a possible setback of 2.8m. I mainly use the ALR screen except when the layout or type of projector is not suitable for this situation.
Battery autonomy
This projector is equipped with a 7000 mAh battery which allows you to watch your films and series independently, except that the autonomy is not sufficient to watch an entire film. By doing various tests I obtained an autonomy varying between 1h and 1h30. The autonomy will vary in particular according to the luminosity and the volume. If you lower the brightness, you could perhaps exceed 1h30 but in this case you must be in total darkness and also limit the size of the screen. This autonomy is quite correct for a projector of this size, your children will be able to watch a few cartoons without any problem before having to recharge the battery.[b]
Power consumption
This projector is probably the least greedy projector that I tested, I measured 20W of consumption with my watt meter plugged into the socket.[b]
Operating noise
The Blitzwolf VT2 is quite loud for a projector of this size, I measured 57 dB at the rear of the projector. A priori if you are one meter from the projector and the sound of the projector is at maximum, you should not hear anything.[b]
Connectivity
The projector can connect via Bluetooth to send sound to a speaker or headphones and it is also wifi compatible in 2.4 and 5 Ghz.[b]Image settingsThe image settings are very limited and do not allow you to have a fine adjustment to correct color deviations. The operating system used is not designed for that anyway and at this price level, you should not expect more either.[b]
Image quality
To give you an idea of the video quality, I used my usual 4 YouTube clips to evaluate colorimetry, contrast, sharpness and smoothness of movements. [b][b] The first thing that jumps out is the colors, they are clearly not correct even when playing with the settings. The shades are too cold and some colors look a bit excessive. The contrast does not seem bad to me for a projector of this type, but I will measure it later. The sharpness is not extraordinary, I had put the videos in 1080p but the physical resolution of the projector is 480p, the pixels are therefore clearly visible. I did not notice any fluidity problems but here too I will test this aspect later in my test. [b][b] I did not expect to get a quality image from this projector and that is quite normal for a projector of this type. It is not a projector to be used instead of a home cinema projector, it is above all a mobility experience and the quality for this type of use is less important. I always appreciate projectors that offer good image quality, but I frankly appreciated the poorer quality of this projector because the benefit of mobility outweighs the need for quality. [b][b] Imagine yourself on your vacation spot, you don't have a TV but you have a big enough wall? Now you can watch your movies and series wherever you want![b][b][b]Colorimetry[b]Not yet available / tested[b][b][b][b]Brightness[b]The manufacturer announces a brightness of 150 ANSI lumens on its site and often, manufacturers inflate these values because they know that it is an important purchase criterion. Here is an example of the brightness in an average room lit by daylight:
I measured 300 lux in the center of the image and had an image of 84cm by 48cm. After a quick calculation I ended up with 120 ANSI lumens. It's a little less than advertised. With this image size, the brightness remains acceptable but remember that the brightness decreases with the square of its distance and at a distance of 2 meters, the image will be significantly less bright than in this example where the projector was located at exactly one meter from the wall.[b][b][b]Sharpness[b]
This projector has a native resolution of 480p, so don't expect to get an image sharpness equivalent to a 1080p projector and it shows quite quickly depending on the image size. With an image of 84cm by 48cm as in this example, the distance between the pixels is visible. On the test chart, none of the lines (1, 2 or 3 pixels wide) can be seen clearly and this is normal for this resolution and screen size. So the images will still be a little softer than with a 1080p projector but as this projector is designed for recreational use on the go, I don't think that's an issue.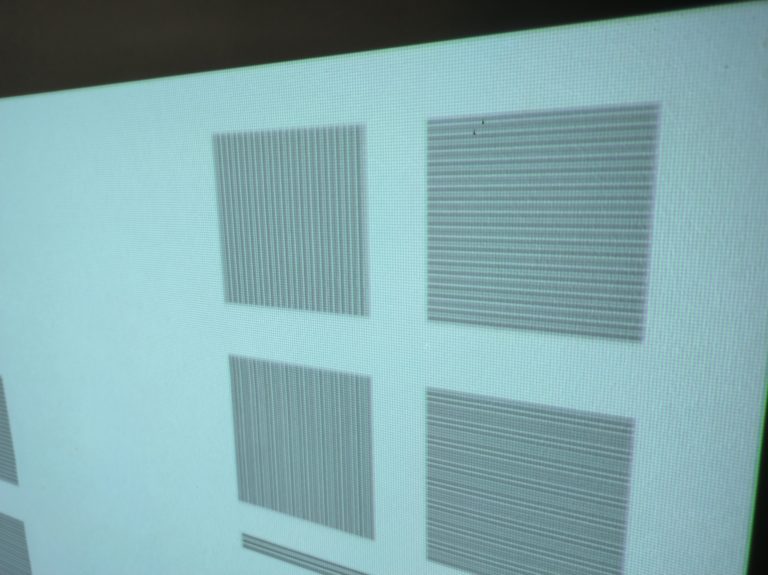 [b][b][b]Contrast[b]The projector is announced with a contrast of 1000:1 and without testing it, I already knew that it was going to be impossible. With the brightness on full, I get a contrast of about 170:1. We are therefore very far from the 1000:1 announced and the blacks will therefore not be very deep.[b][b][b]Motion compensation[b] This type of projector does not have a movement compensation mechanism, lateral movements are therefore jerky and tearing of the image is clearly visible. This is obviously more visible with high contrast like in this video.[b]
Image size and projection distance
I measured a screen width of 84 cm with the projector placed one meter from the wall, so you get a 168 cm wide image at a distance of two meters but I do not recommend using this projector at beyond this distance because the image will not be bright enough and the quality will not be very good either.[b]
Audio quality
The sound produced by the Blitzwolf VT2 is not of extraordinary quality, the high frequencies are not very clear and the low frequencies are not deep enough but with such a size, you shouldn't have expected better but I find that for use on vacation, it's still quite acceptable. Those who want better sound will have to use an external solution but with the risk of having a lag in the sound.[b]
Video games
Not yet available / tested[b][b]
Encoutered bugs
Not yet available / tested[b][b]
Test / Review conclusion
The Blitzwolf VT2 is a portable projector in the truest sense of the word, it's so small you can take it anywhere and it comes with a battery. It is a recreational projector to take everywhere, for example when you go on vacation, because this type of projector is in no way comparable to a fixed projector that is installed in a dedicated room. When you buy a Blitzwolf VT2 you are buying a form of freedom and from that point of view this projector is a winner.[b][b] If I test this projector from a purely technical point of view, it will get a bad score for almost every criterion tested because these criteria are mainly relevant for fixed projectors. I could almost say that my test makes no sense if it was intended to compare the image quality of this projector with a conventional home theater projector. The image quality is less good, the brightness is less good, the sound is less good, the settings are limited, ... but fortunately none of this matters in the face of the freedom offered by this projector. You can literally walk around with this projector in the palm of your hand and project the image wherever you want (as long as there isn't too much light). I am also sure that it will provoke reactions all around you if you walk around on vacation with this kind of product. If you are a bit of a purist at heart, I'm sure your children will be less so and will be very happy to be able to play with this projector.[b][b][b][b]Strengths[b]Battery [b] Slightly [b] Ease of use [b] Price [b] Design [b] Low power consumption [b][b][b][b][b]Weaknesses[b]Picture quality [b] Sound quality [b] Brightness [b] Average [b][b][b]





Laurent Willen
Instead of watching nonsense on TV or YouTube, I spend my time in the evenings testing products and sharing my passion for technology, travel and photography.

I run this site in my own name and completely independently, no one pays me to do so.

I have more than 20 years of experience in the digital world, I have managed and developed many high traffic websites in companies in Belgium such as Mobistar, Microsoft, Immoweb, BrusselsAirlines, Proximus, Orange,...