Receive notifications for new articles
Kospet Tank M2 : test / review
Category: Smartwatch

I hadn't tested a smartwatch for a few months, I had focused on other products because as I work alone, I also have to make choices and I can't test everything. I'm going to take advantage of this calmer period at the end of the year to test the Kospet Tank M2, I tested the Kospet Tank M1 a year ago, so I could see how the brand has evolved between these two models. [b][b]
offer
You can buy this watch with discount on Kospet official website: [b] Kospet Tank M2 / Kospet.com [b][b][b]Manufacturer web site: https://www.kospet.com[b]
How are my tests different from others on the web?

- I usually buy the devices with my own money, so price is just as important as you are!
- I keep the devices for at least a few weeks (sometimes more) to see what they are worth in real conditions.
- I answer (when possible) your questions to help you decide before you buy
- no one pays me to do these reviews, so I'm completely neutral and independent...
- My pages are not filled with ads

Kospet Tank M1 : test / review
CIGA Design X series: test / review
Kospet Tank M2 : test / review
Mibro Lite : test / review
Xiaomi Smart Band 7: test / review
Mibro Watch X1 : test / review
Honor Watch GS3: test / review
Xiaomi Mi Band 6 : test / review
Kospet Prime S 4G: test / review
Kospet Optimus 2 : test / review

Price Kospet Tank M2
The list below shows the prices for the Kospet Tank M2 from more than 50 sites around the world. If you are not satisfied with any price, you can subscribe to a price alert to be the first to be notified when the price drops.[b]bb

[b]

The above links are affiliate links from companies such as Amazon, Gearbest, Aliexpress,... If you appreciate my work, I would be grateful if you could purchase these products through these links. It costs you absolutely nothing but I get a small commission that allows me to buy the material I test. Thank you very much!
Timeline
December 19, 2022: receipt of the Kospet Tank M2 watch, the test can begin. To test a watch, I need a few weeks because I need to be able to test the battery life and play sports to assess the reliability of the measurements.[b]
Waarom deze smartwatch?
The universe of connected watches has evolved a lot in recent years because this market, which was reserved for a certain elite, has completely opened up with the arrival of Chinese watches which have changed everything. Today we find watches at all price levels and Chinese watches are not limited to covering the entry level. Kospet is one of those brands that make the big difference by offering entry-level products as well as more expensive products. [b][b] The new Kospet Tank M2 is halfway between entry-level and high-end Chinese, the previous model was more of an entry-level model and it shows at first glance. The first model had a somewhat childish side with its military design and its plastic construction, this new model keeps the military codes but passes a course of maturity in terms of its external appearance. [b][b] I'm curious to see if the change is limited to the external appearance or if Kospet has also upgraded the components of this watch, including the sensors to measure heart rate or other features of the watch.[b]
Structure of my tests
I test products according to a pre-established structure (see below) to provide you with maximum information. Unfortunately, this takes a lot of time. Unlike some sites where products are tested on a single day, I use the products I test for a minimum of a few weeks and sometimes even a few months. If the test is not complete at the time of your visit, I invite you to come back later or ask your question in the comment section below.
Unpacking
I remember the simplistic packaging of the first model, this new packaging immediately positions this watch on another level. See for yourself what the packaging of the previous version looked like:
The watch takes up the codes of the first version, it keeps its military look but is more attractive with a less polarizing design than the previous one. This watch should attract a wider audience and some elements of the box give some clues with the "made in USA", "Military grade" and the 2 year warranty. My previous reviews for Kospet watches were mostly read by visitors located in Asia, so things might change with this new model. [b][b] The box contains the watch, a bracelet, a charging station, a protective film for the screen, 2 wipes to prepare the screen and a manual.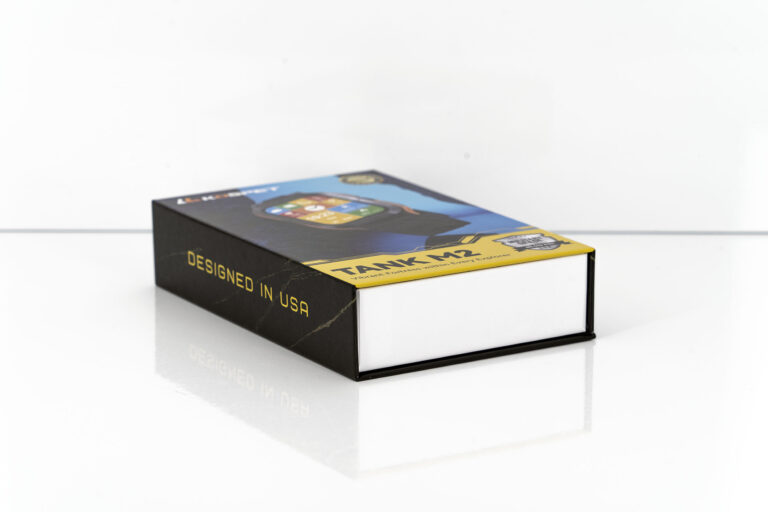 4

[b]
First configuration
The configuration of the watch is very simple and I see that here too Kospet has made some improvements. You can either scan a QR code displayed on the screen or directly download the Kospet Fit app. This is my first time testing this app because previous models used the Da Fit app, so Kospet started developing their own app and I think that's a good thing, I'm coming back to this point later in this article. [b][b] The app detected the watch directly and I didn't have to do anything else to synchronize the watch with my smartphone.[b]
Finish
The Kospet Tank M2 has kept its robust watch DNA and its very angular structure while evolving towards a more accessible product. I don't know many people who would have agreed to wear a watch with a military lattice pattern, this new version uses more accessible colors. The watch is mostly made up of plastic and although the dial appears to be surrounded by metal, it is plastic mimicking the color of metal. This plastic is divided into three distinct colors, there is the metallic gray around the dial, the buttons on the sides in Orange and the rest of the watch in black.
On the right, we find the ignition button and the back button for navigation, these buttons are imposing but they are protected to avoid accidental presses.
On the other side there is an isolated button to choose one of the types of sport available in the watch.
The screen is quite large, it has a resolution of 320x385 for a size of 1.85 inches. It is configurable as on most watches of this type but I will come back to this point later in the article.
At the back we find the usual sensors to measure, among other things, the heart rate and the oxygen level in the blood. We see here a contradictory message with the box which mentioned a "made in USA", the watch indicates here "designed in USA, made in China".
The bracelet is quite classic, it adapts to many wrist sizes and there are 2 rubber strips to retain the bracelet after closing. These 2 slats are much less mobile than the previous model, this avoids having to adjust them manually every day but they will require a little effort each time you remove the watch.[b]
Connectivity
The watch is connected to the phone via Bluetooth but does not seem to have its own GPS sensor, so you will still need a phone to add position information but I would test that while playing sports outside.[b]
Battery range
The Kospet Tank M2 is equipped with a 380 mAh battery, it is the same as the previous model. I will update this paragraph when I could have charged and discharged the battery several times. With the previous model, I had a battery life of just over two weeks. [b][b] Update December 30, 2022: I have been using the watch since December 19 and it was not fully charged when I received it. Today I am at 9% with regular daily use and 4 sports sessions of about 2 hours in total. [b][b][b]
Screen quality
The screen of the Kospet Tank M2 is very bright and it offers excellent readability from all angles even if it is not an amoled screen. The brightness can be adjusted manually as needed, there is no automatic brightness detection. It is possible to activate the screen by moving the wrist like many other watches but I advise you to deactivate this feature during the night because movements during sleep will activate the screen and the brightness could very well wake you up. You can disable auto-on manually or set a time range. [b][b] You can change the home screen from the watch or from the Kospet app, there are many screens offered on the app if the basic screen is not is not to your liking.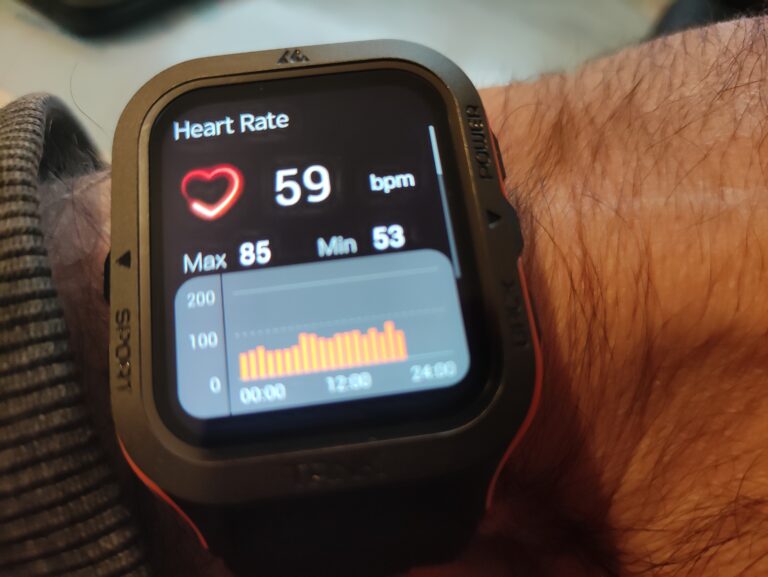 [b]
Features
The Kospet Tank M2 offers everything you would expect from a watch of this type with a few features that I had not yet seen on a watch at this price level. [b][b] Common features: [b] Time (and yes, it's a watch!) [b] Overview of the day's activities [b] Sleep analysis [b] Heart rate [b] Blood oxygen [b] Blood pressure [b] Weather [b] Sports modes (outdoor running, outdoor cycling, swimming, badminton, tennis, hiking, walking, basketball, football, baseball, volleyball, cricket, rugby, hockey, spinning, yoga, sit-ups, [b] running, ...etc... the list goes on and on. [b][b] What surprised me was the possibility of managing calls, you can pick up your phone like on many other watches (the sound still comes out on the phone) but you can also dial a number from your watch to start a call with your phone [b] Reading messages (but no possibility to answer them) [b] Voice assistant (linked to your phone) [b] Chrono/Countdown [b] Camera trigger [b] Lam pe torch [b] Calculator [b][b] This watch is therefore very complete, it lacks nothing for a watch in this price range. Watches capable of displaying a keyboard or capable of producing sound (call/music) generally cost more. [b][b]
Measurements
Heart rate [b] I tested several types of activities to measure the reliability of heart rate measurements, each time comparing the results with a Polar H10 strap. [b][b] Quick run: [b] I did a quick 2 minute run (treadmill mode) to see if the watch was able to pick up fast efforts . I got 224 steps, an average heart rate of 141 beats and a maximum of 181 beats. The number of steps seems to be realistic but not the heart rate because my heart never went up to 181 beats. The actual average was 122 heartbeats. I expected the watch to lag behind the measurements but that's not the case, I would even say that it's the opposite because it measured more pulsations than the reality. The starting point was already close to 115 while I was resting. [b][b] Cycling/Spinning: [b] I did 2 cycling sessions of more than 30 minutes, here are the results with the Polar compared to the Kospet: [b] Polar: 36 min, maximum frequency 151, average frequency 116 [b] Kospet: 36 min, maximum frequency 142, average frequency 86 [b][b] Polar: 35 min, maximum frequency 142, average frequency 126 [b] Kospet: 35 min, maximum frequency 150, average frequency 109 [b][b] The heart rate measurement is therefore unfortunately not very reliable and like most heart rate watches entry level, there is a delay between the actual frequency and the displayed frequency which leads to an incorrect result. It's a bit like the watch did not see all the measurements and therefore in the end the calculation cannot be correct. The particularity of this one is that it detects pulsations higher than reality. [b][b] Sleep [b] I was positively surprised by the sleep time measurements. Most watches detect sleep when you're watching TV in the evening or when you're not moving much. This watch is less sensitive to this kind of problem, I took into account the sleep measurements of the last 2 weeks when I went to bed at very different times. In most cases, the Kospet was able to detect the correct sleep start time, although sometimes it detected sleep too early. [b][b] Step count [b] The step count measurement is pretty close to reality, I get 19 steps for every 20 steps on even ground. These measurements may vary depending on the nature of the ground and your type of step. [b][b] Oxygen in the blood [b] I do not have a device allowing me to check the measured data but all the measured data was between 97 and 99%, so I imagine that these measurements were correct. [b][b] Blood pressure [b] Watches are not reliable products for measuring blood pressure, they can at most tell you if the pressure is high or not but the figures are in no way to be taken as the truth. The measurements I took were all lower than the real thing, I compared them with a real pressure measuring device that measures the pressure in the biceps. [b][b][b]
App
The Kospet Fit application is a new application, this is the first time I have had the opportunity to test it, I must have been among the first because at the time of downloading it, it had been downloaded less than 500 times . Although this application is not a revolution, it still brings a great improvement over the generic Da Fit application that was used in previous models. [b][b] The application allows you to configure the watch with, in particular, the possibility of adjusting the behavior of the watch (measurement threshold, automatic switching on, etc.), changing the type of dial, starting a sport session, view completed sport sessions or view metrics over a longer period than on the watch. [b][b] The app looks quite similar to the app developed by Xiaomi, it's easy to use and I haven't encountered any issues. [b][b]
25

[b]
Compatibility
The watch can be used with iOs or Android, the phone just needs to be compatible with Kospet Fit.[b]
Operating system
The Kostpet Tank M2 is broadly based on what is found on other watches as well. The main screen is configurable from the watch (limited choice), many other screens are available in the Kospet application. [b][b] The top screen from the home screen provides access to quick configuration of the watch, such as switching to night mode, activating or deactivating notifications or adjust the brightness again. The bottom screen allows access to notifications, you can receive call notifications, incoming messages (SMS) and applications (YouTube, Instagram, Messenger, Snapchat, Whatsapp,...etc). [b][b] The screens on the left correspond to specialized widgets that give you an overview of all available measures such as the number of steps, sleep, heart rate, ... you can add a reader media, weather,... [b][b] On the left, we find the list of all available applications. If you want to access the sport modes faster, you can use the button on the left of the watch. [b][b][b][b]
Encoutered bugs
I did not encounter any problems with the watch but I did find some bugs in the application. First there are some translation problems but nothing really problematic, this is often the case for new Chinese applications. However, there is a more annoying bug in the selection of sports because I cannot choose one of the sports available beyond climbing, the menu returns to the start each time. There is a possibility to configure the list of sports but there too, I am stuck because after having eliminated a dozen sports in the list, I can no longer remove others.[b]
Compare Kospet Tank M2 with the others
I assigned a score of 1 to 10 for each test that determines the strengths and weaknesses of a product. I am using 0 for criteria that have not (yet) been tested. A score of 1 to 3 indicates poor performance (and yes, it does), a score of 4 to 6 indicates average performance, a score of 7 to 8 indicates good performance, and a score of 9 and 10 indicates exceptional performance. .
The score is calculated based on my measurements and when there are no measurements, it is a subjective opinion based on my experience.

The scores are not static, they change over time because the performance of new products changes and this must be taken into account.


| | | |
| --- | --- | --- |
| | Kospet Tank M2 | |
Global ranking
1. Samsung Galaxy Watch 3 52.5 / 77
2. Kospet Optimus 2 49.5 / 77
3. Lemfo Lem15 49 / 77
4. Kospet Prime S 49 / 77
5. Amazfit Gts 48 / 77
6. Haylou Rs3 47.5 / 77
7. Xiaomi Mi Watch Lite 47.5 / 77
8. Kospet Magic 3 43 / 70
9. Amazfit X Curved 42.5 / 70
10. Kospet Rock 41.5 / 70
11. Huawei Watch Gt Active 41.5 / 70
12. Mi Band 4 41 / 70
13. Mi Band 5 40.5 / 70
14. Mi Band 3 39.5 / 70
15. Fobase Magic 39.5 / 70
16. Zeblaze Ares 38.5 / 70
17. Mibro Air 38.5 / 70
18. Umidigi Uwatch Gt 38 / 70
19. Mi Band 6 37.5 / 63

Test / Review conclusion
The Kospet Tank M2 takes up the codes of the previous model (Tank M1) but makes the watch more accessible for a wider audience thanks to its less divisive aesthetics. The watch seems less massive even if the dimensions are substantially identical, this new watch manages to combine the robust part with the aesthetics of a sports watch. [b][b] The Kospet Tank M2 is equipped with a large, very bright screen with excellent readability even if it is not an AMOLED screen. The screen is configurable as on most watches and many faces are available in the application. [b][b] Kospet has refined its operating system by taking up the basics already available on the previous model, the graphic interface has been reworked and it's very successful. The interface is clear and easy to use, you don't have to go very far to find what you are looking for and the use of a sport button allows you to access the sports available in the watch even more quickly. The Kospet Tank M2 offers maximum functionality (sport, heart rate, sleep, blood pressure, % oxygen in the blood, ...), you can answer calls and even initiate a call (note that you still need the phone for sound). [b][b] Heart rate measurements are not as reliable as a Polar H10 belt, this will probably not be a problem if you do not want to measure your performance but on the other hand for athletes, it is preferable to equip yourself with a belt. Measurements of steps, sleep, and blood oxygen are pretty good. [b][b] The autonomy of this watch is quite good because you can easily exceed two weeks if you deactivate the automatic ignition of the screen because it is this one combined with the level brightness that will affect your battery life the most. [b][b] This new Kospet watch model is therefore quite successful overall and will meet the needs / expectations of a wider audience, it is shock resistant and waterproof, so you can take it everywhere with you. Only an audience of athletes looking for performance might not find what they are looking for with this watch.[b]Strengths[b]Size, readability and screen brightness [b] Shockproof and waterproof [b] Ease of use [b] Autonomy [b] Measurement of steps, sleep and blood oxygen [b] Bracelet attached better than the previous model [b] New Kospet app [b][b][b]Weaknesses[b]Reliability of measuring heart rate and blood pressure [b] Some bugs in the app [b][b][b]





Laurent Willen
Instead of watching nonsense on TV or YouTube, I spend my time in the evenings testing products and sharing my passion for technology, travel and photography.

I run this site in my own name and completely independently, no one pays me to do so.

I have more than 20 years of experience in the digital world, I have managed and developed many high traffic websites in companies in Belgium such as Mobistar, Microsoft, Immoweb, BrusselsAirlines, Proximus, Orange,...