Samsung Galaxy Watch 3 test / review
Category: Smartwatch

I started testing smartwatches at the beginning of 2020 without thinking that I would like this kind of product. I started by curiosity and today I don't think I can do without this kind of product.[b][b]I started testing watches for around 100€ but to have a more complete view, I needed to test a top of the range product, so I chose the Samsung Galaxy Watch 3.[b][b]The Samsung Galaxy Watch 3 exists in several versions (41 mm SM-R855FZDAEUB or 45 mm SM-R840NZKAEUB), there is also a 4G compatible version (SM-R845FZKAEUB in 45 mm). I bought the 45 mm version corresponding to code name R840NZKAEUB.[b][b][b][b][b]linkManufacturer web site: https://www.samsung.com[b]
How are my tests different from others on the web?

- I usually buy the devices with my own money, so price is just as important as you are!
- I keep the devices for at least a few weeks (sometimes more) to see what they are worth in real conditions.
- I answer (when possible) your questions to help you decide before you buy
- no one pays me to do these reviews, so I'm completely neutral and independent...
- My pages are not filled with ads



Mibro Watch X1 : test / review
Honor Watch GS3: test / review
Xiaomi Smart Band 7: test / review
Kospet Tank M1 : test / review
Xiaomi Mi Band 6 : test / review
Kospet Prime S 4G: test / review
Kospet Optimus 2 : test / review
Mibro Lite : test / review
Haylou RS3 : test / review / opinion
Kospet Magic 3 : test / review

Price Samsung Galaxy Watch 3
The list below shows the prices for the Samsung Galaxy Watch 3 from more than 50 sites around the world. If you are not satisfied with any price, you can subscribe to a price alert to be the first to be notified when the price drops.[b]

[b]

The above links are affiliate links from companies such as Amazon, Gearbest, Aliexpress,... If you appreciate my work, I would be grateful if you could purchase these products through these links. It costs you absolutely nothing but I get a small commission that allows me to buy the material I test. Thank you very much!
Timeline
17/09 Order of the Galaxy Watch 3 from RueDuCommerce[b]02/10 Late delivery of my order because my house number was missing (although I had entered it correctly).[b]03/10 I had ordered the watch with the Trade-in Pack but unfortunately the Pack is not activated. I therefore decide to use my right of retraction. This test will therefore have lasted about 10 days where I take more than a month to test this kind of product.[b][b]
Waarom deze smartwatch?
I tested my first watch at the beginning of 2020 by choosing a Huawei watch. I then tested lesser known Chinese products and finally decided to test a Samsung watch.[b][b]Unlike the smartphone market, there are not many brands offering premium watches. The best-selling brands are undoubtedly Apple and Samsung. I decided to test the Samsung watch because I had a Samsung on hand.[b][b]I learned to appreciate this type of product for my sports activities. I am not a great sportsman but with 2 to 3 hours of sport per week, the measurements and monitoring offered by this type of watch give a good indication of performance and progress. The Samsung Galaxy Watch 3 goes further than performance measurement, it offers many other features that I had not yet had the opportunity to test on another watch. [b][b]
Structure of my tests
I test products according to a pre-established structure (see below) to provide you with maximum information. Unfortunately, this takes a lot of time. Unlike some sites where products are tested on a single day, I use the products I test for a minimum of a few weeks and sometimes even a few months. If the test is not complete at the time of your visit, I invite you to come back later or ask your question in the comment section below.
Unpacking
[b]Most of the watches I have bought so far have been packed in a compact box where the watch was wrapped around a stand. Samsung has made another choice by packing their watches in a long box which takes up a lot of space as the watch is laid flat.[b][b]The box contains the watch, a magnetic charger with its cable and a user manual. [b][b]As this watch cost me a little over 400€ I was expecting a wow effect when I opened the box but quite honestly I didn't get that wow effect. I can't deny that the watch is beautiful but it costs 3 to 4 times more than the other watches I have tested but I don't feel that the level of finish is 3 to 4 times better. I obviously didn't stop at that, this watch has other arguments in its favour.[b][b]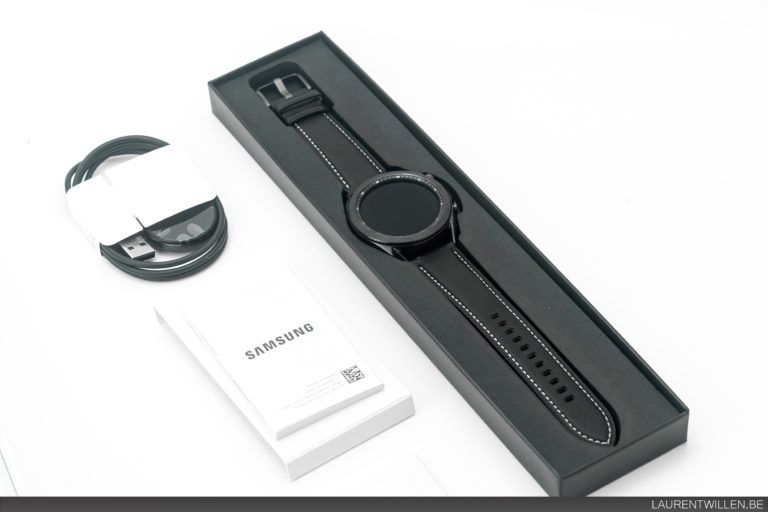 3

[b][b]
First configuration
To set up the Samsung Galaxy Watch 3, the Samsung Health application must be used. This is a free application developed by Samsung to federate all kinds of connected objects marketed by Samsung.[b][b]The configuration starts on the smartwatch where you have to make a few basic choices such as language and country, then you have to use the application to complete the process. The application will ask you for a lot of permissions as the watch needs to be able to interact with a lot of features on your phone such as contact list, phone calls, messages and some other permissions.[b][b]The application will then take care of bringing the smartwatch up to the latest version of the software. The configuration procedure will take between 5 and 10 minutes.[b][b]
26

[b][b]
Finish
[b][b]The Samsung Galaxy Watch 3 has an impeccable level of finish but it lacks a little something to have the wow effect. I think I was expecting something more sophisticated but the Samsung looks very similar to other models I have tested and costs three to four times less. The use of plastic is probably more limited on the Samsung but from a format point of view there is not much difference. With a blind test I'm not sure if everyone can tell the difference between a Samsung smartwatch and a Huawei smartwatch. [b][b]It is probably the leather strap that stands out the most because the other watches I tested used rubber straps. The use of leather is a good aesthetic choice but after about ten days of use, the strap attachment already showed a deformation in the strap where this phenomenon does not occur with a rubber strap.[b][b]I am usually more neutral in my judgement but considering the price of the watch, I wanted to share my feelings with you. I would not take this subjective impression into account in the score I will give to this smartwatch.[b][b]
8

[b][b]
Connectivity
The Samsung Galaxy Watch 3 offers an ultra complete connectivity with a standalone GPS mode (= no need for a smartphone), a bluetooth link to synchronise with the watch, wifi and even 4G for compatible models. The Samsung Galaxy Watch 3 can therefore be used without a smartphone as it is even capable of running applications without external help.[b][b]
Battery range
The Samsung Galaxy Watch 3 is equipped with a 340 mAh battery. In theory with such a battery, the watch should have a good autonomy but in reality this is not the case. [b][b]I have obtained an autonomy of 2 to 3 days by activating the screen autonomously with the movements of the wrist, using a brightness one or two notches below the maximum, using 30 to 60 minutes the sport mode and receiving my notifications all day long. [b][b]Autonomy is therefore clearly a weak point of this watch and the charging time is approximately 2 hours.[b][b]
Screen quality
[b][b]Whether for smartphones or televisions, Samsung is able to produce good screens. The same goes for this Galaxy Watch 3, the screen is of very good quality. The blacks are really black, the brightness is good and the contrasts are excellent.[b][b]If you use the watch in direct sunlight, you will need to set the brightness level to maximum or let the Galaxy Watch adjust automatically. [b][b]The screen is touch sensitive, it allows you to navigate through the menus but it is also surrounded by a wheel that allows you to navigate through the menus without going through the screen. This allows you to navigate through the menus much faster and this wheel allows you to navigate horizontally and vertically. [b][b]
Features
[b][b]The Samsung Galaxy Watch 3 offers a very large number of features, sometimes so many that one wonders why Samsung wanted to go so far.[b][b]We can distinguish two main categories of features, firstly there are the features related to the watch (e.g. heart rate measurement) and secondly the features related to the applications that can be installed on the watch. I will come back to measurements in the next paragraph, I will first focus on applications.[b][b]The Galaxy Watch runs under Tizen OS, it is an operating system designed by Samsung that allows you to run applications directly on the watch. This operating system has its own "store" where you can download all sorts of applications. There are obviously not as many applications as on the official Google store but I was surprised by the number of applications available.[b][b]Here are a few examples of available applications:[b]- calculator (one of the most popular)[b]- what's app[b]- Facebook messenger[b]- MX player[b]- Facebook[b]- Flipboard[b]- games: Tetris, Temple Run, Candy Crush, etc.[b]- ... etc...[b][b]Even if the watch is capable of running these applications without external help, the level of interactivity will remain quite limited. The Galaxy Watch should be seen above all as a tool for consulting information.[b][b]Some of these applications come in the form of widgets that can be added to the main menu. It is also possible to download other dials to change the interface of the smartwatch according to your preferences. It is without doubt the smartwatch that offers the highest level of personalisation (with probably its equivalent at Apple).[b][b]This Galaxy Watch is a nice technological showcase even if I haven't used the applications much. I haven't had the use of them and the use of a dial is not always very practical. However, I can imagine that for a very connected public on the lookout for the slightest notification, this type of product is going to create a real addiction.[b][b]
Measurements
Heart rate measurements.[b]I did several exercises to compare the performance of the Galaxy Watch 3 using a Polar H10 belt at the same time.[b][b]I took the longest exercise as an example.[b][b]Samsung Galaxy Watch 3 measurements[b]Maximum frequency: 159[b]Average frequency: 148[b][b]Measures Polar H10[b]Maximum frequency: 160[b]Average frequency: 146[b][b]
4

[b][b]The measurement differences between Galaxy Watch and Polar are not significant. I have a difference of barely one pulse on the maximum frequency and I have a difference of 2 pulses over an hour, the difference here is also negligible.[b][b]If I look at the curve of the measurements in Polar Beat and Samsung Health, I see that the curve follows the same trend, we see for example the same increase around the twentieth minute.[b][b]Sleep measurement [b]I have never given much credit to this type of measurement and I have no other device to check whether these measurements are correct. The sleep time is correct but I don't know if the sleep phases detected by the Galaxy Watch are correct. The watch sometimes makes mistakes when taking a period of calm for a period of sleep, such as watching TV.[b][b]
6

[b][b][b]Measurement of oxygen in the blood[b]I don't have any other equipment to measure the oxygen level in the blood here either, but I have always obtained values close to 100%. I tested the Amazfit X Curved at the same time and the values obtained were similar.[b][b]Stress measurement [b]I have tested other watches with the possibility of stress measurement and so far I was not really convinced by this type of measurement. The Galaxy Watch 3 seems to provide more reliable data because I can clearly see the differences (up and down) and I can explain them. [b][b]I have had quite similar results with the Amazfit X Curved as well.[b][b]Measurement of the number of steps[b]I measured a difference of about 15% with reality, the Samsung Galaxy Watch gives me 15% more steps than I actually did.[b][b]
App
Compatibility
The Samsung Galaxy Watch 3 is compatible with most recent Android phones, so you don't need to buy a Samsung phone to make it work.[b][b]
Operating system
The operating system (Tizen OS) of the Samsung Galaxy Watch 3 is undoubtedly the most sophisticated system on Android. The video presented earlier in this article shows the main entry points as well as the main features.[b][b]The dial of the Galaxy Watch allows to navigate very easily through the different menus of the Galaxy Watch, it is a real plus of the watch. The menus are well designed and quick to access, the depth of the menus is managed with the dial (to go further) and the buttons (to come back).[b][b]The main menus are actually widgets that can be modified/installed. You can therefore add or remove widgets to customise your watch with the applications you are interested in. This is one of the strengths of this Galaxy Watch as the customization possibilities are usually much more limited on other products of this type.[b][b]With Tizen OS you can also download additional applications such as GPS applications, games, applications like Whatsapp or Flipboard. You don't have access to a catalogue as rich as Google's Play Store, but the applications in the Samsung store have been designed to work on the Galaxy Watch, so you can be sure that they will work.[b][b][b]
Encoutered bugs
Not yet available / tested[b][b]
Compare Samsung Galaxy Watch 3 with the others
I assigned a score of 1 to 10 for each test that determines the strengths and weaknesses of a product. I am using 0 for criteria that have not (yet) been tested. A score of 1 to 3 indicates poor performance (and yes, it does), a score of 4 to 6 indicates average performance, a score of 7 to 8 indicates good performance, and a score of 9 and 10 indicates exceptional performance. .
The score is calculated based on my measurements and when there are no measurements, it is a subjective opinion based on my experience.

The scores are not static, they change over time because the performance of new products changes and this must be taken into account.


| | | |
| --- | --- | --- |
| | Samsung Galaxy Watch 3 | |
| Battery performance | 2 | 4 |
| Screen quality | 6 | 5 |
| Finish quality | 6 | 4.5 |
| Connectivity | 4.5 | 4.5 |
| Compatibility | 4.5 | 4.5 |
| GPS performance | 4 | 4 |
| Application | 4.5 | 4 |
| Reliability of measurements | 4.5 | 4.5 |
| Ease of use | 4.5 | 4 |
| Features | 6 | 4.5 |
| Operating system | 6 | 4.5 |
| Overall score | 52.5 | 48 |
Global ranking
1. Samsung Galaxy Watch 3 52.5 / 77
2. Kospet Optimus 2 49.5 / 77
3. Lemfo Lem15 49 / 77
4. Kospet Prime S 49 / 77
5. Amazfit Gts 48 / 77
6. Haylou Rs3 47.5 / 77
7. Xiaomi Mi Watch Lite 47.5 / 77
8. Kospet Magic 3 43 / 70
9. Amazfit X Curved 42.5 / 70
10. Kospet Rock 41.5 / 70
11. Huawei Watch Gt Active 41.5 / 70
12. Mi Band 4 41 / 70
13. Mi Band 5 40.5 / 70
14. Mi Band 3 39.5 / 70
15. Fobase Magic 39.5 / 70
16. Zeblaze Ares 38.5 / 70
17. Mibro Air 38.5 / 70
18. Umidigi Uwatch Gt 38 / 70
19. Mi Band 6 37.5 / 63

Test / Review conclusion
I hadn't tested a Galaxy Watch before this one. I was expecting this watch to get the highest score in my ranking and it did, but with a few surprises.[b][b]I had not yet bought such an expensive watch and I expected the price difference to be felt in the finishing. This is not really the case because even if the finishes are good, they are not 4x better than a good watch sold for 100€. I was a bit disappointed in this respect but it's just a question of perception in relation to the price.[b][b]I got reliable measurements for heart rate and stress level, the other measurements are difficult to compare. The GPS also works well but the quality of the measurements will also depend on the type of activity. Wrist movements can influence the quality of the measurements.[b][b]Samsung makes good displays and this is once again true with this Galaxy Watch where the quality of the display is essential to be able to enjoy the full functionality of the watch. [b][b]There are watches available today in the 100€ range that offer reliable measurements and give good GPS positioning. One might therefore wonder if it is still worth buying a watch like the Galaxy Watch. The answer lies in its operating system. With Tizen OS, Samsung offers a universe of applications that doesn't exist elsewhere (under Android) and which allows the Galaxy Watch to be transformed into a product worthy of a James Bond movie. It's a great feat even if I didn't find these applications very useful. On a small screen, I find that the possibilities are quite limited.[b][b]The real weakness of the watch is its battery life, I have held it for a maximum of 2 days and unfortunately this kind of watch makes you use it all the time, the autonomy can drop to one day if you have an intensive use.[b][b]Strengths[b]Reliability of measurements (heart, stress)[b]Screen quality[b]Possibilities offered by Tizen OS[b]Ease of use[b][b][b]Weaknesses[b]Battery life[b][b]



Laurent Willen
Instead of watching nonsense on TV or YouTube, I spend my time in the evenings testing products and sharing my passion for technology, travel and photography.

I run this site in my own name and completely independently, no one pays me to do so.

I have more than 20 years of experience in the digital world, I have managed and developed many high traffic websites in companies in Belgium such as Mobistar, Microsoft, Immoweb, BrusselsAirlines, Proximus, Orange,...