Xiaomi Mi Watch Lite : test / review
Category: Smartwatch

Xiaomi is not a small manufacturer, Xiaomi produces everything from phones to air purifiers but this time Xiaomi is attacking the watch market with the Mi Watch Lite.[b][b]Xiaomi's strategy is always the same, the brand is inspired by what is done elsewhere, it markets a similar product and sells it at a very competitive price. I have the feeling that it's somewhat the same with the Mi Watch Lite. The watch resembles what is done by some competitors but with an introductory price of 42€, Xiaomi will probably once again put its competitors in trouble.[b][b]So I'm curious to see if Xiaomi will be able to produce a watch with the same philosophy as their smartphones.[b][b][b][b][b]linkManufacturer web site: https://www.mi.com[b]
How are my tests different from others on the web?

- I usually buy the devices with my own money, so price is just as important as you are!
- I keep the devices for at least a few weeks (sometimes more) to see what they are worth in real conditions.
- I answer (when possible) your questions to help you decide before you buy
- no one pays me to do these reviews, so I'm completely neutral and independent...
- My pages are not filled with ads



Xiaomi Smart Band 7: test / review
Kospet Tank M1 : test / review
Mibro Watch X1 : test / review
Xiaomi Mi Band 6 : test / review
Kospet Prime S 4G: test / review
Kospet Optimus 2 : test / review
Mibro Lite : test / review
Haylou RS3 : test / review / opinion
Kospet Magic 3 : test / review
Smartwatch Zeblaze Ares : test / review

Price Xiaomi Mi Watch Lite
The list below shows the prices for the Xiaomi Mi Watch Lite from more than 50 sites around the world. If you are not satisfied with any price, you can subscribe to a price alert to be the first to be notified when the price drops.[b]

[b]

The above links are affiliate links from companies such as Amazon, Gearbest, Aliexpress,... If you appreciate my work, I would be grateful if you could purchase these products through these links. It costs you absolutely nothing but I get a small commission that allows me to buy the material I test. Thank you very much!
Timeline
10/12/2020: purchase of the Mi Watch Lite on Aliexpress[b]06/01/2021: reception of the Mi Watch and start of the test[b][b]
Waarom deze smartwatch?
When I buy a watch, I generally spend a maximum of €100 with a few exceptions. There are many watches available for less than 100€ but they are usually produced by unknown manufacturers. If a brand like Xiaomi ventures into this price range, the product is likely to be interesting and will undoubtedly reach a wide audience.[b][b]It's this combination of brand and price that motivated me to buy the Mi Watch Lite because this watch doesn't bring anything revolutionary to the market, it just does the same thing as the others for a lower price.[b][b]
Structure of my tests
I test products according to a pre-established structure (see below) to provide you with maximum information. Unfortunately, this takes a lot of time. Unlike some sites where products are tested on a single day, I use the products I test for a minimum of a few weeks and sometimes even a few months. If the test is not complete at the time of your visit, I invite you to come back later or ask your question in the comment section below.
Unpacking
[b][b]The entry-level products that I buy are often delivered in a simple, unadorned box. I have even bought products where the boxes were white with just the name of the product. The Mi Watch may be an entry-level product, but the packaging is just as good as the mid-range. [b][b]The box contains the watch, a charger and a multilingual manual. The watch literally sits enthroned in its box like a piece of jewellery in its box. [b][b]
4

[b][b]
First configuration
Xiaomi has made the choice to force the user to use its application before the watch can be used. The watch displays a QR code at startup, this QR code unfortunately does not work. I tried to use it on several phones and it didn't work.[b][b]So I went to download the Xiaomi Wear application from the Play Store to be able to configure the watch. Until now I had been able to use Mi Fit to control my Xiaomi Mi Band bracelets but this application doesn't work with the Mi Watch so you need to download Xiaomi Wear. If you used to use Mi Fit you will have to change and without being able to recall your data from Mi Fit to Xiaomi Wear. This is the kind of thing that makes me a little nervous because for each watch you have to use another application, I would have at least hoped that Xiaomi would make the effort to regroup its products in the same application.[b][b]The rest of the configuration of the watch fortunately went smoothly, the configuration is even quite simple. The Xiaomi Wear application will allow you to customize your watch with another dial or activate/deactivate features (notifications, calls, widgets,...).[b][b]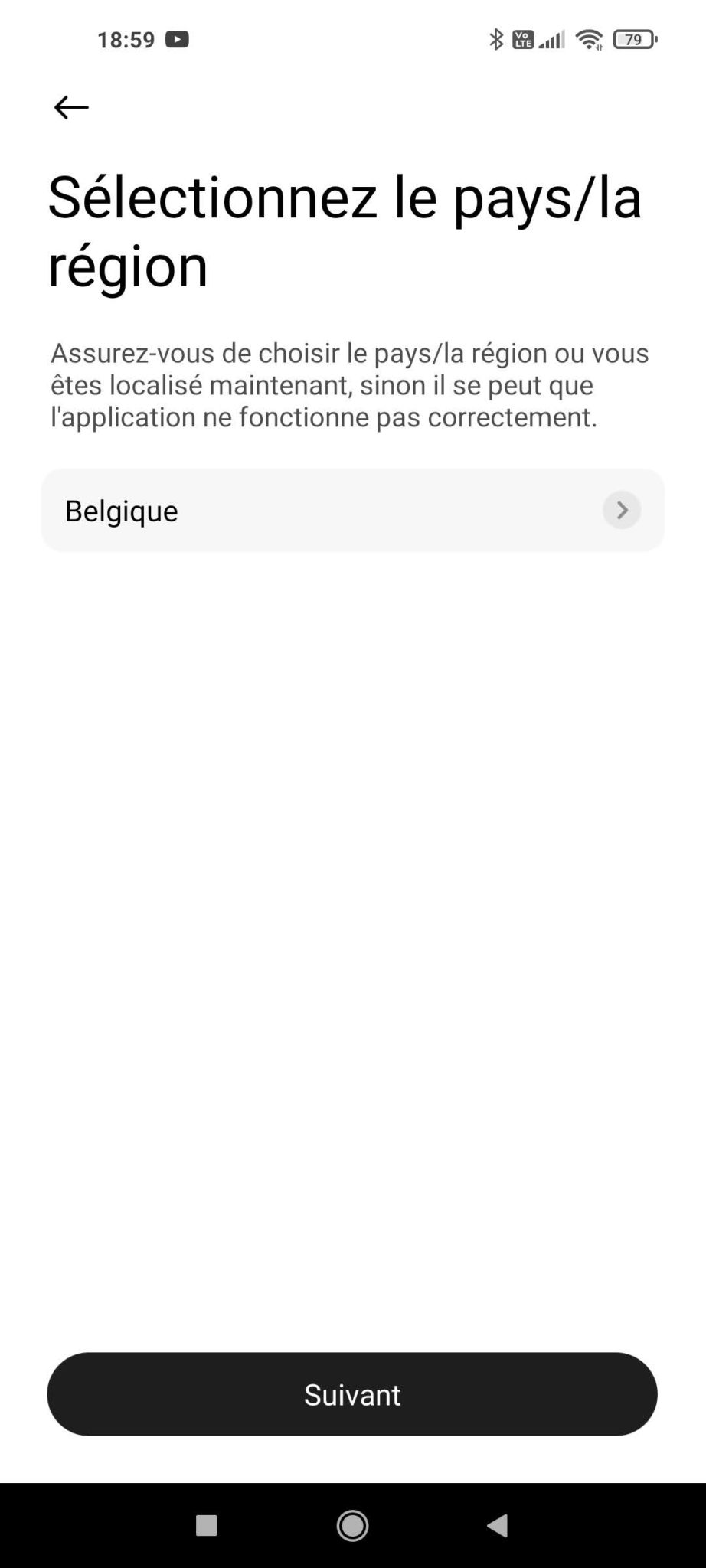 16

[b][b]
Finish
[b][b]The Mi Watch Lite is made of plastic but the finish is correct. The watch is very light and the design reminds me of the Amazfit BIP, only the button on the side stands out. So the watch is not revolutionary in terms of size or format but that doesn't mean it's not a good thing. Xiaomi's recipe is often inspired by good ideas from competitors, and here again this is the case.[b][b]The bracelet is attached in a slightly strange way, it is not completely circular but like most watches it is replaceable. It fits very well around the wrist.[b][b]The Mi Watch therefore has a very classic design, which can be found in all price ranges and like other watches in this price range, the whole is in matt plastic, the screen is similar in size to that of the competition in this price range.[b][b]
7

[b][b]
Connectivity
The Mi Watch Lite connects via Bluetooth with your phone, so it must be within range of the phone to synchronise data. It also has a standalone GPS sensor (GPS / A-GPS / GLONASS) which is quite rare in this price range.[b][b]I tested the GPS in a nature reserve where there is no road that could truncate the result, the watch offers good GPS tracking even in the wooded area. I ran out of battery power when I got close to the water, that's why the trip was interrupted.[b][b]
[b][b]
Battery range
The Mi Watch Lite is equipped with a 230 mAh battery, it may seem very small but it will last for 2 weeks in normal use ("normal" use + 2 hours of sport per week).[b][b]When I received the watch it had 60% battery power when I first started it. After 10 days of use, the battery was at 8%. Battery life may fluctuate depending on your choices (e.g. brightness) but the Mi Watch Lite's battery life is above average.[b][b]
Screen quality
[b][b]The Mi Watch Lite uses a square 320x320 pixel screen, which is a good resolution for a screen of this size. The screen is very readable, the colours are well saturated and the brightness is quite strong. [b][b]The screen is quite responsive but some icons are quite small, so you have to be quite precise to access certain features.[b][b]
3

[b][b]
Features
[b][b]The Xiaomi Mi Watch Lite has the following features:[b]- customizable display (many choices available)[b]- notifications (applications, messages)[b]- flashlight function[b]- sport mode with 11 modes[b]- summary of exercises (the watch does not erase the data after 24 hours!)[b]- summary of the day's activities (calories, steps, number of times you woke up)[b]- heart rate measurement[b]- sleep time measurement[b]- breathing exercise to relax[b]- compass[b]- barometer (atmospheric pressure)[b]- music control on the phone[b]- alarm[b]- stopwatch[b]- timer[b]- weather forecast[b]- make the phone ring[b][b]The organisation of the functionalities is a little different from what I have been able to test so far. Notifications are at the top of the home screen, settings are at the bottom. The menus on the left and right are customizable shortcuts. To access the full range of features, you have to press the button twice. [b][b][b]
Measurements
SPORT [b][b]To measure the reliability of the heartbeat I use a Polar H10 belt together with the Xiaomi Mi Watch Lite, so I can see if the Mi Watch is as accurate as the belt.[b][b]Session 1 - Mi Watch Lite[b]Average heart rate: 131[b]Maximum heart rate: 154[b]Calories: 300[b][b]Session 1 - Polar H10[b]Average heart rate: 135[b]Maximum heart rate: 152[b]Calories: 442[b][b]Session 2 - Mi Watch Lite[b]Average heart rate: 130[b]Maximum heart rate: 154[b]Calories: 292[b][b]Session 2 - Polar H10[b]Average heart rate: 131[b]Maximum heart rate: 154[b]Calories: 412[b][b]Session 3 - Mi Watch Lite[b]Average heart rate: 137[b]Maximum heart rate: 157[b]Calories: 310[b][b]Session 3 - Polar H10[b]Average heart rate: 140[b]Maximum heart rate: 158[b]Calories: 479[b][b]As you can see, the difference is quite small and for a watch of this price it is a good result. I got better measurements with other watches but they were all more expensive. The difference is more important for calories but the calculation method is probably different.[b][b]SLEEP[b][b]I don't have a reliable reference to compare sleep data, so I can't judge the results objectively. What I find is that the Mi Watch Lite appears to be more generous in deep sleep where most of the watches I have tested tell me that I have very little deep sleep. The initiation of the sleep phase is based on the activity of your wrist and like all watches if you watch TV at night without moving too much, the watch will associate this time with sleep time.[b][b]NUMBER OF STEPS[b]The number of steps seems to be influenced by the type of ground because on a perfectly flat ground that does not cause much shaking, the watch tends to overestimate the number of steps, whereas on uneven ground, the shaking is more important and the measurement is closer to reality.[b][b][b]
App
You need to download the Xiaomi Wear application in order to use the watch on a phone. I'm a bit surprised by this choice because until now I had been able to use the Mi Fit application with the Xiaomi brand devices, so it's one more application to download.[b][b]The Xiaomi Wear application is more pleasant to use than the MiFit application even if it uses the same bases. The interface is lighter and clearer. It also allows you to customize the watch face, many choices are possible. If the watch does not shine by its originality because of its very classic shape, the number of available dials will allow you to give a touch of originality to the main dial of the watch. There is something for everyone![b][b]
Compatibility
Not yet available / tested[b][b]
Operating system
The Mi Watch Lite uses a proprietary Xiaomi operating system but I have never seen this system running on any other Xiaomi product until now, this is probably a new version. It is not possible to install any features other than those available in the watch but it is possible to customize the display from the Xiaomi Wear application.[b][b]The Mi Watch Lite stands out a little bit from the crowd by offering widgets and menus in a different form. Messages are at the top where most watches put them at the bottom. The configuration is therefore at the top or instead of at the bottom. The usual widgets are available on the left and right screens but to access the full menu you need to press the single button on the watch twice. You then fall into an interface based on icons that show all the functionalities on two screens.[b][b][b]
Encoutered bugs
Not yet available / tested[b][b]
Compare Xiaomi Mi Watch Lite with the others
I assigned a score of 1 to 10 for each test that determines the strengths and weaknesses of a product. I am using 0 for criteria that have not (yet) been tested. A score of 1 to 3 indicates poor performance (and yes, it does), a score of 4 to 6 indicates average performance, a score of 7 to 8 indicates good performance, and a score of 9 and 10 indicates exceptional performance. .
The score is calculated based on my measurements and when there are no measurements, it is a subjective opinion based on my experience.

The scores are not static, they change over time because the performance of new products changes and this must be taken into account.


| | | |
| --- | --- | --- |
| | Xiaomi Mi Watch Lite | |
| Battery performance | 4 | 4 |
| Screen quality | 4.5 | 5 |
| Finish quality | 4.5 | 4.5 |
| Connectivity | 4.5 | 4.5 |
| Compatibility | 4.5 | 4.5 |
| GPS performance | 4 | 4 |
| Application | 4.5 | 4 |
| Reliability of measurements | 4 | 4.5 |
| Ease of use | 4 | 4 |
| Features | 4.5 | 4.5 |
| Operating system | 4.5 | 4.5 |
| Overall score | 47.5 | 48 |
Global ranking
1. Samsung Galaxy Watch 3 52.5 / 77
2. Kospet Optimus 2 49.5 / 77
3. Lemfo Lem15 49 / 77
4. Kospet Prime S 49 / 77
5. Amazfit Gts 48 / 77
6. Haylou Rs3 47.5 / 77
7. Xiaomi Mi Watch Lite 47.5 / 77
8. Kospet Magic 3 43 / 70
9. Amazfit X Curved 42.5 / 70
10. Kospet Rock 41.5 / 70
11. Huawei Watch Gt Active 41.5 / 70
12. Mi Band 4 41 / 70
13. Mi Band 5 40.5 / 70
14. Mi Band 3 39.5 / 70
15. Fobase Magic 39.5 / 70
16. Zeblaze Ares 38.5 / 70
17. Mibro Air 38.5 / 70
18. Umidigi Uwatch Gt 38 / 70
19. Mi Band 6 37.5 / 63

Test / Review conclusion
What should we think of the arrival of Xiaomi in the world of connected watches? Xiaomi hasn't brought any revolution or anything really new, the Mi Watch Lite is a watch that takes up the essence of what a low-cost connected watch can offer, but unlike other lesser known brands, Xiaomi has designed a good product. In the low-priced watches I test, there is often one thing or another that works erratically. Sometimes it's the measurements that are unreliable, sometimes it's the notifications that don't work properly. With the Xiaomi Mi Watch Lite, I haven't encountered these problems.[b][b]So I find the usual ingredients in Xiaomi, which is freely inspired by the good products that already exist to market a quality product at a competitive price. Until now I thought that only Amazfit was capable of doing this, now I have to rely on Xiaomi as well.[b][b]The Mi Watch Lite isn't perfect because it lacks a bit of precision in the measurements, but again, for this price it doesn't matter. Those who want total measurement reliability will probably be prepared to buy a more expensive watch. So the Mi Watch Lite has no real defect, I cannot consider its lack of originality to be a defect as this will not prevent you from using the watch to its full potential.[b][b]The charger that came with the Mi Watch Lite is probably the strangest charger I've ever had the opportunity to test and I don't understand why I chose Xiaomi. It's a kind of base that you have to wedge the Mi Watch into, not only is it not very practical but I find it cumbersome as the base is almost as big as the watch.[b]Strengths[b]Battery life[b]Screen readability[b]Ease of use[b]Numerous possibilities for personalisation[b][b][b]Weaknesses[b]Plastic finish[b]Quite small screen[b]Slight difference in heartbeat measurements[b][b][b]



Laurent Willen
Instead of watching nonsense on TV or YouTube, I spend my time in the evenings testing products and sharing my passion for technology, travel and photography.

I run this site in my own name and completely independently, no one pays me to do so.

I have more than 20 years of experience in the digital world, I have managed and developed many high traffic websites in companies in Belgium such as Mobistar, Microsoft, Immoweb, BrusselsAirlines, Proximus, Orange,...