Receive notifications for new articles
Chuwi Hipad Plus: test / review
Category: Tablets

The world of tablets has boomed with the arrival of the iPad and each generation has given a boost to sales of tablets worldwide. Many other brands started producing tablets, Chinese producers first and then tablet sales ran out of steam. Today, two big brands (Apple and Samsung) are fighting for the biggest piece of the pie, the others are not fighting in the same category but offer interesting products. It is in the lower price brackets that we find most Chinese tablets with a few manufacturers who have managed to build a reputation. This is the case of Chuwi who is launching their new Chuwi Hipad Plus tablet and the name alone gives an indication of where they drew their inspiration from. [b][b] Nothing can beat an iPad? Maybe, but we're talking about a tablet sold around € 200 with an 11-inch screen, 2k resolution, a polished finish, Android 10, a weight of 500 grams and the minimum in terms of performance. I had the opportunity to test a Chuwi pc a few months ago, I still use it today and I am quite satisfied with it. I told myself that I was going to try my luck with this tablet. [b][b] offer If you buy the tablet from the official website, you can use the code HPP10SP with the following link: Chuwi Hipad Plus / Chuwi Store [b] The tablet is available in Spain, so you will not have to pay additional taxes for delivery. [b][b][b][b][b]linkManufacturer web site: https://bit.ly/2NRcXPC[b]linkSite where I have bought the Chuwi Hipad Plus: https://bit.ly/2NRcXPC[b]
Structure of my test
I test tablets according to a pre-set structure (see below) to provide you with as much information as possible. Unfortunately, this takes a lot of time. Some tests like the network performance tests take several days and for the photo tests I sometimes have to wait for good weather to take pictures in good conditions. I am therefore obliged to publish the tests step by step, so I invite you to come back if the test is not complete at the time of your visit.
Price Chuwi Hipad Plus
The list below shows the prices for the Chuwi Hipad Plus from more than 50 sites around the world. If you are not satisfied with any price, you can subscribe to a price alert to be the first to be notified when the price drops.[b]bb

[b]

The above links are affiliate links from companies such as Amazon, Gearbest, Aliexpress,... If you appreciate my work, I would be grateful if you could purchase these products through these links. It costs you absolutely nothing but I get a small commission that allows me to buy the material I test. Thank you very much!
Timeline
March 25, 2021: Purchase of the Chuwi Hipad Plus tablet from the official Chuwi.com website [b] March 31, 2021: I received the tablet, the delivery was fast, the test can begin.[b]
Why this tablet?
I have had the opportunity to use several types of tablets over the past 10 years, have had an iPad, a Samsung Galaxy Tab tablet, and have also purchased a Microsoft Surface Pro. I had wanted to test a Chinese tablet for a long time, but I had to find a product that could interest as many people as possible. It was a bit by chance that I discovered the Chuwi Hipad Plus, the name made me smile a little, Chuwi's intentions seem quite obvious. [b][b] For 200 €, do not dream, you will not find a tablet of the level of an iPad for more than 500 € but that does not mean that the Chuwi tablet has no interest. The starting point is the price like most Chinese products. What then seduced me (in theory) is the 11-inch screen and its 2k resolution. A tablet is neither more nor less than a screen to which features of a phone have been attached, so the screen must be the starting point. This tablet will mainly target consumers of media such as videos (locally or via YouTube) or those who surf the web a lot. I don't think the tablet is suitable for 3D gaming, but casual gaming shouldn't be a problem. [b][b] I would apply the same test protocol as for phones and if the experience is successful, I could maybe test other tablets.[b]
Unpacking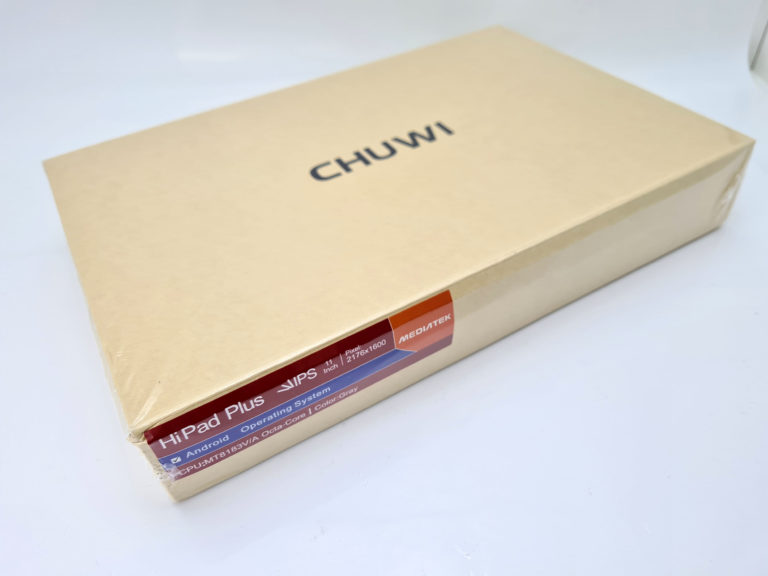 The Chuwi Hipad Plus tablet is the second Chuwi product I buy, I bought a Larkbox a few months ago on Indiegogo. When I received the Larkbox I told myself that since it was a project launched via crowdfunding, the packaging was therefore a bit experimental. In fact no, Chuwi sends its products in packaging with cardboard that appears to have been recycled. It doesn't affect the product, it's just unusual. [b][b] The tablet is very well packed in two layers of foam for better shock absorption and in addition to the tablet the box contains a manual, a USB type C cable and a charger. [b][b] The screen is protected by a double plastic film, you have to remove the first layer to remove the description from the tablet but you can leave the second part because it is very well placed and does not not interfere with the photo sensor and the light sensors on the front panel. [b][b]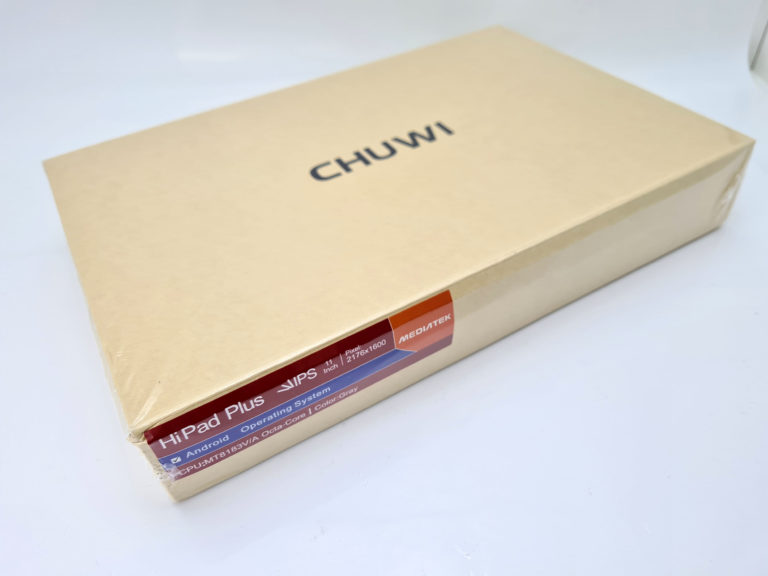 4

[b]
First configuration
The configuration of the Chuwi Hipad Plus follows exactly the same principle as the configuration of an Android phone, I found the same screens without any attempt to install unwanted applications (bloatware). The Chuwi Hipad Plus also allows you to retrieve a configuration in the cloud even if it comes from a phone. You can not only recover your favorite applications but you can also recover your identifiers for your mailboxes.[b]
Finish
The name chosen by Chuwi for this tablet as well as the presentation on their site leave no doubt about the message they want to convey about the finish. The Chuwi Hipad Plus is an entry-level product that has a neat look and the will to look like a high-end product. Well, ok, this is clearly not a high-end finish but we are still very far from the entry-level tablets that we find in large quantities on Aliexpress. The level of finish is therefore really good for a tablet at this price. [b][b]
I'm not used to testing tablets, so I discover the Chuwi Hipad Plus a bit with a fresh look. The power button is located at the top right next to the USB-C port, I find this a curious positioning for a USB port because I have the impression that this kind of connection is usually found at the bottom of the tablets. I can imagine, however, that top loading can be practical if you use the tablet while charging it. [b][b]
On the left side, there is a drawer that can accommodate a memory card, there are also 2 speaker outputs but only one is used (the lower one) . On the right side, I find the same two grids but only one is used for the sound. On the top of the right edge there are two small volume buttons, they are smaller than those found on a phone. [b][b]
The back is covered with a non-slip material (aluminum) with a matt effect that gives a metallic feel to the touch. The camera sticks out quite strongly at the back, so it is not possible to lay the tablet truly flat. It doesn't bother me but obviously it is something that can annoy some people. The Chuwi mark appears on the bottom with a magnetic type connector, I don't know what it is for yet, I imagine it is intended for a docking station, I will check later. [b][b] The Chuwi Hipad Plus is an 11 inch tablet, it's just a little bigger than the traditional 10 or 10.9 format, the screen is not interrupted by a punch like on the smartphones, the borders are thicker. The top and bottom border take up almost a centimeter, the sides take up more or less half of the top border. [b][b]
17

[b]
Specifications
[b]The information below comes from the Device Info HW application. The application provides detailed technical information about the tested phone. The Chuwi Hipad Plus I purchased has a 4Gb memory capacity and 128Gb SSD storage memory to ensure good read / write performance. It is possible to add a memory card to expand this capacity. [b][b] In terms of connectivity, the Chuwi Hipad Plus supports Bluetooth 5.0 and dual band wifi. [b][b] I took a screenshot with HW Info to summarize the technical characteristics of the tablet. What I remembered: [b] - 2176x1600 resolution [b] - accelerometer, no gyroscope [b] - 13MP camera on the back, 4.9MP on the front, the two in 2.8mm (almost ultra wide angle) [b] - widevine L3 codec to be able to use Netflix [b]
11

[b]
CPU / GPU Performance
[b][b]The Chuwi Hipad Plus is equipped with a Mediatek MT8183 processor, I haven't had a chance to test a phone using the same CPU yet, so I will check out its performance using Antutu. [b][b] The Chuwi Hipad Plus is equipped with an ARM Mali-G72 graphics processor, I have tested this processor in several phones, it is an entry level GPU unlike what is mentioned on the official website of Chuwi. That doesn't mean you won't be able to play with this tablet, but you might have to compromise on the level of detail in games. I would test this part there as for the phones as well.[b]
Benchmark Antutu/3DMark
I obtained a score of 155713 points with Antutu, this score corresponds to the performance of an entry-level smartphone, the Chuwi Hipad Plus is therefore not a high performance tablet. I didn't experience any performance issues with use for everyday tasks, I also tried PUBG Mobile (see below). [b][b] For a large majority of users this level of performance will suffice, this tablet is however not designed for gamers who will have to make too many concessions on the level of graphics. [b][b] Cooling the tablet seems to be effective as I never felt any heat coming from the back of the tablet when I ran Antutu. [b][b]
[b] [b][b]Gaming[b]To test the performance in game, I download the mobile PUBG game and evaluate the in-game experience, graphics level and depth of vision. This game is quite demanding and should help you evaluating the performance of a phone. Chuwi touts the graphics performance of his tablet on his site and that can make it look like this tablet can run any game. This is not quite correct. You will probably be able to run most games, but you will have to compromise on the level of graphics. [b][b] When testing PUBG Mobile on a phone, I don't really feel the degradation in quality on entry-level phones because the screens are quite small compared to a tablet. On an 11-inch screen like the one in this painting, the degradation of the textures is clearly visible. This will not prevent you from playing, but the degradation of the level of graphics is necessarily more visible. [b][b] After getting 150,000 points on Antutu, I told myself that the playing experience with PUBG Mobile was not going to be good, but I was positively surprised. The game jerks sometimes but not to the point of not being able to play, the large screen offers a more interesting gaming experience than on a phone, the responsiveness of the screen is quite good. [b][b][b]
Wifi performance
To test a phone's ability to receive the network properly, I take measurements near my router and then remotely (and always at the same place). This gives me an average in dBm where a value of -90 dBm indicates poorer performance than a value at -30 dBm.[b] [b]Wifi signal[b]I made a little less than 300 measurements of the wifi signal to firstly assess the sensitivity to the signal and secondly to measure its stability. Let's start with the signal. I got an average signal of -50.64 dBm over all measurements where I get -44 dBm for a phone that I use frequently and has good performance. The Chuwi Hipad Plus is therefore a little below average in terms of sensitivity to the wifi signal. [b][b] The wifi signal has remained fairly stable overall, I have a range of -48 dBm to -58 dBm but with a large part of the measurements around -50 dBm. The signal therefore remained of good quality on all the measurements.[b][b]Top 10 - wifi sensitivity ranking
1. Poco F2 Pro -11dBm
2. Xiaomi Redmi Note 10 Pro -12dBm
3. Realme Gt -12dBm
4. Redmi Note 12 Pro -13dBm
5. Samsung Galaxy A21s -13dBm
6. Redmi Note 11 Pro -13dBm
7. Poco F5 -14dBm
8. Oneplus Nord N100 -15dBm
9. Poco X3 Pro -15dBm
10. Poco F3 -15dBm

Number of smartphones in the ranking:74
Position of this smartphone in the ranking:0/74

[b][b]Download/Upload speed[b]To test the speed in Wifi, I connect to my router in 2.4Ghz and 5Ghz (if available) and use the Ookla application to measure the speed.[b]Top 10 - wifi download speed ranking
1. Redmi Note 11 Pro Plus 5g 866Mbps
2. Redmi Note 12 Pro 866Mbps
3. Poco F4 866Mbps
4. Google Pixel 6a 866Mbps
5. Poco F4 Gt 866Mbps
6. Poco X4 Gt 866Mbps
7. Oneplus Nord 2t 866Mbps
8. Black Shark 4 Pro 866Mbps
9. Poco F5 866Mbps
10. Poco M4 Pro 4g 433Mbps

Number of smartphones in the ranking:72
Position of this smartphone in the ranking:0/72

Note: I have a 400Mbps line and a modem capable of delivering higher speed, but I can never be sure how much bandwidth is available when doing a test.
[b]
GPS performance
[b]To test the quality of the GPS signal I use the Offline Maps application and I make the same train trip in pedestrian mode. Why? In pedestrian mode, the GPS does not artificially correct the signal to stick to the road, it has no markings, so you can see the actual position. I then use an application to measure the accuracy of the signal. I usually use the GPS test app to measure the level of GPS accuracy but the app never managed to pick up the GPS signal despite being given permission. On Google Maps on the other hand, no problem, the location was directly accessible. In the settings, both apps have the same permissions but since I couldn't launch GPS Test (and other similar apps), I couldn't measure the accuracy of the signal.[b][b]Top 10 - GPS accuracy ranking
1. Poco M5 1m
2. Poco X4 Gt 1m
3. Unihertz Tank 1m
4. Oukitel C21 1m
5. Redmi 9a 1m
6. Redmi 10a 1m
7. Xiaomi Redmi Note 10s 1m
8. Doogee S96 Pro 1m
9. Xiaomi Redmi Note 9 1m
10. Umidigi Bison Pro 1m

Number of smartphones in the ranking:44
Position of this smartphone in the ranking:0/44

Note: An accuracy of 3 meters or less can easily be corrected by a good GPS application. Phone performance also plays a role in how fast your display updates, so good accuracy could be compromised by too slow a display.
[b]
Battery range
I re-used my test application that I use for smartphones on this tablet to give an indication of battery life. With the screen at 100%, I got a battery life of 334 minutes and with the screen at 50% I got a battery life of 887 minutes. Consumption is therefore not linear because the autonomy at 50% is 2.89x better than at 100%. The screen is therefore quite greedy at 100%, if you are aiming for autonomy you will have to find the right balance between brightness and autonomy. [b][b] I am a little disappointed with this autonomy but I have no points of comparison because I had not bought a tablet for years but I imagine that unless I spend more than 5 hours in a row on the tablet, this autonomy should be sufficient for a majority of users.[b]
Photo camera test
To test the quality of photos, I do a technical test (resolution, sharpness, chromatic aberration,...) in studio (identical conditions) to evaluate the technical part objectively. From the second half of 2020, I built my own laboratory to take completely objective technical measurements. I then take pictures in real conditions to see how the camera performs. I then evaluate these photos according to my criteria but I publish the photos so that you can evaluate the result according to your criteria.[b]
Photo quality
Photo test / studio[b]To take the photos that follow, I used my usual objects to do a purely technical test. These photos are always taken under the same conditions and in particular with the same lighting. This lighting is also quite powerful and yet the photos are quite markedly underexposed. The tablet chose a shutter speed of 1/100 with a fairly low sensitivity, it could easily have doubled the ISO sensitivity to recover more light but there is no manual mode, I don't So I couldn't force his hand a little.
[b][b]
[b][b]
The underexposure is very noticeable, it obviously affects the colors but I find that the sharpness is not exceptional either. This first technical overview shows that this tablet is not going to be a benchmark in terms of photo quality but it is not the vocation of an entry-level tablet, so I will not dwell on it.[b][b]Photo test / sunny[b]Tablets (and especially entry-level) have never shone for the quality of their photos. I had not yet done extensive tests of a tablet but the Chuwi Hipad Plus confirms what I already thought. Beyond the impracticality of using a tablet to take photos, the quality is not exceptional. I have never understood the obsession of some tourists to walk around with a 10-inch tablet to immortalize their vacation, it is not practical and the result is not worth that of a smartphone at a price. equivalent. [b][b] Here are some photos taken in good conditions (sun, slightly cloudy sky). The first thing that struck me is the dominance of green / blue in the photo, the color temperature is not correct. The dynamic range is not very wide because where the sky should be very blue with well defined clouds, I have a sky which is much too clear with clouds which are lost in this too clear blue. I have a few areas of overexposure also at the level of the buoys in the water. [b][b] The sharpness is not bad and is quite consistent, I do not see areas where the blur is poorly managed (except maybe at the periphery near the edges). On the other hand, the sharpness for the distant elements is not very well managed because if I zoom in to 100%, I see a brush effect. The details fade and I have the impression of being in front of a painting. [b][b] This tablet is above all a product to consume media in a comfortable way, it is in no way designed to replace a camera or a smartphone.
[b][b]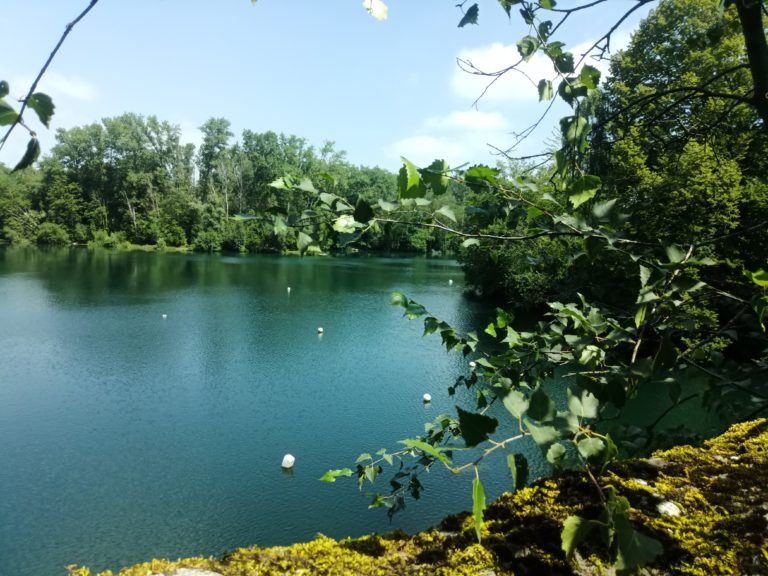 [b][b]
[b][b]
[b][b]
[b][b]
Video quality
Stabilisation[b]This tablet does not have stabilization for video, so it should not be used when moving because movements and shocks will not be cushioned. In this price range, it is quite normal, for an effective stabilization you need a powerful CPU / GPU and this translates into a higher price.[b]Video normale conditions My comments on the video part will follow those of the photo part, the sensor used for the video is the same as for the photo, so we find the same characteristics. The photo / video application does not allow you to make adjustments to resolution, framerate or that sort of thing. The tablet will therefore produce videos of 720p in 30fps with mono sound in 48khz. The videos also have this colorimetry problem that I mentioned in the photo part, the sharpness is acceptable as long as you don't play the video on a big screen. I find the transition between light / dark areas to work quite well and the video overall is quite smooth. [b][b] As I wrote for the photo part, entry-level tablets aren't designed to produce good videos, an entry-level phone like the Redmi Note 10s 'does a lot better for this sort of thing.[b]
Audio quality
I pretty much always use the same video for my audio tests, this makes it easier to compare but Billie Eilish allows her songs to be used in the videos, it saves me the trouble of block my videos. The Chuwi Hipad Plus has a speaker on each side of the tablet, the position is quite low and it is often the place where you put your hands. It is therefore necessary to make sure to spread the hands to take advantage of it. [b][b] The sound produced by these speakers is good quality for an entry level tablet, the sound is not muffled and I got over 90 dB for a few moments . The quality is obviously not comparable to a dedicated speaker which will produce a more faithful sound on all frequencies but the Chuwi Hipad Plus produces a sound quite comparable to entry-level phones.[b]
Screen quality
To test the screen, I use a colorimetric probe that measures the color accuracy of a screen, as well as other parameters to see if a screen is able to correctly reproduce an image. I also test the brightness level to determine if the screen will be able to display an image in full sunlight.[b] Colorimetry[b]
I measured the colorimetry of the screen with the same probe that I use for my smartphone tests. I got a dE of 11.5 for the white, it is too much, the white does not have the right temperature it is at 8754K where it should be at 6500. The white is therefore slightly bluish. [b][b] The colorimetric difference is less important on other colors, I have values between 4 and 7.5 depending on the color. This technical measurement indicates that the screen of the Chuwi Hipad Plus does not reproduce colors very faithfully, but I have never really been bothered with this problem on a daily basis. The screen has a very good resolution, the images are well detailed and the experience is good. It is only by comparing photos on another screen that I see the differences.[b][b]Top 10 - ranking of the best screens by colorimetry
1. Poco X4 Gt dE = 0.6
2. Xiaomi Mi 10 Lite 5g dE = 0.73
3. Xiaomi Mi 10t Pro dE = 0.83
4. Redmi Note 11 dE = 0.91
5. Redmi Note 12 Pro dE = 0.97
6. Google Pixel 6a dE = 1.01
7. Google Pixel 5 dE = 1.11
8. Realme Gt dE = 1.17
9. Redmi Note 12 dE = 1.17
10. Xiaomi Mi 11 Lite dE = 1.19

Number of smartphones in the ranking:75
Position of this smartphone in the ranking:0/75

Note: the colorimetric difference is measured in dE. After three, the human eye will perceive a colorimetric difference, so the dE should be the lowest. The tests were all carried out with a colorimetric probe.
[b]Brightness / Contrast[b]I measured a brightness of 338 cd / m² with the brightness at maximum. This brightness is sufficient for a reader indoors but in direct sunlight, on the other hand, it is insufficient. It will therefore be necessary to orient the tablet to avoid direct sunlight. [b][b] I measured a contrast ratio of 1275: 1 with the probe, with minimum lighting I obtained 0.265 cd / m². This contrast ratio is an average contrast ratio for this kind of screen.[b]
Operating system
[b]The Chuwi Hipad Plus runs Android 11 in a standard version, Chuwi has not developed overlay or added unsolicited applications. Android 11 works really well on this tablet, I didn't encounter any issues during my test. This kind of product is designed to consume content like videos on YouTube, news on Facebook, read magazines (ex: Flipboard), ... and it does it well, its size and the resolution of its screen offer a good content consumption experience. [b][b] This tablet is not designed for gamers but most games will work with some sacrifices on the level of graphics at times.[b]
Encoutered bugs
Not yet available / tested[b][b]
Test / Review conclusion
[b]I hadn't bought a tablet for a very long time because I don't really need it, I spend more time producing content than consuming it, so my pc remains my main tool. I especially wanted to test this tablet to get an idea of what an entry-level Chinese tablet is worth and I must say that I was positively surprised. So yes the tablet is not a performance war machine but that's not what it was designed for anyway. It does not have a very faithful colorimetry either, but from a content consumption perspective this does not matter. Even if I am probably not the first target for this kind of product, I can fully understand its usefulness and for a price of around 200 €, you have here a product that will be able to accompany you on a daily basis for your digital entertainment. [b][b] I never felt like I had an entry level product in my hands, the level of finish is really good. The screen with its too much saturation will give you a vivid image and with its 11-inch screen, the tablet offers a comfort of use that you will never be able to obtain with a phone. [b][b] On the other hand, the battery disappointed me a little because with a screen on 100%, I have an autonomy of about 300 minutes and it takes about 300 minutes to recharge the drums. If you plan to spend an afternoon at the beach without access to electricity, you will have to lower the brightness level a little and orient the screen so as not to receive direct sunlight. fine but if your fingers touch the screen while holding your tablet sideways, movements in the middle of the screen will not be taken into account. [b][b] This product should therefore be suitable for a fairly large audience looking for a tablet for surfing the Internet, watching videos, spending time on Facebook or reading magazines.[b]Strengths[b]- screen size / resolution [b] - trim level [b] - price / quality ratio [b] - volume for sound [b][b][b]Weaknesses[b]- photo / video quality [b] - battery life [b] - management of multiple contacts on the screen [b] - colorimetry [b] - brightness [b][b][b]





Laurent Willen
Instead of watching nonsense on TV or YouTube, I spend my time in the evenings testing products and sharing my passion for technology, travel and photography.

I run this site in my own name and completely independently, no one pays me to do so.

I have more than 20 years of experience in the digital world, I have managed and developed many high traffic websites in companies in Belgium such as Mobistar, Microsoft, Immoweb, BrusselsAirlines, Proximus, Orange,...