Subscribe
Subscribe to my YouTube channel to receive updates.
Umidigi F1 test, review and price
Category: Tests / Reviews

[b]After testing well-known Chinese brands like Xiaomi or Honor, I decided to give it a try to a brand I had never heard of before and chose to test the Umidigi F1. I mainly test mid-range phones and by applying my usual criteria, I came across the Umidigi F1 which offers a very interesting package with a large display, good performance, huge battery life and some other interesting surprises. What is this new Chinese toy worth? Let's take a closer look.[b][b]Site officiel: Umidigi.com[b]
How are my tests different from others on the web?

- I usually buy the devices with my own money, so price is just as important as you are!
- I keep the devices for at least a few weeks (sometimes more) to see what they are worth in real conditions.
- I answer (when possible) your questions to help you decide before you buy
- no one pays me to do these reviews, so I'm completely neutral and independent...
- My pages are not filled with ads



iiiF150 R2022 : test / review
Realme 6 test, review and price
Xiaomi Redmi Note 7 test, review and price
Umidigi F1 test, review and price
Poco M3 Pro : test / review
Redmi Note 10s : test / review
Poco F2 review - test - specs
Lemfo Lem15: test / review / price
Realme GT 5G : test / review
Samsung Galaxy A52: test / review
[b][b]
Price Umidigi F1 US / UK
[b]I bought my Umidigi F1 from Gearbest for 177€ (flash sales). Umidigi has a global distribution strategy, which means that the phone will quickly be found everywhere and not only on Chinese sites like Gearbest. As always with Chinese phones, please make sure to choose the right version. Chinese phones almost always come in two versions. The Chinese version will not be of any use to you because it will probably not support European 4G frequencies. You should always make sure to select the GLOBAL version that supports your language and your local frequencies.[b]

Umidigi F1 Play. 6,3?? FHD+, 8*2,0ghz, 6 RAM, 64 GB Speicher, 48+8 MP, 5150mAh....

2020-12-28 15:08

132 EUR

[b][b]
Timeline
[b]24/01/2019: I bought the UMIDIGI F1 for 177€ on Gearbest[b]30/01/2019: device is on its way[b]22/02/2019: the device arrived almost a month after the order, the Chinese New Year unfortunately played a role in this delay[b]24/02/2019: screen test and studio/outdoor photo[b]28/02/2019: performance gaming test, network capture test (several days)[b]01/03/2019: GPS test[b]05/03/2019: photo and video test[b][b]
Test content
[b]Just like my other tests, this test will be spread over several weeks but will follow the structure described below. If you have any questions about the device, feel free to ask them in the comments section so that I can adapt the test if possible.[b][b]
First contact
[b]Umidigi is packed in a rather sober box, it gives more the impression of recycled cardboard packaging than Chinese competitors such as Honor or Xiaomi. Fortunately, this is not very important because, in principle, the box is only used for buying and reselling. The interior is filled with foam to absorb shocks and contains the phone, a USB cable for charging, a charging plug, a small envelope with a manual and the needle to open the compartment for the SIM cards (dual SIM or memory card + SIM). The phone has a basic plastic screen protection, it's a good thing because it will avoid wrecking your nerves when trying to remove bubbles from your screen. The phone is wrapped in a protective shell that looks like reptile skin, I would have preferred a semi-transparent shell like Xiaomi's but it's still a matter of taste. The shell has the advantage of perfectly wrapping the device, there is no floating and it is not easy to remove.[b][b]Here are some images of the unboxing.[b]
18

[b][b]
First configuration
[b]When starting the device for the first time I was positively surprised by the screen. With the Xiaomis the backlighting is very aggressive and it affects the depth of the blacks, I didn't have this problem with the Umidigi, the screen looks good for blacks but I will test it more in detail later. [b][b]Each time a smartphone is started, you must inevitably go through the configuration of the device. This Umidigi is the first device with a stock Android that I am testing, the configuration procedure is shorter than with a Xiaomi or an Honor. We start with the choice of language and country, the connection to wifi, the transfer of your old phone and then the configuration of the device. Unlike Xiaomi and Honor, Umidigi does not try to have you install anything and will not force you to create an account.[b][b]This is probably a standard Android feature but you can recover your data from an old Android phone from the old phone. The two phones synchronize and you must confirm the transfer from the old phone. This procedure has the advantage of being simple and does not require any password, everything is done from the old phone.[b][b]
12

[b][b]I used a Xiaomi Mi 8 Lite before configuring this Umidigi, it is the latter that you find next to the Umidigi. The screen looks dark compared to the Umidigi but in reality the screen was just as bright as the Umidigi's. So what happened? What happened? My camera is equipped with a polarizing filter and apparently the Xiaomi displays are equipped with filters to better fight the sun's brightness. Because of this combination, the screen appears darker than it actually is.[b][b]I didn't have time to see which version of Android was being used by the device because a few minutes after powering up, the device downloaded an update and installed Android 9.0. [b][b]I configured the device in French and I was regularly confronted with screens that were half translated, we start in French, then move on to a little English to come back to French. These translation problems are present in the device's menus, so these are not from poorly translated applications. I don't know if this problem is present on all Android 9.0 devices or if it's just this device.[b][b]
Finish
[b]
[b]This phone started around 200-220€, we are in the price range of the Xiaomi Redmi Note 5 at launch. I was lucky enough to get it for 177€ and it puts it at the entry level of the mid-range like the Redmi Note 5. The front panel of the phone is quite elegant, the drop-shaped notch is very nice and fits very well into the screen. At the back, however, the device is more basic, the back is covered with a matt plastic that gets dirty quite quickly. You'll also find the double photo sensor with a double led flash and a fingerprint sensor ideally located in the middle of the upper part of the phone.[b][b]
9

[b][b]The Umidigi is smaller than the Xiaomi Mi Lite but heavier. The screen has a ratio of 19:5 while the Mi 8 Lite has a 19:9 ratio. With a 19:5 ratio the phone has a more elongated and unusual shape. The advantage is that you can hold it in one hand better than the Xiaomis. Being larger than the Xiaomi, the Umidigi offers a slightly smaller screen area due to its elongated shape. The edges are similar to the Mi 8 Lite. [b][b]Dimensions:[b]H:156.9 mm[b]L:74.3 mm[b]E:8.8 mm[b]W:186g[b][b]This phone does not have an LED indicator to indicate the presence of a new notification. I didn't have a problem with that because I don't use it, but I know that this kind of feature is widely used, so you should be aware of it before you buy the phone.[b][b]The buttons on the side of the phone are spaced by a more or less similar distance, usually the high and low volume buttons are grouped together and the on/off switch is clearly separated. The difference is much less marked on the Umidigi F1. I am used to using these buttons without looking and the spacing has often misled me. The volume knob changes the photo mode in the photo application so instead of taking a picture I often find myself switching modes without realizing it right away.[b]
3G/4G support
[b]The Umidigi F1 supports the following frequencies:[b]3G: B1, B2, B4, B5, B6, B8, B19[b]4G! B1, B2, B3, B4, B5, B7, B8, B12, B13, B17, B18, B19, B20, B25, B26, B28A, B28B[b]Umidigi F1 offers excellent coverage of European frequencies, even the B28 / 700Mhz frequency from Free in France is supported.[b][b]

Choose your country to check if your phone is compatible:


The frequencies displayed below will allow you to see if this phone is compatible with your operator or if you will be able to use it in the country where you are going on vacation.




[b][b]
4G performance
[b][b]Network performance[b][b]I haven't tested enough phones to tell if a phone is good at network pick-up, but these first measurements indicate that the Xiaomi Redmi Note 5 is better at -91 dBm than the Umidigi F1 with its -97 dBm. However, I noticed some important differences with the Xiaomi. Umidigi never switches to LTE+, it remains in LTE where Xiaomi remains in LTE+ most of the time. This is not a frequency problem but rather an apparent inability to combine signals to provide better speed. This problem was confirmed when I tested the download speed (see below). I also noticed that Umidigi does not seem to support EDGE (2.5G) because when Xiaomi switches to EDGE, Umidigi falls to GPRS (2G).[b][b][signals phone="A-gold_F1" reference="Xiaomi_Redmi_Note_5"][b][b]The Umidigi therefore performs a little less well than the Xiaomi and does not support 4G as well.[b][b][b]Download performance[b][b]I have done several speed tests in 4G but I have never been able to reach the scores of the other phones tested, the best score I got is 98.6 Mbps in download and 25.2 Mbps in upload. These values are quite acceptable for everyday use but if the download speed is important to you, this phone is not for you but I suppose for the vast majority of users, this will not be a problem.[b][b]
[b][b]
WIFI Performance
[b]Umidifi F1 supports 5Ghz in WIFI, this gives it a huge advantage over phones that do not support this frequency. I did some tests to get to a speed of 220Mbps in download and 21Mbps in upload. The upload speed is limited by my ISP, the phone could probably go faster but, anyway the Umidigi F1 offers a good performance in WIFI. [b][b]
[b][b]Umidigi outperforms Honor 8x which does not support 5Ghz but is significantly behind Xiaomi Mi 8 Lite (260Mbps in download) and Xiaomi Redmi Note 5 (280Mbps in download).[b][b]
Battery range
[b]The Umidigi F1 has a huge battery capacity, with its 5150 mAh it is the device with the largest battery I have tested so far. I used the phone a lot to write this test and especially to measure network performance, the battery lasted a little more than three days. I don't make many calls but I use a lot of data and my screen stays on very often. 3 days of autonomy in this kind of conditions is a very good score.[b][b]I did a survey on my blog to find out your most important criteria in choosing a phone and after the price, it's battery life that comes second. I had chosen the Umidigi F1 partly to evaluate the performance of the battery, the result is really good. If price and battery are very important criteria for you, the Umidigi F1 is the device that offers one of the best quality/price ratios for these two criteria.[b][b]
Audio quality
[b]The Umidigi has a loudspeaker at the bottom of the device, this loudspeaker is not very powerful and quickly saturates the treble level. However, if you use a headset plugged into the Jack port, the sound is of good quality without being exceptional. The Umidigi F1 is therefore clearly not a reference in terms of audio.[b][b]Audio quality in calls is ok, I did not notice anything unusual.[b][b]
Performance
[b]The Umidigi F1 is equipped with a MediaTek Helio P60 MT6771 processor (CPU) and an ARM Mali G72 MP3 700MHz graphics chipset (GPU). I had not yet tested a phone with a Mediatek CPU and I must say that it works very well. The device is very responsive and fluid, the performance is quite comparable to a Mi 8 Lite or Honor 8x. On the graphics side, Mali G72 also offers good performance. [b][b]I first performed a benchmark with 3Dmark and obtained the following results:[b]Slingshot Extreme OpenGL 3.1: 1142 points (-16% compared to the Mi 8 Lite)[b]Slingshot Extreme Vulkan: 1137 points (+6% compared to the Mi 8 Lite)[b][b]I then did a test with Antutu where I got an overall score of 139434 points, this score is almost exactly equal to the score obtained by the Mi 8 Lite (139439 points). In detail, I get the following values:[b]CPU: 62272 (-7% compared to Mi 8 Lite)[b]GPU: 31964 22385 (+42% compared to Mi 8 Lite)[b]UX: 36211 (-5% compared to Mi 8 Lite)[b]MEM: 8987 (+8% compared to the Mi 8 Lite)[b]The breakdown shows that despite a perfectly identical global score, the Umidigi has a much more powerful graphical chipset than the Mi 8 Lite while for the other indicators, it is slightly less powerful (except for memory where Xiaomi has never been very strong)[b][b]
4

[b][b]
Gaming performance
[b]According to the Antutu score, the Umidigi F1 should be a good phone for gaming (especially in this price range) and it is indeed the case. I did a test by launching PUBG Mobile, the game launches in average graphics (which is already quite good) and as you can see on this video, the experience in game is very good.[b][b][b][b]The Mali G72 graphics chipset is doing very well and I didn't notice any overheating of the device. Among the devices I have tested, the Umidigi is currently the most efficient in terms of graphic chipset performance.[b][b]
Photo quality
[b]The Umidigi's rear sensor has a resolution of 16 Mio pixels, which is a little above average. I don't know what type of sensor is being used, the EXIF says "A-gold F1", I haven't seen it on another device yet. The default photo application is very basic, we have an automatic photo mode, a very limited manual mode (white balance, ISO choice, bracketing), a video mode and a stereo mode. Since settings are rather limited, I only tested the camera in automatic mode.[b][b][b]Inside (studio)[b][b]As with all my tests, I start with a studio test and compare the photo with another camera. Let's start with the Umidigi F1.[b]
[b]EXIF: ƒ/1.7 1/224 3.95 mm 120 ISO[b]The result doesn't seem too bad, the photo looks sufficiently bright, the depth of field is important for such a close up. If we look at the photo more closely, we can see that it is noisy even though it was taken at ISO 120. This is not reassuring because at ISO 120, there should be no trace of digital noise at all. [b][b]Let's check with the Xiaomi Mi 8 Lite delivers in exactly the same conditions:[b]
[b]EXIF: ƒ/1.9 1/251 3.94 mm 100 ISO[b]With this type of EXIF, the Xiaomi should have delivered a darker picture than the Umidigi but it's not the case. The Xiaomi detected a face (character on the right) and adapted the focus accordingly. Sharpness is better than Umidigi. This impression of getting darker shots on the Umidigi will be confirmed with other pictures here below.[b][b][b]Outside (sunny)[b][b]For this first outdoor test, I went for a walk near an old quarry late in the afternoon. The sky was quite clear with some white veils, the light was slightly orange as the sun was already low in the sky. Let's start with the first picture with the Umidigi:[b]
[b]Without comparing this photo with another camera, you quickly realize that it's not good even if light conditions are not challenging at all. The colors are not ok, the sharpness is not good and the picture is noisy. The picture seems to have a brown dominance for trees and the sky turns very light blue. [b][b]Here is what the Xiaomi can produce under the same conditions:[b]
[b]You don't need to be a specialist to see that the Xiaomi does a much better job. The picture is saturated with all kinds of colors, color accuracy is much better, there is no noise and the overal sharpness is better too. The Mi 8 Lite is not the best device on the market but it does a much better job than the Umidigi. [b][b]Let's take a second example:[b]
[b]Once again, the picture is too brown, it's also noisy. The color dynamic is definitely not good, it's like the Umidigi cannot capture some colors. [b][b]Again, let's check what the Mi 8 Lite can do:[b]
[b]As in the previous example, the picture is saturated with all kinds of colors, you can feel the warm light from the sun going down and the blues are much deeper. [b][b]And finally, once last example with the Umidigi:[b]
[b]The issues are exactly the same as for the previous pictures.[b][b]With the Xiaomi:[b]
[b]I chose this location and this specific time of the day because the light is so nice but unfortunately, you don't get any of it with the Umidigi. [b][b]I always try to find something positive to say when I do my tests, but here I really had a hard time finding something positive about the Umidigi's camera performance. I'm almost sorry to write this but of all the cameras I've have reviewed in the last 2 years, it's simply the worst.[b][b][b]Outdoor photo (cloudy)[b][b]I took my pictures for this test in Newcastle in the northeast of England, it was a perfect place to take this kind of pictures, I didn't see much sun during my stay. I also took the opportunity to test the RAW mode proposed by Umidigi, you will notice that the automatic photo processing is frankly not good.[b][b]
[b][b]No surprise here, I see the same problems as those observed under more favourable conditions. By enabling RAW, the camera stores 2 photos, the default photo in JPG and an unprocessed version in DNG that can be opened with Photoshop to apply more advanced changes.[b][b]If I take the DNG from this photo without applying any processing, I get this:[b]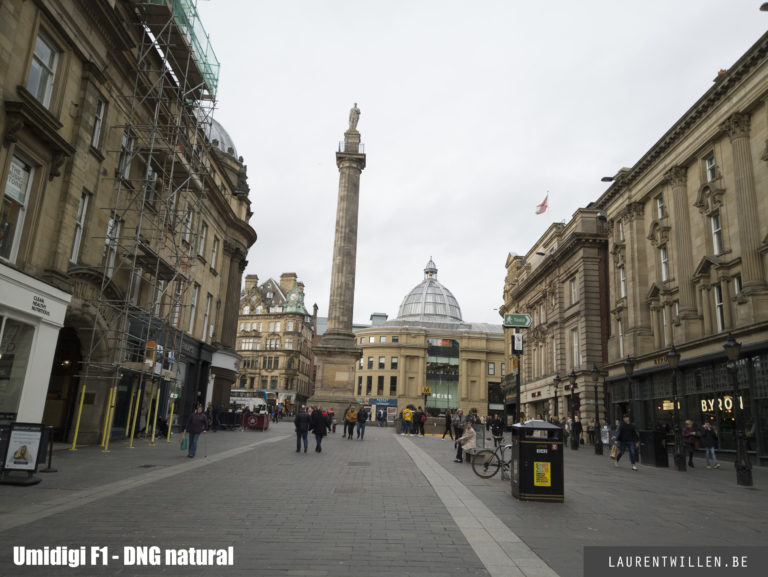 [b][b]The colours are much more neutral (and closer to reality), the sharpness is less pronounced, the sky is grey instead of blueish and the photo is a little less noisy. The main flaws found on the basic JPG are not present in this DNG version. What does that mean? [b]The automatic processing is simply not good. The good news is that this kind of defect can be fixed, so it is possible that the quality of JPG photos will be improved after an update.[b][b]If I apply image processing with Photoshop, I get this:[b]
[b][b]I didn't force the treatment, I adjusted the colors, strengthened the sky, added a few details in a few seconds I get a much better (and more realistic) result than the default photo. [b]All the pictures I took in RAW followed the same path. Here is another example with first the photo automatically processed by[b]the device:[b]
alt="umidigi-f1-test-avis-review--photo-2" width="2500" height="1875" class="alignleft size-full wp-image-4550" /> [b][b]Again, this is not good at all. The photo is globally very dark, the colors are not ok, it is noisy... [b][b]Here is what it looks like with Photoshop:[b]
[b][b]Once again, the DNG format works very well. Even if we can discuss tastes and colours, this second photo is much better than the first, yet it is originally exactly the same photo. So the Umidigi's sensor is not so bad after all![b][b][b]Outdoor photography (night)[b][b]I also did my night tests in Newscastle. The following picture is a fairly basic picture of a pedestrian street where there are many different colours and a very strong contrast between the almost black sky and the lighting from the shops.[b][b]
alt="umidigi-f1-test-avis-review--photo-3" width="2500" height="1875" class="alignleft size-full wp-image-4553" />[b][b]The photo seems ok but we find the same problems as with the other photos but it is less visible in night scenes. The colours are warm but do not match the reality. [b]The picture is noisy but not too noisy for this kind of picture. The blur is not related to the camera, it was very cold and I was probably shaking a little.[b][b]Let's see what the DNG format will offer us:[b]
[b][b]I came to the same conclusions for night shots. Even if the original photo could be flattering with its saturated colors, it is simply not correct. With the DNG I get a clearer picture, a better contrast and more accurate colors.[b][b][b]Photo application[b][b]The default photo application delivered with the camera is very basic (and therefore easy to use). In principle this should be enough for the majority of users but since the automatic processing is bad, it will require users to get a little out of their comfort zone.[b][b]The manual mode is also very poor, for example it does not allow you to choose the shutter speed, this can be a problem for moving objects or darker scenes. The only real advantage of the manual mode is the ability to enable raw format (RAW) photos.[b][b]Fortunately, there are other applications that are much more complete, but again I think it's a shame that it forces the customer to change their behaviour to adapt to the defect of a phone.[b][b]
Video quality
[b]To test the video, I went to a river near my home and simply walked the horizon with the camera. Unfortunately, the result is very bad:[b]The sharpness is too important, the colors are not correct, the whole picture is too brown and we see big chromatic aberration around the trees. These are very similar problems to those encountered for the photo part but unfortunately there is no soluton here because the camera cannot produce a second format that could be modified by the user.[b][b]Here is another video taken under good conditions, the result is the same:[b][b][b]To finish this video test, here is a video taken at night in the rain and in a cemetery in England... This video is interesting because it does not suffer from the color problems encountered on previous videos. The sensitivity is even quite good especially in this kind of bad condition. Inevitably, the video is very noisy but this is perfectly normal. As with photos, night shots do not suffer as much from processing problems.[b][b]src="https://www.youtube.com/embed/MBX-tiVvWAU" frameborder="0" allow="accelerometer; autoplay; encrypted-media; gyroscope; picture-in-picture" allowfullscreen>[b][b]
Screen quality
[b]When I first started the phone, I was pleasantly surprised by the black intensity, the backlight is less aggressive than on a Xiaomi and black was really black. This good impression actually hid another problem, the screen lacks some color range and when colors are getting darker they tend to look much darker than they should be.[b][b]To compare phones in the same conditions, I took some pictures in the dark with backlight set to 100% and without changing the default settings. [b][b]Let's start with blue:[b]
[b]Left: Xiaomi Redmi Note 5[b]In the middle: Umidigi F1[b]Right: Xiaomi Mi 8 Lite[b]This screen starts with black (RGB 0.0.0.0) and moves gradually to blue (RGB 0.0.255) in steps of 5.[b]With the 2 Xiaomis, you can see that the screen quickly moves away from the black to display the first blue colors. With Umidigi, you stay in the dark longer, you can't see the darkest blues and when you get to the bottom of the screen, the blue is not correct, it deviates towards purple. [b][b]
[b]This time the page starts with black and gradually turns green. The result is the same. Umidigi stays longer in the dark but the problem is less pronounced than for blue.[b][b]
[b]With red, same observation, Umidigi stays longer in the dark range.[b][b]This test is obviously NOT of a scientific nature, I just wanted to illustrate what I had noticed with my eyes. I had noticed the same kind of problem on the Honor 8x but the effect was limited to blue. If you don't compare the screen with another phone, you would not think the Umidigi has this kind of issue, but when you compare it with a better quality screen, the difference is visible. Is it a big problem? For a great majority of users, it will not matter at all. If like me you are switching phones often and viewing the same pictures on all your phones, you'll notice a difference. In that price range, it's not a big deal. [b][b]
GPS performance
[b]I tested the GPS function with Google Maps and the Offline Maps application. I performed the tests with the Umidigi and with the Xiaomi Redmi Note 5 at the same time. GPS works well overall but is less accurate than Xiaomi. In pedestrian mode, I was often about ten meters from my position and very often I found myself in the middle of a house while I was on the street. I made a short video below where you can see that the Umidigi has trouble with the orientation of the phone, it looks like I'm walking backwards. The positioning then takes shortcuts through the houses. [b][b][b][b]On the road, the positioning is better and the GPS works quite well overall. I just noticed a delay in the speed display when I accelerate but it only takes a few seconds. The Umidigi is a solid travel companion because the road GPS works well and the battery life will allow you to go a long way.[b][b]
Android
[b]The Umidigi F1 is my first device with a stock version of Android. I started my Android life with Xiaomi and I really enjoyed but there are many negative reviews about Xiaomi's interface so I was wondering what all that fuss was about. One of the most recurring issue was the absence of an application drawer but now that I have tested a stock version too, I really don't understand why this application drawer is so important for some people. I switched from a Xiaomi Mi 8 Lite to Umidigi by transferring my applications. On my Xiaomi, everything was well sorted by theme but on the Umidigi all the applications were put in the drawer. [b][b][b][b]You can then move applications up to the personal area on the home screen or the screens on the right but I don't really understand the rationale behind this application drawer. When you have a lot of applications, the drawer becomes unusable because you spend more time searching for an application than using it. If you customize the interface, you can end up with the same application several times in different places in the phone. You can even put the same application multiple times in a folder.[b][b]It's all obviously a matter of preference and habit, but having started my adventure with Android through a Xiaomi, I think that the stock Android interface lacks some very useful features you have on a Xiaomi. Of course, there are positive things to say too, it has the advantage of not forcing you to install certain applications like with Xiaomi or Honor, the Umidigi will not try to get you to create an account with them either, your usual Google account is perfectly sufficient. [b][b]Like other Android devices, notifications are accessed from the top of the screen. The interface is pretty straighforward, we find the same things as in other phones. I still lack a screenshot tool because when I test a device I use this feature a lot. On the Umidigi you can take a screenshot by combining the power button and the volume down (or pressing and holding the button to turn off). On Xiaomi, there is a shortcut in the notifications and it is much more convenient. Umidigi also has a video capture application that is very useful for making videos like the one proposed above but beware, while it register your screen, it also records sounds around the phone. While I was using this video capture tool, I was surprised to hear me talking to my wife![b][b]At the bottom of the screen are the standard Android functions, the square to access applications already opened (to close them if necessary), the round to return to the home screen or use the Google assistant and the left arrow to go back. This mechanism works very well but again I prefer the Xiaomi version which allows navigation by gesture. This navigation is so intuitive that I have the reflex to use it on all phones when the function is not necessarily available.[b][b]Among the other things that bother me about Android 9.0 is the notification bubble, it simply doesn't show up. If I don't see an email or message when it arrives, I may not see it because of all the notifications already present in the notification center. Applications do not display the bubble so you need to open the application to see if there are new messages. I submitted this as a bug to Umidigi and they told me it was the normal behaviour. If that's the case, I don't understand why the settings allow the display of a bubble while this bubble is never displayed. It is really an annoying problem.[b][b]You probably have understood that I'm not a fan of Android 9.0 but that doesn't mean that this operating system is bad, it's just a matter of taste or habit. Here is a summary of what I liked and what I didn't like:[b][b]I liked it:[b]- configuration simplicity[b]- the lack of incentive to create an additional account[b]- the absence of unwanted applications[b][b]What I didn't like:[b]- the bubble notification do not work[b]- no application to manage photo albums (unless you use the file manager)[b]- no navigation by gesture[b][b]
Bugs encountered
[b]Umidigi is not a very large manufacturer, so they do not have the same means as a Xiaomi to deliver a bug-free phone to the market. Here is a list of some of the bugs I've encountered:[b]- interface not fully translated (mixture of English and French)[b]- at startup, it asks for the PIN code but in reality it asks for the device code. If you continue to enter the wrong code, you may temporarily block the device.[b]- after the first code to be entered, the real PIN code must then be entered and then the device code again (2x in total)[b]- bubble notifications do not work[b]- it does not combine 4G frequencies to obtain a better speed[b]- the GPS in pedestrian mode indicates the wrong direction[b]- the fingerprint and face sensor does not always work properly[b][b]I have contacted Umidigi support, they seem very responsive, so I hope they will solve these problems quickly. You can follow the evolution of the bugs here: https://community.umidigi.com/forum.php?mod=forumdisplay&fid=59[b][b][b]
Updates
[b]First corrective update on 20/03. This update fixes the most important bugs. The photo quality has slightly improved but not enough yet. RAW mode has disappeared and it's very annoying because that's what made it possible to improve photos. I submitted this new problem to Umidigi that apparently had not noticed this change, so I hope it is a mistake and that it will be corrected in the next update.[b][b]
Accessories
[b]Not yet available[b][b]
User manual
[b]https://www.umidigi.com/page-service.html[b][b]
Umidigi F1 compared to others
[b]I assigned a score of 1 to 10 for each test that determines the strengths and weaknesses of a product. I am using 0 for criteria that have not (yet) been tested. A score of 1 to 3 indicates poor performance (and yes, it does), a score of 4 to 6 indicates average performance, a score of 7 to 8 indicates good performance, and a score of 9 and 10 indicates exceptional performance. .
The score is calculated based on my measurements and when there are no measurements, it is a subjective opinion based on my experience.

The scores are not static, they change over time because the performance of new products changes and this must be taken into account.


| | | |
| --- | --- | --- |
| | Umidigi F1 | |
| Finish quality | 5.00 | 6.00 |
| Battery performance | 7.00 | 8.00 |
| CPU performance | 5.00 | 6.5 |
| GPU performance | 5.00 | 6.5 |
| Screen quality | 5.00 | 7.00 |
| Photo quality | 4.00 | 5.00 |
| Video quality | 4.00 | 5.00 |
| Wi-Fi performance | 6.00 | 7.00 |
| Mobile download speed | 6.00 | 5.00 |
| Mobile network sensitivity | 5.00 | 6.00 |
| Frequency coverage | 7.00 | 7.00 |
| Audio quality | 6.00 | 6.00 |
| GPS performance | 6.00 | 6.00 |
| Operating system | 6.00 | 8.00 |
| Overall score | 77 | 89 |
Global ranking
1. Realme Gt 112.5 / 140
2. Poco F2 Pro 111.5 / 140
3. Poco F3 111.5 / 140
4. Samsung Galaxy S20 111 / 140
5. Poco X3 Pro 107.5 / 140
6. Samsung Galaxy S10+ 107 / 140
7. Xiaomi Redmi Note 10 Pro 106.5 / 140
8. Xiaomi Mi 9t Pro 106 / 140
9. Samsung Galaxy A52 104 / 140
10. Xiaomi Redmi Note 10 101.5 / 140
11. Poco X3 101 / 140
12. Xiaomi Mi 10 Lite 5g 101 / 140
13. Xiaomi Mi Note 10 Lite 101 / 140
14. Redmi Note 9t 100.5 / 140
15. Xiaomi Redmi Note 8 Pro 100 / 140
16. Xiaomi Mi 9 Lite 98 / 140
17. Doogee S96 Pro 98 / 140
18. Poco M3 Pro 98 / 140
19. Xiaomi Redmi Note 9s 98 / 140
20. Xiaomi Redmi Note 8 97 / 140
21. Xiaomi Mi 11 Lite 96.5 / 130
22. Poco M3 94.5 / 140
23. Xiaomi Redmi Note 10s 94.5 / 130
24. Xiaomi Redmi Note 7 94 / 140
25. Realme 6 93 / 140
26. Umidigi Bison 92 / 140
27. Umidigi A9 Pro 92 / 140
28. Oukitel C21 89.5 / 140
29. Xiaomi Mi A3 89 / 140
30. Xiaomi Redmi Note 9 89 / 140
31. Nokia 5.3 89 / 140
32. Motorola G8 Power 89 / 140
33. Oneplus Nord N100 88.5 / 140
34. Honor 9x 88 / 140
35. Xiaomi Mi 8 Lite 86 / 140
36. Meizu Note 9 86 / 140
37. Xiaomi Redmi Note 5 85 / 140
38. Umidigi S3 Pro 83 / 140
39. Samsung Galaxy A21s 82 / 140
40. Umidigi F2 82 / 140
41. Redmi 9a 81 / 140
42. Redmi 9c 80 / 140
43. Ulefone Armor 7e 80 / 140
44. Doogee S58 Pro 78.5 / 140
45. Honor 8x 78 / 140
46. Umidigi F1 77 / 140
47. Huawei Y6 2019 74 / 140
48. Xiaomi Mi 10t Pro 57 / 70
49. F150 R2022 53.5 / 80
50. Elephone U5 0 / 0
[b][b]
Conclusions
[b][b]I have played around with the device for a few weeks now, It's time for a conclusion. The Umidigi F1 is a device positionned between the bottom and the middle of the range, so it must be judged on this basis and opposed to a Xiaomi Redmi Note 5 rather than an Honor 8x or Xiaomi Mi[b]8 Lite. The Xiaomi Redmi Note 5 is a winner on almost every point if we limit ourselves to a superficial test. If we dig a little deeper, we realize that the Umidigi F1 is not a bad competitor.[b][b]For less than 200€, you have a 6.3 inch screen, 128Gb storage capacity, 5150 mAh battery, support for a large number of frequencies and a good graphic chipset. So yes, it has some important defects but these defects can be fixed with an update.[b][b]The main argument in favour of the Umidigi F1 is clearly its battery, it's also the first thing that made me buy the device. Apart from the price, the battery is the second most important purchasing criterion for visitors to this site (result of a survey). [b]The Umidigi is a really solid companion, I used it to make long trips where the GPS and applications were constantly running, the device never let me down.[b][b]The Umidigi screen is also a strength despite not always correct colorimetry. Its tendency to turn dark gives the impression of having more contrast, the screen is huge (6.3 inches) without being a problem to use. The drop notch is very good.[b][b]The Umidigi F1 offers good CPU performance and in this price range, it offers one of the best performances for graphic chipset. It will therefore be able to run your games without any problems and with its battery, you will also be able to play for longer.[b][b]The positive points in summary:[b]+ battery performance[b]+ graphic chipset performance[b]+ screen and drop notch[b]+ easy to use (Android 9.0)[b]+ factory equipped with a protective screen film[b][b]The negative points in summary:[b]- the processing applied to photos and videos but this could be corrected in a future update because the sensor does not look bad at all[b]- system bugs, these will probably be fixed in a next update[b][b]I have had a couple exchanges with the Umidigi community about the different problems encountered. All the bugs and problems submitted have been integrated into their queue, I don't have this kind of support from the bigger manufacturers and it's worth highlighting. The negative points of this test may therefore turn into a positive point and this will position this phone as a strong competitor of the Xiaomi Redmi Note 5.[b][b]Will I keep this phone? No, but not for the reasons mentioned above. I bought another Umidigi (the S3 Pro) and this phone is potentially a flagship killer, I think Umidigi is able to make good phones, so I will try my luck.[b][b]If you don't want to bet on a corrective update or if you don't want to wait, I recommend the Xiaomi Redmi Note 5 (see my test in the right column).
Subscribe
Subscribe to my YouTube channel to receive updates.