Xgimi H1 test - review after one month
Category: Tests / Reviews[b][b]

[b][b] [b][b]

[b][b]

[b][b][b]

Xgimi H1, what's this?

[b][b]

[b]The H1 is the second born from the Xgimi family, a new chinese company with ambitions in the video projector area. Just like their first model, Xgimi decided to go for crowd funding, their target was set to 100.000$ and in the end they got 1Mio$ ! When I saw all the positive reviews of their first model, I took my chance with this crowdfunding campaign in september 2016 and got the H1 mid-december 2016. As I was one of the lucky first, I got the H1 for a preferential price of 420€ and a couple of interesting freebies like tripod adapter, 2 active 3D glasses and a transport bag. [b]

[b][b]

Questions ?

[b][b]

[b]If you have any questions before buying, ask them in the comments at the bottom of the page to share them with everyone. I'll try to answer them as soon as I can. [b][b]Official site:[b][b][b]

Xgimi

[b][b][b][b]

[b][b][b][b]

[b][b]
Price XGIMI H1
[b]

XGIMI H1 LED 4K Beamer Full HD 1080P DLP 900ANSI Lumen Android OS Harman Kardon Stereo mit WiFi Blue...

2021-06-17 07:03

770 EUR

[b][b][b]

[b]
Price Xgimi H2
[b][b]For those looking for the H2, I have regrouped some offers here.[b][pricelist keyword="28"][b][b][b][b]
How are my tests different from others on the web?

- I usually buy the devices with my own money, so price is just as important as you are!
- I keep the devices for at least a few weeks (sometimes more) to see what they are worth in real conditions.
- I answer (when possible) your questions to help you decide before you buy
- no one pays me to do these reviews, so I'm completely neutral and independent...
- My pages are not filled with ads



Blitzwolf BW VP9: test / review
Xiaomi Mi Smart Projector 2 Pro: test / review
Nebula Cosmos Max 4k test, review and price
Xiaomi Mi Laser TV 150 test, review and price
Gazer projector test - review
Xgimi H1 test - review after one month
XGIMI Mogo Pro test, review and price
[b][b][b]
My expectations?
[b][b]I was looking for a very specific type of projector, I wanted a compact 1080p LED projector with low power consumption. I have solar panels on my roof, I have enough capacity to cover all my needs but I'm very careful in what I buy to avoid exceeding that capacity. Low power consumption was a critical feature for me. There are already decent 1080p LED projectors on the market but most of them have a very high power consumption, usually above 250W. [b][b]

[b][b]
My setup
[b][b]I have a dedicated room in my house that I was already using for TV but knowing that I would buy a projector one day, I painted one wall in plain white. The room is not big, 3x5m, but the white wall was big enough to get the movie theater experience at home, the projection surface is the equivalent of a 141 inch screen. I did not use any special paint, just plain white paint and I made sure my wall was nicely flat. [b][b]

[b][b]
H1 shape
[b][b]The Xgimi H1 has an unusual shape, it's not big, it's not small or at least not small enough to fit in your pocket unlike other chinese models. Size is ok to transport with a bag, it certainly is easier to transport than a traditional full size projector. Aside its unusual shape the H1 is actually a very nice device, it's obvious that Xgimi wanted to give a premium positioning to their product and avoid the usual crappy feeling of cheap chinese products. The Xgimi looks and feels premium, no squeaky plastics! [b]

[b]In the package... [b]

[b]Thanks to the crowd funding campaign, I received a package with 2 active 3D glasses, one tripod adapter (very useful if you have a standard camera tripod), a USB remote control, power chord + adapters and a transport bag. The projector is very nicely packed, again this premium feeling in a nice cubic shaped black box. [b][b]

[b][b]
Image quality
[b][b]Image quality is probably the most important thing when you buy a video projector and unfortunately most of those coming from China are not doing well on that level. Is it also the case for the Xgimi H1 ? Well...no, definitely not! Don't expect the quality of a high end video projector but for that price range, you will probably not get a better image quality, it's really good and suffer no major issues. Ok, I'm not an expert and my eyes are not what they used to be but really, it's good and and I'm not the only one saying it. Some of my friends have traditional video projectors and they all had to admit that the Xgimi is better. [b]

[b]In my current setup, my projection surface is around 141 inch and of course if you look from close you won't get the same quality as on a decent TV but with a viewing distance of 1m50-2m, it's already very good. Color accuracy is ok, I felt like the picture was a bit too reddish with factory defaults so I reduced the red to 75% and now I really like the color balance. Of course, that's something very personal, everyone will probably find different settings. [b]

[b]There is nothing special about my wall, like I already wrote, I used normal white paint on a flat wall so I suppose I would get a slightly better quality on a real projection screen but finding one that size is nor easy nor cheap. [b]

[b]Important to note that the H1 also offer keystone correction and that's very useful if you can't put the video projector right behind you. I managed to fit the picture perfectly with my wall, I'm not wasting a single inch. [b]

[b]Some pictures I took: [b][b]
[b]

[b]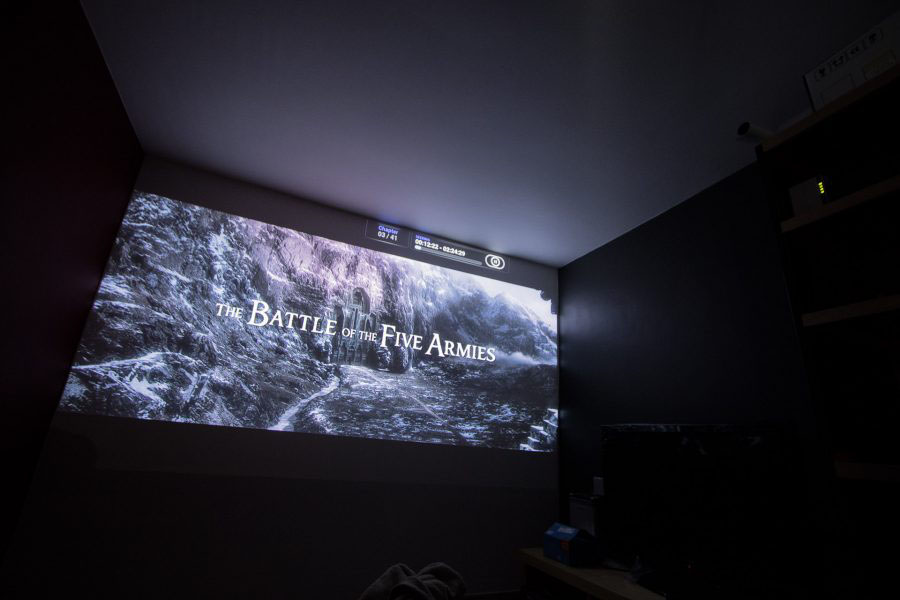 [b]

[b][b]And here is a video sample taken with my DSLR, you can compare with the original video. Sharpness is much better in reality, filming conditions are not ideal.[b][b]Original video (without projector): https://youtu.be/L14nXRxJILg[b][b]

[b][b]
Image settings
[b][b]If the factory setting do not meet your expectations, you can change the brightness, pitch, contrast and much more. To access this feature, simply press the remote control button on top of the navigation button (three bars) for a few seconds. A menu will then appear on the screen and you will be able to apply the appropriate settings. The best thing to do is to watch a good quality movie in order to make your settings on a good basis.[b][b]

[b][b][b]
Brightness
[b][b]With only 900 lumens, the Xgimi is not the brightest video projector out there but it's surpringly good. I have a powerful white led light in my room and it's right in the middle of the room so it comes between the projector and the wall. Even when the light is turned on, the image on the wall is still visible and I'm not even using the maximum brightness. Of course, in full darkness it's better but still it's nice to see that 900 lumens might actually perform very well. You can check my pictures below, I have taken a picture with the lights on and another one with lights off. [b][b]
[b]

[b]
[b][b]

[b][b]
White / Black balance
[b][b]Compared to a TV, video projectors don't perform very well in white / black contrasts. The Xgimi H1 produces a very nice and clean white, really pure while black is more like dark grey. So you don't get black like on tv but it's very acceptable. Even in movies with darker scenes, you don't lose much of what you get on a tv. [b][b]

[b][b]
Harman-Kardon sound
[b][b]At first I was a bit skeptic, how did those unknown guys from Xgimi get hardware like Harman Kardon in their device ? It sounds like fraud but believe me, it's not. Harman-Kardon is not just a sticker they pasted on the device, sound is really good! Of course it won't be a dedicated setup with amplifier and good loudspeakers but it does the job. Again I'm no expert but I tried multiple types of sounds (movie, mp3, streaming from my phone, ... and it produced a nice sound in all conditions. I performs pretty well in medium range but lacks a bit of thrills for lower tones. [b]

[b]You can also use the H1 like a bluetooth speakers by switching to bluetooth speaker mode and using any connected device to stream. I connected my Nokia Lumia 930 and it worked like a charm, I did not have to try several times before gettting it to work. [b]

[b]I also tried headsets directly connected to the jack connector but there I was a little bit disappointed. Listing to music with a headset is ok but not watching a movie because for some reason music is very loud and voices are very low so you don't understand voices very well. [b][b][b][b][b][b]

[b][b]
Bluetooth audio kag
[b][b]Some users here reported audio lag when using a bluetooth audio device connected to the projector. I contacted XGIMI support and they advised to use a video player like Kodi and set a delay for the sound so that the lag is compensated by the software part. [b][b][b]

[b][b]
Power consumption
[b][b]Low power consumption was one of my main requirements. So is it any good ? Yes, definitely and in a very impressive way. With the full brightness, power consumption is around 80W (image and sound) and now with my brightness set to 8, it dropped to 70W. Wow, I did not expect such a low consumption! For 70W I have a 141 inch picture with decent sound, Android and web connectivity, that's really incredible. In my previous setup I had a 150W TV + 70W amplifier + 15W TV box + 15W Android box, that's 250W in total. Xgimi claim you can replace your TV with their H1, well, it's true! I have pushed my TV aside, I can now enjoy a full movie theater experience for a consumption of a big light bulb! [b][b]

[b][b]
Android
[b][b]Xgimi has installed a special version of Android called Android TV on the device. The UI is pretty simple, easy to use a very smooth. You don't have access to the normal Play Store from Google, you have access to something called Aptoide TV where you can download popular apps but the number of available apps is limited. There is a trick however to access Play Store apps, you just need to install the Play Store app by yourself (through the browser for example) and with this you have access to everything in the Play Store. I'm not an app freak so I haven't tried many of them so far. I downloaded Kodi (media center app) and that covers most of my need anyway.[b][b]
[b][b]

[b]This Android version is pretty stable, I've never had a crash or any glitches. I previously was using a Minix Android box and it's nothing close to what you have in the H1, even with the latest ROM, I still had regular crashes. The H1 has also a powerful CPU/GPU combination, reading an uncompressed 1080p movie plays smoothly without any interruption or buffering. [b][b]

[b][b]
Noise
[b][b]Noise ? What noise ? Another very interesting thing, the H1 doesn't make any noise. You barely hear it if you sit next to it but it's nothing like the traditionnal projectors! [b]

[b]Check yourself with the video below (sorry for the quality but I did it in a hurry). Video has been taken less than 1m away from the projector. I have turned off the sound when the H1 was busy streaming a video. Clicks from the remote control make much more noise than the H1 itself.[b][b][b][b]

[b][b]
Remote control
[b][b]You get a very nice remote control with the projector, it can be charged through USB but the battery range is so good that I haven't charged it since I have received the device. There is also a gravity sensor but I haven't managed to use it so far, sometimes I get it to work, sometimes not. Most of what you need can be controlled with the remote, if you intend to surf you might need to add a mouse or a keyword because the remote is not enought in that case. I tried an USB mouse and it worked perfectly. [b][b]

[b][b]
Rainbow effect
[b][b]Like most DLP projector, you will have a rainbow effect but I never experienced any issue with this. It's visible when you start blinking fast or fast movements but honestly it never caused me any trouble. One of my friend also has a DLP with rainbow effect and the effect is much more visible there. [b][b]

[b][b]
Gaming
[b][b]Xgimi was advertised as a gaming projector with a low lag that would allow you to play games without any issue. Again, it's true. I have tried some Android games and everything worked fine but they were quite ugly as those games do not support 1080p and beaming them on a 141 inch is not recommended. I also tried to connect my old XBOX 360 through HDMI and again, very smooth experience, no lag. I did not play very much but I tried Assassins Creed and Forza Horizon, I did not encounter any issue. [b]

[b]Aptoide TV comes with an application called Moonlight, this application streams content from your regular PC to the H1, this way you can run your usual games from your computer and stream them to your video projector. Very nice feature in theory but I have never managed to make it work, I have a GTX 1070 but my PC has a different IP range than my projector so that might explain why my projector did not find my PC. [b]

[b]The H1 is not supposed to be a gaming projector because it has a lag around 50ms but from my experience, it's doing a pretty good job at it. In the example below, I played a little bit with Need For Speed Shift 2 and the experience was really good. Check for yourself here below:[b][b][b]

[b][b][b]
Projection/Throw distance
[b][b]The Xgimi H1 has only a 1.1 optical zoom which means that the screen size depends on how far your projector is from the wall/screen. In my setup, my projector is approximately 4 m away and I have a diagonal of around 150 inch. I had to use the software zoom to make the picture a bit smaller because at that distance my screen was a little bit too small.[b]

[b]How can you calculate the screen size ? There is a little formula for this, even if it's not scientifically accurate, it gives you a pretty good idea of what to expect. You simply need to divide the throw distance (distance between screen and projector) by 1.39 and 1.5 to get your screen width (not the diagonal). In my case, I would divide 4m by 1.39 and 1.5 which results in 2.6-2.87m and guess what, my wall has a width of 2.89m so it's not bad at all.[b]

[b]Calculating the resulting diagonal requires some basic math. The projector has a 16:9 projection ratio. If you have a width of 100cm, it means that your height would be 56.25cm. Now to calculate the diagonal you need to use the following formula: width²+height² = diagonal². In my case I have something like 2.89² + 1.62² = diagonal². So if my math is not too rusty, I end up with a diagonal of 3.31m ( = 130.3 inch). In reality it's a bit more, probably because my projector is not throwing the image right in front of the wall.[b]

[b]Here is something I have found on XGIMI's forum, it should give you an idea without going too much into the math.[b]
[b][b]

[b][b]

[b][b]
Stepless zoom
[b][b]I often receive questions about throw distance and image size but there is something more I should tell you about. You can calculate the theoritical image size with the formula in the previous paragraph but if your screen / wall is too small, you can always use the stepless zoom to reduce your image size to your requirements. My image width is 2m89 with stepless zoom set to 7. If I use the maximum value (100), I end up with an image of 1m89. See for yourself here below.[b]

[b]That's the main menu with stepless zoom set on 7.[b][b]
[b][b]I change it to 100[b][b]
[b][b]And I get a much smaller picture without any loss in quality.[b][b]
[b][b]Update: I receive a lot of questions about the stepless zoom, so I made some additional measurements to help you. I started the stepless zoom at 8 and had a base image of 287cm (width). I then went to 20 and the image decreased to 273cm, then to 40 the image increased to 252cm, then to 60 the image increased to 229cm and finally to 80 where the image is assigned to 206cm. So be careful, I didn't do it scientifically, so the figure may be imprecise, but what I see is that the progression is linear. When I increase the zoom by 20 points, the image decreases by about 23cm. This measurement is obviously valid for my projection distance but it should give you an idea of what the stepless zoom is capable of doing.[b]

[b]Remember that this calculation is only valid for my situation with a projection distance close to 4m and a projector placed on the right rear of the part (with keystone correction).[b][b][b]

[b]
Overheating problems?
[b][b]I regularly receive messages from other H1 users who have reported an overheating problem where the projector turns itself off after a few minutes. In the vast majority of cases, this problem occurred after an update. For some reason, some updates misread the sensors and eventually shutdown the projector thinking it is too hot. The solution is simple, go back to the factory settings and update to the latest version available.[b][b]

[b][b][b]
Accessories
[b][b]There are several accessories for the Xgimi that will allow you to complete your experience:[b][b]

[b][b]3D glasses[b][b]I have 2 3D glasses for the Xgimi, I am not a big fan of 3D but they are the only 3D glasses with which I saw 3D. The ones at the movies never worked for me. You can find 3D glasses from 14-15€ on Aliexpress. With this kind of amount, there is no risk with customs duties.[b]3D glasses[b][b]

[b][b]Tripod[b][b]If you do not have furniture for your projector, you can always consider using a tripod. Xgimi offers an "official" tripod but any photo tripod will do. I used a tripod at 20€ but I opted for a placement on cupboard because it was more practical.[b]Tripod Xgimi[b][b]Tripod adapter Xgimi[b]Wall/ceiling mount[b][b]

[b][b]Screen[b][b]If you don't have a beautiful white wall at your disposal, you still have the possibility to buy a screen for your Xgimi. You can either buy a high-end screen in Europe or take a Chinese alternative that will probably be a little less good but this type of screen will cost 10 times less.[b]Ecran projecteur[b][b]

[b][b]Remote control[b][b]Have you lost or broken your remote control? Good news, you can easily find another one in China.[b]Remote control[b][b][b][b]

[b]
Google Play Services Update (Root XGIMI)
[b][b]I recently received a couple of messages from users who were unable to install some applications (error 506) and at some point I also faced the issue. The problem apparently comes from the application Google Play Services (and not Store) which needs to be updated. If this application is not updated, you won't be able to install recent applications. I don't know why this problem occurs but with the method below I managed to solve the issue for my projector. It's a bit technical and there is always a risk involved in that sort manipulation so use it at your own risk, I'm only publishing it for those sufficiently skilled to operate such an update.[b]

[b][b]Update:[b] some users reported that the procedure here below works better if you first log in to your Google account through Kodi. If you're not logged before starting, you may have to reset your projector to factory defaults.[b]

[b]1. Root your projector[b]From the home screen, click on System Setup > About > System Information[b]On this screen, press and hold the left arrow on your remote control until the following screen appears. There is a mix of Chinese and English here. Look for the ADB line and make sure you have the symbol as in the picture below.[b]
[b]

[b]2. Get your IP address[b]If your projector is connected through a wired connection: System Setup > Connection Settings > Wired Network[b]If your projector is connected through a wireless connection: System Setup > Connection Settings > Wifi[b]Note down your IP address, it should be an internal one with something like 192.168.xxx.xxx (depends on your network configuration)[b]

[b]3. Download ADB[b]To connect to your projector you'll need a small program provided by Google. You can download it from here: https://dl.google.com/android/repository/platform-tools-latest-windows.zip[b]Install the content somewhere on your local drive like c:\adb (any location will be ok as long as you remember where you stored it)[b]

[b]4. Download Google Play Services[b]There are many version of this application on the web, you basically need an APK file so that you can install it manually. I have tested with the following ones:[b]https://www.apkmirror.com/apk/google-inc/google-play-services/google-play-services-11-9-51-release/google-play-services-11-9-51-230-177350961-android-apk-download/[b]https://www.apkmirror.com/apk/google-inc/google-play-services/google-play-services-12-5-29-release/google-play-services-12-5-29-020300-192802242-android-apk-download/[b]A word of caution, I do not manage those files, they worked for me but you should make sure they are safe for you.[b]

[b]Once downloaded you need to store the file where you have installed ADB and rename the file in GmsCore.apk (case sensitive)[b]

[b]5. Connect to the projector[b]The following procedure is not complicated but if you are unfamiliar with command line instruction, you may be a little bit scared. This type of manipulation can alter the software of your projector so you should be very careful when doing this, don't do something you don't understand. I did this with my projector and everything went well but you take the responsibility to do it on your device.[b]

[b]Run the command line interpreter from Windows (type command in the search if you don't know where to find it). A black window opens with the current directory. You now need to go to the directory where you have installed ADB. Once you have done this, you can start the following procedure:[b]

[b]adb connect XXX.XXX.XXX.XXX (replace X with your own projector IP)[b]adb root[b]adb connect XXX.XXX.XXX.XXX (replace X with your own projector IP)[b]adb shell[b]setenforce 0[b]rm -rf /system/priv-app/GmsCore/GmsCore.apk[b]exit[b]adb push c:\adb\GmsCore.apk system/priv-app/GmsCore/ (don't forget to adapt the location of your APK file)[b]adb disconnect youripaddress[b]

[b]From here you can swap your projector to normal mode again (see step 1 where you changed into root mode) and then restart your device.[b]You can check which version of Google Play Services you have by downloading an application called Play Services Info/Update. With the files mentionned above you should have version 11 or 12 depending on which file you chose (last version in April 2018)[b][b][b][b]

[b][b]
Update Google Play Services (after version 1.5)
[b][b]If your projector is running with ROM 1.4.X or lower, you should disregard this paragraph. For the others, the procedure described above is still valid but other APK files must be used for the update. I had to do several tests to get there but I found the right versions. I used version 13.2 from September 2018 and then installed it using the procedure described below. I had tried version 12 or 14 but it didn't work. [b]

[b]Then, you will have to install a new version of the Google Play Store, you can on the same site get a version 11.7 (again not the one for Android TV). To install the Play Store, you must use a USB key and run the APK directly from the key. I use ES file explorer to access my USB key and launch APKs. Still with ES file explorer, you can then launch the Play Store in Library > APP. You may have to go through an identification screen with a sign-in button. I couldn't pass this step with the remote control, fortunately I have a wireless keyboard connected to the projector, where I could easily identify myself and access the Play Store as before.[b]

[b]This procedure works but will probably have to be reviewed at the next projector update where you will probably have to look for the best version of Play Services and the best version of the Play Store.[b]

[b][b]Important note:[b]always check the integrity of the files you use (antivirus, antimalware,...) because I don't know how reliable apkmirror.com is. There is indeed an indication before downloading the file but on several versions that I downloaded, the permissions were different, they asked for permission to make calls. For a projector it doesn't matter, but still I didn't take the risk.[b][b][b]

[b][b]
Netflix in HD
[b][b]I often get questions about Netflix and how to stream in HD on the xgimi. Unfortunately I don't have a Netflix account to try it out myself but there are some hacks enabling higher resolutions. As I don't know what those hacks are exactly doing, use them with caution. [b][b][b]http://199.175.53.21/netflixlatest.ultrahd.apk[b][b]http://199.175.53.21/netflixlatest.ultrahdwithdolby5.1.apk[b][b]If you have any experience to share about those hacks or on how to enable HD on Netflix, please share it here below in the comment section so that everybody can benefit from it.[b][b][b]

[b]
Any issues?
[b][b][b]I've been using the Xgimi H1 since mid december 2016, I think I've used it for more than 50h nows. I have encountered the following minor issues: [b][b]- remote control is not enough to enjoy the full experience, a mouse would be better [b][b]- picture seems to be less sharp around the edges [b][b]- sound through headset/jack is too loud and voices are difficult to understand [b][b]- did not manage to stream from the Amazon Prime app [b][b]- now that my four year old son has watched "Frozen" with the projector, I think I'll have to endure that a couple of times now [b][b][b][b]

[b]
Update February 2017
[b][b][b]The sharpness issue is definitely linked to the projector position. I have now move the H1 to one corner of my room and changed the trapezoid shape and I'm now losing sharpness in a complete different place. I managed in the end to reduce the problem so that sharpness in the center is good, lack of sharpness is now only slightly visible on the extreme outside of the picture.[b][b][b]

[b]
Update April 2017
[b][b][b]I'm still very happy with the H1. I did a software update some days ago, it was a little bit scary as I did not know what to expect and with no feedback from other people, I was unsure of the outcome. It took a couple of minutes but everything went fine. I did not notice any changes.[b]

[b]I have recharged the remote control for the first time. I have been using it since december 2016 and it ran out of battery 5 months later, not bad![b][b][b]

[b][b]
Update March 2018
[b][b]Time passes by very quickly, I now have the H1 for more than 1 year and 4 months. I'm still very happy with it. I have used it for more than 300 hours and I haven't encountered any problem so far. XGIMI has already released two software updates and the upgrade went well. I don't see any degradation in performances or brightness and all applications I'm used are still working fine. All the people I know who have bought the H1 are very happy with it too. [b][b][b]

[b][b][b][b][b]Update 15/06/2018[b][b]Xgimi is deploying a new update but they are deploying it silently. My projector was behaving strangely yesterday, I couldn't go beyond the main menu, the projector was constantly going back to the home screen. I left the projector turned on for a couple of minutes without doing anything and suddenly a message appearing inviting me to install an freshly downloaded update.[b]After 10 to 15 minutes, the update was installed and my projector was working normally again. I understand the importance of update but it's the first time that an update is forced without my consent. Xgimi should at least warn its users before starting the download.[b][b][b]

[b][b]
Conclusion
[b][b]I'm really happy with the Xgimi H1, I can completely put my TV aside and enjoy a 141 inch experience without any hassle. Nice picture, nice sound, low consumption, everything I ever wanted ! [b][b]Outside purists, I'm sure this device will make many people happy, the only thing that would make change my mind is if maybe Xgimi came with a 4k model. [b][b]Xgimi guys: you did a great job ! (and no i'm not working for them) [b][b]If you have any questions, shoot! [b][b][b][b]