Receive notifications for new articles
XGIMI Mogo Pro test, review and price
Category: Tests / Reviews

[b]If you are looking for a cheap projector, you have probably seen many Chinese products made by companies you have never heard of. Most of the time, these projectors are of poor quality and can in no way be compared to a projector of a traditional brand (Epson, Sony,...). With the arrival of XGIMI, things have changed a little bit. I bought the XGIMI H1 projector through crowdfunding in 2016, this device was the first of a new kind and I now have 3 years of experience to confirm that it is a very good projector. XGIMI didn't stop there and launched other successfull products in the meanwhile and this time I bought a 1080p portable projector marketed under the name of XGIMI MOGO PRO.[b][b]Note: there is a lighter version of this projector, I am only testing the PRO version.[b][b]
XGIMI Mogo Pro, what is it?
[b]The XGIMI Mogo Pro is one of the first portable 1080p (full HD) projectors and although I might have been able to buy another one for a lower price, I preferred to trust XGIMI because so far they have been able to produce very good projectors.[b][b]The Mogo Pro fits in your hand, it measures 14cm and weighs 900 grams. Its brightness is quite low compared to traditional projectors but it was already the case with the XGIMI H1 but I never had any problems with this and my projection room is completely dark anyway. The Mogo Pro can project an image of 100 inches (+ 2.5m) in size in 1080 while consuming only 55W. [b][b]Here is a video presentation of the product (from XGIMI):[b][b][b]
How are my tests different from others on the web?

- I usually buy the devices with my own money, so price is just as important as you are!
- I keep the devices for at least a few weeks (sometimes more) to see what they are worth in real conditions.
- I answer (when possible) your questions to help you decide before you buy
- no one pays me to do these reviews, so I'm completely neutral and independent...
- My pages are not filled with ads

XGIMI Horizon Ultra : test / review
Xgimi Horizon: test / review
XGIMI Halo+ test and review
XGIMI Mogo 2 Pro review / test
JMGO N1 Ultra : test / review
Formovie Theater 4k (Fengmi) review and special offer
Blitzwolf VT2 : test / review
Blitzwolf BW V2: test / review
Philips Screeneo U5: test / review / price
Thundeal TD98 projector review / test
[b][b]I will feed the test gradually, feel free to ask your questions in the comments section at the bottom of the page.[b][b]
Price XGIMI Mogo Pro
[b]The Mogo Pro is now available in the largest online stores such as Amazon or Aliexpres. There is a basic version and a pro version, the version tested on this page is the pro version.[b][b]bb

[b][b]
Presentation video
[b]Xgimi has released a video showing what you can do with the projector:[b][b][b]
Unpacking
[b]
[b]I have finally received my XGIMI Mogo Pro after a few months of waiting, I was curious to see what XGIMI would propose this time. They had proposed a very different product with the H1 3 years ago, the Mogo Pro follows the same trend. It is marketed as a pico projector but it clearly doesn't look like other pico projectors. The box has a less premium look than the H1, the box is white without frills and the inside is not covered with protective foam as it was the case for the H1. I don't care about that kind of thing, but the contrast with H1 is quite significant.[b][b]The box contains the projector, a remote control (without batteries), a large user manual and an AC adapter. I received a second box containing an adapter for the different markets (USA, UK, Europe). [b][b]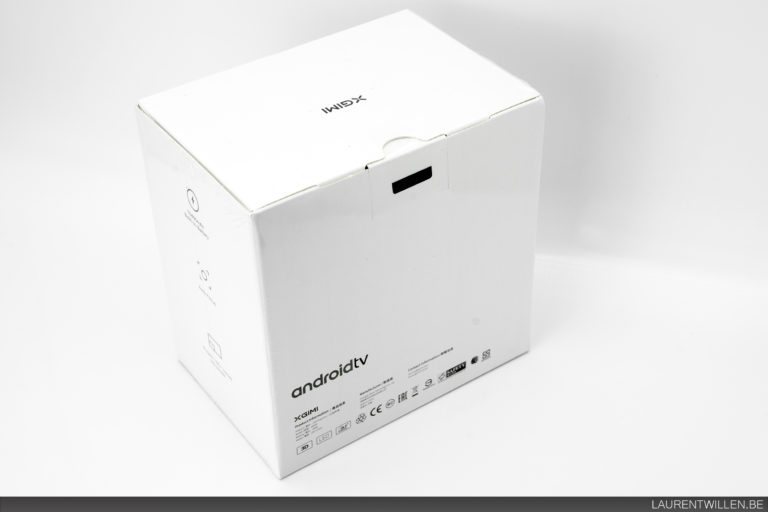 3

[b][b]
Device shape
[b]
[b]The shape of the Mogo Pro is quite peculiar but to integrate a sufficiently powerful sound system, the usual format of the pico projectors would probably not have been adequate. The finish looks good. [b][b][b]Above[b][b]On the upper part of the projector there are two touch buttons for volume, another for playing or pausing. This choice would indicate that XGIMI expects users to stand behind the projector.[b][b][b]Forward[b][b]At the front is the projection lens at the top and the Harman Kardon speaker on the entire surface, which occupies three of the four sides of the projector.[b][b][b]At the back[b][b]At the back is the power connector, an HDMI port, a USB port and a jack output.[b][b][b]Below[b][b]Underneath is a clamping screw to allow the projector to be installed on a standard tripod.[b][b]
5

[b][b]
Remote control
[b]
[b]The H1 remote control was partially made of brushed metal, it was equipped with a rechargeable USB battery that lasted for months. For the Mogo Pro, XGIMI made a rather different choice. The remote control requires two AAA batteries to operate and is made of plastic. I would have clearly preferred a remote control with a battery like the previous one, it's more practical but you have to see in use what kind of autonomy two batteries can offer compared to a battery. Fortunately, the remote control is a bluetooth device, so you don't have to point it at the projector to use it.[b][b]
Projection room
[b]My projection room is rectangular, 4.6m x 2.8m (height 2.2m). The projection wall is a normal wall on which I have applied white paint without any particular treatment. The walls on the side are darker (dark grey and red) to accentuate the contrast with the white wall and avoid too much light reflection. My XGIMI H1 projector is installed in the rear right-hand corner just below the ceiling. I cannot install a projector in the middle of the room, so I have to install it either completely at the back or completely at the front (short focal length). I don't have a sound installation, I only use the sound from the projector.[b][b]
Boot video
[b]I made a video of the device starting up, it takes about 40 seconds to get to the home screen. You will see that the loading is progressive, the posters appear a few seconds later. The projector is a little slow to react when starting, but after a few seconds, the interface is fluid.[b][b][b][b]With this video I also went through the projection parameters. You can use automatic correction but you can also correct the angles manually to adapt the image to your situation. The projector can also project backwards if you need it. Automatic correction works quite well, but if you decide to project an image from the side of your room, you may need to make a manual correction.[b][b]
First impression
[b]The first impression I can summarize it in a very short word: wow! I am testing a Chinese pico projector in parallel to get an idea of what exists on the market and the Mogo Pro is very much above what I have been able to test so far. The brightness is impressive for a projector of this size, the image is also very sharp. The image focus and shape is automatic and adapts quite fast, so you can move the projector as you wish without having to adjust it every time. The projected image has obviously a rectangular shape but we see reflections appearing outside the image, they probably come from an internal reflection. I will now take a few days to use the projector and feed this article with my experience.[b][b]
Image quality
[b]As I wrote above, my first impression was positive and this was confirmed by the other tests I was able to do. At a distance of one meter, the brightness is really good and the image is very sharp. The colors are very bright and well saturated, I will try to test the colorimetry with a probe later but I think the colors are a little too saturated but it's very nice to look at.[b][b]Here is a first example of a 4K timelapse from YouTube. Video does not always reflect the actual quality because it is difficult to film a projector and accurately reproduce the image. The sound is also not true to reality, there is always a loss in the recording process.[b][b][b]Here is a second example with this time a Star Wars trailer. The image changes a lot of tonality, you go from light to dark very quickly, the projector does very well, the transition is smooth and the image is sharp. Here again, video capture does not give a real overview of video and sound quality.[b][b][b][b]
Sound quality
[b]The XGIMI H1 is also equipped with Harman-Kardon speakers and the sound it produces is really good even if a dedicated installation will deliver better results in principle. Did XGIMI manage to do better with the Mogo Pro? Yes and no. The Mogo pro is a portable projector, so don't expect to have a living room experience like with the H1 or other projectors of the same kind. The sound quality delivered by the Mogo Pro is good despite the size but the sound is less powerful than the H1 and gives the impression of being a little muffled. [b][b]Here is an example:[b][b][b]The sound is not correctly restored because I recorded the video with a smartphone. You probably won't find other projectors of this size with this level of quality, but if you're looking for a real movie experience, you'll have to use an external solution.[b][b][b]Colorimetry[b][b]I am not used to testing projectors with a probe, the process is more complicated than with a telephone but I have nevertheless succeeded in getting a result. I expected a bad result because the projectors in this price range rarely offer accurate colors. The Mogo Pro does very well for some colours and a little less for others[b][b]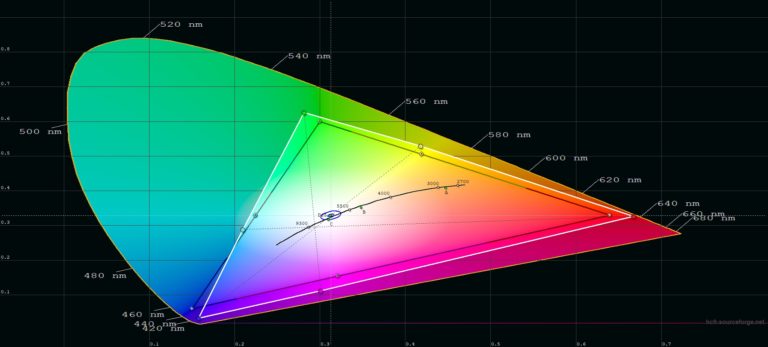 [b][b]On the diagram, the black triangle represents a perfect colorimetry and the white triangle represents the result of the measurements for the XGIMI Mogo Pro. We see that none of the primary colors touch the reference but it is quite rare for a phone, so we should not expect a perfect colorimetry for a projector. The values can also be influenced by the projection wall. If I look at the values of the probe, I see that the green has the smallest difference with a dE of 2.4, it is a very good score. Red has a dE of 6, it's not as good but it's still acceptable but blue has a dE of 10.9. It is the blue and all the colours derived from the blue that are a little out of touch with reality. Blue tends to slide towards purple. To the naked eye, I honestly did not have this feeling and I find the image very pleasant.[b][b][b]Brightness[b][b]To test the brightness, I went through 3 steps. The first is to place the projector in my photo studio so that I can measure the brightness with a colorimetric sensor. For this first exercise I measured a brightness of 570 cd/m² at a distance of 40 cm, I don't know what this represents in lumen but I can compare it to the smartphone screens I'm testing. A brightness at this level is comparable with a very good smartphone (e. g. Samsung Galaxy S10+) when the brightness is at its maximum. At short distance the brightness is therefore very strong but I guess you won't use a projector to place it 40 cm from the wall, that's why I did two other tests.[b][b]This is a placement 1 meter from the wall:[b][b][b]This is a placement 3 meters from the wall:[b][b][b]I made these videos with a smartphone (Xiaomi Mi 9 Lite). The brightness of the video is partially corrected by the phone but it gives an overview of the difference in brightness between the two distances. At 1 meter the image is very bright but the brightness decreases with distance and at 3 meters, the brightness has decreased by more than 50% (estimate). This is quite normal, if you move away from a light source, it will always decrease in intensity. The image at 3m is already very large (almost 3 meters wide) and remains viewable but more demanding users will probably find this insufficient. The ideal distance is probably around 2 meters to obtain an image of almost 2 meters. [b][b]Beyond the brightness, you can also compare the sharpness and there, the Mogo Pro does a very good job. The image is very sharp at 1 meter but it remains of good quality at 3 meters, for a portable projector it is a very good performance.[b][b]I have another projector from XGIMI and it delivers 900 lumen, this projector is placed at 4m and delivers a much higher brightness than the Mogo Pro by being further away.[b][b][b]Brightness adjustment[b][b]The XGIMI Mogo Pro offers the possibility to adjust the brightness between 4 modes: standard, eco, high and custom. Eco and High modes give the image a green tint, so they are unusable. The custom mode allows you to adjust the brightness in steps, so you can choose your brightness level and adjust the colors. Overall, it is the standard mode that offers the best image quality. [b][b][b][b]Important note: The brightness is higher when the projector is connected to a power source, so you can gain a few percent brightness. The projector was not connected to a power source for the above videos.[b][b][b]Daylight test[b][b]I have received many requests to show how the projector behaves in bright light. Unfortunately we are December and the light is not as important as in summer but the pictures below should give you a good idea of what the projector is capable of doing.[b][b]This is the screen for searching Bluetooth devices in the dark (there was just a little lateral light)[b]
[b][b]The same image with daylight (I have a window directly in the axis of the projection wall)[b]
[b][b]Even if the image is still visible, the loss of brightness is quite significant. Here are some other examples:[b]
4

[b][b]If you are not watching a film that is too dark, daylight use could be considered, but this is clearly not the purpose of this projector. You will therefore have to determine for yourself if this level of brightness is sufficient for your use because it is a very subjective choice.[b][b][b]Effect of distance on brightness[b][b]I receive many questions about the effect of distance on brightness, so I bought myself a brightness meter to measure exactly the influence of brightness.[b][b]So what does it look like?[b]At a distance of 1 meter, I measure a brightness of 44 lux. If I unplug the plug to let the projector run on its battery, the brightness drops to 22 lux. This means that you lose half of the brightness when the projector is running on its battery. I suppose you're wondering whether a value of 44 lux is a good value or not. I don't have enough experience in the field of projectors but I measured the brightness of my laser projector under the same conditions and I reach 1000 lux. The comparison is obviously not very balanced but it shows the difference between an ultra bright projector and the Mogo.[b][b]At a distance of 2 meters, I measure a brightness of 24 lux and when I let the projector turn on its battery, the light drops to 12 lux.[b][b]At a distance of 3 meters, I measure a brightness of 11 lux and when I let the projector turn on its battery, the light drops to 6 lux.[b][b]The projector loses about half its brightness every meter, it also loses half its brightness by letting it run on its battery.[b][b][b]Rainbow effect[b][b]I'm not sensitive to the rainbow effect but I thought it was quite visible on the XGIMI H1, I didn't get that impression at all on the Mogo Pro.[b][b]
Battery life
[b]The XGIMI Mogo Pro has a battery that will allow you to place the projector where you want. My first impression of autonomy was not very good because it didn't last for more than an hour. I then recharged the battery several times to completely drain it and measure the battery life under normal conditions. I started a movie on YouTube using Wifi and let the movie run until the battery was empty. I repeated this process 3 times to see if the result would be the same. In the end, I obtained an average autonomy of 2 hours and 10 minutes. It's a lot and it's not much at the same time, it will all depend on what you want to watch with this projector. You will always need to have a power supply nearby.[b][b]Update 12/12/19: after leaving the projector in a cabinet for a week, I noticed that the battery had completely drained itself. If this happens again, you will always need to take precautions when travelling to have a chance to recharge it if it is not used for several days.[b][b]
Power consumption
[b]The XGIMI H1 had already impressed me with its low energy consumption, the Mogo Pro does even better. I measured about 50 watts at the wall outlet.[b][b]
Noise
[b]The XGIMI Mogo Pro makes absolutely no noise, I ran it continuously for 2 hours and unless I'm next to it, I don't hear any ventilation noise. However, I must point out that it emits a lot of heat from the back, I measured a temperature between 35 and 40°C near the projector.[b][b]
[b][b]
Operating system
[b]The Mogo Pro runs on Android TV, this is a version of Android adapted for use on a large screen (TV or projector). The interface has therefore been redesigned for this type of use. Android TV is very easy to use with a remote control, the home screen gives access to the installed applications (via a shortcut) as well as content from the installed applications. This allows you to launch an application as with any Android device, but you can also access video content from one of your applications directly.[b][b]I have already had the opportunity to use Android TV on other devices such as the Amazon Fire TV stick or the Nvidia Shield TV box, the experience is the same on each device and I think this will give a longer life to the projector. Many Chinese projectors are equipped with an exotic Android versions not adapted to a TV experience, the interface is not always adapted, applications do not always work and in the end the system is no longer updated. If you choose an Android projector, make sure it uses an official version of Android TV.[b][b][b]Download applications/games[b][b]With Mogo Pro you can access Google's Play Store for Android TV and unlike many other Chinese products, this is an official version that will probably follow the evolution of the store. The Android TV Play Store is more limited than the Play Store for Android phones because applications designed for a touch screen may not work on a projector. The choice remains quite wide and you should be able to find your favorite applications. I regret that the Amazon Prime Video application is not present, I assume that Xgimi has not received permission to distribute the content of the Amazon platform.[b][b]Here is a short video demonstration of the Play Store on Android TV with an example of game download:[b][b][b][b]Streaming Netflix / Amazon[b][b]The Amazon Prime Video application is not present in the store at the time of launch, I guess Xgimi has not yet obtained certification. The Netflix application is on the other hand well present[b][b]
Operating noise
[b]The Mogo Pro makes absolutely no noise. It blows some heat from the back so you may not want to sit directly behind it unless you want to keep your feet warm. I measured temperatures between 35 and 40°C at the back of the projector.[b][b]
Connectivity
[b]The Mogo Pro has an HDMI port, a USB port and a Jack output. The number of possibilities are therefore limited, but for a portable experience, this is more than enough. USB sticks are detected automatically and you can access the content through a dedicated application like Kodi that will allow you to play movies on a USB stick.[b][b][b]Wifi[b][b]
[b]Mogo Pro is compatible with 2.4Ghz and 5Ghz frequencies. I have obtained a download speed of more than 160 Mbps, that's more than enough for 4k streaming or playing streaming with Steam.[b][b]
[b]Wifi also makes it easy to caster the screen of your smartphone directly on the projector. I simply used the Google Home application to project the screen of my Xiaomi, this way you can project your smartphone screen over a larger area.[b][b][b]Bluetooth[b][b]The Mogo Pro uses Bluetooth LE in version 4, this will allow you to switch the sound to a dedicated installation or connect a Bluetooth controller to play directly on the projector.[b][b]I tried to connect my Xiaomi sound bar and I couldn't do it, impossible to find the sound bar when searching for Bluetooth devices when I find this sound bar without any problem with other devices. I checked with Xgimi and apparently this is a problem that will be fixed in a future update but I haven't received a date.[b][b]
Projection distance and zoom
[b]The placement position of the XGIMI Mogo pro will determine the size of your image because the projector does not have an optical zoom. By placing the projector at a distance of 1 meter from the wall, I obtain an image of 84cm at the base with a diagonal of 96cm. With a distance of one meter, you get a slightly smaller image than a conventional television. At this distance, the brightness is impeccable.[b][b]Then I moved my projector back so that it would completely fill my wall. At a distance of 3.25 meters, I get an image just under 3 meters wide, so the projection distance is shorter than with my conventional projector which must be placed at almost 4 meters to get the same image width. At this distance, the brightness is much lower and this is normal, we are talking about a pico projector. [b][b]Without going into a scientific demonstration, you could estimate the width of the image by multiplying the projection distance by 0.89. With a distance of 325cm, I get an image of 290cm. [b][b]I also did a test that doesn't make much sense but illustrates what this little projector is capable of doing. I projected the image onto the wall of a factory and obtained an image almost 15 metres wide. The street lighting was too strong to see the image well, but I am sure that without the light, the image would have been viewable. [b][b]
[b][b]
Update 2.1.55 - 12/21/12/2019
[b]
[b][b]Xgimi delivered its first update just 2 months after the commercial release and the good news is that they have kept their promises. The Mogo Pro was previously unable to send sound over Bluetooth, this is no longer the case, I was able to connect my sound bar to the Mogo Pro and everything works fine.[b][b]Among other improvements:[b]- Xgimi has added a file manager to be able to browse files on a USB stick.[b]- sound via Bluetooth is now possible[b]- brightness change[b]- it is now possible to zoom in and out of the image, this feature will allow you to reduce the image if you place the projector away from the wall.[b][b][b]
Conclusion
[b]I bought my first projector in 2016 and it was already an XGIMI. At that time nobody knew this brand and yet XGIMI came with something new in the world of projectors. Four years later I am still using this projector. It's because I had such a good experience with the XGIMI H1 that I let myself be tempted by the Mogo Pro because basically I'm not a typical customer for portable projectors. I was very pleasantly surprised by this new XGIMI projector, it's probably one of the best portable projectors on the market.[b][b]I find the format of the projector a bit curious for a portable projector, other brands tend to make flat projectors, XGIMI decided to make a tower-format projector. I also find it a bit big to carry around with this kind of device in a backpack. The level of finish is not as good as the H1 which was made out of metal, the MOGO Pro is made out of plastic but the whole thing is pretty well designed.[b][b]The weakness of portable projectors is the brightness and the MOGO Pro is no exception to the rule. The brightness is not strong enough to be used in daylight, nor can the projection distance be very great because the light decreases by half for every meter of distance. These are constraints to be taken into account before buying.[b][b]If you use the projector in the dark and at a distance of 2 meters, you will get a very good quality image with a higher level of sharpness than I get with the H1. It really delivers 1080p when most portable projectors are not capable of delivering such a resolution. [b][b]The Mogo Pro produces good sound but it is not comparable to a dedicated system, it is not the purpose of a portable solution anyway. Its ventilation, however, is very discreet.[b][b]Strengths:[b]- picture quality[b]- image size and settings[b]- very low consumption[b]- Android TV[b][b]Weakness:[b]- brightness[b]- battery life a little too short[b]- low performance to play games[b][b]





Laurent Willen
Instead of watching nonsense on TV or YouTube, I spend my time in the evenings testing products and sharing my passion for technology, travel and photography.

I run this site in my own name and completely independently, no one pays me to do so.

I have more than 20 years of experience in the digital world, I have managed and developed many high traffic websites in companies in Belgium such as Mobistar, Microsoft, Immoweb, BrusselsAirlines, Proximus, Orange,...