Xiaomi Mi Laser TV 150 test, review and price
Category: Tests / Reviews

I bought a first Chinese projector at the end of 2016 (Xgimi H1) but it's only in 2019 that I started testing other models such as the Xgimi Mogo Pro. I was very tempted to test a laser projector but the price of this kind of projector is really prohibitive, so I gave up the idea until my price alert system found me a Xiaomi Mi Laser at half its usual price. So all that's left to do is take the time to test this projector thoroughly.[b][b][b][b]linkManufacturer web site: https://www.mi.com[b]
How are my tests different from others on the web?

- I usually buy the devices with my own money, so price is just as important as you are!
- I keep the devices for at least a few weeks (sometimes more) to see what they are worth in real conditions.
- I answer (when possible) your questions to help you decide before you buy
- no one pays me to do these reviews, so I'm completely neutral and independent...
- My pages are not filled with ads



Wanbo X1 : test / review
Blitzwolf BW-VP13 : test / review
XGIMI Mogo Pro test, review and price
Xgimi Horizon: test / review
Blitzwolf BW VP9: test / review
Nebula Cosmos Max 4k test, review and price
Xiaomi Mi Smart Projector 2 Pro: test / review
Xiaomi Mi Smart Compact Projector : test / review
JMGO O1 / JMGO O1 Pro : review / questions / answers
Xiaomi Mi Laser TV 150 test, review and price

Price Xiaomi Mi Laser TV
The list below shows the prices for the Xiaomi Mi Laser TV from more than 50 sites around the world. If you are not satisfied with any price, you can subscribe to a price alert to be the first to be notified when the price drops.[b]

[b]

The above links are affiliate links from companies such as Amazon, Gearbest, Aliexpress,... If you appreciate my work, I would be grateful if you could purchase these products through these links. It costs you absolutely nothing but I get a small commission that allows me to buy the material I test. Thank you very much!
Timeline
11/11/2019: order the Xiaomi Mi Laser TV on Aliexpress[b]12/11/2019: receipt of the package[b]14/11/2019: Unpacking and start of the test/review[b][b]
Why this projector?
I mainly test smartphones because I use this kind of product on a daily basis. With the successful testing of my first projector, I thought I should do the same with projectors. I started with LED projectors but I had to test a laser projector as well. When I received a price alert for the Xiaomi Mi Laser at half price, I figured it was time to buy. Xiaomi is not a small manufacturer, this brand has already demonstrated its know-how, so the risk of buying a bad product was much lower than an unknown Chinese manufacturer.[b][b]
Unpacking
[b]The Mi Laser 150 laser projector is very large, measuring over 40cm by 30cm and weighing 7kg. My studio is not designed for this kind of object, I had to put it on the side to be able to take a picture of it. The box contains the projector, a plastic remote control (without batteries), a power cable, a large user manual and a cleaning cloth.[b][b]
First configuration
When I test a new projector, I first get comfortable because I know that the first setup always takes some time. When I started the Xiaomi Mi Laser TV, I was surprised to see that my image was completely distorted, I'd never seen that before. This projector is the first short focal length projector I've tested, so far I've only tested projectors that are placed at the back of the room. What happened to it? Actually, nothing happened. I never noticed that my projection wall wasn't perfectly flat! My wall is very irregular and is covered with imperfections. If you want to buy a projector of this type, it is imperative that you have a smooth projection surface.[b][b]This is what it looks like after adjustment:[b]
[b]After many attempts I have obtained a less distorted image but it is far from being perfect![b][b]After the shock of the distorted image, I simply followed the Android TV configuration procedure and everything went very well, each step is correctly explained in the language of your choice. Be careful, there is a Chinese version which is only available in English and Chinese. If you don't understand these languages, remember to ask the seller before buying if it's not specified in the product description.[b][b]
Finish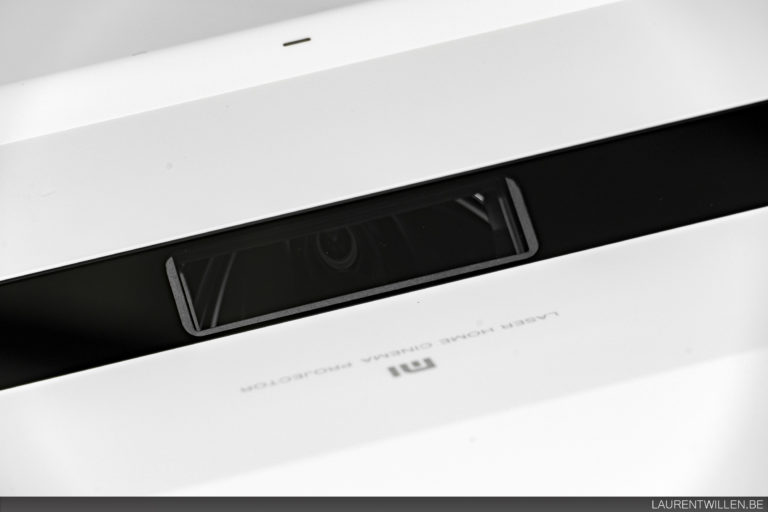 [b][b]Most projectors look similar because they all have to solve the same constraints for lighting, ventilation and sometimes audio. The Xiaomi Mi Laser TV 150 is massive and imposing but it gives a quality impression despite the use of plastic. The front panel is covered with a black grille to cover the audio system composed of 2x2 speakers delivering a power of 30W. On the sides there are two heat exhaust grilles and this is necessary because the projector heats up. On the top there is an opening for short focal length projection. At the back you will find 3 HDMI ports, a USB port, an audio output, a video input, a digital audio output (spdif) and an ethernet port (despite the fact that the projector supports wifi in 5Ghz).[b][b]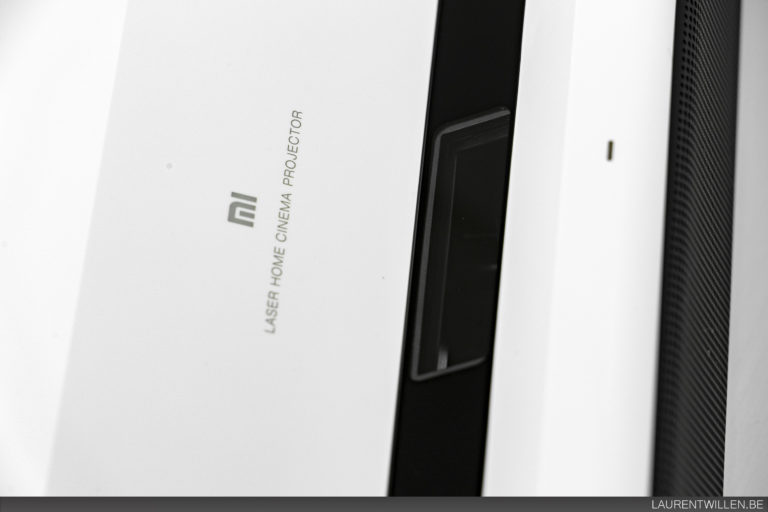 10

[b][b]
Projection room
My projection room is rectangular, 4.6m x 2.9m (height 2.2m). The projection wall is a normal wall on which I have applied white paint without any particular treatment. The walls on the side are darker (dark grey and red) to accentuate the contrast with the white wall and avoid too much light reflection. I have the possibility to place a projector at the back of the room at a distance of about 4m from the screen. I also have the option of placing a short-throw projector at the foot of the wall. I don't have a dedicated installation for sound, I just use a sound bar from Xiaomi.
Battery autonomy
The Xiaomi Mi Laser TV has no battery.[b][b]
Power consumption
The power consumption of projectors has improved significantly in recent years, but bright projectors generally consume the more power. The Xiaomi Mi Laser TV consumes about 200W at the plug, which is both a lot and at the same time quite low for such a brightness. My other projectors (Xgimi) consume less than 100W but the luminosity is far from reaching that of the Mi Laser.[b][b]
[b][b][b]
Operating noise
The Xiaomi Mi Laser TV is quite noisy. I measured more than 35dB at the output of the fan. Fortunately the sound produced by the Xiaomi is very powerful and will largely cover the noise of the ventilation but when the projector produces no sound, you will hear the ventilation. [b][b]
Connectivity
[b]The Xiaomi Mi Laser TV can be connected to the internet by wifi (2.4 Ghz and 5 Ghz) or by Ethernet. It is possible to control it from your smartphone in bluetooth through casting with an application like Google Home if you use Android.[b][b]The Mi Laser TV connection is quite complete, it has 3 HDMI inputs, a USB port, an audio output, a video input and a digital audio output spdif. One or two more USB ports would probably have been useful for those who want to connect several sources (key, hard drive, ...).[b][b]
Image quality
Before going into the analysis of the image quality, I will make a small detour on the technology used by the Xiaomi Mi Laser TV. The world of projectors has been dominated by lamp projectors for years. This technology offered a good image quality but the life span of the lamp, its replacement cost and the cost of electricity led the industry to evolve towards LED technology. With an LED projector you don't need to change the lamp anymore because the lamp life is more than enough, LED projectors are generally less energy consuming. In parallel with the development of LEDs, Laser projectors came onto the market. The promise of these projectors? More light, or even much more light and an even longer lifetime with a better controlled energy consumption. The image quality of the laser is also theoretically superior to other technologies.[b][b]I have deliberately simplified the comparison between these different technologies, but you may wonder why you should buy an LED projector when the laser is theoretically much better. The first hurdle is the price, laser projectors are much more expensive than LED projectors. Laser projectors are usually quite bulky and their placement is not as flexible as an LED projector. [b][b]When I turned on the Xiaomi the first time, I was immediately impressed by its brightness, it is by far the brightest projector I have seen so far. It's even almost usable in broad daylight. The other thing that struck me was the sharpness of the images, the details are really impressive. [b][b]In the following video, the projector is placed 20cm from the projection wall and projects an image of about 2m40 wide.[b][b][b][b]When the video starts, the brightness is so strong that my camera had to change its exposure time. The light then seems darker but in reality the projection remains very bright, it is the camera that has adapted to make it darker. The transitions also seem jumpy but this is also due to the camera. On the other hand, the sharpness is clearly visible, we don't see any gap between the pixels as on many projectors. [b][b]What about the picture quality?[b]If you are not a purist, you will be impressed. Everyone who has seen this projector running in my house has been impressed, more so than the other projectors I have tested. This projector offers a near TV-like viewing experience because it's so bright and sharp. Purists will probably be a bit more critical because the colorimetry is not correct, the image is generally quite cold (I'll come back to this point later) and some image judder is visible. I don't consider myself as a purist, I measure my experience by the pleasure I feel when I see an image and clearly this laser projector made a good impression on me.[b][b][b]Colorimetry[b]
[b][b]Colorimetry is not the strong point of projectors and to make things even more complicated, the projection surface will also play a role in color perception. My measurements are therefore valid for my situation, but you should see the same things as I do. The colorimetry of the Xiaom Mi Laser TV is not very accurate, the default image is quite cold. I tried about fifteen different settings and measured the result with the probe and I never managed to find the perfect colorimetry. The film mode is the most correct mode but you can change the settings by choosing a warmer color temperature and making some adjustments according to your taste.[b][b]So the colorimetry is not correct but the image is not bad, on the contrary I find that the sharpness of the projector compensates for the few color differences. In any case, this has never prevented me from enjoying a good film. Of course if you are a purist and you want to find a laser projector with the correct colorimetry, you will unfortunately have to pay a lot more.[b][b][b]BrightnessBrightness is the great strength of this projector, the Xiaomi Mi Laser TV is very bright and can be used in daylight as long as the projection surface is not exposed to strong light.[b][b]I have another Chinese projector that sends out 900 ANSI lumens and with this level of brightness, the experience is already very satisfying. If I take a lux meter to measure the difference, the Xiaomi offers at least 5 times the brightness.[b][b][b]
Audio quality
The Xiaomi Mi Laser TV projector is equipped with an audio system consisting of 2x2 speakers that delivers sound in Dolby Audio or DTS-HD. I usually use a sound bar to get a more powerful and better quality sound than that produced by a projector but with the Xiaomi Mi Laser TV, this is not necessary. The sound delivered by the Xiaomi is powerful and of very good quality! I have another projector equipped with a sound system (Harman-Kardon) and the Xiaomi delivers a much better sound quality.[b][b][b][b]The sound on this video does not restitute the power of the sound because it is limited by the microphone of my camera but it gives an idea of the atmosphere. I made a second video from my Xgimi H1 but using the same parameters as for the Xiaomi, the video appears darker because the Xgimi is not as bright as the Xiaomi. You will also notice the difference in the color treatment where the Xiaomi is cooler than the Xgimi.[b][b][b][b]The Xgimi is connected to a Xiaomi sound bar which delivers a powerful and good quality sound but due to the quality delivered by the Mi Laser TV, the sound bar is not necessary.[b][b][b]
Video games
The Xiaomi Mi Laser TV is not a projector designed for gaming, but that doesn't mean you won't be able to play. I managed to use my Ipega gamepad to the projector and to play with it, the remote control provided with the projector is not suited for playing.[b][b]First test: Asphalt 8 on Android[b][b]The experience is perfectly fluid and the playability is good. Capturing the video in the dark generates some frame loss that is not visible in reality. The sound produced by the projector is really good and is very suitable for playing.[b][b]Second test: Horizon Chase Turbo via SteamLink[b][b]The projector allows you to install SteamLink, this way you can play games from your Steam library in streaming. In streaming, your computer delivers all the power and sends the information to your projector as if it were a video. The connection between the computer and the projector is easy to establish, I didn't encounter any problem but my computer is connected to the network through a powerline socket, so the speed is not extraordinary.[b][b]
[b][b]SteamLink works correctly but you must make sure you have a good connection because if you are careful you will observe interruptions in the game which are caused by the insufficient speed of my connection. I could also have put a more elaborate game but I wanted to demonstrate that the projector ensures sufficient fluidity for fast games like this one. The transitions sometimes seem blurry but the problem is that my camera can't capture all the images.[b][b]
Operating system
The Xiaomi Mi Laser TV runs on Android TV 9, so the experience is quite similar to other devices running on the same system such as the Nvidia Shield. [b][b]The Android TV interface has been designed to be controlled with a remote control, so it is very well suited for a projector. Unfortunately, this convenience comes at a price because applications designed for a touch screen are not available for the projector, they are simply not visible in the Play Store. Some other applications such as Netflix or Amazon Prime Video are not available either. You can of course still load applications manually, but this is not very convenient.[b][b]The interface is perfectly smooth and the projector doesn't slow down at all. [b][b]There are many Chinese projectors running Android, but many of these projectors use older versions of Android that will eventually stop updating after a while. I've experienced this with several little known Chinese brands. With Xiaomi you can be sure that they will follow Android TV updates with the same seriousness as their version of Android for smartphones.[b][b][b]
Encoutered bugs
I have not encountered any bugs when using the projector, but I have received negative feedback from some users using the other version of this projector. [b][b]I have received the following comments:[b]- Unable to use a USB key[b]- HDMI port instability[b]- no image adjustments[b]- no sound on digital output[b][b]My projector is running with the latest version of Android TV and I don't have any of these problems.[b][b][b]
Test / Review conclusion
When I write the conclusion of a test, I always try to share my experience in a simple way. With the Xiaomi Mi Laser TV, it's a bit more complicated because even though the projector has undeniable qualities, it's not suitable for everyone.[b][b]In order to have a good experience with this projector, you need an absolutely flat projection surface, you need to be able to place the projector at least 30 cm from the projector surface and you need to be able to maintain a small distance between you and the projector. If you don't meet these conditions you may not be able to enjoy this projector properly.[b][b]If you do meet these conditions, this projector is probably the best laser projector for around 1000€. It will give you powerful brightness, very good sharpness and a powerful sound of excellent quality.[b][b]I managed to buy it at 800€ during the black friday but it is regularly found around 1000€.[b][b][b][b]Strengths[b]Brightness[b]Image Sharpness[b]Power consumption for this brightness level[b]Sound quality[b]Easy to use interface[b]Short Focal Length[b][b][b]Weaknesses[b]Cumbersome[b]Noisy[b]Requires a flawless projection surface[b]Existence of a less efficient version[b][b][b]