Subscribe
Subscribe to my YouTube channel to receive updates.
Xiaomi Redmi Note 7 test, review and price
Category: Tests / Reviews

[b]I started testing phones on my blog about a year ago (April 2018) and I started the adventure with a Xiaomi Redmi Note 5. This first choice was an excellent choice because this phone was a real success that was unanimously approved by all the blogs that tested it. Note 5 was followed by a not very inspiring Note 6 but this will change with the arrival of Redmi Note 7. This new Xiaomi phone abandons the "Xiaomi" brand to officially be called Redmi Note 7, fortunately this is not the only change, the phone is breaking down borders by offering more for an affordable price. More than a million copies of this phone have been sold in China in a few days, and as of mid-March the Redmi Note 7 will attack the rest of the world. [b][b]Official website: Mi.com[b][b][survey_generator lg="en" id="1"][b][b]
How are my tests different from others on the web?

- I usually buy the devices with my own money, so price is just as important as you are!
- I keep the devices for at least a few weeks (sometimes more) to see what they are worth in real conditions.
- I answer (when possible) your questions to help you decide before you buy
- no one pays me to do these reviews, so I'm completely neutral and independent...
- My pages are not filled with ads



iiiF150 R2022 : test / review
Realme 6 test, review and price
Xiaomi Redmi Note 7 test, review and price
Umidigi F1 test, review and price
Poco M3 Pro : test / review
Redmi Note 10s : test / review
Poco F2 review - test - specs
Lemfo Lem15: test / review / price
Realme GT 5G : test / review
Samsung Galaxy A52: test / review
[b][b]
Redmi Note 7 price US/UK
[b]I bought my Redmi Note 7 for 177€ on Aliexpress through the official Xiaomi reseller. It was one of the only retailers to offer the phone in a global version with a [b]European guarantee[b] (via Allianz). The Chinese version does not support all European frequencies, so don't try your luck.[b][b]If you want to do the same thing: Mi Global Store (don't forget to look for a global version)[b][b]

[b][b]
Time line
[b]01/03/19: purchase of the Redmi Note 7 on Aliexpress for 177€. Since this is a pre-sale, I should probably wait a month before I get it.[b]05/04/19: the device has arrived at customs, I am now waiting for customs clearance[b]13/04/19: unpacking, first tests (benchmark, wifi,...)[b]19/04/19: camera test (day/night), video[b]22/04/19: test gaming, audio[b]27/04/19: network test[b]04/04/19: test finalisation and first conclusion[b][b]
News
[b]The Redmi Note 7 outperforms its predecessors (notes 5 and 6) by offering some new features such as[b]- a 48 Mio. pixel camera[b]- a 6.3 inch screen with a drop notch[b]- more premium finish with glass instead of plastic[b]- a SnapDragon 660 processor[b][b]
Test structure
[b]How for my other tests, this test will be spread over several weeks but will follow the structure described below. If you have any questions about the device, feel free to ask them in the comments section so that I can adapt the test if possible. I try to provide some of the most comprehensive tests on the web and it can only work if you ask me questions.[b][b][mobilesurvey][b][b]
First contact
[b]
[b][b]The Redmi Note 7 is delivered in a compact box containing the same accessories as the other Xiaomis I bought. There is of course the phone, a protective cover, a needle to open the SIM compartment, a European charger, a USB C cable, a warranty certificate and a manual in several languages. This manual focuses mainly on starting the phone, it will not be of any use to help you use all the features of the phone, no manufacturer does this kind of thing anymore.[b][b]When I first took the Redmi Note 7 out of the box, I felt like I had a Note 5 in my hands because the size, shape and weight are so similar. This first familiar impression quickly disappeared when I started to use the smartphone. The Redmi Note 7 is cold to the touch because it is built in a rather elegant glass packaging and this can be seen especially on the back side. The glass surface is perfectly smooth and reflects light to make the phone shine better, this is a very fashionable trend at the moment. [b][b]The first thing that strikes at the back is the size of the photo sensor (double sensor), I've never seen a photo sensor that stands out so strongly. The sensor is so large that the smartphone will never really be flat. The semi-transparent protective shell supplied with the device reduces this issue a little, but even with the shell, the sensor still stands out with a few millimetres. It does not really bother me but I'm wondering if it's not going to damage the lens on the longer run.[b][b]The front camera is hidden inside a small water drop shaped notch and compared to the Note 5 where there is no notch, it offers more space for the screen. Note 5 and Note 7 are very similar in sizes but the Note 7 has more screen space thanks to the notch and a smaller black border at the bottom.[b][b]The Redmi Note 7 has a Jack port at the top of the device and the notification LED at the bottom of the screen, these are unusual choices. Redmi Note 7 has kept the infrared port at the top of the device, which will allow you to use your smartphone as a remote controls. I tried it on a Samsung TV with Xiaomi's Remote application and it worked well. At the bottom of the device are two audio outputs and a USB type C port. One of the two audio outputs is purely decorative like on most devices nowadays. On the left side there is a double SIM drawer where you can also add a memory card at the expense of one of the two SIM slots. On the right are the usual volume buttons and the ignition button.[b][b]
[b][b]
First configuration
[b]The startup process is exactly the same as for other devices running under MIUI 10, you must pass a large number of screens to configure the device and recover the contents of your previeous phone. Most of the questions are quite basic while Xiaomi will encourage you to create an account. Be aware that it is neither mandatory nor necessary. If you have a Google Account, you don't need an Xiaomi account. [b][b]After the configuration of the phone we arrive at the stage where we have to recover the contents of the old phone. Until now I had never really talked about it because it was probably not worth it. With MIUI 10, the installation of applications goes through a security screen that checks if the application from the Play Store does not present a security risk to the phone. When you install an application from time to time, this screen is not disturbing but if you migrate the content from one phone to another you will have this screen for every application in the old phone! I don't use an incredible number of applications and yet I had to wait almost an hour before I could use my phone normally. Every time I used the Redmi Note 7, the security screen would interrupt what I was doing. In the end I left the phone alone until the migration was complete.[b][b]After updating applications, I expected to find my home screen as on my previous Xiaomi but I was disappointed to find that all the applications I had carefully sorted on my Mi 8 Lite were spread on multiple screens. This kind of thing shouldn't cause you too much trouble if you don't change phones often, but since I change almost every month, this migration step is very annoying for me.[b][b]
Finish
[b]
[b][b]The Xiaomi Redmi Note 5 already offered a good level of finish for this price range but the Redmi Note 7 offers goes one level higher. The smartphone is embedded in a glass effect plastic layer that gives it a more premium and less raw look than its predecessor. The change is most noticeable on the rear facade. In this price range, the Redmi Note 7 is undoubtedly one of the devices offering the best level of finish. [b][b]
5

[b][b]Compared to the Xiaomi Mi 8 Lite?[b]The Mi 8 Lite is a range above the Redmi Note 7 in terms of finishing. The Mi 8 Lite is thinner and lighter, I find it more elegant but it remains a very personal opinion. The back of the Mi 8 Lite offers a nicer reflection effect and the camera stands out much less.[b][b]
[b][b]Compared to the Xiami Redmi Note 5?[b]As I wrote above, the two devices are very similar in size and weight, but the comparison ends there because the Redmi Note 7 has a higher level of finish than the Note 5. This can be seen quite clearly in the following pictures.[b][b]
[b][b]Screen comparison[b]
[b][b]You may have noticed it in the pictures but the Redmi Note 7 quickly gets dusty and you won't escape fingerprints. If you're a little maniacal, you'll spend your time cleaning the device.[b][b]
Support 3G/4G
[b]Redmi Note 7 supports the following frequency bands:[b]3G: B1, B2, B4, B5, B8[b]4G: B1, B2, B3, B4, B5, B7, B8, B20, B38, B40, B41[b]Redmi Note 7 therefore offers excellent coverage of European frequencies.[b][b]

Choose your country to check if your phone is compatible:


The frequencies displayed below will allow you to see if this phone is compatible with your operator or if you will be able to use it in the country where you are going on vacation.




[b][b]
Performance 4G
[b][b]Signal performance[b][b]To test network performance, I measure the signal strength on each cell visited for the test. I then compare these values with other measurements from other phones. I do not yet have enough measurements to tell if a phone is good or not, but these first numbers can already give an indication.[b][b]Network signal sensitivity rating
| | | |
| --- | --- | --- |
| Phone tested: | Average signal (dBm) | Number of measurements: |
| Xiaomi Mi 9t Pro | -88 | 1600 |
| Xiaomi Redmi Note 5 | -91.305 | 600 |
| Xiaomi Mi 9 Lite | -93 | 788 |
| Samsung Galaxy A70 | -94.511 | 1975 |
| Nokia 5.3 | -94.98 | 531 |
| Realme 6 | -95.14 | 2301 |
| Xiaomi Redmi Note 8 Pro | -95.922 | 1599 |
| Xiaomi Mi A3 | -95.95 | 1000 |
| Huawei Y6 2019 | -95.95 | 1199 |
| Doogee S58 Pro | -96.22 | 856 |
| Redmi 9a | -96.48 | 1000 |
| Meizu Note 9 | -96.68 | 937 |
| Motorola G8 Power | -96.88 | 1032 |
| Xiaomi Redmi Note 7 | -97.01 | 1430 |
| Redmi 9c | -97.04 | 1000 |
| Umidigi S3 Pro | -97.13 | 1200 |
| Xiaomi Redmi Note 8 | -97.34 | 879 |
| Samsung Galaxy A21s | -97.78 | 1000 |
| Umidigi F1 | -97.82 | 298 |
| Ulefone Armor 7e | -98.7 | 1000 |
| Xiaomi Mi Note 10 Lite | -99 | 1000 |
| Honor 9x | -99.14 | 899 |
| Xiaomi Redmi Note 9s | -99.4 | 1860 |
| Poco F2 Pro | -99.8 | 1247 |
| Xiaomi Redmi Note 9 | -100.79 | 1785 |
| Xiaomi Mi 10 Lite 5g | -100.88 | 1198 |
| Poco X3 | -101.19 | 821 |
| Umidigi F2 | -101.47 | 712 |
[b]A signal of -99dBm indicates a weaker signal than a signal of -90dBm. We see here that on average the Redmi Note 7 is worse than the other devices measured but this result must be weighted because I have performed much more measurements on this phone than the others and I have therefore potentially visited cells with a worse coverage. To avoid this problem, I compared the results with the Redmi Note 5 with only the cells that both phones visited:[b]
[b]The phone with the best reception is the one outside the graph. We can therefore see that the Redmi Note 5 (-93.69dBm on average) seems to capture the network better than the Redmi Note 7 (-98.73dBm). In use I did not notice any problems but the figures are the figures, the Redmi Note 7 seems less good than its predecessor in terms of network capture.[b][b][b]Download performance[b][b]With Xiaomi I was used to getting amazing scores in terms of download speed, unfortunately this is not the case with Redmi Note 7 because in download I got about 80 Mbps and about half in upload. These scores are not bad, they are just below what I usually get. However, I cannot exclude that something changed with the carrier I'm using, but I could only verify it by testing two devices at the same time.[b][b]
WIFI performance
[b][b]WIFI speed[b][b]The Redmi Note 7 can use the 5Ghz frequency in WIFI which allows it to reach quite high transfer speeds. After some tests near the router and remotely, I measured a good download speed around 250Mbps with an upload speed limited by my provider around 21-22Mbps. It's a very good score but the Redmi Note 5 remains the fastest device I have been able to test with spikes around 280Mbps, I have not been able to reproduce this with any other device.[b][b][b]WIFI signal[b][b]Near the router, the signal is at -35dBm while at a distance I am rather at -70dBm. These values are quite similar to what I have tested on other phones, they are almost identical to what I get with the Mi 8 Lite. [b][b]
[b][b]
Battery life
[b]The Redmi Note 7 has a 4000 mAh battery like the Redmi Note 5. This battery should allow you to last two to three days in normal use, I find the same autonomy as on the Redmi Note 5. The battery also supports 18W fast charging but the charger supplied with the phone does not support fast charging, so you will need to purchase an additional charger. It can be found at a very low price (1 to 2€) on Aliexpress as here:[b][b]Fast Charger / Aliexpress[b][b]To fully charge the battery, it still takes almost 2 hours.[b][b]For my type of use where I use a lot of data (at least 2 hours a day), I can keep two days without having to recharge my device. This kind of performance is becoming quite common in this smartphone segment.[b][b]
Audio quality
[b][b]On call[b][b]I have not noticed any problems with the audio quality, the difference with Note 5 is mainly due to the size of the speaker for listening. The opening of Note 5 is wider and the sound that comes out of it is therefore less muffled. It is a matter of habit to find the right ear position because the speaker of Note 7 is thinner and higher on the screen.[b][b][b]Headphone output[b][b][sound_intro device="Redmi Note 7"][b][b]
[b]The Redmi Note 7 has a powerful sound with an average of more than 90 dBA, it ranks above the average in terms of sound power. However, it is slightly lower than the Redmi Note 5 and the difference with the Mi 8 Lite is greater, the latter is one of the most powerful devices in this price range.[b][b]
[b]The dynamic range of the Redmi Note 7 is slightly lower than that of the Redmi Note 5 and Mi 8 Lite but the difference is small.[b][b]
[b]In terms of frequency coverage, Redmi Note 7 and Redmi Note 5 offer good overall performance with little deviation from the standard on most frequencies. The Mi 8 Lite, on the other hand, loses ground in high frequencies.[b][b]The Redmi Note 7 offers a good sound performance (above average) close to that of the Redmi Note 5 and below the Xiaomi Mi 8 Lite. You can therefore use the Redmi Note 7 to connect it to your audio system or car without any problems. [b][b]
Performance
[b]The Redmi Note 7 is equipped with a Qualcomm Snapdragon 660 processor and an Adreno 512 graphics chipset where Note 5 offered a Snapdragon 636 and an Adreno 509. The performance gain is quite appreciable because we go from an Antutu score of about 115000 with Note 5 to 143000 with Note 7. [b][b]The Redmi Note 7 shares the same configuration as the Xiaomi Mi 8 Lite, the performance is about the same.[b][b][b]Score Antutu[b][b]The Redmi Note 7 gets an Antutu score of 143242 points which places it at the level of the Xiaomi Mi 8 Lite for a much lower price. At the CPU level, the Honor 8x does a little better but it is much more expensive. At the GPU level, the Umidigi F1 does better for a more or less equivalent price.[b][b]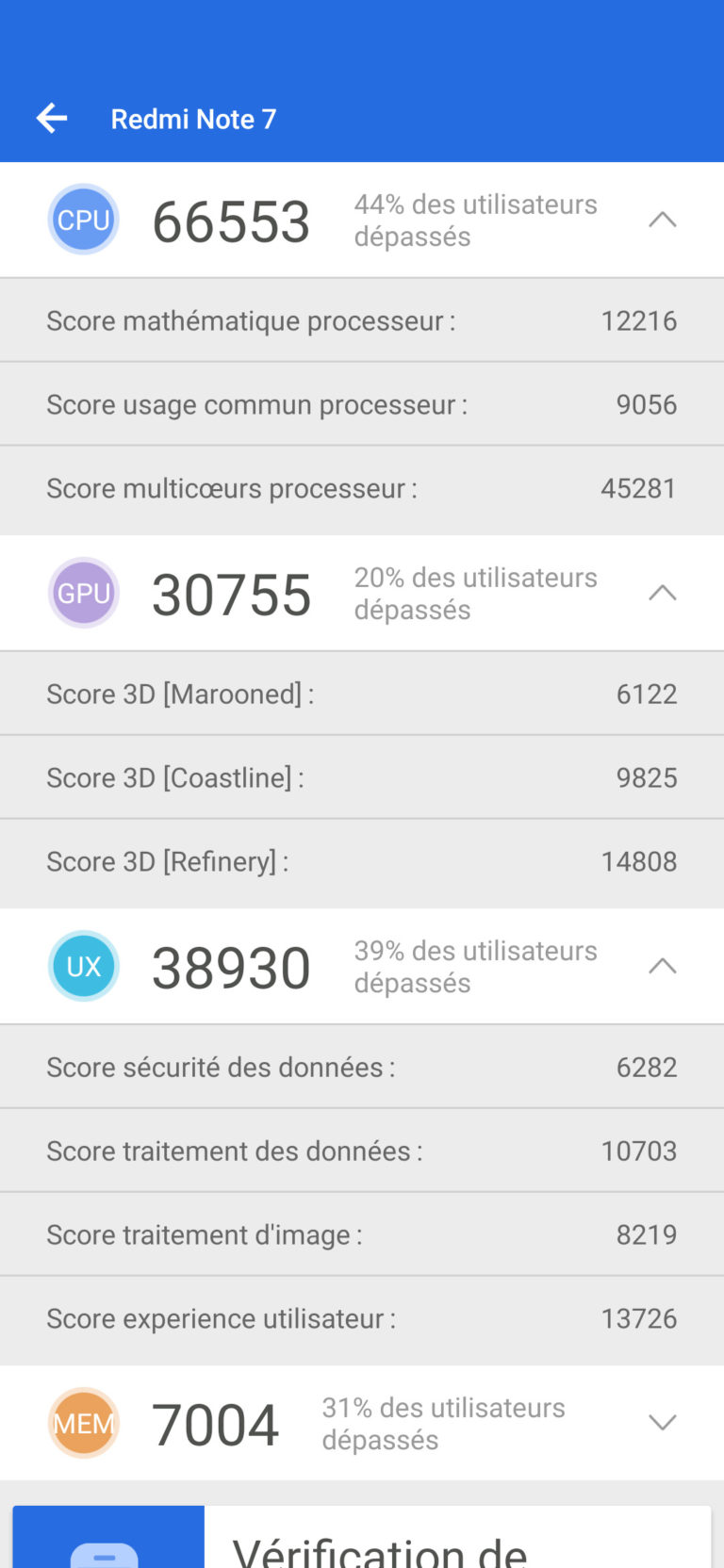 [b][b][b]Score 3D Mark[b][b]For this benchmark I expected to find the same values as the Mi 8 Lite but strangely enough the Redmi Note 7 does much better for the Vulkan test but in reality I didn't notice any difference between the two devices.[b][b]Score Slingshot extreme OpenGL: 1354[b]Score Slinghshot extreme Vulkan: 1299[b][b][b]
Gaming performance
[b]The Redmi Note 7 offers a level of gaming performance similar to the Xiaomi Mi 8 Lite because it uses the same graphics processor. It can run large games such as PUBG Mobile in average graphic quality (see video below). PUBG Mobile is perfectly smooth with the Redmi Note 7.[b][b][b]
Photo quality
[b]The Redmi Note 7 is equipped with a dual Samsung sensor on the back capable of producing 48Mio pixel photos. For a smartphone it's huge but I think it's mostly a marketing argument because pictures of this size on such a small screen don't make much sense. Sony and Samsung are competing with each other through several smartphone brands and they released a 48 Mio pixels sensor at the same time. The Redmi Note 7 is equipped with a Samsung S5KGM1 sensor that is also available on the Meizu Note 9 and Umidigi F1 Play. Xiaomi's premium range like the Mi 9 is equipped with a Sony 48 Mio pixel sensor. [b][b][b]Photo application[b][b]The default photo application is the one found on other Xiaomis using the same version of Android. The photo part offers the following modes: photo, portrait, night, square, panorama and pro. In photo mode, the camera will take 12 Mio pixels pictures and you cannot change this value. If you want to use the 48 Mio pixels, you must use the pro mode and activate it manually. The settings of the photo application are the same as for the other Xiaomis, the AI is also present to try to improve your photos.[b][b][b]Indoor (studio)[b]Photo[b]To start this studio test, I first took a picture with my DSLR. The goal is not to show that the reflex is better than the smartphone, I just wanted to highlight the differences, especially in terms of colors. [b][b]So here is the reference image.[b]
[b][b]And now here is the picture taken by Redmi Note 7 in automatic mode:[b]
[b][b]Unlike the other Xiaomi I was able to test before this one, I haven't notcied any lack of brightness in automatic mode, there is progress. On the other hand, the first thing that strikes without looking at the details is the colour temperature. The SLR makes no choice, it takes what it sees while the smartphone has changed the white balance to provide a warmer image. The grey background takes a slightly brownish hue. The rest of the colors are slightly more saturated than with the reflex, the green takes a different coloring. [b][b]The sensor does a good job in terms of detail and depth of field. In the focusing area, the details are very sharp, you can easily see all the dust.[b][b]With the manual mode, it is possible to modify the white balance but unfortunately the choices are predefined and you cannot choose the color temperature yourself. This option is available on the Mi 8 Lite but not on the Redmi note 7.[b][b]Here is the same picture in manual mode and a colder color balance:[b]
[b]The background is now more grey and the whole picture is closer to reality, the green remains a little behind.[b][b]This first test shows that the camera makes choices that are not always appropriate in terms of color, but as I often say, a studio test is not enough to get an idea of the quality of a camera. [b][b][b]Outdoor photography (sun)[b][b]I received my Redmi Note 7 a day before going on holiday in Stockholm, so I took the opportunity to test the photo part on a more attractive setting than what I see every day. The weather was absolutely splendid with a cloudless blue sky. These conditions seemed perfect for a smartphone but we'll see that it's not that simple.[b][b]First photo on arrival on the tarmac of Bromma airport in the late afternoon[b]
[b]I took this picture in automatic mode without changing the basic settings, the AI was activated. We see that the colours are quite strongly saturated, the yellows and blues are reinforced by the default software treatment. Overall the picture is pleasant to look at, the level of detail is good and the noise is non-existent.[b][b]Second example where I mix sky, shadow and reflection. This time I compared the picture to a very similar picture taken with my Canon.[b]
[b]If we only look at the image on the right, we could say that it is ok and that is partially true. The level of detail is really good, you can see the details of the branches very well. The contrast between shadows and light is also good, the dynamics are good. Only the color of the sky does not seem very natural. If we compare this photo with the one on the left it is even more striking, we find here again a too pronounced saturation and the color of the sky has taken an unrealistic coloring.[b][b]Here is a third example where the set is clearer and easier to capture for a camera.[b]
[b]As for the two previous examples, the picture is generally ok but if we pay a little attention to the colors, I have again this feeling that something is wrong, the blue is much too present and the main building which is actually a little more orange is displayed in a lighter color. At that point, I had not yet understood why these photos were so out of touch with reality, but I finally understood that it was a voluntary choice of the so-called AI (artificial intelligence) of the camera. This AI takes artistic liberties with photos and this does not always lead to the right choice. As a result, I decided to deactivate the AI and never activate it again.[b][b]Fourth example, without AI this time.[b]
[b]This time, it's okay! The colors are much more faithful to reality, the level of detail is good, there is no noise, no chromatic aberration, that's exactly what I wanted to achieve. The camera allows you to change the sharpness, saturation or contrast but I left everything in the default settings. You can always modify these values according to your tastes, I have not yet found this freedom on other brands for the moment.[b][b][b]Outdoor photography (night)[b][b]Night photography is the biggest weakness of cameras (smartphone or regular camera). The most common problem is digital noise, which appears more or less quickly depending on the device. The Redmi Note 5 impressed me with its ability to take pictures of acceptable quality without special assistance. The noise was acceptable and it was possible to take pictures without a tripod.[b][b]During my time in Stockholm, I took the opportunity to take many night shots and test what the Redmi Note 7 can offer in these conditions.[b][b]For this first series of examples, I chose Stockholm City Hall and the Congress Centre as setting. I took these pictures at intervals of a few seconds and without a tripod. I took the same picture with the different color balance configurations offered by the camera. I set the sensitivity to ISO 800.[b]
[b]
4

[b][b]With a recent SLR camera, a photo at ISO 800 should not show any noise. With the Redmi Note 7 at ISO 800, there is clearly noise, but it is far from catastrophic. I read everywhere that noise is a real problem for smartphones, but sometimes I really wonder why. Noise is especially a problem if you want to display the photo on a large screen or if you want to print it. If you want to avoid noise, there is a very simple solution, just lower the ISOs and find a stable support to take the picture. [b][b]Second example to demonstrate that Redmi Note 7 can take night shots without noise. I used the manual mode to force the camera to take a picture at ISO 100[b]
[b][b]Result? No noise at all! I took the photo without a tripod at 1/33 and the level of detail is very good. So yes, the photo is not taken in total darkness but the result is still really good.[b][b]The Redmi Note 7 also has a night mode and until now I had never trusted this kind of artificial mode because the result is often quite bad but this is not the case with this camera and I will demonstrate it with a little wink to one of Xiaomi's competitors...[b]
[b]The Huawei P30 is considered one of the best smartphones for photography, I didn't test it but I though it was funny to somehow use it for this test. On the left, I took a picture in manual mode at ISO 8OO and on the right I took the same picture in night mode. The difference is very visible and the result is quite good actually. The camera reconstructs a picture from several shots as for HDR and this makes it possible to restore colors that had disappeared due to overexposure. After seeing this, I kept the night mode to take more pictures showing the camera's potential.[b][b]Before last example[b]
[b][b]And one last example to end this series[b]
[b]The night mode is really very impressive. The colors are bright without being too saturated, the level of detail is incredible, almost no visible grain, it's the best night mode device I've tested so far[b][b]
Video quality
[b]Redmi Note 7 offers three basic video modes:[b]- normal video in 1080p[b]- accelerated video in 1080p[b]- video slowed down in 1080p[b][b]It is also possible to take 4k videos with an application like OpenCam because the basic application does not allow it.[b][b][b]Normal video[b][b]To test the video, I put the Redmi Note 7 to the test by attaching it to my bike. My bike is a racing bike that does not absorb shocks at all, the smartphone is therefor seriously shaken. When stationary or with limited movement, the video is of good quality but as soon as the vibrations become too important, we see that the stabilization loses control. On the first video, I didn't do any particular focusing the image jumps in all directions.[b][b][b][b]On the second video, I wanted to reduce the focusing issues by setting the focus on my wheel and it actually worked better despite the vibrations. As soon as the wheel is in the middle, the focus remains stable and the video is much less subject to stabilization issues. Redmi Note 7 processes the information quite quickly because the ground level scrolling is important, yet we do not lose much in quality. [b][b][b][b][b]Accelerated video[b][b]To test the video in accelerated mode, I filmed the takeoff and landing of my flight to Stockholm. Making a video through a window is not ideal but I just wanted to show what the camera is capable of doing and the result is very interesting.[b][b]Take-off from Brussels in mid-afternoon on a cloudy day[b][b][b]Take-off from Stockholm in early evening in clear weather[b][b][b]Night landing in Brussels[b][b][b]Despite the loss of quality due to the window and the darkness at night, the Redmi is doing rather well, it adapts quickly to changes in brightness and vibrations coming from the aircraft.[b][b][b]Slow motion video[b][b]To test the video in slow motion, I walked down a shopping street in Stockholm. The quality of the video is really good and the slow motion really gives the impression that everyone is walking slowly. Xiaomi offers this kind of basic functionality without any application to install.[b][b][b][b]
Screen quality
[b]The screen is very similar to the Xiaomi Mi 8 Lite, I wouldn't be surprised if they shared the same type of equipment. The colors are bright and well saturated, the brightness is very good and sometimes even too strong to the point that black does turn to dark grey. The pixel density allows for a very sharp image and one of the best screens in this price range.[b][b]
GPS performance
[b]To test the GPS I measured my position during a train ride. The goal was to see if the GPS would keep me on track and if the orientation would go in the right direction. The choice of train is not innocent because GPS applications tend to follow roads well and we do not see the deviations of GPS. With the train, you move away from the roads and the GPS can no longer lock onto a road. I was positively surprised by the result because not only does the GPS position follow the rails well, but the orientation of the phone is perfectly followed. You can clearly see when I turn the phone towards the window or inside the train, I hadn't yet seen such a precise positioning. [b][b][b][b]I did the same kind of test on the street where I walked in the same direction without changing sidewalk, we see some inaccuracies in positioning but overall the GPS quickly follows the position and understands the direction well. On the Umidigi I had tested earlier this year, I was sometimes in the buildings and there was a significant time lag.[b][b][b][b]
Android
[b]The Redmi Note 7 is equipped with MIUI 10.2 as a base, so the experience is perfectly aligned with the other Xiaomis. If you have already used a Xiaomi, you will not be disoriented. If this is your first experience with this brand, the adaptation time will be very short because the interface is very well designed and offers features not available in a basic version of Android. I've tried phones running Android and derivative versions but it's Xiaomi that I prefer for now.[b][b]The race to obtain a larger screen area has an unexpected consequence here in the navigation by gesture on MIUI. The lower edge of the screen is slightly thinner than Note 5 and I regularly miss the passage on this band to access active applications, this forces me to be much more attentive whereas with previous models, I could do it with my eyes closed.[b][b]
Bugs encountered
[b]Not yet available[b][b]
Updates
[b]not yet available[b][b]
Accessories
[b]To better enjoy your experience with your smartphone, I offer links to all kinds of accessories that you might find useful

Protective cover / case Redmi Note 7
Screen protection film Redmi Note 7
Memory card Redmi Note 7
USB Cable / Charger Redmi Note 7
Headphones Redmi Note 7
Bike rack Redmi Note 7
[b][b]
User manual
[b]You can find the manual at the following address: https://www.mi.com/global/service/userguide/[b][b]
Redmi Note 7 compared to others
[b]I assigned a score of 1 to 10 for each test that determines the strengths and weaknesses of a product. I am using 0 for criteria that have not (yet) been tested. A score of 1 to 3 indicates poor performance (and yes, it does), a score of 4 to 6 indicates average performance, a score of 7 to 8 indicates good performance, and a score of 9 and 10 indicates exceptional performance. .
The score is calculated based on my measurements and when there are no measurements, it is a subjective opinion based on my experience.

The scores are not static, they change over time because the performance of new products changes and this must be taken into account.


| | | |
| --- | --- | --- |
| | Redmi Note 7 | |
Global ranking
1. Realme Gt 112.5 / 140
2. Poco F2 Pro 111.5 / 140
3. Poco F3 111.5 / 140
4. Samsung Galaxy S20 111 / 140
5. Poco X3 Pro 107.5 / 140
6. Samsung Galaxy S10+ 107 / 140
7. Xiaomi Redmi Note 10 Pro 106.5 / 140
8. Xiaomi Mi 9t Pro 106 / 140
9. Samsung Galaxy A52 104 / 140
10. Xiaomi Redmi Note 10 101.5 / 140
11. Poco X3 101 / 140
12. Xiaomi Mi 10 Lite 5g 101 / 140
13. Xiaomi Mi Note 10 Lite 101 / 140
14. Redmi Note 9t 100.5 / 140
15. Xiaomi Redmi Note 8 Pro 100 / 140
16. Xiaomi Mi 9 Lite 98 / 140
17. Doogee S96 Pro 98 / 140
18. Poco M3 Pro 98 / 140
19. Xiaomi Redmi Note 9s 98 / 140
20. Xiaomi Redmi Note 8 97 / 140
21. Xiaomi Mi 11 Lite 96.5 / 130
22. Poco M3 94.5 / 140
23. Xiaomi Redmi Note 10s 94.5 / 130
24. Xiaomi Redmi Note 7 94 / 140
25. Realme 6 93 / 140
26. Umidigi Bison 92 / 140
27. Umidigi A9 Pro 92 / 140
28. Oukitel C21 89.5 / 140
29. Xiaomi Mi A3 89 / 140
30. Xiaomi Redmi Note 9 89 / 140
31. Nokia 5.3 89 / 140
32. Motorola G8 Power 89 / 140
33. Oneplus Nord N100 88.5 / 140
34. Honor 9x 88 / 140
35. Xiaomi Mi 8 Lite 86 / 140
36. Meizu Note 9 86 / 140
37. Xiaomi Redmi Note 5 85 / 140
38. Umidigi S3 Pro 83 / 140
39. Samsung Galaxy A21s 82 / 140
40. Umidigi F2 82 / 140
41. Redmi 9a 81 / 140
42. Redmi 9c 80 / 140
43. Ulefone Armor 7e 80 / 140
44. Doogee S58 Pro 78.5 / 140
45. Honor 8x 78 / 140
46. Umidigi F1 77 / 140
47. Huawei Y6 2019 74 / 140
48. Xiaomi Mi 10t Pro 57 / 70
49. F150 R2022 53.5 / 80
50. Elephone U5 0 / 0
[b][b]
Conclusions
[b]If you have read the entire test, you will probably have understood that the Redmi Note 7 is an excellent smartphone, it lacks nothing and what it does it does it well. In this price range, you probably won't find anything better. The Redmi Note 7 reuses many of the components of the Xiaomi Mi 8 Lite and offer some important improvements, especially for photography and video. Samsung's new sensor does a very good job and even at night, excellent shots can be obtained. The 48 Mio of pixels announced is only smoke and mirrors because it can only be used in manual mode.[b][b]On the performance side, the phone is very comfortable with everything you ask it to do, there is really only for hard core gamers that this could be a problem. Xiaomi's operating system is very smooth and offers many applications that usually need to be downloaded on other devices. I think it's a shame that we can't uninstall the Xiaomi applications that we don't need, but you can store them away in a folder, they won't disturb you in any way. [b][b]I'm a little disappointed in network performance. The Redmi Note 7 gets lower scores than the other Xiaomi I tested but for most people, it won't make any difference because the speed obtained allow streaming without any problem. My use is very particular because I use my phone as a modem connected to my laptop, so speed is an important criterion. If you live in an area of low 4G coverage, this Redmi Note 7 may not be the best device because its signal performance is average.[b][b]The GPS is probably one of the best I've had, I don't see why the Redmi Note 7 should be better than the others but the position is very accurate and the updates are fast.[b][b][b]Strengths[b][b]- camera (even at night)[b]- performances[b]- gps[b]- display[b]- good battery performance[b][b][b]Low points[b][b]- signal and network performance[b]- absence of frequency B28[b][b][b]
Subscribe
Subscribe to my YouTube channel to receive updates.