Kospet Magic 3 : test / review
Category: Smartwatch

Kospet is a Chinese brand that has been around for a few years now and mainly markets watches. Until recently, Kospet was for me just a brand like many other Chinese brands that market products at low prices. Fortunately, I didn't stop at this stereotype and bought a Kospet Rock a few months ago to get a feel for what this brand had to offer. This Kospet Rock surprised me positively, it is undoubtedly one of the best watches in its price range. When I had the opportunity to test the Kospet Magic 3, I did not hesitate too much and I ordered it from a site that I did not yet know to test the show and the site. [b][b] The Kospet Magic 3 is a product of a different type than the Kospet Rock, the watch targets a wider audience and is closer to products like the Amazfit GTS or the Amazfit Bip U in offering more features for a lower price. The combination of exterior design and functionality could earn it some success! [b][b] I ordered the Kospet Magic 3 on Colorsmap.com, it's a Chinese site that sells all kinds of Chinese products such as watches, headphones, drones or lots of other everyday products. My order arrived within 2 weeks and I didn't have to pay any additional customs fees. If you are interested in the Kospet Magic 3, I have a coupon as well as other advantages: [b][b]

[b][b][b]Manufacturer web site: https://www.kospet.com/[b]
How are my tests different from others on the web?

- I usually buy the devices with my own money, so price is just as important as you are!
- I keep the devices for at least a few weeks (sometimes more) to see what they are worth in real conditions.
- I answer (when possible) your questions to help you decide before you buy
- no one pays me to do these reviews, so I'm completely neutral and independent...
- My pages are not filled with ads



Xiaomi Smart Band 7: test / review
Kospet Tank M1 : test / review
Mibro Watch X1 : test / review
Xiaomi Mi Band 6 : test / review
Kospet Prime S 4G: test / review
Kospet Optimus 2 : test / review
Mibro Lite : test / review
Haylou RS3 : test / review / opinion
Kospet Magic 3 : test / review
Smartwatch Zeblaze Ares : test / review

Timeline
March 31, 2021: order the Kospet Magic 3 on Colorsmap.com [b] April 15, 2021: receive the Kospet Magic 3, I can start the test[b]
Waarom deze smartwatch?
As I wrote in the introduction, I hadn't paid much attention to the Kospet brand until I got to test the Kospet Rock. This watch had a bit of a special concept, but I was positively surprised by its screen, its features and the price / performance ratio was really interesting. [b][b] The Kospect Magic 3 uses the same basics as the Kospet Rock with the same operating system, the same application and the same functionalities but the Kospet Magic 3 is intended for a wider audience, its exterior appearance is completely comparable to an Amazfit. Kospet has therefore once again managed to offer almost all the features of a mid-range watch for barely thirty euros![b]
Structure of my tests
I test products according to a pre-established structure (see below) to provide you with maximum information. Unfortunately, this takes a lot of time. Unlike some sites where products are tested on a single day, I use the products I test for a minimum of a few weeks and sometimes even a few months. If the test is not complete at the time of your visit, I invite you to come back later or ask your question in the comment section below.
Unpacking
The Kospet Magic 3 comes in a white cardboard cube that is slightly smaller in size than a Rubix Cube and this box is quite ordinary. The watch is very well protected in its packaging despite the banal appearance of its packaging. The box contains the bare minimum: the watch, a charging cable and a manual. [b][b] Here is a short video of unboxing and a first overview of the watch menus: [b]
First configuration
The Kospet Magic 3 is quick to start up, it only takes a few seconds to get to the main screen, it's probably one of the fastest start up watches I have ever tested. The Kospet Magic 3 is directly usable, which means you don't have to go through an app to get it to work where most watches require you to go through this step. Obviously to be able to fully use this watch, you have to download an application and as for the Kospet Rock, you have to download the Da Fit application. [b][b] Setting up the watch for the first time is very easy. After downloading the Da Fit app, you add a device, the watch is detected very quickly, you add it to your app and that's it! You can then configure the watch by changing the home screen (many possibilities are available), you can also configure notifications to define which applications will have the right to send notifications to the watch. [b][b]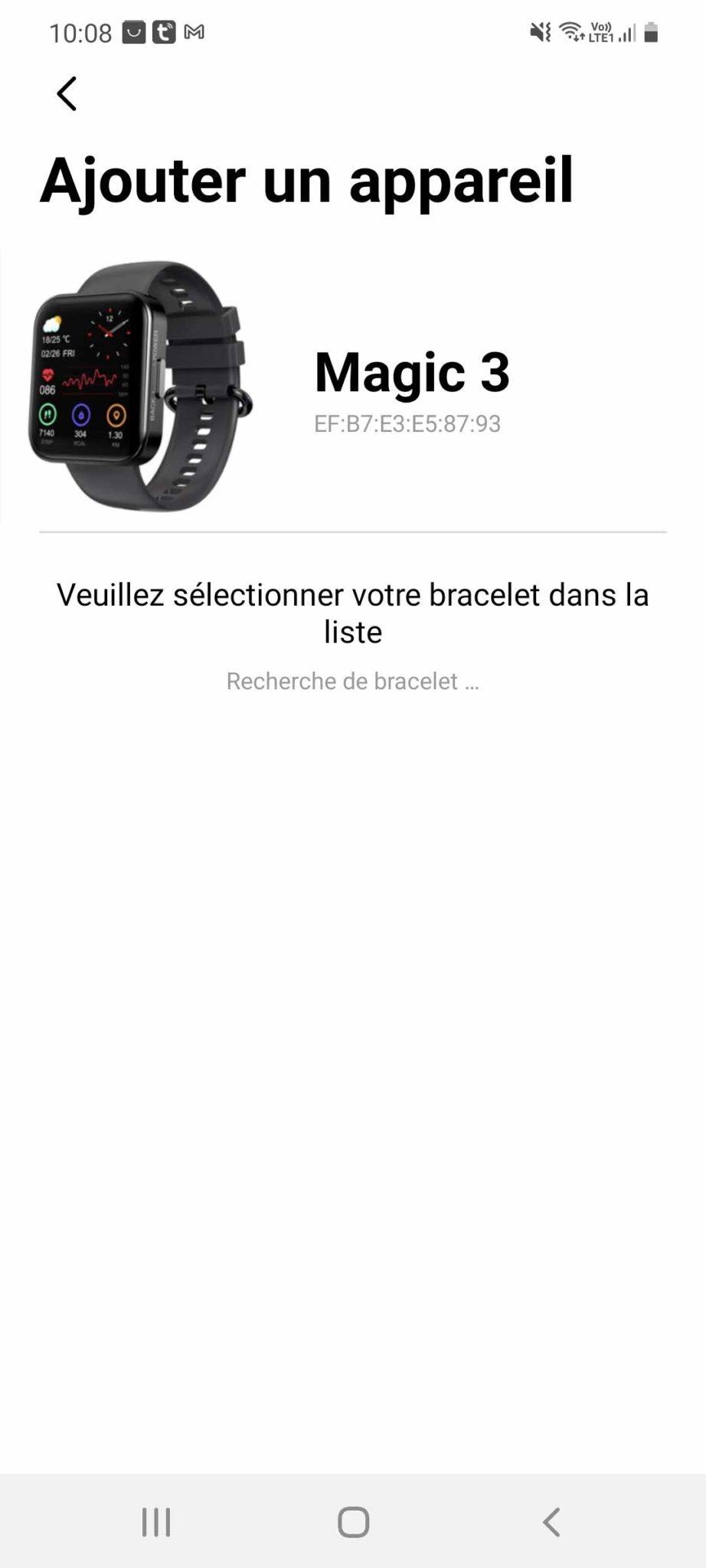 8

[b]
Finish
The Kospet Magic 3 was designed in a rectangular format like the Amazfit Bip U but the screen here is much larger and the borders are thinner. When I took my first photos I hadn't really noticed that the screen was big but when I put it on my wrist for the first time I realized how big this screen was with its 1.71 inches. I find this to be a positive point as it helps provide good readability on all menus where other watches use texts so small that it is difficult to read them. The Kospet Magic 3 is also quite thick with its 11.5s but that has never been a problem for me. [b][b]
The Kospet Magic 3 is mainly made of quality plastic, this gives it a certain lightness without including the size of the battery. The finishes are very good, the screen has slight curves at the four corners and there is an ignition button on the left side as is the case with most watches of this format.
The strap is made of soft silicone, it also contributes to the lightness of the watch and offers sufficient flexibility not to feel trapped by the watch, the strap adapts to the wrist. The strap can also be replaced, I guess there are all kinds of configuration you can do if the basic black strap isn't right for you.
11

[b]
Connectivity
The Kospet Magic 3 uses Bluetooth 5.0 to connect to your phone and sync data with the Da Fit app. However, it does not have a GPS chip, so you will always have to use it in combination with a phone if you want to collect position data.[b]
Battery range
I tested the Kospet Rock a little earlier this year and the battery life was a strength of this model, so is the Magic 3, the battery life is excellent. In normal use the autonomy can go up to a month and in intensive use it takes between one and two weeks.[b]
Screen quality
The Kospet Magic 3 is equipped with a large 1.71 inch screen, it may not seem like a lot compared to a phone but for a watch it is already big enough. A screen of this size allows for good readability of all menus and unlike other brands like Amazfit, Kospet used a large font all over the watch and I didn't encounter any difficulty. to read the information on the screen. The screen has a good responsiveness to the touch, the transition from one type of interface to another is very fluid. [b][b] The screen is bright enough that if you forget to turn it off at night, you may be woken up by its light when you move your wrist. The activation by wrist movements can be deactivated at times of your choice, you can also choose not to receive notifications. [b][b] The screen surface is highly reflective and this can be a problem if you play sports outdoors. With strong light, the screen is more difficult to read even with maximum brightness.[b]
Features
On the video at the beginning of this article, I went through the different menus of the watch to show how rich this watch is in features. In this price range, you won't find many credible alternatives. [b][b] From the main menu (right screen from the home screen): [b] - number of steps for the day [b] - measurement of sleep [b] - heart rate measurement [b] - sports modes with: walking, running, cycling, badminton, baskeball, swimming, mountaineering, tennis, football, golf, baseball, elliptical, gymnastics, rowing, skiing , bowling, dumbbells and sit-ups [b] - blood pressure measurement [b] - blood oxygen level measurement [b] - weather [b][b]
Measurements
Reliable measurements are not a strength for entry-level watches like this. I have tested many watches and to get reliable measurements you have to go up to the mid-range. I have had very good results with watches from 80-100 €. Below this price, measurements are rarely reliable. [b][b] With the price positioning of the Kostpet Magic 3, I did not expect an extraordinary result. I did several intensive 30-minute exercises using my Polar belt at the same time as the watch. The watch does not seem to be able to correctly pick up the heartbeats because as soon as the number of heartbeats increases, the watch indicates a number of heartbeats that is significantly lower than the reality. With each exercise I climbed beyond 150 beats per minute on average but the watch indicated an average of 90 beats with a maximum of 125 beats. The measurement of the pulsations is therefore not reliable. However, I tried several types of exercises (walking, running, cycling, ...), I tightened the watch as much as possible, I tried both wrists but I obtained the same result each time. [b][b] Other measurements like blood oxygen level and blood pressure are also not very reliable but this is not only the case on this watch, I have no watch yet that can measure this sort of thing reliably. Even Kospet admits on its site that these measures should not be taken literally.[b]
App
I had already had the opportunity to test the Da Fit application with the Kospet Rock, it is not the most advanced application to record your activities but it is well designed and easy to use. The home screen groups together most of the data measured by the watch (ex: heartbeats, blood pressure, etc.) and you can obtain more information for each type of data (day, week, month). The app also records all the sports sessions (even if you change your watch) but the screens summarizing the sports activities are not very detailed, it is clearly not an app for demanding athletes. [b][b] I made a video that shows the possibilities offered by the application and the time needed to take the measurements, the video format lends itself better than a long text description. [b]
Compatibility
The Kospet Magic is compatible with all phones supported by the Da Fit app. I tested the watch on a Samsung, Poco and Xiaomi, didn't encounter any issues.[b]
Operating system
Most of the time, the watches I test use a brand-specific operating system, so each brand works differently, there is no standardization like with phones. Kospet has designed a simple to use interface, I never had to look very long to find a functionality, the operation of the watch is very logical and takes the basics of what we find in other brands. The top screen allows you to configure the watch, the bottom screen gives access to notifications, the left and right screens give access to features. I did not encounter any bugs in use, there are just sometimes a few translation problems.[b][b]
Encoutered bugs
Not yet available / tested[b][b]
Compare Kospet Magic 3 with the others
I assigned a score of 1 to 10 for each test that determines the strengths and weaknesses of a product. I am using 0 for criteria that have not (yet) been tested. A score of 1 to 3 indicates poor performance (and yes, it does), a score of 4 to 6 indicates average performance, a score of 7 to 8 indicates good performance, and a score of 9 and 10 indicates exceptional performance. .
The score is calculated based on my measurements and when there are no measurements, it is a subjective opinion based on my experience.

The scores are not static, they change over time because the performance of new products changes and this must be taken into account.


| | | |
| --- | --- | --- |
| | Kospet Magic 3 | |
| Battery performance | 5 | 4 |
| Screen quality | 4.5 | 5 |
| Finish quality | 4.5 | 4.5 |
| Connectivity | 3.5 | 4.5 |
| Compatibility | 4.5 | 4.5 |
| GPS performance | 0 | 4 |
| Application | 4.5 | 4 |
| Reliability of measurements | 2.5 | 4.5 |
| Ease of use | 4.5 | 4 |
| Features | 5 | 4.5 |
| Operating system | 4.5 | 4.5 |
| Overall score | 43 | 48 |
Global ranking
1. Samsung Galaxy Watch 3 52.5 / 77
2. Kospet Optimus 2 49.5 / 77
3. Lemfo Lem15 49 / 77
4. Kospet Prime S 49 / 77
5. Amazfit Gts 48 / 77
6. Haylou Rs3 47.5 / 77
7. Xiaomi Mi Watch Lite 47.5 / 77
8. Kospet Magic 3 43 / 70
9. Amazfit X Curved 42.5 / 70
10. Kospet Rock 41.5 / 70
11. Huawei Watch Gt Active 41.5 / 70
12. Mi Band 4 41 / 70
13. Mi Band 5 40.5 / 70
14. Mi Band 3 39.5 / 70
15. Fobase Magic 39.5 / 70
16. Zeblaze Ares 38.5 / 70
17. Mibro Air 38.5 / 70
18. Umidigi Uwatch Gt 38 / 70
19. Mi Band 6 37.5 / 63

Test / Review conclusion
The Kospet Magic 3 is an entry-level watch, so don't expect to be able to compete with a Samsung Galaxy Watch but Kospet has nevertheless managed to produce a watch that is quite interesting for an almost paltry grip. So, yes, the measurements are unreliable but if you are a serious sportsman you are not going to buy a watch for 30 €. Rather, consider the Kospet Magic as a connected watch that will allow you to receive notifications or interact with your phone. [b][b] Kospet managed to produce a nice watch for this price, I got some positive feedback from people I ran into during my test, the watch has a design and level finish worthy of a watch at 100 €. Anyone who saw this watch on my wrist was amazed at the price of this one. [b][b] For around thirty dollars, you have a nice watch, with good battery life, a nice screen and an operating system that works really well.[b]Strengths[b]- beautiful finish [b] - good battery life [b] - large screen [b] - easy to use operating system [b] - notification [b][b][b]Weaknesses[b]Reliability of measurements (heartbeat, blood pressure, oxygen in the blood, etc.)[b] Brightness in direct sunlight not sufficient[b][b]



Laurent Willen
Instead of watching nonsense on TV or YouTube, I spend my time in the evenings testing products and sharing my passion for technology, travel and photography.

I run this site in my own name and completely independently, no one pays me to do so.

I have more than 20 years of experience in the digital world, I have managed and developed many high traffic websites in companies in Belgium such as Mobistar, Microsoft, Immoweb, BrusselsAirlines, Proximus, Orange,...