Kospet Magic 4 test / review / price
Category: Smartwatch

Kospet is a prolific brand in the production of new watches, it is moreover the brand that I have tested most often so far. The range of Kospet is quite varied through the entry level with the Magic range and more sophisticated models running Android such as the Kospet Prime or Kospet Optimus. I had tested the Kospet Magic 3 last year, this model had obtained a good score, so I would have a reference point to test this new Kospet Magic 4.[b][b][b]linkManufacturer web site: https://www.kospet.com/[b]
How are my tests different from others on the web?

- I usually buy the devices with my own money, so price is just as important as you are!
- I keep the devices for at least a few weeks (sometimes more) to see what they are worth in real conditions.
- I answer (when possible) your questions to help you decide before you buy
- no one pays me to do these reviews, so I'm completely neutral and independent...
- My pages are not filled with ads



Kospet Tank M1 : test / review
Mibro Watch X1 : test / review
Xiaomi Mi Band 6 : test / review
Kospet Prime S 4G: test / review
Kospet Optimus 2 : test / review
Mibro Lite : test / review
Haylou RS3 : test / review / opinion
Kospet Magic 3 : test / review
Smartwatch Zeblaze Ares : test / review
Kospet Rock review / test

Price Kospet Magic 4
The list below shows the prices for the Kospet Magic 4 from more than 50 sites around the world. If you are not satisfied with any price, you can subscribe to a price alert to be the first to be notified when the price drops.[b]

[b]

The above links are affiliate links from companies such as Amazon, Gearbest, Aliexpress,... If you appreciate my work, I would be grateful if you could purchase these products through these links. It costs you absolutely nothing but I get a small commission that allows me to buy the material I test. Thank you very much!
Timeline
November 15, 2021: Kospet sent me the Kospet Magic 4 for this test, so the test can start. [b][b]
Waarom deze smartwatch?
Kospet applies a formula quite similar to Xiaomi in the world of connected watches, they manage to produce complete smartwatches at a competitive price. This new watch takes most of the functionality of a mid-range watch (except maybe the gps) for an entry-level price. The previous model had a rectangular screen, this time Kospet decided to use a circular screen which will no doubt appeal to a larger audience.[b]
Structure of my tests
I test products according to a pre-established structure (see below) to provide you with maximum information. Unfortunately, this takes a lot of time. Unlike some sites where products are tested on a single day, I use the products I test for a minimum of a few weeks and sometimes even a few months. If the test is not complete at the time of your visit, I invite you to come back later or ask your question in the comment section below.
Unpacking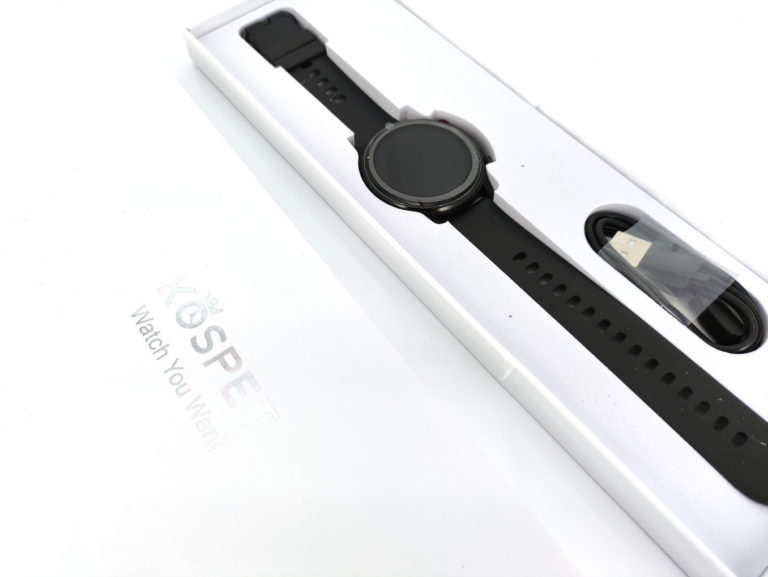 The box of the Kospet Magic 4 is quite long, I do not remember having tested a watch in such packaging. The box is quite basic, it contains the watch in horizontal position, a USB cable with connectors for charging and a manual. The charger appears to be the same as on the Kospet Magic 3. [b][b]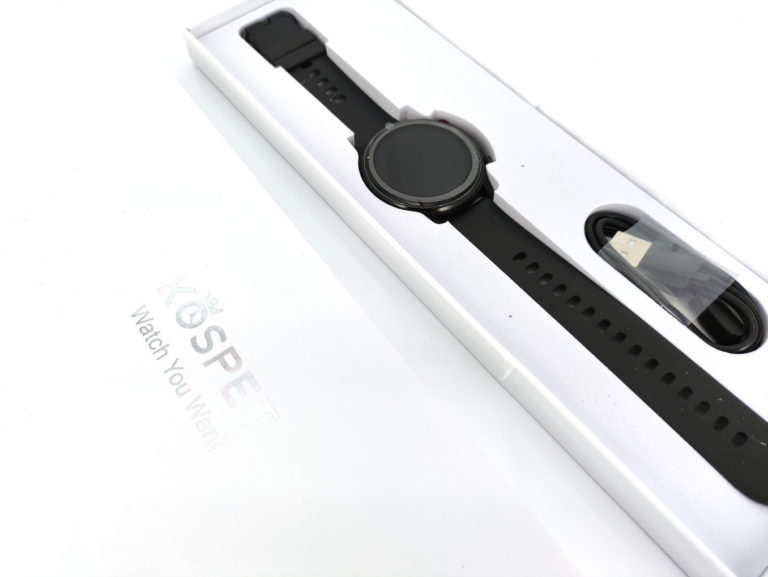 [b]
First configuration
The Kospet Magic 4 can be started without an application, so the watch is completely autonomous, but on the other hand, if you want to record your sports performances or your heart measurements, you will have to download the Da Fit application. I have tested this app several times, it is used by several Chinese watch manufacturers. I will come back to the application later in this article. The initial setup is very simple, you just need to add a device to the app, the Kospet Magic 4 is detected immediately and I haven't encountered any problems. There is virtually nothing to configure, you just have to add the watch to the application. You can then customize the watch with a new face, I would say there are around 40 watch faces available. Just choose a dial and send it to the watch, it's super simple. I just found the transfer to be particularly slow for something so small. [b][b][b]
Finish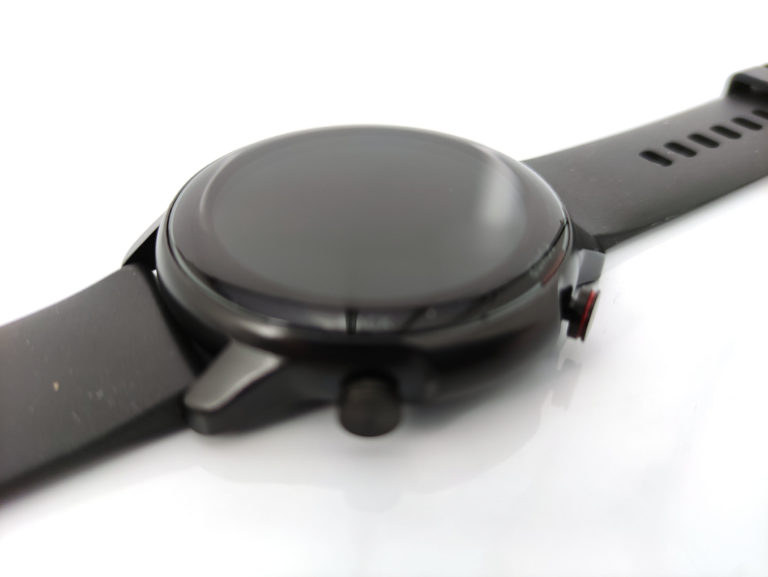 The Magic range at Kospet corresponds to the entry level, so you are not going to find a watch with an aluminum case but that does not mean that the level of finish is not good. The use of plastic can also give a good result. The Kospet Magic 3 had a rectangular format, the Kospet Magic 4 takes a circular shape. [b][b]
The Kospet Magic 4 is equipped with a 1.32 inch IPS screen and a resolution of 360x360. I was amazed at the good contrast of the screen, I even thought it was an amoled screen. The 360x360 resolution allows images to be displayed on the screen without seeing the pixels with the naked eye. The photos I took for this article are taken very close up so the pixels are visible but with the naked eye you will not see them. [b][b] The screen is tactile and very responsive, it is also accompanied by two large buttons. The upper one is used to turn on the watch, the lower one is used to go back one step. A long press on any button turns off the watch completely.
The Kospet Magic 4 is equipped with a 230 mAh battery, it is a little more (10 mAh) than the previous model for which I had observed a good autonomy. Since the screen is smaller than the previous model, the autonomy should be even better but you need at least one less to be able to issue an opinion. [b][b] At the back we also find the heartbeat sensor which had not dazzled me on the previous model, it will also take me a little time to assess whether the measurements of this new models will be reliable. [b][b]
This new model is a little thinner than the previous model, the Kospet Magic 4 has a thickness of 10.1mm for a 46mm screen. This watch is therefore not very large, I also find that it is neither too big nor too small. The use of plastic makes it very light, you don't feel it on the wrist. [b][b]
The bracelet is made of soft silicone like most bracelets in this price range. The bracelet adapts very well to the wrist, the bracelet retention system stays in place unlike other models that I have tested. It is to prevent the bracelet from coming loose and end up snagging something when you are in motion. [b][b] The Kospet Magic 3 had a good level of finish, this is also the case for the Kospet Magic 4. The curvature of the screen gives a less raw appearance to the watch, its design makes it compatible with a fairly large audience.[b][b][b]
[b]
Connectivity
The Kospet Magic 4 is Bluetooth 5.0 compatible and does not have a GPS chip.[b]
Battery range
After 3 weeks of use, I had to recharge the battery exactly three times. I use the watch on a daily basis and the watch is connected to my phone, I do 1 hour of sports and with these activities, the watch lasts for exactly 7 days. It's not extraordinary, but it's not bad either. I think that triggering by the wrist causes a decrease in autonomy because the watch turns on quite often with each movement (even at night).[b]
Screen quality
As I wrote above, I find the contrast of this screen to be really good for an IPS screen. The photos in this article were taken so closely that the watch is larger in the photo than it actually is, which explains why there is a gap between the pixels. With the naked eye I do not see this difference. The screen has sufficient resolution to be able to display the dial and the measurement screens with a good level of sharpness. The brightness of the screen allows it to be used everywhere but I think that in direct sunlight, this brightness will be insufficient. In November, unfortunately there is not much sun anymore, but the strong light in my studio is a good test. At full brightness, I can barely read the screen of the watch, this will probably also be the case in direct sunlight. [b][b] The screen has good touch sensitivity, it is responsive and I did not encounter any difficulties in use. [b][b]
[b]
Features
Kospet has always been generous in terms of features, this is again the case with this Kospet Magic 4 which offers the following features: [b] - heart rate measurement [b] - sleep quality measurement [b] - measurement of the number of steps [b] - measurement of blood pressure [b] - 20 exercise modes [b] - 2 games directly playable on the watch [b] - camera trigger [b] - control the music on the smartphone [b] - receive messages and notifications [b] - weather [b] - breathing exercises [b] - countdown [b] - stopwatch [b] - alarm clock [b][b] As you can see, this Kospet Magic 4 is undoubtedly one of the most complete watches in this range of price.[b]
Measurements
I have never had the opportunity to test an entry-level watch capable of measuring heartbeats correctly and unfortunately this is once again the case with this watch. This is not a problem only present at Kospet, it is the case with all entry-level watches. The only watch less than 40 € capable of correctly measuring heartbeats is the Mi Band. In the following photos, you will see how far the measurements are from reality: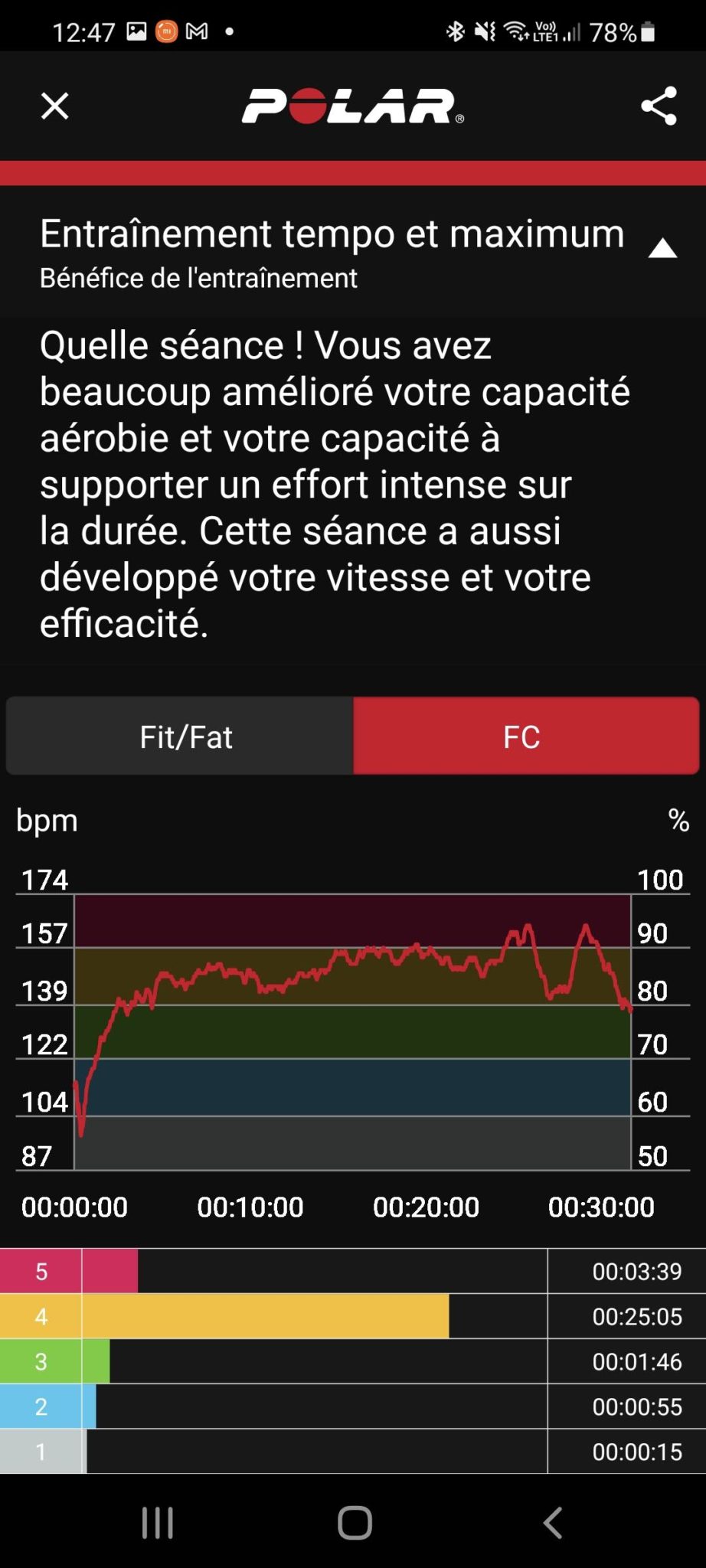 I did an indoor cycling session of about 30 minutes with intense efforts which brought my heartbeat back to normal. more than 160 beats but the watch has never gone beyond 100 beats. My Polar H10 belt measured an average rate of 148 beats per minute with a maximum of 164, the Kospet measured 71 beats per minute on average. It is therefore very, very far from reality. This watch is therefore not designed for those who want to follow their sports performance.[b]
App
I had already had the opportunity to test the Da Fit application with the Kospet Rock and the Kospet Magic 3, it is not the most advanced application to record your activities but it is well designed and easy to use. The home screen groups together most of the data measured by the watch (ex: heartbeats, blood pressure, etc.) and you can obtain more information for each type of data (day, week, month). The app also records all the sports sessions (even if you change your watch) but the screens summarizing the sports activities are not very detailed, it is clearly not an app for demanding athletes. [b][b] I made a video that shows the possibilities offered by the application and the time needed to take the measurements, the video format lends itself better than a long text description. [b][b] I find that this application has improved a lot in a year because there were still many translation problems which have almost all disappeared (for French in any case). Historical data can be viewed by day, week and month. This application is undoubtedly less successful than the specialized applications for great athletes but it has the merit of meeting basic needs.[b]
Compatibility
The Kospet Magic 4 is compatible with all Android phones from version 5.1 and iOS from version 10. I would also add that if you are not interested in monitoring your performance, you are not even not required to use the app.[b]
Operating system
Not yet available / tested[b][b][b]
Encoutered bugs
Not yet available / tested[b][b]
Compare Kospet Magic 4 with the others
I assigned a score of 1 to 10 for each test that determines the strengths and weaknesses of a product. I am using 0 for criteria that have not (yet) been tested. A score of 1 to 3 indicates poor performance (and yes, it does), a score of 4 to 6 indicates average performance, a score of 7 to 8 indicates good performance, and a score of 9 and 10 indicates exceptional performance. .
The score is calculated based on my measurements and when there are no measurements, it is a subjective opinion based on my experience.

The scores are not static, they change over time because the performance of new products changes and this must be taken into account.


| | | |
| --- | --- | --- |
| | Kospet Magic 4 | |
Global ranking
1. Samsung Galaxy Watch 3 52.5 / 77
2. Kospet Optimus 2 49.5 / 77
3. Lemfo Lem15 49 / 77
4. Kospet Prime S 49 / 77
5. Amazfit Gts 48 / 77
6. Haylou Rs3 47.5 / 77
7. Xiaomi Mi Watch Lite 47.5 / 77
8. Kospet Magic 3 43 / 70
9. Amazfit X Curved 42.5 / 70
10. Kospet Rock 41.5 / 70
11. Huawei Watch Gt Active 41.5 / 70
12. Mi Band 4 41 / 70
13. Mi Band 5 40.5 / 70
14. Mi Band 3 39.5 / 70
15. Fobase Magic 39.5 / 70
16. Zeblaze Ares 38.5 / 70
17. Mibro Air 38.5 / 70
18. Umidigi Uwatch Gt 38 / 70
19. Mi Band 6 37.5 / 63

Test / Review conclusion
Kospet has once again managed to produce a complete smartwatch for less than 40 €. The new Kospet Magic 4 is lightweight, has a good 360x360 screen with good readability, and takes over most of the functionality of mid-range watches. All it lacks is GPS, but in this price range, it's very rare. [b][b] Kospet has refined its operating system over time and I find that they have reached a certain maturity, they broadly take up market standards by offering the functionalities from multiple inputs and you should never look for a feature for very long. This watch is also the first entry-level watch I've tested that is capable of running small games. It's obviously nothing essential, I guess no one will buy this watch because it has 2 games but these games work great, it is even quite amazing. [b][b] The battery life is good without being exceptional, 7 days is comfortable but I have tested watches which had an autonomy of several weeks in exactly the same conditions. The watch's greatest weakness is the reliability of the measurements (heartbeat, blood pressure, etc.), these measurements are absolutely unreliable. This is almost always the case with watches of this type, it's a shame but Kospet is not really behind the competition at this level. [b][b] Like the Kospet Magic 3, this new model will target a fairly large audience who are looking for a watch that is easy to use and that offers all the usual features of a connected watch. Athletes will have to switch to a more expensive watch.[b]Strengths[b]Screen quality [b] Size / weight [b] Features [b] Battery life [b] Ease of use [b] Personalization [b][b][b]Weaknesses[b]Measurement reliability [b] The automatic switching on should be able to be adjusted in the watch notifications screen [b][b][b]



Laurent Willen
Instead of watching nonsense on TV or YouTube, I spend my time in the evenings testing products and sharing my passion for technology, travel and photography.

I run this site in my own name and completely independently, no one pays me to do so.

I have more than 20 years of experience in the digital world, I have managed and developed many high traffic websites in companies in Belgium such as Mobistar, Microsoft, Immoweb, BrusselsAirlines, Proximus, Orange,...