Kospet Prime S 4G: test / review
Category: Smartwatch

I have tested many entry-level Chinese watches in recent months, these watches are available in a price range between 20 and 40 €. Although most of these watches were quite pretty, most of them were absolutely unreliable for the different types of measurements offered (heart, sleep, number of steps, ...). These criteria may not be important for a majority of users who are only looking for a watch that shows the time and possibly notifications, but there is a more demanding audience for which I had to find an alternative. [b][b] I have already tested two Kospet watches (Kospet Magic 3 and Kospet Rock) and despite the unreliability of the measurements, these watches offered good value for money. I will now jump into the Kospet watch line to test the Kospet Prime S. This watch has absolutely nothing to do with other watches I have tested and it shows at first glance. The watch is much bigger, the dial is really big. It is equipped with two cameras, it can accommodate a sim card and is 4G compatible, it can install applications and runs on a suitable version of Android. The last watch of this type that I tested was a Samsung Galaxy Watch which cost almost 500 € while this Kospet watch is available around 100 €. [b][b] 100 € for such a sophisticated watch, it's pretty incredible but let's not get carried away, I will still test the watch before drawing any hasty conclusions. [b][b]
Exclusive Coupon
Promo / Coupon Code: LWBEKPS ($ 11 discount) Link:

Kospet Prime S

I ordered this watch from Wiibuying, it's a brand new site, I didn't have any problem with my order.

[b][b][b]Manufacturer web site: https://www.kospet.com[b]
How are my tests different from others on the web?

- I usually buy the devices with my own money, so price is just as important as you are!
- I keep the devices for at least a few weeks (sometimes more) to see what they are worth in real conditions.
- I answer (when possible) your questions to help you decide before you buy
- no one pays me to do these reviews, so I'm completely neutral and independent...
- My pages are not filled with ads



Xiaomi Smart Band 7: test / review
Kospet Tank M1 : test / review
Mibro Watch X1 : test / review
Xiaomi Mi Band 6 : test / review
Kospet Prime S 4G: test / review
Kospet Optimus 2 : test / review
Mibro Lite : test / review
Haylou RS3 : test / review / opinion
Kospet Magic 3 : test / review
Smartwatch Zeblaze Ares : test / review

Price Kospet Prime S
The list below shows the prices for the Kospet Prime S from more than 50 sites around the world. If you are not satisfied with any price, you can subscribe to a price alert to be the first to be notified when the price drops.[b]

kospet smart watch fashion round screen low consumption bluetooth sport health monitoring for men sm...

2022-06-25 20:00

56 EUR

new kospet prime s full android smartwatch with dual cameras with heart rate blood pressure monitor ...

2022-06-26 07:07

107 EUR

kospet prime s smart watch fashion round screen low consumption bluetooth sport health monitoring sm...

2022-06-26 07:07

108 EUR

[b]

The above links are affiliate links from companies such as Amazon, Gearbest, Aliexpress,... If you appreciate my work, I would be grateful if you could purchase these products through these links. It costs you absolutely nothing but I get a small commission that allows me to buy the material I test. Thank you very much!
Timeline
June 07, 2021: order the Kospet Prime S on wiibuying.com [b] June 23, 2021: I have received the watch, the test can begin[b]
Waarom deze smartwatch?
The Kospet Prime S is a somewhat peculiar kind of watch, it really has nothing to do with other Kospet watches I have tested but it follows the same philosophy as other Kospet watches in trying to offer a maximum functionality for a price much lower than the big brands. I cannot compare this Kospet Prime S with any other watch that I have tested because it is equipped with features that I have never been able to test on a watch. [b][b] The Kospet Prime S is equipped with a (nano) sim drawer like most smartphones, so you do not need to equip yourself with a sim card of a different format. The sim card gives you access to the 4G network, so you can connect to the internet without wifi but you can also make and receive calls! You can also receive notifications from the phone associated with the watch. [b][b] The Kospet Prime S is also equipped with two cameras, there is one on the top of the dial which can film discreetly in front of you and another on the side of the watch which is rather designed for film yourself like a selfie camera on a phone. I don't know yet if these cameras will allow you to make a video call but I would test this kind of possibilities later in the test. [b][b] If I had to find a third reason for purchasing this watch, I would choose the operating system. Most watches use a closed operating system where you cannot change anything. The Kospet Prime S runs a simplified version of Android, so you can install apps and even log into the Play Store. Obviously I don't expect all apps to work, but the idea is interesting. [b][b][b]
Structure of my tests
I test products according to a pre-established structure (see below) to provide you with maximum information. Unfortunately, this takes a lot of time. Unlike some sites where products are tested on a single day, I use the products I test for a minimum of a few weeks and sometimes even a few months. If the test is not complete at the time of your visit, I invite you to come back later or ask your question in the comment section below.
Unpacking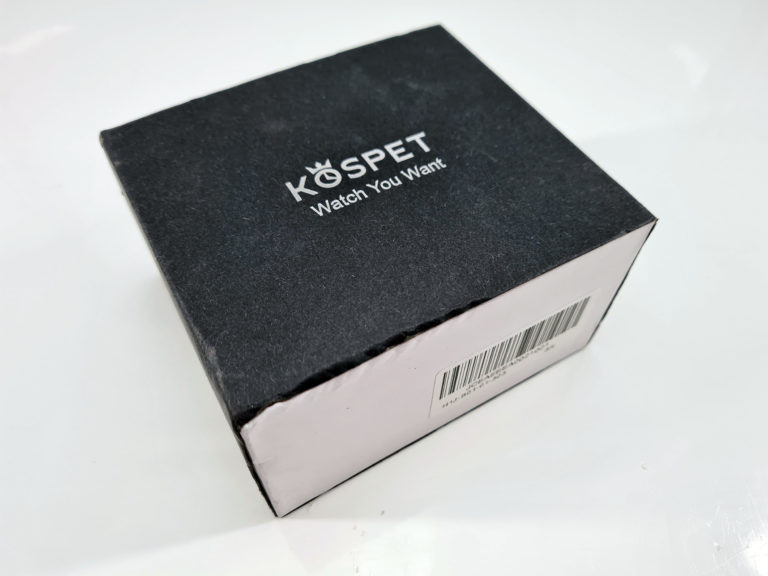 The other Kospet watches I tested were packed in almost anonymous boxes that left no doubt about their entry-level positioning. The Kospet Prime S has a fairly sober packaging but still stands out from the entry-level positioning, the watch is better protected and the accessories are placed in cardboard boxes while everything could have been placed in the bottom of the box as for other watches. The box contains the watch, a manual, a needle to open the sim drawer and a magnetic cable to charge the watch (you can associate it with any usb charger).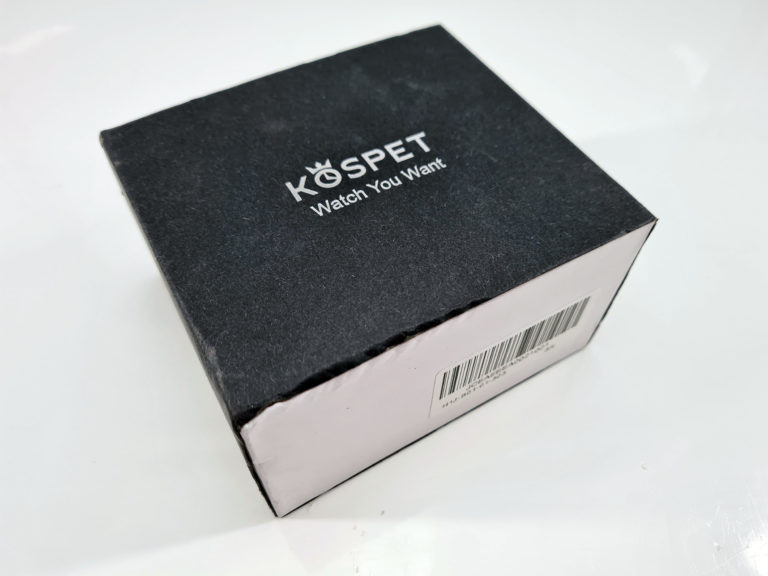 4

[b]
First configuration
The Kospet Prime S is a completely independent watch, it could work very well without a smartphone because it is 4G and wifi compatible. However, it must be associated with an application to make the most of its possibilities and unfortunately it is necessary to download another new application and this time it is the Gaofit application. After starting the watch, you can scan a QR code to download the Geofit app. As this download is done outside of the Play Store, I would advise you instead to look for the Gaofit app on the Play Store and download it from there. This will save you from having to download an app from an unknown source. [b][b] After downloading the app, you need to pair your watch. I made several pairing attempts by bluetooth scan but it did not work. On the other hand, I had not seen that by sliding the screen of the watch, another QR code was available and it is with this QR code that the watch must be associated with the application. However, this method worked right away. The application will adapt the active language on your watch according to the active language on your phone. I tested the application in French and as is often the case with Chinese applications, the translations are really bad. Usually the translations are not very good and are sometimes even a little funny, but here some translations are so bad that I did not understand immediately what the text was. The watch will follow the same direction with translations which can sometimes be confusing, fortunately the language used on the watch is shorter and more precise, the translation problems are therefore much less problematic. [b][b] The application is fairly simple to use, the home screen includes all the basic measurements (heart, number of steps, oxygen in the blood, sleep, etc.) and for each measurement you can consult the historical data. You can also download new watch faces for the watch, there are all types of watch faces and some are really well designed. You can also set up the watch but I didn't have to change the basic settings, everything worked the first time. [b][b]
24

[b]
Finish
The Kospet Prime S has personality, it literally sits on your wrist with its massive display. Despite its size, it is very light, I do not know its weight (there is no indication on the official site) but its lightness surprised me. The secret of its weight lies in the use of plastic. The dial is surrounded by a metallic effect frame but the rest is plastic. The level of finish is good, the circular shape of the watch gives it a more refined side than angular models like the Kospet Rock or the Zeblaze Ares. [b][b] Despite its size and thickness (16.7 mm), I have never felt the slightest discomfort on the wrist and its circular shape will prevent you from hanging your clothes. The face camera is placed on the right but in no way hinders the movements of the wrist, it is accompanied by two large buttons which fit perfectly into the watch face. The top button is used to go back, the bottom button is used to turn on the watch and access the menus. [b][b] The strap is not completely soft like some watches, it ensures good stability of the watch and the locking mechanism is made of metal, this will reduce the risk of breaking it by forcing the bracelet. [b][b] The Kospet Prime S is a great watch and it is sure to grab attention around you, the size will certainly play a role but the level of finish doesn't suggest that it This is a watch at 100 €. It may lack a premium side due to the use of plastic but frankly for a price 4 times lower than a Galaxy Watch, I can hardly complain![b]
11

[b]
Connectivity
I usually don't have much to write in this section as most of the watches I review are entry-level watches that don't even have a GPS chipset. The Kospet Prime S is bluetooth compatible (for synchronization with the phone), it is wifi compatible (to be autonomous when you need to connect), it is 4G compatible (with its sim card) and it is also compatible with GPS ( + Glonass and Beidou). The Google Maps application is also integrated by default in the watch to be able to use the gps without using a smartphone.[b]
Battery range
The battery life is not the strong point of the Kospet Prime S. I used the watch a lot during the first 24 hours to test all the functions and I had to charge it again after 24 hours. Then, I continued to use the watch in a more "normal" way and I obtained an autonomy of 2 to 3 days at most. The screen was at maximum but I had disabled the automatic switching on of the screen, the wifi and the 4G were on the other hand active all day. The screen obviously plays a big role in autonomy, it's the same with smartphones. The screen of the Kospet Prime S is huge and very bright, so I'm not surprised that the battery life is limited to 2-3 days.[b]
Screen quality
The Kospet Prime S is equipped with an IPS screen with a resolution of 400x400 and with such a resolution, readability is excellent even for small characters. The choice of a circular screen goes perfectly with all the typical functions of a watch but on the other hand for the use of certain applications this format is not very suitable because we do not see what is in the corners. An amoled screen would undoubtedly have made it possible to obtain a better contrast but once again, at this price there we can not have everything and this IPS screen is of good quality.[b]
Features
When I test a watch I describe the features in writing on the review page but the Kospet Prime S has so much functionality that I decided to make a video. This is not a format that I am used to using, so my video production is not up to the level of what you can find on YouTube but it will give you an overview of what the watch can offer you. In summary, here are some possibilities offered by the watch: [b] - call and receive calls [b] - send and receive sms [b] - receive smartphone notifications [b] - heart rate measurements, blood oxygen, number of steps, sport modes [b] - internet browser [b] - Google Maps directly integrated into the watch [b] - access to the Google Play Store [b] - possibility of customization [b] - music player [b] - smartphone control [b] - etc ...[b]
Measurements
Measurement of the number of steps [b] The reliability of the measurement of the number of steps will strongly depend on the movements and jolts caused by walking. If you walk on a normal surface and walk at a normal pace the number of steps measured is really reliable, I got a deviation of 2 steps on most of the measurements I took. If you run or walk over rough terrain, reliability will decrease, but the same goes for all watches. [b][b] Sleep measurement [b] Most of the watches I've tested get trapped by inactivity after 10 p.m. This is not the case with the Kospet Prime S and it is even the opposite. She seems more sensitive to movement to such an extent that the calculated sleep time is sometimes shorter than the actual sleep. On the other hand, I do not see any interruption during the night even if I wake up (without getting up for all that). So I have the impression that the sensitivity of the watch varies depending on the time of day. [b][b] Measuring the level of oxygen in the blood [b] I do not have a device that measures the level of oxygen in the blood blood to compare the results produced by this watch but I always got results above 97%. [b][b] Heart rate measurement [b] I could not retrieve my sports data from the app, so I can hardly compare the data as I usually do. I noticed that there was a "delay" in the display of the pulses between the watch and my Polar belt, the watch ends up arriving more or less at the same level as the belt but still with a few seconds of delay. In the end, if I compare the average heartbeat of the watch and that of the belt, I have a difference of about ten% where the watch overestimates the heart rate. As I was not able to test these measurements as I usually do, the result is therefore less reliable. The Gaofit app also does not support live heart rate measurement, so I cannot screen share the Polar Beat app with Gaofit to compare live heart rate.[b]
App
Play Store [b] The Kospet Prime S runs on Android and gives you access to the Google Play Store. I hadn't been able to test a watch with an open system like this yet, so you can almost do whatever you want. So the Kospet Prime S offers a very important advantage over most watches in this price range, you can install the apps you want. [b][b] order to use the Play Store, you need to log into the Play Store with your Google account and you are required to do so from the watch. The watch is able to display a full keyboard, this keyboard is very readable but the keys are very small, so you have to be very careful not to make mistakes. In addition to the difficulty of pressing the correct key, the e-mail address entry field is not visible as you type. So this process is far from practical but with a little patience and discipline you will get there. [b][b] Once logged in, you can download apps, but the vast majority of apps were not designed for use on a watch. Smartphone screens are rectangular where the watch screen is circular, so some areas are not visible. [b][b] You can download pretty much any app but the download is quite slow, yet I have good wifi connectivity but I suspect the memory write speed of the watch is very weak because even though I download a small file like a watch face it is not very fast. We must therefore be patient. [b][b] Gaofit order to be able to configure the watch, you need to download the Gaofit app, you can get it from the play store, so don't download it not from the watch's QR code as you will need to open access to third-party apps to be able to start it. The application is very easy to use, it allows you to consult the historical data collected by the watch. What bothered me the most was the quality of the translations. [b][b]Update after one week of use:[b][b]I've been using the Gaofit app for over a week now and frankly, it's not where it should be. Syncing data still takes a long time and sometimes it just doesn't happen. The sports sessions I've recorded on the watch don't show up anywhere and I haven't found any features to enable that would allow me to retrieve my data. This is a real waste as it does not allow the watch to be used to its full potential.[b][b][b]
Compatibility
The Kospet Prime S is compatible with all phones that can run the Gaofit app.[b]
Operating system
The Kospet Prime S runs on Android and even if this is not immediately visible, we quickly find our bearings as soon as we explore its interface (see presentation video). The interface is organized in 3 bands of 4 screens. When you go up, you access the first strip of 4 screens that you can browse from left to right, there are the battery / network / bluetooth indicators but also the possibility of activating / deactivating most of the services. The central strip allows you to switch from the home screen to the notifications screen, the screen with all features and the screen with sports modes. The last band gives you access to the number of steps (+ history), a music player and the weather forecast. [b][b] The interface is very easy to use, we quickly find our bearings and the passage from one screen to another is very fluid. I explained everything in detail in the presentation video. [b][b][b][b]
Encoutered bugs
I did not really encounter any bugs but rather sometimes a little annoying behavior. The thing that pissed me off the most was the screen lock because while this feature is in theory handy, I don't recommend turning it on. Unlocking works erratically, it is possible to unlock the screen without entering the correct code, and facial unlocking does not work well either. Fortunately this feature is not mandatory to use the watch, it is even disabled by default. [b][b] The screen offers a very fine image and excellent readability, but this is sometimes done to the detriment of practicality, for example for the keyboard. The watch is capable of displaying a full keyboard, but the keys are so small that you really have to be very careful to press the correct key on the keyboard. So you probably won't write novels with the watch, but this keyboard can be used to help you out if you don't have a phone handy. [b][b] The download time of applications and dials is really slow and a priori, the problem does not come from my wifi network because I do not have this problem with my other devices. I think the memory write speed plays a role here. [b][b][b]
Compare Kospet Prime S with the others
I assigned a score of 1 to 10 for each test that determines the strengths and weaknesses of a product. I am using 0 for criteria that have not (yet) been tested. A score of 1 to 3 indicates poor performance (and yes, it does), a score of 4 to 6 indicates average performance, a score of 7 to 8 indicates good performance, and a score of 9 and 10 indicates exceptional performance. .
The score is calculated based on my measurements and when there are no measurements, it is a subjective opinion based on my experience.

The scores are not static, they change over time because the performance of new products changes and this must be taken into account.


| | | |
| --- | --- | --- |
| | Kospet Prime S | |
| Battery performance | 2 | 4 |
| Screen quality | 5.5 | 5 |
| Finish quality | 4.5 | 4.5 |
| Connectivity | 5 | 4.5 |
| Compatibility | 4.5 | 4.5 |
| GPS performance | 4 | 4 |
| Application | 3.5 | 4 |
| Reliability of measurements | 3.5 | 4.5 |
| Ease of use | 4.5 | 4 |
| Features | 6 | 4.5 |
| Operating system | 6 | 4.5 |
| Overall score | 49 | 48 |
Global ranking
1. Samsung Galaxy Watch 3 52.5 / 77
2. Kospet Optimus 2 49.5 / 77
3. Lemfo Lem15 49 / 77
4. Kospet Prime S 49 / 77
5. Amazfit Gts 48 / 77
6. Haylou Rs3 47.5 / 77
7. Xiaomi Mi Watch Lite 47.5 / 77
8. Kospet Magic 3 43 / 70
9. Amazfit X Curved 42.5 / 70
10. Kospet Rock 41.5 / 70
11. Huawei Watch Gt Active 41.5 / 70
12. Mi Band 4 41 / 70
13. Mi Band 5 40.5 / 70
14. Mi Band 3 39.5 / 70
15. Fobase Magic 39.5 / 70
16. Zeblaze Ares 38.5 / 70
17. Mibro Air 38.5 / 70
18. Umidigi Uwatch Gt 38 / 70
19. Mi Band 6 37.5 / 63

Test / Review conclusion
The Kospet Prime S is not a consumer watch, so if you are just looking for a watch with a few features, this watch might not be for you. This watch is aimed at a public of geeks who equip themselves with the latest novelties like this Kospet watch. This Kospet Prime S is so complete that it could replace a smartphone, all the basic functionalities are present and it is a real feat to be able to integrate all these functionalities in an object of this size. The Kospet Prime S is technically successful as it is able to run an Android operating system without slowdowns or stability issues. This kind of product is still quite rare today but I suspect that a lot of watches will follow this path in the next few years. [b][b] The Kospet Prime S is an imposing but light watch, its huge screen offers an image of excellent quality and with a resolution large enough to ensure perfect readability even for small characters. It is possible to customize this screen to look like a traditional watch and some of the dials are very nice. The size of the screen is almost a requirement for this kind of watch and the screen should perhaps have been a little larger because in some cases the space is lacking. The full keyboard can be displayed on the screen while still being readable, but the keys are so small that it takes a lot of patience to type a long text. [b][b] The Kospet Prime S therefore offers a large number of possibilities and everything works correctly but these functions are sometimes difficult to use because of the size and shape of the screen. Downloading an app from the Play Store is quite possible, but since the apps are designed for rectangular screens, the experience is not always optimal. It's a bit the same with the browser, you can visit a site from your watch but the sites are not designed to be viewed on a watch. [b][b] Battery life is somewhere the first victim of this technological showcase, the watch should be able to accommodate a more powerful battery but it is already large enough so I imagine that integrating a battery more powerful would have been very difficult. It takes one to two days of battery life and as this watch will titillate the curiosity of geeks, you may well have to recharge it during the day if, like me, you try all the features just out of curiosity. [b][b] I also find it a pity that the watch is not accompanied by a more successful application. The watch can be used without going through an app but if you do sports, using an app could have been useful but the Gaofit app does not use the features of the watch well. Not all intermediate measurements (during exercise) are displayed by the app and that's a shame. [b][b] I had not yet tested a watch of this kind and I do not regret having been able to do so because it is really a technological challenge but as I said above, this watch is aimed at an audience of geeks because it offers so much that it will become too complicated for someone who is just looking for a watch with a few features.[b]Strengths[b]- screen quality [b] - finish [b] - connectivity: 4G, wifi, bluetooth, GPS [b] - open system (Android) [b] - easy to use [b] - slight [b][b][b]Weaknesses[b]- battery life [b] - Gaofit app not up to the watch [b] - keyboard difficult to use [b][b][b]



Laurent Willen
Instead of watching nonsense on TV or YouTube, I spend my time in the evenings testing products and sharing my passion for technology, travel and photography.

I run this site in my own name and completely independently, no one pays me to do so.

I have more than 20 years of experience in the digital world, I have managed and developed many high traffic websites in companies in Belgium such as Mobistar, Microsoft, Immoweb, BrusselsAirlines, Proximus, Orange,...