Subscribe
Subscribe to my YouTube channel to receive updates.
Lemfo Lem15: test / review / price
Category: Smartwatch

I have tested over a dozen smartwatches over the past 12 months and every time I thought I had taken a look at the big brands, I discovered a new one. This time I will test a Lemfo brand watch, I had never heard of this brand but it has been around for 7 years on Aliexpress with more than a million followers and a score of 4.7 / 5. It is therefore not a small builder who tries to make himself known. [b][b] Lemfo mainly markets smartwatches and mainly entry-level watches like the one I'm used to testing. Rather than testing an entry-level watch again, this time I will focus on a watch worthy of a sci-fi movie with the Lemfo Lem15. [b][b] The Lemfo Lem15 is an Android-powered watch, so you can install apps and use it like a smartphone. The Lemfo Lem15 can accommodate a sim card, so you can make and receive calls but also surf the internet, download applications, play sports, ... It is undoubtedly one of the most complete watches at present . [b][b] I just finished testing the Kospet Prime S which looks a lot like the Lemfo Lem15, so I will be able to compare the products and isolate their strengths and weaknesses. [b][b] Before you start reading my test, I still have to warn you that this watch is not intended for the general public, it is a watch for an audience of geeks. This watch can do so many things that it would almost make sense to compare it with a smartphone rather than a watch.[b][b][b]

Manufacturer web site: http://www.lemfo.com/[b]
How are my tests different from others on the web?

- I usually buy the devices with my own money, so price is just as important as you are!
- I keep the devices for at least a few weeks (sometimes more) to see what they are worth in real conditions.
- I answer (when possible) your questions to help you decide before you buy
- no one pays me to do these reviews, so I'm completely neutral and independent...
- My pages are not filled with ads



Haylou RS3 : test / review / opinion
Kospet Optimus 2 : test / review
Kospet Magic 3 : test / review
Kospet Prime S 4G: test / review
Smartwatch Zeblaze Ares : test / review
Xiaomi Mi Band 6 : test / review
Kospet Rock review / test
Mibro Air: test / review
Fobase Magic DIY : test / review
Samsung Galaxy Watch 3 test / review

Timeline
07/01/2021: delivery of the Lemfo Lem15 from Banggood [b][b] 07/06/2021: start of the test, I am a little late because I have many products to test at the same time. [b][b][b]
Waarom deze smartwatch?
The Lemfo Lem15 is a product for geeks, that's good because I'm one. Even though I test a lot of products that are open to a very large audience, I also sometimes test products for a smaller audience. The Lemfo Lem15 runs on Android, this is undoubtedly the first interest of this watch because who says Android says applications and the fact of being able to download applications on a watch is not a very common thing. [b][b] Android is good but the watch doesn't stop there, you can also make and receive calls through a traditional sim card. This kind of feature isn't common either and while making a call from a watch might seem odd, I'm sure there is an audience for this kind of feature. [b][b] The Lemfo Lem15 is a completely autonomous watch, no need for a smartphone to use it, it can completely replace a smartphone if you are ready to accept the constraint imposed by a small screen. [b][b][b]
Structure of my tests
I test products according to a pre-established structure (see below) to provide you with maximum information. Unfortunately, this takes a lot of time. Unlike some sites where products are tested on a single day, I use the products I test for a minimum of a few weeks and sometimes even a few months. If the test is not complete at the time of your visit, I invite you to come back later or ask your question in the comment section below.
Unpacking
The box of the Lemfo Lem15 is quite large and this is not because of the size of the watch. Lemfo has created a more premium packaging than most Chinese watches and it starts with the attention to details like the packaging and the layout of the watch in the package. The box contains the watch, a USB charging cable with magnetic tip to directly charge the watch, a charging base to put the watch on it and a manual. [b][b]
5

[b]
First configuration
The Lemfo Lem15 is a completely stand-alone watch, so you don't have to use an app to configure it and even for more advanced use, an app isn't necessarily needed. The watch can therefore be used from its first start and you can then configure your Google account to access the Play Store, but the watch will not require you to identify yourself from the start. [b][b] The watch is therefore self-sufficient, but if you still want to associate an application with it, you can either use the Wiiwatch 2 application that I never managed to operate or the Gaofit application as for the Kospet Prime S. I managed to use the watch with the Gaofit application, the watch / smartphone association worked but the application is not very complete and its usefulness is really limited. [b][b][b]
Finish
I thought the Kospet Prime S was pretty despite its plastic finishes, the Lemfo goes a little further with a better controlled aesthetic. The integration of the front camera on the top of the watch gives a more natural look to the watch where the circular shape of the Kospet was interrupted by the camera block on the right. This choice allows the buttons to stand out better and give the watch a more premium cachet. [b][b] Here are the two watches next to each other (Kospet on the left):
[b] The Lemfo Lem15 is very imposing, it has a very 1.6 inch large screen with a resolution of 400x400 (like the Kospet Prime S), it is slightly thicker and heavier than the Kospet.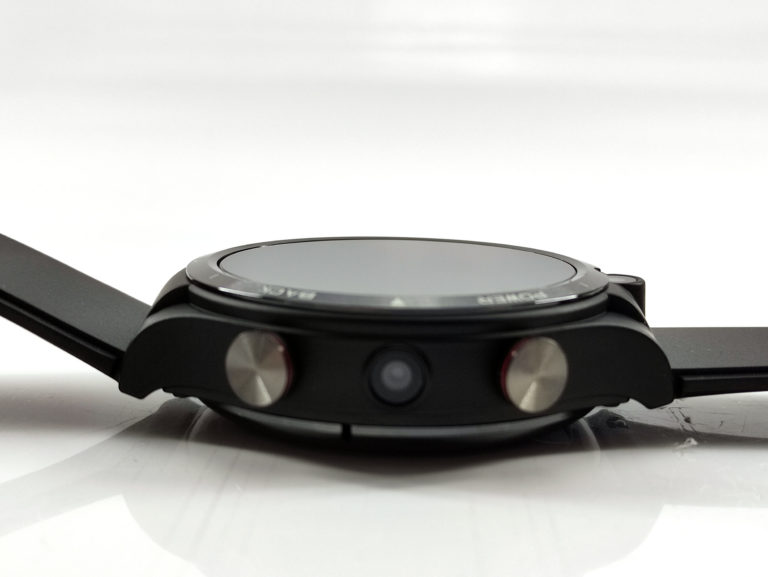 [b] The front camera is at the top of the dial, the secondary camera is between the two buttons on the right. The sim drawer is on the left and it can be opened by hand, no need for a needle like on the Kospet. [b]
Overall, the watch is very successful, the strap holds the wrist better than the Kospet, but it is a fairly imposing watch and not very discreet. I don't have a problem with that, but you have to know this before you buy. [b][b]
9

[b]
Connectivity
The Lemfo Lem15 is a watch with full connectivity, it uses the mobile network in 2G / 3G / 4G on the following frequencies: [b] 4G - LTE / FDD: B1, B2, B3, B5, B7, B12, B20 [b] 4G - LTE / TDD: B38, B39, B40, B41 [b] 3G - WCDMA: B1, B2, B5 [b] 3G - TS-SCDMA: B34 / B39 [b] 2G - GSM: 850, 900,1800,1900 Mhz [b][b] It also supports wifi in 2.4Ghz and 5Ghz, GPS (GPS and Glonass) and Bluetooth 5.0 [b][b]
Battery range
The battery life on this kind of product never reaches its peaks because the size of the watch does not allow carrying a battery large enough to offer a very long autonomy. The size of the screen as well as all the connectivity possibilities will quickly drain the battery. [b][b] I manage to last 2 days (almost 3) with normal use of the Lemfo Lem15, it is a little more than with the Kospet Prime S. It is very little in Compared to entry-level watches I test but running Android on a watch negatively impacts battery life and screen size only makes the problem worse. Fortunately, the battery charge takes between 1 and 2 hours. [b][b]
Screen quality
The screen of the Lemfo Lem15 is really very big for a watch, the screen is 1.6 inches in size with a resolution of 400x400. With such a resolution on a screen of this size, the pixel size is really small and this results in a very crisp and readable image. As it is an IPS screen, the contrasts could have been more marked but the screen overall delivers good image quality. The brightness of the screen and the automatic ignition will have a significant impact on the autonomy, I have disabled the automatic ignition to reach 2 to 3 days. [b][b] The brightness of the screen is sufficient to make the screen readable in almost all conditions except perhaps in direct sunlight where it will be necessary to turn the dial to avoid direct lighting because the screen brightness will not suffice.[b]
Features
The Lemfo Lem15 runs on Android 10 and therefore offers the same functionalities as all watches running on Android. Compared to a similar watch like the Kospet Prime S, I noticed some differences like for example the lack of measurement of sleep or oxygen in the blood. The "watch" -type functions are therefore less complete than on the Kospet. I made a video to illustrate the different possibilities available in the watch (only in French). [b]
Measurements
Heart rate [b] I tested the watch with several types of sports (walking, indoor cycling, outdoor cycling, ...) and I first got the I felt the measurements were unreliable because the heart rate displayed on the screen did not match the measurements on my Polar H10 belt at all. There is actually significant latency in the display, the beats eventually align with the Polar readings but there is still a lag. I took a photo after cycling outdoors: [b]
The watch is showing me an average of 163 beats per minute. Here is what I get with my Polar belt: [b]
So I have a shift of 3 beats per minute over a period of 35 minutes, it is not huge and the measurement is raised by the watch is very close to reality. On the other hand, I forgot to activate the GPS on the watch and on my phone, but I did other tests where the difference between the phone and the watch is of the order of 500 meters on a course of 11km. [b] GPS signal For the GPS to work correctly you must activate the location in the top menu in the phone. It may seem silly but since this menu is not near Android features, I have forgotten to activate it several times. The static positioning is correct, I was able to find my position each time (outdoors). When you are in motion, the precision is less good than that of a telephone. I noticed a difference in the distance calculation of about 5 to 10%. [b] Number of steps On a regular ground, the Lemfo Lem15 is quite reliable for the measurement of steps, I noticed a difference of a few steps with reality. On rough terrain or if the wrist experiences jerks, the reliability of this measurement will fluctuate, but that's how it is with all watches. [b][b] There is no measurement of sleep or measurement of the level of oxygen in the blood.[b]
App
I was disappointed with the application part for the Kospet Prime S and unfortunately you have to use the same application for the Lemfo Lem15. I tested several applications available in the store and the only one that worked was Gaofit. With the others, I couldn't pair the watch with the app. The Gaofit application does not exploit the capabilities of the watch well because the application is too basic and only takes up a small part of the data collected by the watch. It is especially on the sports part that the lack is the most important, I did not find the possibility of recording data relating to sports data. So I have no historical heart rate monitoring, no GPS track data, no speed indication, ... [b][b] This is probably not the fault of Lemfo, there is simply no app on the market to interact with this kind of product and I find that a shame. Fortunately, the watch is completely autonomous, so it does not need an application, but an application would have made it possible to have a more detailed view of sports activities. [b][b]
Compatibility
As the Lemfo Lem15 runs on Android, it is by definition standalone, you don't need a smartphone to use it.[b]
Operating system
The video I posted earlier in this article covers most of the watch's operating system.[b][b]
Encoutered bugs
Not yet available / tested[b][b]
Compare Lemfo Lem15 with the others
I assigned a score of 1 to 10 for each test that determines the strengths and weaknesses of a product. I am using 0 for criteria that have not (yet) been tested. A score of 1 to 3 indicates poor performance (and yes, it does), a score of 4 to 6 indicates average performance, a score of 7 to 8 indicates good performance, and a score of 9 and 10 indicates exceptional performance. .
The score is calculated based on my measurements and when there are no measurements, it is a subjective opinion based on my experience.

The scores are not static, they change over time because the performance of new products changes and this must be taken into account.


| | | |
| --- | --- | --- |
| | Lemfo Lem15 | |
| Battery performance | 2 | 4 |
| Screen quality | 5.5 | 5 |
| Finish quality | 4.5 | 4.5 |
| Connectivity | 5 | 4.5 |
| Compatibility | 4.5 | 4.5 |
| GPS performance | 4 | 4 |
| Application | 3.5 | 4 |
| Reliability of measurements | 3.5 | 4.5 |
| Ease of use | 4.5 | 4 |
| Features | 6 | 4.5 |
| Operating system | 6 | 4.5 |
| Overall score | 49 | 48 |
Global ranking
1. Samsung Galaxy Watch 3 52.5 / 77
2. Kospet Optimus 2 49.5 / 77
3. Lemfo Lem15 49 / 77
4. Kospet Prime S 49 / 77
5. Amazfit Gts 48 / 77
6. Haylou Rs3 47.5 / 77
7. Xiaomi Mi Watch Lite 47.5 / 77
8. Kospet Magic 3 43 / 70
9. Amazfit X Curved 42.5 / 70
10. Kospet Rock 41.5 / 70
11. Huawei Watch Gt Active 41.5 / 70
12. Mi Band 4 41 / 70
13. Mi Band 5 40.5 / 70
14. Mi Band 3 39.5 / 70
15. Fobase Magic 39.5 / 70
16. Zeblaze Ares 38.5 / 70
17. Mibro Air 38.5 / 70
18. Umidigi Uwatch Gt 38 / 70
19. Mi Band 6 37.5 / 63

Test / Review conclusion
The Lemfo Lem15 is a complete watch that will especially appeal to a public of geeks or lovers of large watches with a successful aesthetic, it is clearly not a general public watch. With all the features available, this watch can be compared to a smartphone because it is so complete, you just have to be able to make do with a 1.6-inch screen. So this is not a watch that will sell like a Mi Band 6 but if you are looking for an innovative product with a nice aesthetic, you will undoubtedly like this Lemfo Lem15. [b][b] One of the strengths of this watch is its screen. 1.6 inches is small compared to a smartphone but it is very large for a watch. The 400x400 resolution offers impeccable readability on all screens. The graphical interface highlights the capacity of this screen quite well, the experience is overall very pleasant. [b][b] The Lemfo Lem15 allows you to make calls, send / receive messages, surf the internet, download applications, follow sports activities (heart rate, gps, etc.) or even take photos and videos. He doesn't miss much. The sensitivity to the 4G network is good, the sensitivity to wifi is average because I have encountered many disconnections, the reliability of the gps is good as long as you are not in a covered area or not moving too fast (on foot / bike, no problem). [b][b] Where most smartwatches focus everything on tracking sports activities, this is not the case with the Lemfo Lem15 because even if it is possible to track a sports activity, the data recorded (and visible) in the watch are quite poor in comparison to entry-level watches. The heart rate is tracked, the gps and tracked but no question of reviewing the course on the watch. The watch application (Gaofit) is quite poor in terms of activity tracking, so you should not rely on it to compare your exercises over time. Fortunately the measurements are quite good, the heart rate is quite similar to what I was able to measure with my Polar H10 belt, the number of steps is quite close to reality too. You just have to disregard what is displayed on the screen during the exercise because the heart rate is measured with a sometimes significant latency but obviously the final calculation is done correctly. The big weakness of this watch is the battery. I last between one and two days, I never managed to last 3 days even if I used the watch very little. The operating system is apparently very hungry and no matter what you do with the watch, you will never last very long.[b]Strengths[b]- full watch [b] - beautiful screen [b] - full connectivity (wifi, 4G, bluetooth, gps) [b] - Android 10 [b] - successful aesthetics [b] - lots of custom dials available [b][b][b]Weaknesses[b]- battery life [b] - wifi sensitivity [b] - rather poor Gaofit application [b] - no intermediate heart rate monitoring (just the final calculation) [b] - no course tracking for outdoor sports [b][b][b]
Subscribe
Subscribe to my YouTube channel to receive updates.