Xiaomi Redmi Note 5 test and review
Category: Tests / Reviews
Chinese (r)evolution

The latest Redmi Note range is out (april 18) and Xiaomi has once again succeeded in developing a smartphone with the look and the taste of a high-end device but with a price of a mid-range device. With each iteration the Chinese giant gets a little closer to Europe and start threatening Apple and Samsung on their usual territory. What is this new Xiaomi worth ? Should you buy it? Let's have a look!

Feel free to ask your questions in the comments section for everyone's benefit.

Price Xiaomi Redmi Note 5



[pricing id="2456"]



I bought mine on Gearbest because it was the only site to offer the Redmi Note 5 at the time I bought it. I didn't encounter any problems. I already bought a phone on LightInTheBox too by taking a protection against customs fees and I was well inspired because the customs claimed me 50% of the price of the phone and LightInTheBox reimbursed me everything without discussion.






My review, your questions


How are my tests different from others on the web?
- I buy the devices with my money
- I keep the cameras to see what they're worth in real conditions.
- I answer questions to help you decide before you buy

The phone arrived one month after purchasing it. It was not yet in stock when I bought it. I got it for 164€ from Gearbest.






First contact


I received my Xiaomi Redmi Note 5 about a month after ordering it, the device was out of stock when I ordered it, it was in reality nowhere in stock. The device was sent mid-May, so the delay was actually not that long.



The Redmi Note 5 comes in a small orange box which contains the bare minimum with of course the smartphone, a screen protection, a rubber protection for the back shell, a USB cable and a European charger.




This is my first Xiaomi and the first impression is really good. The design is not very creative but it's the kind of thing that doesn't matter to me, the screen has an unusual shape with its 18:9 ratio. This format may surprise but it is actually a very good idea for a 6 inch screen. I remember the time of the first phablets with screens of this size, the format did not allow to take them in hand easily and to use them as telephone made you look ridiculous. The Xiaomi Redmi Note 5 offers an enormous screen surface, only two thin black stripes at the top and bottom are visible, the screen occupies almost 80% of the surface but it fits perfectly in the hand. I can easily access the top and bottom of the screen without using a second hand. Well, it's true I have big hands but still, I didn't expect to be able to use it so easily. If you have small hands, you will need to use two hands to hold the device and access the entire screen.



The shell is very smooth but slippery, you will need to buy a cover not to protect the device but rather to prevent it from slipping off your hands. I almost dropped it several times when I pulled it out of my pocket, it slips like a wet soap. This may sound fun but it is one of the flaws of this device and given the low price of the covers I strongly recommend to buy one. A rubber protection is available in the box with the device but it leaves fingerprints even more visible and gives a weird feeling when touching it.



Manufacturing quality is very good. The black rim is made of metal and the back is covered with a matte plastic and apart from the coldness of the metal part, there is almost no difference between plastic and metal. With this type of plastic, you will see some fingerprints but not as much as with the rubber protection.




I bought a cheap Chinese phone for my mom a few months ago (Leeco Coolpad Cool1) and I had already been impressed by the manufacturing quality of this device. The Xiaomi is a league higher, it can easily compete with high-end devices for Samsung or Apple.



At the first start, I was disappointed by the depth of the black. Backlight is too strong and makes the blacks look less black. This lack of contrast struck me because I have been using a Nokia Lumia 930 for 4 years where the blacks are impeccable even when looking at the screen from the side, the screen of the Xiaomi does not offer the same depth but I am probably the only one to notice this kind of detail because nobody walks around with a Lumia 930 today.






First configuration


At startup, the device takes you through a series of screens to configure the device. I also went through this step with the Leeco Coolpad Cool1 but the Xiaomi is much more curious and if we don't pay attention, all your private life goes to Xiaomi. We also see clearly that Xiaomi wants to replace Google as the main entry point and the reason is very simple to understand, Xiaomi gets some of its profits from advertising. By offering access to the web and controlling advertising, the money that usually goes to Google goes into Xiaomi's pockets. This is one of the reasons why they are able to deliver quality phones at a lower price. Of course, you can always return to a more traditional model by installing Chrome, YouTube or other Google services. Xiaomi apps can't be uninstalled without rooting the device, I left them on the device without using them,



Whatever we do, Google, Xiaomi and everyone else will try to capture our data and monetize it, it's inevitable. We just have to be careful about the authorizations we give, this first configuration gave me a serious warning signal.





Network support and performance


The Redmi Note 5 in its global version is compatible with European/US networks but what is it worth in reality? 4G is very well supported but I find that it performs a little less well than my old Nokia Lumia 930. I make the same journey every day by train, using my phone as a modem. I found that the Redmi Note 5 lost contact with the network more often than my Nokia. This is a very subjective measure but a very real finding. I haven't noticed any impact in terms of daily use though, I don't have a better or worse network at home than with another phone.



My first impressions on network performance were mixed because I found out that the Xiaomi was losing faster its connection with the network than my Nokia and I did not reach the same download speeds. This kind of thing can only really be appreciated with time, hence the importance of spreading a test over a long period. After more than 2 months, I came to a completely different conclusion.



On one hand, the Xiaomi is a little less good than the Nokia in keeping up with the network but the difference is not very big. On the other hand, the Xiaomi completely exploded the download speed of my Nokia which was not so bad. With the Xiaomi I have reached 122 Mbps in download and 60 Mbps in upload using the 4G network of Proximus in Belgium. These values are higher than what can usually be obtained from a fixed Internet connection at home. It's so good that when wifi fails at work, I use my Xiaomi in 4G instead.




Network performance
4 / 5
Battery range


With a 4000mAh battery, Xiaomi offers a good battery capacity but only a test in time allows to realize what this battery is really worth. After the first charge, I used the phone occasionally because I didn't have much time. The battery lasted five days! Impressive.



For my second charge I used the phone as my main phone and there I got very different results. In my daily use, I have at least 2 hours of intense data connection because I use my phone as a modem during my train journeys. To this must be added to daytime emails, sms and possibly a few calls. I don't have a low consumption pattern. By the end of the first day, the battery had dropped to 20%. I was quite disappointed but I then realized that in reality the Wifi access point was still turned on and it continued to work all day. Instead of being used 2 hours, it remained connected to the Internet for more than 10 hours! That's why the battery went down so fast and why I was out of data the next day.



I made a third attempt by making sure to deactivate the Wifi access point when getting off the train and the result was much better. The battery was at 100% at 6:30 on Monday morning, at 11pm it was still at 70%. On Wednesday evening and after a complete update of the system, the battery was still at 44%.



After several charges, I can get a better idea of what the battery is worth and I can last between 2 and 4 days depending on my usage. I imagine that someone who spends the day on his phone will be rather close to 2 days but it remains quite decent.


I tested the device while on holiday with a very varied and intensive use. I took many photos, used the GPS for hours, used the torch for the night, surfed the web,... in short, the battery kept all its promises with at least 2 days of autonomy for intense use.




Battery range




4.5 / 5








Bluetooth


My main Bluetooth device is my car. The pairing was not done the first time, I did it when I was stuck in a traffic jam and I found myself with a list of Bluetooth devices nearby, probably other cars or smartphones nearby. The Redmi finally appeared at the second attempt, the connection worked fine. I have not noticed any problem with Bluetooth, everything worked as expected. However, it is also necessary to switch off the Bluetooth manually, like wifi points, otherwise the battery will drain for nothing. With the car in the garage and being in the house, the connection was still possible, so the signal is pretty good.






Performance


The performance of a smartphone becomes more and more important in the choice of a device. It allows not only to have a reactive device but will allow you to run more greedy applications such as games. The Xiaomi Redmi Note 5 was marketed as a phone delivering good performance and this is clearly the case. The device is very smooth to use. To test the performance, I also used the Antutu application and got the following results:




4





The device gets an overall score of 114968 points, this figure may not mean anything to you but know that it offers equivalent performance to the following models:
- Huawei Mate 8 (126000 points) around 400€
- Sony Experia XZs (124000 points) around 300€
- Samsung Galaxy A8 (116000 points) around 300€
- Samsung Galaxy Note 5 (116000 points) around 400€
At the time of comparison, the Xiaomi Redmi Note 5 was sold at around 150€. For 150€ you get a device with performance equivalent to a device at least twice as expensive. If you take a closer look, it's mainly the processor that brings a lot of power to the device because the 3D processing or the memory offer more average performances.



I'm not a big mobile player, so I can't easily judge but the few games I tried were all smooth.




Performance




4.5 / 5








3Gb or 6Gb?


Do you need to buy the 3Gb or 6Gb version? I think 3Gb will be enough for most users. I usually have a large number of applications open at the same time and I have never had memory problems with the 3Gb version and because it's more expensive, the 6Gb version will only be suitable for certain specific uses.




Depending on whether you choose 3 or 6 Gb, the storage capacity will also be different. There it is more a personal choice, with 32Gb I had enough storage capacity but if you need storage, the 6Gb version with 64Gb storage will suit better. I rely heavily on the cloud to store my files, so phone capacity doesn't really matter. You can store up to 15Gb on your Google cloud and today there are many other online storage solutions that will allow you to lighten your phone while keeping your files in a secure location.






Photo quality


If I trust tests on specialized blogs, the Xiaomi brand has never shone for its cameras. Even if the photo is an important criteria for me, I wanted to see by myself if this Redmi was any good. At first I was very surprised by the brightness of the photos, even in bad conditions. On the screen the picture looked bright and detailed. So I had fun taking pictures day and night, I also took pictures in a controlled environment (mini studio) to make a more technical test. I then synchronized my photos with Google Photos to analyze the photos on a bigger screen.



First observation, the brightness is not there, or at least not at the same level as on the phone. I had already noticed a too strong backlight affecting darker colors but it also affects photos, it gives the impression that the photo is super bright whereas in reality it's not always the case. I took a series of photos in my portable studio using maximum lighting to simulate daylight. Here is a sample




Obviously without a reference, it's difficult to compare. The photo does not give the impression of being in a very bright environment, yet the studio was very well lit. Here is an example to prove the contrary (photo taken with my Canon EOS 7DM2). The lighting conditions are strictly the same, the angle is a little different because the lens is different and I can not approach the subject the same way as with a phone.




For those who still have doubts about the capacity of a DSLR compared to a smartphone, I think that compared to the Xiaomi, the debate is closed. The Xiaomi shows here a big light deficit despite the opening at F/1.9 while my lens on my Canon has an opening at F/2.8. Here is the content of the EXIF:
Aperture: F/1.9

Shutter: 1/308

ISO: 100

Focal length: 3.98mm

Resolution: 4000x3000

If we remain in automatic mode, only the shutter changes, all the daytime pictures I have taken so far used the same values.




I took several thousand pictures in all kinds of conditions and I can finally get a better idea of what the camera has to offer and I must say that I was very positively surprised. The first negative impression I got from the studio was gone.





Daylight + Sun

Photo of a waterfall in Mont-Tremblant National Park in Canada with emphasis on details




Waterfall in the park of the Trou de Fée with accentuation of details and colors




Photo of the old port of Montreal (no adjustment)




The photos in daylight and under the sun are of good quality. The color rendering could be a little warmer but it is of good level, the photos are full of details and the overall brightness is good.





Daylight + Clouds

Outside photo by light rain (Omega Park)




Exterior photo with heavy cloud cover (Quebec)




Exterior photo with heavy cloud cover (Quebec)




Here we find the lack of brightness I already found with studio tests but any device would give the same result without specific settings. What is important to note here is that the photos are not noisy and that the sky is not completely white despite the cloud cover. The brightness can easily be corrected with an application, so this result is very good.






Interior with no flash

Canada History Museum in Ottawa, dark room with very little outside light.




Canada History Museum in Ottawa, inside photo with cloudy skies outside




Palais des congrès in Montreal (late afternoon, low light)




The indoor examples lead me to the same conclusion as for the cloudy outdoor photos, there is a small lumonisity deficit that can be corrected and sharpness is really good. In the darkest photo we see a little chromatic aberration because of the strong contrast between the inside and the outside. All pictures were taken without tripod.






Low light / Night

Lighted building in the middle of the night in Ottawa




Lighted street at sunset in Mont-Tremblant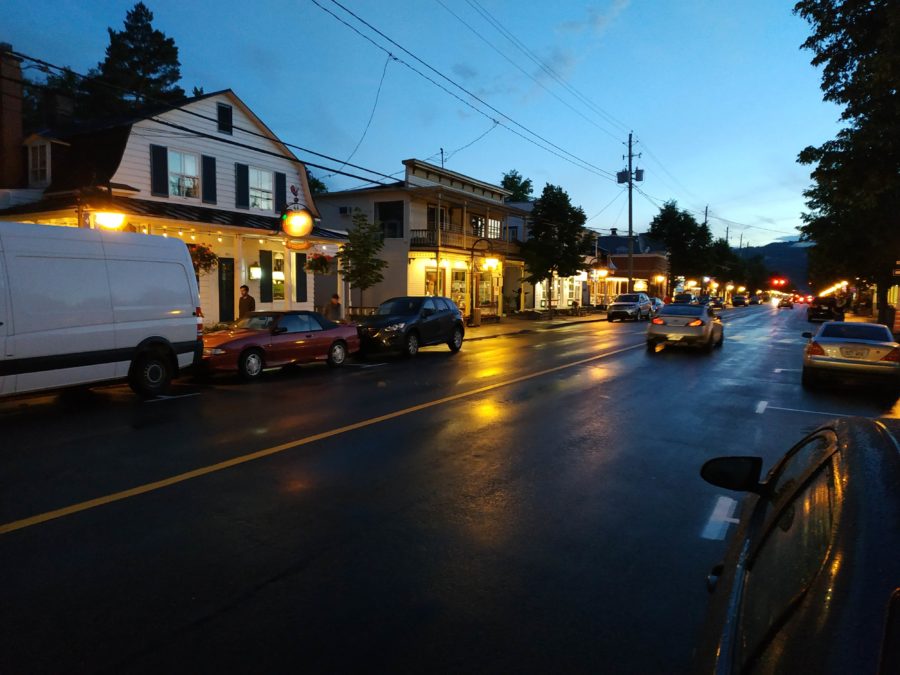 Night view of Montreal




This is a question that comes up often, what is the Xiaomi worth for night shots? In the middle of the night, the pictures are noisy, it's quite visible but the camera does very well because all the pictures are taken without any tripod and the Xiaomi manages to reproduce almost faithfully what we really see. Unlike a DSLR which will reveal details invisible to the naked eye, the Xiaomi reproduces the scene correctly. By half-light, the result is also quite good.




Photo quality




4 / 5










Camera speed


With a fast processor, this Xiaomi should be fast when taking pictures. With the below here below you can check it yourself. I start the camera app, take a few pictures and then look at the picture I have taken, everything goes very smoothly without any lag. The camera is fast even if low light conditions.











Keyboard


The default keyboard installed on the Xiaomi is the Google keyboard. Why is this keyboard interesting? I have to write regularly in other languages and until now I had to specify the language to avoid the proofreader correcting me every time. With Google's keyboard there are a few failures at startup but it improves along the way and allows to write messages in several languages without having to do switch languages manually.



The other good point for the keyboard is the layout of the accented keys, especially the dot and apostrophe. These characters are often hidden behind a second menu, here they are directly visible.







Screen quality


With a screen of this size, Xiaomi had to provide a good screen. My first contact with the screen had disappointed me a little because I thought the backlight was too strong but in use, I realize that this screen is really very good. I don't have a probe or a tool to check the color accuracy, so I can only make a personal judgment. By adjusting the brightness, you get really black blacks and a flawless white. Why is that important? If the black is not black, the image lacks depth and everything is greyish. This is not the case of the Xiaomi, the black is sharp. I had the opportunity to compare the screen to a One Plus 6 and there was absolutely no difference while the One Plus 6 costs more than double the Xiaomi.



The screen offers a resolution of 1080x2160 for a diagonal of almost 6 inches, so pixel density is high and you almost need a magnifying glass to distinguish the pixels. You can also look at the screen from all angles, the colors will remain the same.



In bright light, the screen produces enough brightness to be readable but if you decide to add a protective screen you could well ruin your experience. I bought a rather thick protective film and it has the effect of strongly reflecting the light, In full sun I could barely see what's on my screen.




Screen quality




4.5 / 5








GPS


I had the opportunity to test GPS during my vacation in Canada. I used the Offline Maps application which allowed me to download maps in advance without having to use data while roaming. This application also contained all the necessary points of interest (tourist attractions, vending machines, gas stations, etc.). GPS is fast if you move quickly in an open environment. If you move more slowly (ex: on foot) or if you find yourself in an environment that is not always clear (ex: in the woods or between skyscrapers), the GPS will sometimes experience a few failures and locate you a little next to your real position. I tried the GPS in pedestrian mode in Toronto between the skyscrapers, there it took a little time for the GPS to find the exact position and especially the direction. In the other cases by car, GPS works very well overall.








Android/MIUI


Redmi Note 5 uses Android version 8 but with an overlay provided by Xiaomi called MIUI. I haven't used Android for a very long time, so I don't have much experience comparing but at first glance I don't see much difference between MIUI and Android.



What are the differences?



1. First, there are aesthetic differences that do not affect basic functionality. The design of the icons is different and I find that the Chinese interface is more airy and easier to read.
2. MIUI embeds Xiaomi applications that cannot be uninstalled without rooting the device. I see a lot of people complaining about it but personally I don't use them and they don't bother me.
3. MIUI offers more possibilities to customize the theme.
4. It is possible to put 2 applications in parallel on MIUI
5. MIUI allows applications to be locked, so no one else can use them on your phone
6. MIUI allows you to record your calls without using an additional application



Quite frankly I don't see any fundamental difference with a native Android system or at least nothing that would not push me to buy one rather than the other. I like MIUI's design.



From Android, there's one thing that pissed me off. I come from a Windows Phone where applications have virtually no rights, on Android you have to accept all kinds of permissions to be able to use an application. After a few days my phone rang day and night because of the notifications, I was so fed up that I ended up blocking all the notifications. Everyone wants to get your attention, I can understand, I would probably do the same thing if I were an application developer, but by receiving too many notifications, I stopped all notifications.



Xiaomi Redmi Note 5, Note 5 plus or Note 5 pro ?


Xiaomi is not a very well-known brand in Europe and the names they give to their device will not help them. What are the differences between these different devices? Note 5 Pro is a phone for the Indian market, it has the same features as Note 5 but has a better camera. Tempting? Yes except that the device does not support European 4G frequencies, so we can forget it.

What is the difference between Note 5 and Note 5 plus then? Well here again the name won't help you. The plus version is a degraded version of the Note 5 version. Note 5 plus is less powerful and has a less good camera, its price is lower. I do not see very well why it bears the name plus while it offers less than the original version.

Also avoid the versions 5X or 5A which are versions of entry of range, they are less powerful models.







3G / 4G support


The most recent Xiaomi models are usually available in 2 versions, a normal version (often in Chinese and English) and a global version with more languages but more importantly a more extensive support of 3G / 4G frequencies. Be sure to check this before buying as you may end up with a nice phone that doesn't work with your network provider.


Which frequencies do you need?


For 3G : B1 (2100), B2 (1900), B5 (850), B8 (900)
For 4G : B1 (2100), B20 (800), B3 (1800), B38 (TDD 2600), B4 (1700/2100 AWS 1), B40 (TDD 2300), B5 (850), B7 (2600), B8 (900)

Of course you should always check the specific frequencies of your network provider because some European carriers use different frequencies but these cases are rarer. Attention, the frequencies indicated below were valid at the time of writing this article, they will not be updated, I cannot guarantee that they are correct.

I added a few other European countries so that you can check the countries where you go on holiday, if the local carrier does not support the same frequencies, you may no longer have coverage.


Belgium
(support OK!)

4G Proximus: 2100Mhz, 1800Mhz, 2600Mhz, 800Mhz
3G Proximus: 2100Mhz, 900Mhz

4G Orange: 2600Mhz, 1800Mhz, 800Mhz
3G Orange: 2100Mhz, 900Mhz

4G Base: 2600Mhz, 1800Mhz, 800Mhz
3G Base: 2100Mhz


France
(support OK except Bouygues and Free)

4G Orange: 2600Mhz, 1800Mhz, 800Mhz
3G Orange: 2100Mhz, 900Mhz

4G SFR: 2600Mhz, 2100Mhz, 1800Mhz, 800Mhz
3G SFR: 2100Mhz, 900Mhz

4G Bouygues: 2600Mhz, 2100Mhz, 1800Mhz, 800Mhz, 700Mhz
3G Bouygues: 2100Mhz, 900Mhz
If you are using Bouygues, the 700Mhz coverage is not compatible with this device but the 700Mhz coverage is not the most widespread.

4G Free: 2600Mhz, 1800Mhz
3G Free: 2100Mhz, 900Mhz
Same remarks as for Bouygues.


Spain
(support OK!)
Movistar 4G: 2600, 1800, 800
Movistar 3G: 2100, 900

Orange 4G: 2600, 1800, 800
Orange 3G: 2100, 900

Vodafone 4G: 2600, 1800, 800
Vodafone 3G: 2100, 900

Yoigo

Yoigo 4G: 1800
Yoigo 3G: 2100


Germany
(support OK!)

E-Plus 4G: 2600, 800
E-Plus 3G: 2100

O2

O2 4G: 2600, 1800, 800
O2 3G: 2100

T-Mobile

T-Mobile 4G: 2600, 1800, 800
T-Mobile 3G: 2100

Vodafone

Vodafone 4G: 2600, 1800, 800
Vodafone 3G: 2100


Italy
(support not always ok)

The 1500 MHz frequency used in Italy by most carriers is not supported by the Xiaomi Note 5 Global
Tre 4G: 2600, 1800, 1500, 800
Tre 3G: 2100, 900

Telecom Italia 4G: 2600, 1800, 1500, 800
Telecom Italia 3G: 2100, 900

Vodafone 4G: 2600, 1800, 1500, 800
Vodafone 3G: 2100, 900

Wind 4G: 2600, 800
Wind 3G: 2100, 900


Switzerland
(support OK!)

Salt Mobile 4G: 2600, 1800, 800
Salt Mobile 3G: 2100, 900

Sunrise 4G: 2600, 1800, 800
Sunrise 3G: 2100, 900

Swisscom 4G: 2600, 1800, 800
Swisscom 3G: 2100, 900


The Netherlands
(support OK!)

KPN 4G: 2600, 1800, 800
KPN 3G: 2100

Tele2 4G: 2600, 800

T-Mobile 4G: 2600, 2100, 1800, 900
T-Mobile 3G: 2100, 900

Vodafone 4G: 2600, 1800, 800
Vodafone 3G: 2100, 900


United Kingdom
(support presque OK!)

Outside Virgin Mobile, Redmi Note 5 will be compatible with all carriers.

Three 4G: 1800, 800
Three 3G: 2100

EE 4G: 2600, 1800, 800
EE 3G: 2100

O2 4G: 1800, 800
O2 3G: 2100, 900

Virgin Mobile 4G: 2600, 1800 B9, 800
Virgin Mobile 3G: 2100

Vodafone 4G: 2600, 2100, 1!00, 800
Vodafone 3G: 2100, 900







Conclusion


Even if I consider that my test is not finished, I can already say that I am very satisfied with the phone and I see that it is the same with all those who bought it. Those who were looking for a new phone in my entourage also seem to decide to buy it.






Strong points

[+] Battery range
[+] Screen quality
[+] Photo quality
[+] 3G/4G support (and performance)
[+] Performance






Points faibles

[-] Screen is too big for small hands
[-] Slippery shell
[-] Misleading brightness
[-] Notification spam
[-] Wifi not automatically switched off






The Xiaomi is in Europe around 200€ and at this price it is an excellent value for money device. It is possible to find it in China for less than 150€ (with sometimes a protection against customs fees), at this price there is no more hesitation to have! This model is among the most sold in the Xiaomi range, it's no coincidence!




Verdict final




4.5 / 5