Receive notifications for new articles
Jimmy HW10: test / review
Category: house

[b]I don't have a particular affinity for household cleaning products, but I must admit that I'm very happy to be able to test these products because they bring me real benefits on a daily basis. I have tested many robot vacuum cleaners, cordless stick vacuum cleaners and with the arrival of the Dreame H11 I tested for the first time a stick vacuum cleaner with mopping function. I thought at first that it was primarily a delirium of an engineer but the trend is confirmed with other brands, so I'm going to test my second broom vacuum cleaner with this Jimmy HW10.[b][b]Jimmy is a Chinese brand of KingClean Electric Co which has been around since...1994! This company specializes in cleaning products such as vacuum cleaners and cleaners. It is therefore not a brand that has just started its commercial life and this can be seen at first glance when you find yourself in front of one of their products. The test will allow me to get a clearer idea of ​​the quality of this type of product, but the first impression is rather positive.[b][b]
Jimmy HW10 award
[b]I got the Jimmy HW10 from Geekbuying which is also a Chinese brand that has been around for many years. The Jimmy HW10 is a high-end product that sells for around €500, but Geekbuying offers a promo code that will allow you to reduce the price of the vacuum cleaner.[b][b]
Special offer / discount
[b]Geekbuying offers a discount on the purchase of the Jimmy HW10 (regular price €669, promo price: €469)[b]Promo code to use: NNNJIMMYHW10[b][b]Link to take advantage of it: Jimmy HW10 on Geekbuying[b]If the page is not in your language, you can change the language at the top right of the screen.[b]New to Geekbuying? Know that this store has been around for a very long time and that it offers an experience quite comparable to other major brands on the web.[b][b]
Unboxing
[b]
[b]The box of the Jimmy HW10 is quite large and quite heavy, the vacuum itself is already large enough but the box is richly supplied with accessories. This Jimmy HW10 combines several functions such as vacuuming and cleaning for floors but with the accessories it can be transformed into a vacuum cleaner for armchairs (or other textile-based elements).[b][b]The box contains the following accessories:[b]
[b][b]In detail, here are all the elements:[b]
[b]The docking station is quite large, but that's normal for a vacuum of this size. It allows you to recharge the battery of the vacuum cleaner but also allows you to clean the brush after a cleaning session. The vacuum cleaner will spin its vacuum brush on the plastic holder to clean the brush. The process is quite noisy. Below the base, two suction cups ensure the stability of the base on the ground, I didn't have that on the base of the Dreame H11.[b][b]
[b]Here is the secondary brush which allows for example to vacuum the dust of your armchairs. This brush can be used with a reduced form of the vacuum cleaner because it is much too big and heavy to be used to clean an armchair. This is one of the peculiarities of this Jimmy and I think it's a good idea because it avoids having yet another vacuum cleaner for the armchairs.[b][b]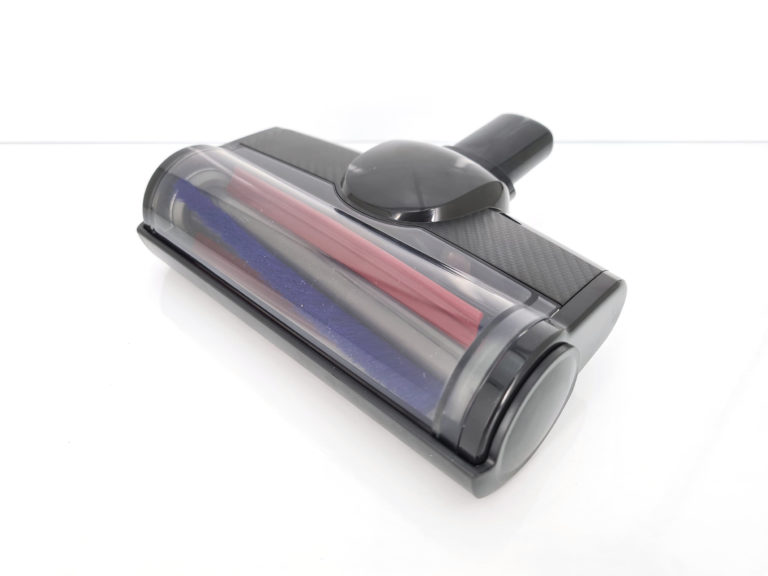 [b][b]
[b]The main brush was too big to fit in my studio, so are other components of this vacuum, so there will be two styles of photos in this test.[b][b]The main brush picks up dirt like all vacuum cleaners of this type but will also create the necessary friction at floor level to loosen stubborn dirt. This brush can be removed for easy maintenance. If you look at the gap between the rotating brush and its cover, you can get an idea of ​​the size of the dirt it can pick up. Grains of rice will not pose a problem, but large cereals such as chocolate pops will not pass without lifting the brush.[b][b]It is at the level of the brush that it is necessary to insert the water, there is a rubber cover which makes it possible to pour water. On the one hand I think it's a good idea because the water doesn't have to go very far before it's used but on the other hand having a separate tank like the Dreame H11 would have made refilling easier.[b][b]There is a small rubber rim that keeps contact with the ground and prevents dirt from escaping the brush, I didn't have that on the Dreame.[b][b]
[b][b]
[b]The Jimmy HW10's battery is completely removable but I think that's mostly a transport and maintenance issue as it can't be recharged without being associated with the vacuum cleaner. Jimmy sells other batteries on his site, this allows you to replace this one or to keep a reserve one for longer cleanings.[b][b]
[b][b]The battery fits very well in the vacuum cleaner with a simple button system, the aesthetics are also quite successful, it follows the lines of the vacuum cleaner perfectly.[b][b]
[b][b]The dirt collection tank consists of 3 elements. There is the transparent plastic casing which allows to see the state of filling, there is the lower part with a dust filter (HEPA, replaceable) and the turbine system which can be removed from the plastic tube to facilitate its cleaning. The tank is not very big, I will see with this test if it is enough to do a complete cleaning and I also wonder how the water will be managed.[b][b]
[b]Jimmy paid particular attention to the aesthetics of his vacuum cleaner because each element seems to have been designed to please and not to make this Jimmy look like other vacuum cleaners of this type. Aesthetics is something quite subjective but the effort to please is clearly visible.[b][b]
[b]The handle of the vacuum cleaner is easily mounted with a simple click with the body of the vacuum cleaner, it has sufficient length so that it does not have to bend down even for large sizes. It is equipped with several buttons to start/stop the vacuum cleaner as well as water management. I will return to this point later.[b][b]Among the other accessories, there is a spare brush, a cleaning brush, various supports and the power cable.[b][b]
Assembly
[b][b][b]The assembly is very simple despite the apparent complexity of the vacuum cleaner. Each part fits together in a unique way, it is not possible to go wrong by associating the wrong parts because the connectors are unique. The set can be assembled in 3 or 4 manipulations, I never had to look at the manual to show the vacuum cleaner, the assembly was sufficiently intuitive.[b][b][b][b]
Suction test
[b]This type of vacuum first bets its strength on the ability to clean and vacuuming becomes almost a secondary discussion except that in the case of the Jimmy HW10 there is a second suction block to take care of textiles or carpet. This second block is much more effective for suction than the cleaning brush.[b][b][b][b]The cleaning brush has sufficient suction force to pick up objects the size of uncooked pasta (eg Macaroni) but beyond that, the objects will be too large to be grabbed by the suction duct. With the test of the pasta in the video, we see that the vacuum cleaner captures them without problem but the trajectory of the vacuum cleaner is slightly disturbed, it gave me the impression of rolling on pebbles. In the end, the vacuum cleaner managed to capture 100% of the pasta that I had thrown on the floor and this without ejecting them further as is often the case with robot vacuum cleaners.[b][b]The Jimmi HW10 has two tanks to collect dirt. When the cleaning brush rotates, the bottom reservoir will fill. When using the top vacuum module, the top tank is used. Jimmy did not communicate the capacity of these tanks but they are not very big. If you have to do a big cleaning it is very likely that you will have to empty the tank before finishing the cleaning.[b][b]The maintenance of these tanks is very easy, everything is removable and replaceable.[b][b]
Cleaning test
[b]The water for cleaning is inserted at the level of the cleaning brush at the bottom of the vacuum cleaner. The tank can be completely detached for easy filling. Jimmy did not communicate the capacity of the tank but it must be a little less than a liter. With this amount of water you should be able to cover an area of ​​around 50m² but this obviously depends on the amount of water used. If, on the other hand, you use the jet to wet the floor before passing the brush, the surface will therefore be less important.[b][b]You can add a cleaning product to the cleaning brush, there is also a container of cleaning product in the box with the vacuum cleaner. The use of product will depend on your expectations because cleaning works very well with clear water.[b][b]This cannot be seen directly on the videos, but if you stay too long in the same place before stopping, the vacuum cleaner will leave traces of its passage. After my first try I could be tracked around the house to indicate where I had left off. The vacuum cleaner collects water well but you have to be careful not to leave it too long in the same place and you should ideally always move in the same direction because the back and forth will reduce its ability to suck up water. . The rubber tab near the brush is designed to pick up dirt in one direction only. As vacuuming will leave some moisture behind, you also need to make sure you have clean shoes or you'll leave footprints everywhere with you.[b][b]Is this vacuum cleaner effective for cleaning? It really depends on what you want to clean. If you want to clean up footprints with mud, no problem. If you want to pick up a stain left by food, that should also work as long as the stain isn't set in because this vacuum doesn't have as much strength as a human arm and needs to be used regularly to prevent messes do not become too permanently impregnated on the ground. I would say that it is capable of cleaning most everyday messes on its own and you will probably have to intervene by hand in certain very specific situations.[b][b]The cleaning module is motorized, this means that the effort required to move it forward is minimal, you will have the impression of being behind a lawnmower (less powerful). The height of the handle should also allow you to clean without bending down. I'm quite tall and I've never had to bend down except to pass the brush under a piece of furniture.[b][b]There are 4 cleaning modes: automatic, floor, turbo, carpet. The automatic mode will adapt to the type of surface, for example I tested it on a carpet and it stopped using water on this surface. The water deposit on the carpet was therefore minimal, which will allow you to use this vacuum cleaner for your carpets and tiles. However, do not forget to switch back to auto or carpet mode if you force the floor mode, otherwise you risk unnecessarily moistening your carpets. I don't think this type of vacuum cleaner is suitable if you have animals at home, I'm not saying it won't work but I think other solutions are more suitable.[b][b]
Noise level
[b]The Jimmy HW10 is rather noisy, I measured a sound level between 75 and 85 dB depending on the mode used, the "turbo" mode is clearly the noisiest.[b][b]
Battery life
[b]To test the battery life I ran the vacuum several times to exhaustion and stuck it against a wall and left it running to see how long it would last. In the end I get a battery life of about twenty minutes at most (for the cleaner) and the vacuum gives a low battery warning quite quickly. The autonomy is therefore not extraordinary and the idea of ​​having a second battery that I had issued at the start of the test is not so far-fetched.[b][b]The charging time is quite long because it takes several hours to fully charge the battery. I had monitored the load at the start of each recharge but never had enough consecutive time to do an end-to-end measurement. I estimate the charging time between 2 and 5 hours.[b][b]
Maintenance/Cleaning
[b]Cleaning the vacuum cleaner is very easy if you do it regularly. The two tanks are easily detached and have a valve to empty them in one click, but if you let dirt accumulate, you will probably have to disassemble the tank (see video) to clean it properly. For the dust bin, don't let too much dirt build up as it will eventually affect the suction performance. For the water tank, it must be emptied after each use because stale water can quickly emit an unpleasant odor.[b][b]
Conclusion/opinion
[b]The Jimmy HW10 is a new type of vacuum cleaner, it's the second vacuum cleaner of this type that I've tested, so I don't have much experience and there aren't many alternatives. This vacuum cleaner fulfills its mission well with both its cleaning module and its suction module. The Jimmy HW10 managed to remove all the stains that I submitted to it such as traces of dried mud, dried yogurt, fruit juice, ... and when the stain is tougher, just let it run at the same spot for a few seconds (and/or use the water jet to dampen the stain). The vacuum cleaner is also effective for armchairs or your car, its compact size allows you to take it everywhere and for this type of use, the autonomy is much longer.[b][b]Even if it fulfills its main mission, there are still some points of attention. The Jimmy HW10 is quite noisy in cleaning mode, whether in automatic mode or turbo mode, here we easily exceed 80db. You shouldn't expect extraordinary battery life either, but that was also the case with the Dreame H11 that I tested earlier this year, this kind of vacuum cleaner is very greedy. You also have to learn to master the machine because although it facilitates movement with its motor, the vacuum cleaner is quite heavy and you have to keep a certain fluidity in the movements to avoid leaving traces after drying.[b][b]Compared to a robot cleaner that does all the cleaning without your intervention, the Jimmy HW10 offers far superior cleaning power and since you can steer it, you can be sure it will go anywhere. It requires more effort than a robot cleaner because you have to handle it, but the movements are greatly facilitated by a motor pushing it forward. Since robot cleaners are available more or less in the same price range as this vacuum cleaner, the choice between these two solutions will really depend on your expectations. A robot cleaner won't go everywhere and won't be able to remove tougher stains, but you don't have to put in the effort. With the Jimmy HW10 you have a more efficient cleaning but it will require more effort.[b][b]Strong points:[b]- suction power[b]- strength of cleaning[b]- automatic mat detection[b]- manoeuvrability, self-propelled[b]- ease of use[b][b]Weak points:[b]- autonomy[b]- operating noise[b]- quite heavy to move[b]- fairly narrow spaces in the tank allow grime to settle, you have to use a brush to remove them





Laurent Willen
Instead of watching nonsense on TV or YouTube, I spend my time in the evenings testing products and sharing my passion for technology, travel and photography.

I run this site in my own name and completely independently, no one pays me to do so.

I have more than 20 years of experience in the digital world, I have managed and developed many high traffic websites in companies in Belgium such as Mobistar, Microsoft, Immoweb, BrusselsAirlines, Proximus, Orange,...