Umidigi S3 Pro test, review and price
Category: Tests / Reviews

[b]While looking for my next smartphone to test, I came across the Umidigi F1. This phone offered a good package for a good price but while I was testing it, Umidigi had launched the Umidigi S3 Pro through crowdfunding on Indiegogo. The Umidigi S3 Pro is much more ambitious than the F1, it will tackle directly the top of the range with a ceramic casing, a Sony 48Mio pixel camera, a battery of over 5000 mAh and many other things for a launch price of... 236€ ! I thought that Xiaomi was doing very well in the market of well-equipped phones for a lower price than the competition but on paper this Umidigi S3 Pro is a real flattening roller, will the little Umidigi succeed in shading the giant Xiaomi? Let's take a closer look![b][b]Official website: Umidigi.com[b][b]
How are my tests different from others on the web?

- I usually buy the devices with my own money, so price is just as important as you are!
- I keep the devices for at least a few weeks (sometimes more) to see what they are worth in real conditions.
- I answer (when possible) your questions to help you decide before you buy
- no one pays me to do these reviews, so I'm completely neutral and independent...
- My pages are not filled with ads



Oukitel WP18: test and review
Poco F4 GT: test / full review
Xiaomi Redmi Note 8 Pro test / review and price
Xiaomi Redmi Note 8 test, review and price
Huawei Y6 2019 test, review and price
Xiaomi Mi A3 test, review and price
Umidigi S3 Pro test, review and price
Meizu Note 9 test, review and price
Umidigi F1 test, review and price
Xiaomi Redmi Note 7 test, review and price
[b][b]
Price Umidigi S3
[b]At the time I ordered my Umidigi S3 Pro, it was not yet available in Europe but given the waiting time and the time taken by customse, I might have been better off waiting and buying it in Europe. The price is higher but if you are tempted by the adventure in China, be aware that you may pay between 50 and 100€ in customs fees, you may not have a local guarantee and the waiting time can sometimes be long. It's all a matter of luck because if the customs let your package through, you'll have made a good deal[b][b]

UMIDIGI A13S 3GB+32GB/4GB+64GB 6.7'' 16MP Smartphone 5150mAh Dual SIM Android 11...

2022-05-26 14:02

150 EUR

Umidigi S3 Pro Smart Phone 6/128GB 6.3inch 48MP Ceramic Black Dual Sim SimFree...

2022-05-26 14:26

190 EUR

NEW UMIDIGI S3 PRO 6.3in 128GB 6GB Android 9.0 Pie 4g Smartphone Ceramic Phone...

2022-05-26 14:02

281 EUR

[b][b]
Time line
[b]01/03/19: purchase of the Umidigi S3 Pro on Indiegogo[b]26/03/19: the device is waiting for validation from Google, the production of the first units should start this week[b]08/04/19: Umidigi has started the production of the devices with a target of 3000 devices for this week. Since I am one of the first 1000 buyers, my S3 Pro should be part of this first production batch.[b]09/05/19: I finally received my phone, I had to wait almost two weeks for the customs to release it, I will finally be able to start the test.[b][b]
Why this phone?
[b]Why did I choose this phone? I usually choose mid-range phones at around 200€ (launch price). I had bought an Umidigi F1 to get a better idea of what Umidigi had to offer. I was a little disappointed with F1 even though the device was ok, the camera was really bad and the finish could have been better. The S3 Pro comes with a better proposition by offering a premium ceramic finish, a 48 Mio Sony camera (also available in the Xiaomi Mi 9!), 6Gb of ram, 128Gb of storage and a lot of other things. On paper we have a flagship killer![b][b]
Test content
[b]Like for my other tests, this test will be spread over several weeks but will follow the structure described below. If you have any questions about the device, feel free to ask them in the comments section so that I can adapt the test if possible. I try to provide some of the most comprehensive tests on the web and it can only work if you ask me questions.[b][b][mobilesurvey][b][b]
First contact
[b]
[b][b]When I finally received my package, the first thing that surprised me was the size of the package. I am used to the compact format that most brands offer today, Umidigi has decided to stand out from the crowd by packaging its S3 Pro in a large package and highlight the premium look of its phone. The box was a little damaged but the contents were intact. The phone and some accessories are packed in a felted container, it differs from the other Chinese phones I have bought so far.[b][b]
12

[b][b]The phone is protected by a cover looking like a crocodile skin texture, it is the same as for the Umidigi F1. The box also contains a USB cable, a wall socket and an envelope containing the usual documentation and the needle to open the SIM compartement. The cover really does no credit to the phone, you'll probably want to remove it after seeing the pictures of the unpacking on this page. [b][b]The Umidigi S3 is absolutely SUPERB! I thought the Xiaomi Mi 8 Lite was a very nice phone in this price range, the Umidigi S3 Pro is even more beautiful, it is the most beautiful phone I have tested so far.[b][b]
First configuration
[b]The Umidigi is equipped with a native Android version, so there are no additional gimmicks. The first configuration therefore follows the usual Android 9 process like the other Umidigi model I tested earlier this year. The advantage of a native Android version is that no one will ask you to create an account and the phone will not contain pre-installed applications that cannot then be deleted.[b][b]
Finishes
[b]
[b]First impressions are often very important in the perception of product quality and I think Umidigi has understood this well. As I wrote above, the Umidigi S3 Pro is absolutely superb and it's not just an impression that vanishes in minutes. You're not going to want to wrap this phone in a cover that will hide its back face. The choice of ceramic really gives a more premium look to the device. The phone does not offer a reflective effect like some Xiaomi but it is all to its advantage, it gives it a more serious side but everyone will appreciate this choice according to their tastes.[b][b]
4

[b][b]The phone has a massive look like the Redmi Note 7 but is slightly smaller than the latter. On the other hand, in terms of weight, it is out of the ordinary, it weighs 217 grams, it is undoubtedly the price to pay to have such a battery range. The weight doesn't really bother me, but when you often switch from one phone to another, the difference is noticeable. With such a point, you can feel it in your pocket which is also an advantage because with lighter phones I always feel like I left my phone somewhere.[b][b]The photo sensor at the rear stands out a little bit but much less than on the Redmi Note 7.[b][b]
Support 3G/4G
[b]The S3 Pro supports the following frequency bands:[b]3G: B1, B2, B5, B8, B10[b]4G: B1, B2, B3, B4, B5, B7, B8, B12, B13, B17, B18, B19, B20, B25, B26, B28, B38, B39, B40, B41[b]The S3 Pro therefore offers excellent coverage of European frequencies in 3G/4G, even the B28 / 700Mhz frequency from Free in France is supported.[b][b]

Choose your country to check if your phone is compatible:


The frequencies displayed below will allow you to see if this phone is compatible with your operator or if you will be able to use it in the country where you are going on vacation.




[b][b]
Performance 4G
[b][b]Signal performance[b][b]To test network performance, I measure the signal strength on a great number of mobile cells. I then compare these values with other measurements from other phones. I do not yet have enough measurements to tell if a phone is good or not, but these first numbers can already give an indication.[b][b]Network signal sensitivity rating
| | | |
| --- | --- | --- |
| Phone tested: | Average signal (dBm) | Number of measurements: |
| Xiaomi Mi 9t Pro | -88 | 1600 |
| Xiaomi Redmi Note 5 | -91.305 | 600 |
| Xiaomi Mi 9 Lite | -93 | 788 |
| Samsung Galaxy A70 | -94.511 | 1975 |
| Nokia 5.3 | -94.98 | 531 |
| Realme 6 | -95.14 | 2301 |
| Xiaomi Redmi Note 8 Pro | -95.922 | 1599 |
| Xiaomi Mi A3 | -95.95 | 1000 |
| Huawei Y6 2019 | -95.95 | 1199 |
| Doogee S58 Pro | -96.22 | 856 |
| Redmi 9a | -96.48 | 1000 |
| Meizu Note 9 | -96.68 | 937 |
| Motorola G8 Power | -96.88 | 1032 |
| Xiaomi Redmi Note 7 | -97.01 | 1430 |
| Redmi 9c | -97.04 | 1000 |
| Umidigi S3 Pro | -97.13 | 1200 |
| Xiaomi Redmi Note 8 | -97.34 | 879 |
| Samsung Galaxy A21s | -97.78 | 1000 |
| Umidigi F1 | -97.82 | 298 |
| Ulefone Armor 7e | -98.7 | 1000 |
| Xiaomi Mi Note 10 Lite | -99 | 1000 |
| Honor 9x | -99.14 | 899 |
| Xiaomi Redmi Note 9s | -99.4 | 1860 |
| Poco F2 Pro | -99.8 | 1247 |
| Xiaomi Redmi Note 9 | -100.79 | 1785 |
| Xiaomi Mi 10 Lite 5g | -100.88 | 1198 |
| Poco X3 | -101.19 | 821 |
| Umidigi F2 | -101.47 | 712 |
[b][b]A signal of -99dBm indicates a weaker signal than a signal of -90dBm. We can see here that on average the S3 Pro is less good than the other devices measured.[b]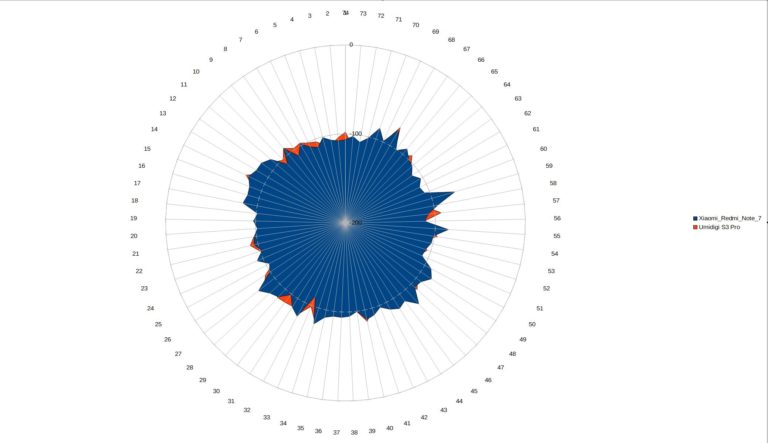 [b]The phone that gets the best signal is above the graph and we see that the S3 Pro is most of the time below the Redmi Note 7 which was already not one of the best phones in terms of signal.[b][b][b]4G Download performance[b][b]The S3 Pro probably shares its network components with the Umidigi F1 because it obtains very similar scores. In download I got a speed around 90Mbps and in upload I am between 35 and 40 Mbps. This score is more than enough for most activities on a smartphone, but it is much lower than what I have obtained with other phones.[b][b]
[b][b]
WIFI download performance
[b]Like the F1, Umidigi S3 Pro does not support the 5Ghz frequency in wifi and this greatly affects performance compared to a phone that supports this frequency. I have obtained a download speed between 50 and 60 Mbps in download and 22 in upload (limited by my access provider). [b][b]
WIFI signal performance
[b]Near the router, I receive a signal of -48dBm and remotely I receive a signal of -69 dBm. These values are not bad, I have seen phones get better results but the Umidigi S3 Pro is not doing too badly.[b][b]
[b][b]
Battery range
[b]The main strength of this phone is the battery. Where most phones offer a maximum capacity of 4000 mAh, the S3 Pro offers a capacity of 5150 mAh as for the Umidigi F1. I have a survey running on my site asking you what are your most important criteria for buying a new smartphone, the battery is one of the most important factors for a majority of participants. If you are in the same situation, the S3 Pro will fully satisfy you, it offers a comfortable autonomy that can last from two to five days depending on your use. [b][b]With my consumption, I can last between 2 and 3 days. On the following pictures you can see that after 3 days (and one night of interruption) the battery was still at 11%. The S3 Pro comes with a quick charger that allows you to recharge the phone in 2h - 2h30 but if you don't want to wait that long, after one hour of charging you should already be around 50%.[b][b]
[b][b]
Audio quality
[b]To test sound quality, I do a first subjective test by ear (with and without headphones) and then I measure sound with a testing device. The methodology is very simple, I use a test sound gradually running through all available frequencies and then connect the phone output to my audio capture device. I then measure the differences with a similar test performed from my sound card and other phones.[b][b]At the first subjective listening, I found that the sound was generally correct but the treble was not strong enough. In terms of power, the device is able to deliver powerful sound without too much distortion, but it is not the most powerful phone I have ever tested.[b][b]1st test - frequency response:[b]This test is intended to test the device's ability to reproduce all frequencies correctly. The white line in the middle of the graph is the ideal situation and the other colors come from tests on different phones. A deviation from the reference line indicates a deviation from the ideal situation. To see good sound at all frequencies, it is therefore necessary to get as close as possible to the reference line[b]
[b][b]On the graph it is very clear that the Umidigi S3 Pro often deviates from the curve, it is much more unstable than the other devices tested. We can see that the Xiaomi reproduce frequencies quite well. At the end of the high frequencies, we see that the Umidigi deviates from the reference much faster than other phones. This confirms what I had perceived in subjective listening. [b][b]Standard: +0.00 -0.00[b]Umidigi S3 Pro: +0.44 -0.78[b]Redmi Note 7: +0.02 -0.06[b]Xiaomi Redmi Note 5: +0.02 -0.05[b]The figures confirm the graph, Umidigi is significantly worse at frequency reproduction. Even if the quality is not bad, this device is not made for music lovers.[b][b]2nd test = dynamic range[b]This test is designed to test a phone's ability to play sounds at different volume levels. Here too, the white curve is used as a reference and therefore the phones must be as close as possible to it.[b]
[b][b]On part of the graph, Umidigi looks better than other phones but then mixes with the others. In the figures, there are very few differences.[b][b]Standard: 97.8 dBA[b]Umidigi S3 Pro: 91.4 dBA[b]Redmi Note 7: 90.6 dBA[b]Xiaomi Redmi Note 5: 92.8 dBA[b][b]3rd test - noise level[b]This test aims to identify whether the device under test is capable of reproducing sounds without too much noise. A high score indicates a low parasite rate, a lower score indicates a higher presence of parasites[b]
[b]All the phones tested are in the same range, but we can see that Umidigi is the one that most often gets the lowest score.[b][b]
CPU/GPU Performance
[b]The Umidigi S3 Pro is equipped with a Helio P70 MediaTek processor and an ARM Mali G72 graphics chipset shared with the Umidig F1. In this price range, Umidigi competes with the Redmi Note 7 or Xiaomi Mi 8 Lite with their Qualcomm Snapdragon 660. With Antutu I get a score of 144832 points, this score is quite comparable to the Redmi Note 7 (143242 points) but the difference is mainly in the price where we find a Redmi Note 7 between 50 and 100€ below the S3 Pro. The S3 Pro delivers good performance but the price/performance ratio is in favour of the Redmi Note 7.[b][b]On the graphic chipset side, we find the excellent Mali G72 which had already obtained a good score on the Umidigi F1. On the S3 Pro, it expresses itself even better and reaches a score of 35023 points, it outperforms all the other devices in this price range that I have tested so far. [b][b]
[b][b]The benchmark with 3Dmark results in a score of 1272 points for OpenGL and 1256 for Vulkan. These scores are good but not the best among the devices I have tested. The Redmi Note 7 and the Mi 8 Lite do better.[b][b]The Umidigi S3 Pro offers very good performance that will meet the needs of a majority of users, it has the best GPU in this range but for CPU performances are comparable with other (cheaper) devices.[b][b]
Gaming performance
[b]As with my other tests, I did a gaming test with PUBG mobile. At the beginning, the game proposes to play with average graphics, it was the same on the Redmi Note 7 and most of the other devices I tested. The Umidigi S3 Pro should perform better than the Redmi Note 7 because it has a more powerful graphic chipset, that's at least what the benchmark with Antutu reveals. [b][b][b][b]The game is quite playable with the S3 pro, it's true but if you look at the video I made with the Redmi Note 7, you will notice that the S3 Pro sometimes loses some images and has a more jerky rendering than the Redmi Note 7. This is obviously not a big issue but visible enough to prefer the experience with the Redmi.[b][b]
Photo quality
[b]The Umidigi S3 Pro is equipped with a Sony 48 Mio pixel sensor, it is the Sony IMX586 Exmor RS model that can also be found in other devices such as the Xiaomi Mi 9, Meizu 16s or the Nubia Red Magic 3. At the time of writing, the Umidigi is the cheapest phone among those which use this sensor. The Sony IMX586 is a competitor of the Samsung S5KGM1 sensor that powers the Redmi Note 7 (tested on this site) and the Meizu Note 9 (tested on this site). I will therefore be able to compare the two sensors directly under identical conditions. In theory the Sony sensor offers a better image quality than the Samsung one, we will see if this is the case with my test.[b][b][b]Photo application[b][b]The standard photo application in Android 9 offers the bare essentials with automatic photo mode, manual photo mode, video mode, time lapse mode, stereo mode and slow motion mode. For most modes it is possible to activate the AI option, this is the big trend right now but so far I haven't seen a really smart AI yet. The application does not have night or HDR mode. It is possible to activate the 48 Mio pixel mode in automatic mode but no trace of a RAW mode while the Umidigi F1 offered this possibility.[b][b][b]Indoor photo (studio)[b][b]To do my studio test, I took back some of my son's toys with always the blue police car that is included in all my tests. The focus of the photo is fixed on the police car. I fixed the position of the S3 Pro so that I could test the different modes without moving the device. I then placed the Redmi Note 7 in the same place to compare both devices under strictly identical conditions.[b][b]Here is the first picture in fully automatic mode and without assistance (AI disabled)[b]
[b]The first thing that strikes me is the colours, they are not correct. The blue of the police car is completely faded and the other colours are generally quite pale. The sharpness is quite good because if you zoom in on the car, you can see the details of the dust that has been deposited on it. The depth of field is quite small but at f/1.7 it is completely normal, the device tries to capture as much light as possible. The camera has chosen ISO 295 and the picture is not noisy at all.[b][b]Let's compare this first picture with the one taken with the Redmi Note 7[b]
[b]The colours are brighter and closer to reality, the Redmi offers a picture a little too warm but overall the colour rendering is much better than the Umidigi. In terms of sharpness, if you zoom in to 100%, you can see that the Redmi slightly smoothes out some details. The photo is therefore a little less precise without losing too much detail. The depth of field is also low, the Redmi has chosen to take the picture at f/1.8 but you can see immediately that the focal length is different. The Umidigi has a focal length of 2.37mm while the Redmi has a focal length of 4.74mm, it's only a few millimeters but it can make the difference outdoor. We see that the zoom on the Redmi seems more important and this is really the case. If you can see the difference on a small set like this, it will be even more visible on the outside. In terms of noise, the Redmi chose ISO 100, no noise is visible.[b][b]Here are the other pictures taken with the Umidigi, I have switched all modes to review (automatic photo, automatic photo with AI, all modes available in manual)[b][b]
8

[b][b]Even if the S3 Pro brings a huge improvement compared to the Umidigi F1 I tested earlier this year but for this studio test the Redmi Note 7 with its Samsung sensor produces better pictures[b][b][b][b]Outdoor photo (cloudy)[b][b]I took a few quick shots at the station and compared what the camera was able to produce with different applications.[b][b]First photo: default application[b]
[b][b]Second photo: OpenCam[b]
[b][b]Third photo: LightRoom[b]
[b][b]Fourth photo: LightRoom with retouching[b]
[b][b]Fifth photo with the default application but with more clouds[b]
[b][b]The conditions were not ideal for taking pictures, but this kind of setting shouldn't be a big problem. The first thing that strikes me is the colours that lack liveliness, it looks like the picture is covered with a veil, all the colours are quite dull and the brown hues are too brown. The pictures offer a good sharpness, you can see the details of the fence on the left as well as the objects further away. There are differences between the basic application and other applications. OpenCam offers a brighter picture and LightRoom offers slightly warmer colors. If, on the other hand, we rework the photo with LightRoom, we quickly realize how much the basic photo lacks brightness and saturation. [b][b]The last picture in the series is clearly the worst. It was taken more or less at the same time as the others but the sun was completely masked by the clouds. The photo is very dark, browns are too dominant and the photo loses a lot of detail in dark areas.[b][b][b]Outdoor photography (sun)[b][b]For this last test, the conditions were excellent, the sun was very present in a sky with large white clouds. With this kind of sky you can in principle take beautiful pictures even if the rest of the landscape is not very exotic. Unfortunately, the problems observed in the first tests are nevertheless very present.[b][b]
[b]Again, the colors are not good, they are too dull, it is with green that the camera has the most problems, it is even more visible on the following pictures. The picture was taken at 1/1695, which means that the camera estimated that there was enough light but at this speed, the camera does not accumulate enough light. I found the same defects as on the Umidigi F1 while it is another sensor and I have not found an application that can produce an image without processing. It is very likely that the Sony sensor is able to produce a good image but the device adds a treatment that does not work well.[b][b]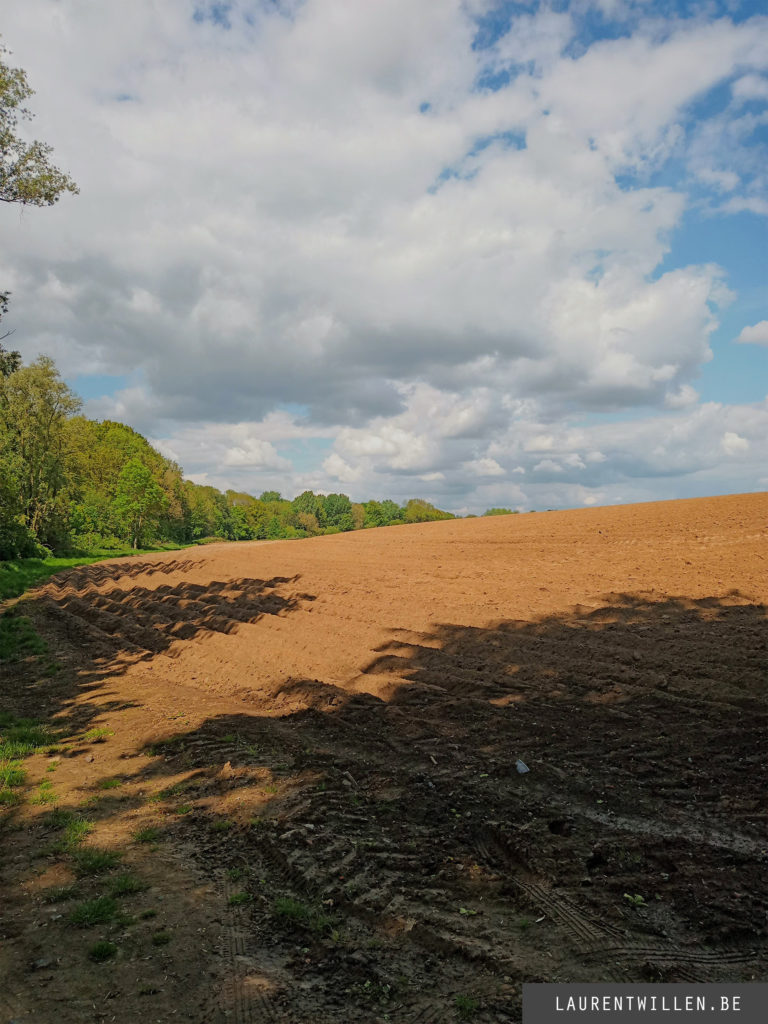 5

[b][b][b][b]Outdoor photography (night)[b][b]I waited a little longer than expected to do this test because I was waiting for two other devices (Meizu, Samsung) to combine the test with the S3 Pro but since these devices have not arrived yet, I will focus on the S3 Pro and the Redmi Note 7. For this series of photos I went along the Dendre river near my home, it is an interesting place to take pictures at night because there are big differences in light and a mix of warm and cold colors. All photos were taken without any tripod or support.[b][b]
[b][b]EXIF:[b]f/1.7 [b]1/10[b]2.37mm[b]9600 ISO[b][b]The S3 Pro is able to go up to ISO 9600, I haven't seen a phone that can go that high yet. This allows you to take pictures in 1/10 but the major disadvantage is the digital noise that is very present in this picture. [b][b]If I use the AI mode, it unfortunately doesn't change anything:[b]
[b][b]I tested the x2 zoom but the quality is deteriorating significantly:[b]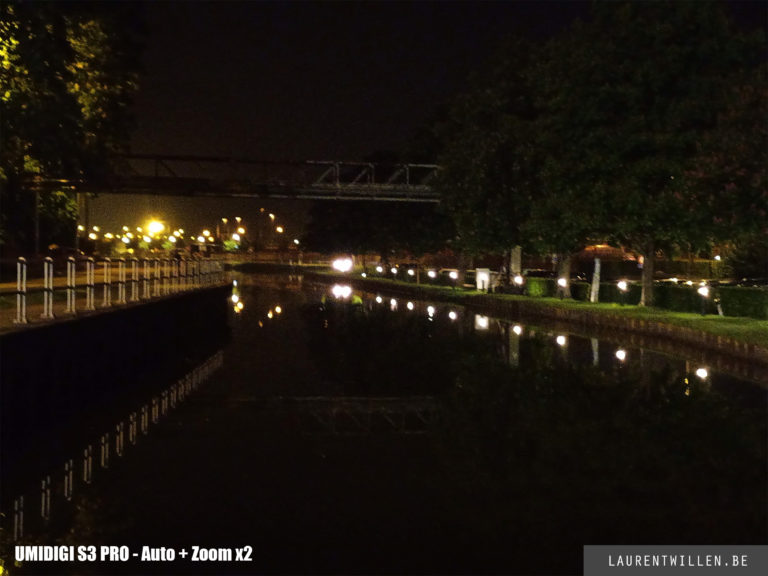 [b][b]Then I did some tests with Open Cam instead of using the basic application. By forcing 100 ISOs, I get a much better result than with the basic application, the noise has almost disappeared and the picture is generally better. Obviously at ISO 100, you have to be able to find support somewhere because you can't take a night photo at 1/100 without any help.[b]
[b][b]For this first series we see that the default application of the camera does not take very good pictures. Rather than finding a balance between ISO and shutter, the camera gives priority to ISOs to get the fastest shutter. I can understand the reason for this choice but the application does not offer any flexibility, not even in manual mode.[b][b]Here are all the pictures taken with the S3 Pro for this series:[b]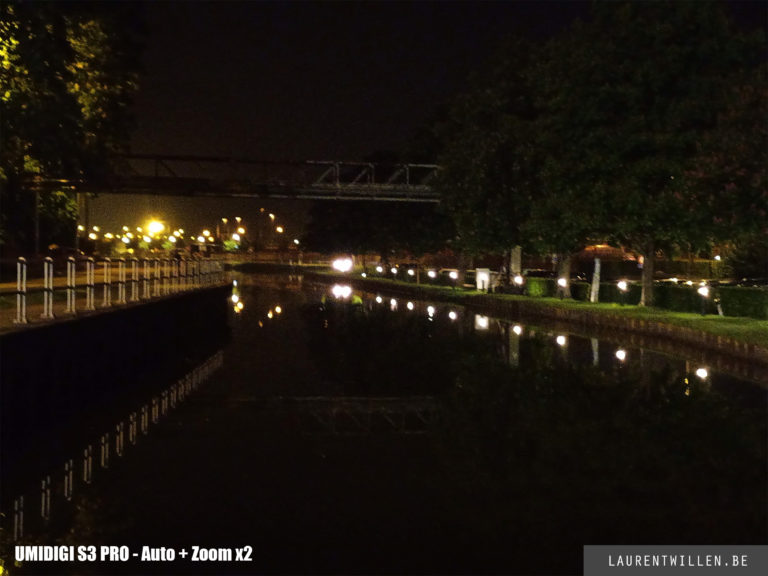 5

[b][b]Let's now move on to Redmi Note 7....[b]
[b]The automatic mode of the Redmi Note 7 delivers a much better result than the automatic mode of the S3 Pro. The image is taken at ISO 6400 and 1/14, the Redmi also uses a smoothing that reduces noise without having to do anything. The colours are warmer than on the S3 Pro and this corresponds well to reality, the night lighting is orange. The S3 Pro has a larger angle than the Redmi Note 7 and this can be seen quite strongly in the picture.[b][b]The Redmi Note 7 has a night word in the base application and if you have read my Redmi Note 7 test, you have probably seen that this night mode is really very good.[b]
[b]Digital noise is much less present, colors are more accurate and all this without effort, just turn on the night mode to get pictures like this. [b][b]I still have some examples to complete this test[b][b]The Redmi Note 7 in night mode[b]
[b]The S3 Pro in auto mode[b]
[b][b]The S3 Pro with Open Cam and forced in ISO 100[b]
[b]I don't understand how it is possible to have digital noise at ISO 100, but you can see it quite clearly in this picture.[b][b]And finally the Redmi Note 7 with GCAM in night mode[b]
[b]GCAM is supposed to offer the best results in night mode, the image is actually quite nice but I don't see any huge difference with the default application of Redmi Note 7. It is possible to install GCAM on the S3 Pro but you have to unlock the boot loader, I didn't do it because it can cancel the warranty.[b][b]Conclusion for night shots:[b]The Redmi Note 7 with its default application offers a much better rendering than the S3 Pro. You can improve the result of the S3 Pro by using Open Cam but forcing images to ISO 100 is not very realistic because it requires the camera to be installed. [b][b][b][b][b]
Video quality
[b]The Umidig S3 Pro is equipped with a high end Sony sensor so you could expect that it would deliver higher quality for videos but you'll see in the following examples that it is unfortunately not the case.[b][b][b]Normal video[b][b]To test the video under normal conditions, I filmed myself walking. The weather was sunny, so brightness should not be a problem. [b][b]This video is clearly not good. The colours of vegetation present the same problems as on the Umidigi F1, the colour rendering is not good, the sky is completely white in places, the sharpness is sometimes too important and the video is sometimes very pixelized. I tried to make a video with another application (OpenCam) and the result is the same. [b][b][b]Video in low light[b][b]I don't often have the opportunity to go to a concert but I took advantage of my son's school party to take a video in similar conditions. [b][b]There are good and less good things in this video. We can see very clearly that the camera cannot focus, it constantly travels between several areas. The color rendering is quite good but the lack of focus makes the whole thing rather blurry. The microphone handles the sound quite well, it doesn't saturate too much. The conditions here are not ideal for making a video, the result is not bad but it is not excellent either.[b][b]The Umidigi S3 Pro uses a Sony sensor and yet it has the same image problems as the Umidigi F1 which uses a Samsung sensor. The problem is therefore not at the sensor level but at the software layer level. The only way to avoid this problem would be to be able to avoid software processing by capturing images in raw mode, but the camera does not offer that feature. On the other hand, the device offers stabilization (EIS), which was not the case on F1.[b][b]I also tried to shoot videos in 4k with OpenCam but each time I selected this resolution, I got an error message.[b][b]
Screen quality
[b]The S3 Pro uses the same screen as on the Umidigi F1, this screen is manufactured by Sharp. At the time of the testing the Umidigi F1, I didn't have a probe to test the screens and I could only rely on my subjective feeling. I thought that blue was too dominant giving a rather cold feeling to the pictures, I had discussed it with Umidigi and they told me I was wrong. I now have a probe and measurements are showing exactly what I thought.[b][b]
[b][b]How to read this graph?[b]The inner triangle represents all the colours that can be obtained by mixing red, green and blue. This triangle represents the standard and therefore any deviation indicates that the measured screen is moving away from the standard. The distance from the standard is expressed in delta E (dE). We consider that a dE below 3 is a good value, between 3 and 10 we stay in an acceptable area but the eye will start to perceive the differences.[b][b]The Umidigi S3 Pro scores lower than the Redmi Note 7, colors are less accurate and the image is slightly too cold. The Redmi Note 7 also has a slightly too cold image but to a lesser extent than the S3 Pro. On a positive note, the S3 Pro's display is slightly brighter and should offer a slight advantage in bright sunlight.[b][b]

Screen size : 6.3
Resolution : 1080x2340
Ratio : 19.5:9
Type : IPS LCD
% occupancy : 83
dE white : 10.1
dE red : 4.1
dE green : 4.4
dE blue : 8.1
dE jaune : 5.5
dE cyan : 9.6
dE magenta : 6.2
Brightness : 449.36


[b][b]Again its rival (Redmi Note 7), the Umidigi S3 Pro is no match. The Redmi Note 7 also has a slightly too cold image but to a lesser extent than the S3 Pro. However, the S3 Pro's display is slightly brighter and should offer a slight advantage in bright sunlight.[b][b]
GPS performance
[b]To test GPS performance I make train trip because GPS applications tend to make the GPS pointer stick to the road when using the GPS in car mode. GPS applications are not intended to be used in a train, so they cannot artificially correct the path. [b][b][b][b]This video shows that the GPS signal is quite correct, it is not ultra accurate as on the Redmi Note 7 but it does what you would expect from a navigation device. The orientation is in the wrong direction because I was sitting in that direction but the orientation changed several times during the trip without moving the phone. I had noticed the same problem with the Umidigi F1 but with this phone the problem was much more pronounced.[b][b]One of the strengths of this phone is clearly the battery, if you combine this strength with correct GPS performances you get a very good travelling companion. [b][b]
Android
[b]Android 9 works quite well, the system is fluid and the settings possibilities are very extensive and even more complete than what I have seen on other Android 9 devices so far. If you are used to using an Android stock version, you will probably enjoy version 9. If like me you are used to using a manufacturer version like Xiaomi's, you may not like it as much. I read a lot of criticism of Xiaomi in terms of embedded applications but the applications provided work pretty well and avoid having to download free applications full of ads. Navigation by gesture is another of Xiaomi's strong points, it is also available on Android 9 but it is far from reaching the fluidity of MIUI. I am so used to using it that I use the same gestures on phones from other brands to find that it doesn't work.[b][b]All this is ultimately very subjective, it is also a question of affinity with a system. Android 9 is a good system, MIUI is a good system, I can't judge if one is better than the other, I just have a subjective preference for MIUI.[b][b]
Bugs encountered
[b]Outside a few unsolicited restarts, I didn't find any major bugs. Some behaviors are sometimes a little annoying but I'm not sure the device is to be questioned, these are choices made for Android 9 and I'm not sure Umidigi has much to do with it. For example, there is the absence of a number in the notification bubbles or the fact that the device password must be entered twice in addition to the pin code when the device is started. The translations are not always correct, I noticed mistakes in French in several places on the interface. [b][b]I had some trouble with the fingerprint sensor, I had the same problem with the Umidigi F1. Where on other devices, recognition works faster and better, I sometimes have to press several times the sensor to unlock the screen.[b][b]
Updates
[b]not yet available[b][b]
Accessories
[b]To better enjoy your experience with your smartphone, I offer links to all kinds of accessories that you might find useful

Protective cover / case Umidigi S3 Pro
Screen protection film Umidigi S3 Pro
Memory card Umidigi S3 Pro
USB Cable / Charger Umidigi S3 Pro
Headphones Umidigi S3 Pro
Bike rack Umidigi S3 Pro
[b][b]
User manual
[b]Not yet available[b][b]
Umidigi S3 Pro compared to others
[b]I assigned a score of 1 to 10 for each test that determines the strengths and weaknesses of a product. I am using 0 for criteria that have not (yet) been tested. A score of 1 to 3 indicates poor performance (and yes, it does), a score of 4 to 6 indicates average performance, a score of 7 to 8 indicates good performance, and a score of 9 and 10 indicates exceptional performance. .
The score is calculated based on my measurements and when there are no measurements, it is a subjective opinion based on my experience.

The scores are not static, they change over time because the performance of new products changes and this must be taken into account.


| | | |
| --- | --- | --- |
| | Umidigi S3 Pro | |
| Finish quality | 8.00 | 6.00 |
| Battery performance | 7.00 | 8.00 |
| CPU performance | 6.00 | 6.5 |
| GPU performance | 6.00 | 6.5 |
| Screen quality | 5.00 | 7.00 |
| Photo quality | 4.00 | 5.00 |
| Video quality | 4.00 | 5.00 |
| Wi-Fi performance | 6.00 | 7.00 |
| Mobile download speed | 6.00 | 5.00 |
| Mobile network sensitivity | 6.00 | 6.00 |
| Frequency coverage | 7.00 | 7.00 |
| Audio quality | 6.00 | 6.00 |
| GPS performance | 6.00 | 6.00 |
| Operating system | 6.00 | 8.00 |
| Overall score | 83 | 89 |
Global ranking
1. Black Shark 4 Pro 114 / 140
2. Realme Gt 112.5 / 140
3. Poco F2 Pro 111.5 / 140
4. Poco F3 111.5 / 140
5. Samsung Galaxy S20 111 / 140
6. Poco F4 Gt 110.5 / 140
7. Google Pixel 5 109.6 / 140
8. Poco X3 Pro 107.5 / 140
9. Xiaomi 11t 107 / 140
10. Samsung Galaxy S10+ 107 / 140
11. Redmi Note 11 Pro Plus 5g 106.5 / 140
12. Xiaomi Mi 9t Pro 106 / 140
13. Xiaomi Redmi Note 10 Pro 105.5 / 140
14. Xiaomi Mi 11 Lite 104 / 140
15. Tcl 10 Pro 104 / 140
16. Samsung Galaxy A52 104 / 140
17. Redmi Note 11 Pro 103 / 140
18. Poco X4 Pro 102.5 / 140
19. Xiaomi Redmi Note 10s 102 / 140
20. Poco M4 Pro 4g 102 / 140
21. Poco M4 Pro 101.5 / 140
22. Xiaomi Mi Note 10 Lite 101 / 140
23. Xiaomi Mi 10 Lite 5g 101 / 140
24. Poco X3 101 / 140
25. Redmi Note 11 101 / 140
26. Xiaomi Redmi Note 10 101 / 140
27. Redmi Note 9t 100.5 / 140
28. Xiaomi Redmi Note 8 Pro 100 / 140
29. Poco M3 Pro 98 / 140
30. Xiaomi Redmi Note 9s 98 / 140
31. Doogee S96 Pro 98 / 140
32. Xiaomi Mi 9 Lite 98 / 140
33. Redmi 10 97.5 / 140
34. Xiaomi Redmi Note 8 97 / 140
35. Umidigi Bison Pro 95 / 140
36. F150 R2022 95 / 140
37. Poco M3 94.5 / 140
38. Xiaomi Redmi Note 7 94 / 140
39. Realme 6 93 / 140
40. Tcl 30 Se 92 / 140
41. Umidigi Bison 92 / 140
42. Umidigi A9 Pro 92 / 140
43. Oukitel C21 89.5 / 140
44. Nokia 5.3 89 / 140
45. Xiaomi Mi A3 89 / 140
46. Motorola G8 Power 89 / 140
47. Xiaomi Redmi Note 9 89 / 140
48. Oneplus Nord N100 88.5 / 140
49. Honor 9x 88 / 140
50. Meizu Note 9 86 / 140
51. Xiaomi Mi 8 Lite 86 / 140
52. Xiaomi Redmi Note 5 85 / 140
53. Umidigi S3 Pro 83 / 140
54. Samsung Galaxy A21s 82 / 140
55. Umidigi F2 82 / 140
56. Oukitel Wp18 81 / 140
57. Redmi 9a 81 / 140
58. Redmi 9c 80 / 140
59. Ulefone Armor 7e 80 / 140
60. Doogee S58 Pro 78.5 / 140
61. Honor 8x 78 / 140
62. Umidigi F1 77 / 140
63. Huawei Y6 2019 74 / 140
64. Xiaomi Mi 10t Pro 57 / 70
65. Elephone U5 0 / 0
[b][b]
Conclusions
[b]The Umidigi F1 is the first Umidigi I bought, this phone had great potential but it clearly lacked maturity. The operating system was not up to speed and the quality of the photos was not good. I could have stopped there and told myself that I was no longer going to test this brand's phone, but I found that Umidigi was working hard to improve its product, sooner or later they would succeed. When I saw the specifications for the S3 Pro, I thought it was probably the right phone to make a difference. On paper, this phone had everything for him.[b][b]I was a little disappointed by the Umidigi S3 Pro, it's not a bad phone, it's a medium phone in a great premium phone package. From a purely hardware point of view, it is in the same category as the Redmi Note 7 which is sold at a much lower price and outperforms the S3 Pro in many areas. At equal price, the S3 Pro could have been a serious competitor of the Redmi Note 7 but even if the finish of the S3 pro is better, this does not justify such a price difference.[b][b]The strengths of the S3 Pro are:[b]- battery life (same as Umidigi F1)[b]- the finish[b]- large display (same as Umidigi F1)[b]- NFC (same as Umidigi F1)[b]- good performance (similar to Redmi Note 7)[b]- support of many 4G frequencies (same as Umidigi F1)[b][b]The photo quality is better than with the Umidigi F1 but it is not yet at the level it should be. This is more than likely an image processing problem because other devices use the same sensor and deliver better pictures.[b][b]At the current price level (250-300€), I recommend Redmi Note 7 which is already around 200€.



Laurent Willen
Instead of watching nonsense on TV or YouTube, I spend my time in the evenings testing products and sharing my passion for technology, travel and photography.

I run this site in my own name and completely independently, no one pays me to do so.

I have more than 20 years of experience in the digital world, I have managed and developed many high traffic websites in companies in Belgium such as Mobistar, Microsoft, Immoweb, BrusselsAirlines, Proximus, Orange,...